Who is Betsy Woodruff Swan?
Betsy Woodruff Swan was born in Purcellville, Virginia USA, on 31 October 1989 – her zodiac sign is Scorpio and she holds American nationality. She's a journalist, who's probably known best for the work she has done for the American political journalism company The Politico, as their national political reporter.
Early life and education
Betsy was raised in Purcellville alongside her sister Jane, by their parents Scott and Jane Tharp Woodruff, however, not a lot is known about her family, as she prefers to keep them away from the media's attention.
She became interested in journalism while attending a local high school, and began writing for the school's papers with her best friend.
Betsy was also quite sporting, as she was on the school's soccer team and ran track. Upon matriculating in 2008, she enrolled at Hillsdale College from which she obtained her Bachelor of Arts degree in English in 2012.
Career as a reporter
Betsy's career was launched following her graduation, when she joined the workforce of the American conservative editorial magazine "National Review". She was a William F. Buckley Fellow, and a reporter there, and in 2014 after many people left the magazine, Betsy began working for the American conservative news website and magazine "The Washington Examiner". She stayed two years with them, covering electoral politics and Capitol Hill as a political writer.
In the second half of 2014, she began working as a national political reporter for the progressive online magazine "Slate", while simultaneously working at "The Washington Examiner", then in March 2015, Betsy joined the American news publication "The Daily Beast" as their national political reporter, mostly reporting on federal law enforcement. During these years, she could often have been seen making appearances in CNN and Fox News programs.
It was revealed on 4 March 2020, that Betsy would be quitting her job at "The Daily Beast", as she was invited to work at The Politico.
Husband and wedding
Betsy prefers to keep the details of her love life to herself ,but it's known that she has been married to her other half, Australian journalist Jonathan Swan, for around a year and a half now.
The two haven't disclosed the details of when and how they met, but it's believed that they worked alongside sometime in 2017, and then married after around two years of being together on 14 September 2019 in a large ceremony attended by their wide circle of friends and family members. On 9 September 2020, Betsy announced on her social media accounts that she had given birth to their daughter Esther Jane Swan.
There are rumors circulating the internet that Jonathan married Betsy because he wanted to obtain American citizenship, as he has apparently stated himself that he wants to become a legal American, however, these rumors haven't been confirmed.
Neither of the two have spoken of any other people they have perhaps been with, so as of April 2021, Betsy's married to Jonathan Swan and they have a daughter together.
Hobbies and other interests
Betsy's highly active on Twitter, as it's somewhat a part of her job to inform her fans about the latest news in the field of politics. However, as she prefers to keep her private matters to herself, Betsy only has around 2,000 followers on Instagram, and her account is private.
She loves to travel, and her career has taken her to various US states, while Betsy has also been to many European countries for both work and pleasure. Her two favorite European cities to visit are Paris in France, and Moscow in Russia.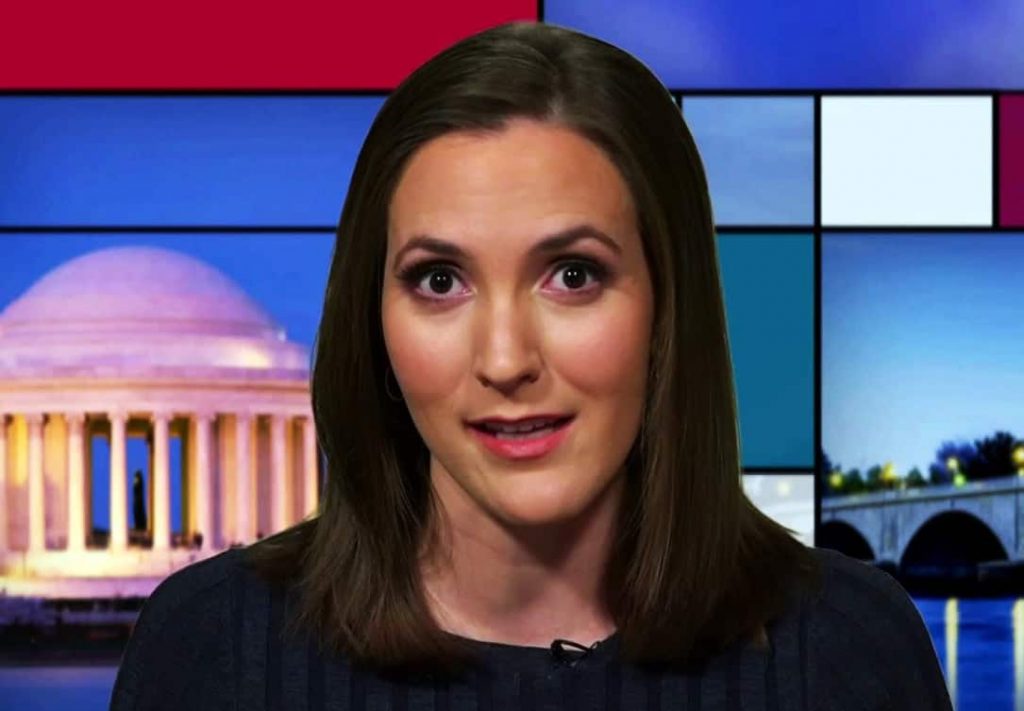 She's physically active as she has two to three training sessions at the gym each week, while she's also following a strict diet. Betsy also does yoga, and meditates on a daily basis.
In her spare time, she enjoys watching movies starring her favorite actor and actress Johnny Depp and Keira Knightley such as the franchise "Pirates of the Caribbean", "Edward Scissorhands" and "Love Actually".
Age, height and net worth
Betsy's age is 31. She has long brown hair and brown eyes, her height is 5ft 5ins (1.65m) and she weighs around 120lbs (55kgs). As of April 2021, her net worth has been estimated at over $1 million.
Who is her husband Jonathan Swan?
Jonathan Swan was born in Sydney, New South Wales Australia, on 7 August 1985 – his zodiac sign is Leo and he holds Australian nationality. He's probably known best for the work he's done for the American news website Axios as their political reporter.
He was raised alongside his two sisters Anna and Georgia, in Sydney by their father Norman Swan, who's a Scottish-Australian journalist, broadcaster and a physician, and their mother who's a housewife. Jonathan's uncle and aunt are also journalists. He studied at Sydney Grammar School, and obtained his Bachelor's degree in 2007.
Jonathan's career was launched in 2010, and in 2014 he moved to the US when invited to join the American Political Science Association, and he has been in the US since then.
While still in Australia, he worked for the now defunct media company Fairfax Media as their national political reporter, and for the daily compact newspaper "The Sydney Morning Herald" as their political correspondent. In 2015 he began working for the American digital media company The Hill, and in December 2016 Jonathan joined Axios, covering various stories regarding the Trump administration. He was the first to announce that the US would be pulling out of the Paris climate deal, that the American media executive Stephen Kevin Bannon would be fired, and that Trump would acknowledge Jerusalem as the capital city of Israel.
Jonathan was also the one to predict that Trump would bring an end to the executive action policy Deferred Action for Childhood Arrivals, and was also amongst the first to report that Paul Ryan would be retiring from Congress.
He gained recognition in August 2020 after he interviewed the now former President of the US Donald Trump, as Jonathan 'questioned and fact-checked numerous false and misleading statements as the President spoke them'. It's widely acknowledged that this was the best interview with Donald Trump during his four-year term.
In 2014, Jonathan was presented with a Wallace Brown Award for Most Outstanding Young Journalist, and in 2016 The Politico featured him in their list of '16 Breakout Media Stars'. In 2020, he was featured in the list '50 Most Influential Jews' compiled by the broadsheet newspaper "The Jerusalem Post".