• Michael Lukas, better known as Bijuu Mike, is a YouTuber, gamer, and media personality.
• He rose to fame by uploading a wide range of content and videos online, especially those related to games like "Yandere Simulator" and "Baldi's Basics in Education and Learning".
• His YouTube channel has 2.9 million subscribers and counts over a billion views.
• His reported net worth is around $1.2 million, earned largely through his YouTube career and brand sponsorships.
• He is active on social media, with 65,000 followers on Instagram, 120,000 on Twitter, and a Twitch account for streaming games.
Who is Bijuu Mike?
Michael Lukas, better known as Bijuu Mike, is a YouTuber, gamer, and media personality, who rose to fame by uploading a wide range of content and videos online. He is perhaps best recognized for making commentary videos about video games such as "Doki Doki Literature club" and "Yandere Simulator". Mike was born under the Zodiac sign Scorpio on 26 October 1992, in South Dakota, USA. Mike holds American nationality, and as of mid-2021, he's 28 years old.
Early Life and Family
Not much is known about his family, background, and education. However, it is known that he has an older sister whose name remains a mystery. When he was a child, his parents divorced. In one of his recent videos, he disclosed that his grandma died. Reportedly. Mike moved a lot with his family during his early life.
Given that he did not have aspirations for attending faculty or college, he found a job in a fast food restaurant after matriculating in 2010. Mike also worked at Walmart prior to launching his YouTube career.
YouTube Career
He launched his channel in 2013, and posted his first video in 2014 entitled "A little about me", in which he explained what type of content he would upload. He began making commentary and reaction videos to games such as "Yesterday", "Façade", and "Galatea". Having developed a great interest in anime and interactive games, he went on to commentary videos and reviews of stealth action games such as "Yandere Simulator".
One of the perks of being a YouTuber is that sometimes you get to test the games and play them before release – that was the case with "Yandere Simulator", as Mike was able to review it and show his viewers new features and additional options.
It didn't take long for Mike to start reeling in viewers with his charismatic and relatable manner of playing and explaining games. His "Yandere Simulator (Dumpsters, Buckets, Bathing, and Electrocution)" garnered hundreds of views, and initiated his slow but steady rise to stardom.
The video gained over 800,000 views in a year, while previously his videos usually amassed close to 100,000 views or less during one year. He continued posting videos related to the game, which also garnered huge numbers of views, such as "Osana CHEATS on SENPAI! | Yandere Simulator – How to Catch A Cheater" and "Pushing Senpai In The Fountain + New Osana Pool Elimination! | Yandere Simulator". Besides this game, he has also reviewed other games such as "Mario", "Corpse Party", and "Stardew Valley".
Rise to Stardom
Given that he has been an active YouTuber for almost six years, who uploads a couple videos every week, he has uncovered and reviewed a variety of games. One of the most interesting games he put his hands on was "Baldi's Basics in Education and Learning", a very unusual and scary meta horror game. After the game was hyped by other popular YouTubers such as PewDiePie and Mark Plier, Mike posted a review of the game prior to its official release, subsequently amassing thousands of views in a short period.  He later made a couple of more which were popular, however his most popular video related to this game is "WE SOLVED THE THIRD QUESTION?! | Baldis Basics In Education And Learning (Anti Impossible MOD)", which at the moment counts over 8.4 million of views.
Following the trend of other YouTubers, he has also tried his luck with other popular games such as "Minecraft", "Hello Neighbor", and "A Little About Me".
Mike has also made a series of humorous videos about another YouTuber called Dantdm, in which Mike addressed him as his twin brother, such as "My Twin brother Dantdm Finally Noticed me.." and "Calling my twin brother Dantdm…" Dantdm is his friend with whom he occasionally makes videos, known for uploading similar content such as video games commentary and reviews. Most of his videos feature a doll or his mascot named Clarence, which was a gift from his grandma. Mike's YouTube channel at the moment has 2.9 million subscribers, and counts over a billion views.
The Cost of Popularity
In one video, Mike said that he has received a lot of letters from "angry parents", whose children watch Mike's videos and play the games he reviews.
@BijuuMike I made this lil fanart for u. Bet you'd look good in pastel 🇵🇭❤ pic.twitter.com/VJ6x2gevzw

— BangtanSwagger95 (@shien_mary) May 12, 2021
In their opinion, the content he makes is inappropriate, while Mike mostly serves as a bad example of a role model, teaching and showing children to play scary and freaky games. He made a special video for parents addressing the claims in which he said: "There are things in this world that aren't for kids, and those things JUST might be video games. Yes! Kids can get their hands on it. Does that mean that they are supposed to? No! Does it happen? Yes!" Mike also pointed out that parents tend to blame the games and YouTubers for their children's behavior, rather than taking time and discussing it with their offspring.
Scandals and Controversy
In 2020, Mike received a lot of backlash for some of his comments relating to the LGBTQ community, which according to his later statements, were taken out of context.
He said: "I am so accepting of it. Whatever you wanna be it's none of my business how you identify yourself. Whatever makes you happy! As long as you're not hurting anyone." However, he also disclosed that there was a lot of toxicity in the LGBTQ community, and that people tend to be very aggressive about it, saying: "There are some people whose whole identity is that. When you have nothing but that going in your life other than that… I know this might offend some people out there".  Mike continued to compare members of the LGBTQ community with vegans and religious people, which enraged some fans.
Besides these comments, he also made a couple of jokes about two characters from a game called "Danganropa", which was considered as him shipping an abusive relationship and downplaying abuse. Late Mike addressed the whole situation on Twitter, saying: "I need to clear this up.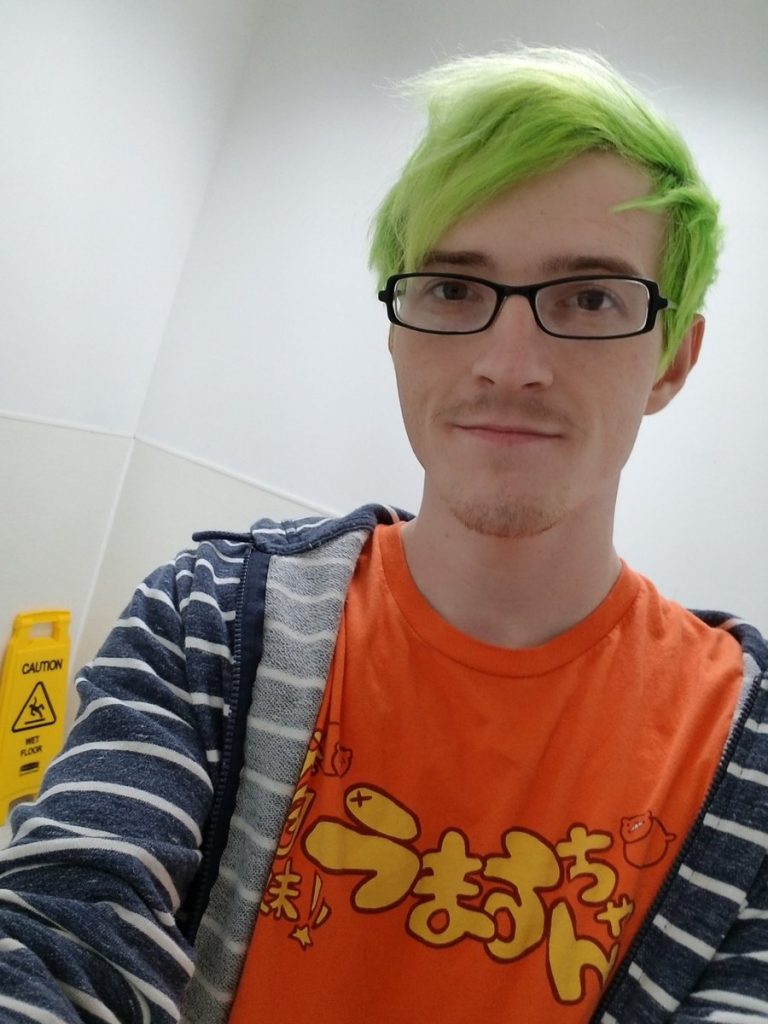 I do not ship anyone in Danganronpa, nor do I think abuse is okay; I am not a 'shipper.' I made some comments or light jokes but that is all they were. Keep in mind these are characters in a video game. This does not in any way shape or form reflect real life".
Personal life
After dating for a year and a half, Mike married his girlfriend, Marissa, in 2015. They like to travel together, and visit interesting places such as Japan. In one of his videos, he disclosed some personal information about having children, saying that they were happy with their relationship as it was, and that they didn't plan on having children anytime soon.
Physical stats and Hobbies
Mike is 5ft 11ins (180cm) tall and weighs around 155lbs (71kgs). His natural hair color is brown, however, he likes to change styles and over the years he has died it black, neon green blonde and platinum. Many fans don't know this, but during junior high and high school Mike struggled with obesity, which prompted him to get active.
His previous weight was around 220lbs (104kgs). However, today he has a different outlook, saying: "I love to work out. Working out is amazing, it is like therapeutic. If I go without it I don't feel right."
Mike is a great fan of music – he likes metal, rock and Japanese music, and his favorite bands are "Sleeping with Sirens", "Bullet for My Valentine", and "Paramore". He also plays drum – in one of his introductory videos, he disclosed: "If I actually made another YouTube channel, it would probably be me doing drum covers of anime opening or endings or just random Japanese music." His favorite anime shows are "Narruto", "Dragon Ball Z" and "Death Note". When he isn't recording videos for his YouTube channel, he likes to play "Halo", "Metal Gear Series", and "Smash Brothers".
He was also featured in two music videos for bands Blackveils Brides and My Chemical Romance.
His greatest passion is YouTube, he likes to make videos, read comments and interact with his fans.
His first car was Chevy S10 which his sisters bought it for him.
Mike is an animal lover; he has a Husky dog.
Would you like to know his net worth?
His reported net worth is around $1.2 million, earned largely through his YouTube career, and brand sponsorships; Mike also has merchandise, which additionally contributes to his wealth. It's believed that he earns around $20,000 on average per month.
The prominent YouTuber is very active on his social media accounts. His Instagram counts over 65,000 on which he usually posts photos with his wife, photos from travels and interesting places. His Twitter account has nearly 120,000 followers, on which he shares his YouTube videos, ideas for next videos, and jokes.