• Carlin Brianne Stewart (nee Bates) was born on 11 April 1998 in the USA and holds American nationality.
• She is a TV personality, known best for her role in the reality TV show "Bringing Up Bates" which has been airing since 201•
• Carlin was homeschooled with her siblings and obtained her Bachelor of Arts degree in music in 2020.
• She is married to Evan Stewart and they have one daughter together, Layla Ray Stewart.
• Carlin and her family have a net worth of around $250,000.
Who is Carlin Bates?
Carlin Brianne Stewart (nee Bates) was born in the USA on 11 April 1998 – her zodiac sign is Aries and she holds American nationality. She is a TV personality, perhaps known best for her role in the reality TV show "Bringing Up Bates", which stars Gil, Kelly Jo and Addallee Bates, and follows the two Bates Gil and Kelly Jo as they raise their 19 children. It has been airing since 2015.
Early life, family and education
Carlin was raised in Lake City, Tennessee alongside her 18 siblings by her mother and father Gil and Kelly Jo. Carlin was her parents' ninth child, and she eventually started helping them raise her siblings.
Because her parents believed that school doesn't teach everything it should, and costs a lot, Carlin and most of her siblings were homeschooled. They were taught by Bill Gothard's Institute in Basic Life Principles, and upon completing her elementary education, Carlin enrolled at Crown College of the Bible's Early Advantage program, matriculating in 2016. A party was thrown at Mount Moriah Camp to celebrate Carlin and her brother Trace's matriculating. and when asked about whom she looks up to, Carlin stated that it's her father, because 'he's steady in the Lord and whatever he does, he doesn't lose his cool'.
Carlin went on to enroll at Crown College of the Bible, from which she obtained her Bachelor of Arts degree in music in 2020.
Career on TV
In 2012, Carlin appeared in eight episodes of the reality TV series "United Bates of America", which starred her family, and follows their lives right after the birth of the 19th child. The family counts nine boys and 10 girls, and most of the children are gifted singers.
Carlin has also worked in the camera and electrical department on the 2015 episodes "Erin's Little Miracle" and "Welcome Grandbaby Bates" of the reality show "Bringing Up Bates".
Carlin, her sister Erin Paine and sister-in-law Whitney Perkins opened their own clothing store called Bates Sisters Boutique on 18 March 2019. Its online store was launched on 19 April 2019 and nearly all their items were sold in less than a day.
Husband and wedding
Carlin attended a ladies' event at her church, and that's how she met Evan Stewart. It was Carlin's sister Erin who noticed that the two could be a match, and thus arranged for them to meet after the event was finished. The two started dating on 17 September 2016, but kept it hidden for around half a year before announcing on 23 March 2017 that they were together.
According to the series "Bringing Up Bates", Gil had to allow Evan to enter a courtship with his daughter, and the episode in which all this happened was aired on 14 September 2017. A bit of the courtship was shown later, and depicted Evan taking Carlin on a scavenger hunt which ended at the Norris Dam. Evan went on to sing Carlin a song he had written just for her, and gifted her a bracelet.
The two became engaged on 24 September 2018 after he proposed at Portland Head Lighthouse. The wedding was held at Castleton Farms on 25 May 2019, with Erin Paine and Whitney Bates serving as Carlin's matrons of honor, while all her sisters were bridesmaids. Carlin's brothers were members of the groom's party – Frank Gagliano and Gil Bates officiated the wedding.
Carlin and Evan haven't spoken about where they spent their honeymoon, however, judging by a picture of their passports, it appears that they travelled overseas.
Carlin has also attended her sisters' weddings. On 3 November 2013, she was a bridesmaid at her sister Erin's wedding when she married Chad Paine ,and on 26 May 2017, she was a bridesmaid at her friend Joy Duggar's wedding when she married Austin Forsyth. On 16 December 2017, Carlin was her sister Tori's maid of honor when she married Bobby Smith, and on 5 October 2018, she was her sister Josie's bridesmaid when she married Kelton Balka.
Is she pregnant?
It was announced on 4 September 2019 that Carlin and Evan were expecting their first baby – a month later Carlin announced a girl, and that she'll be named Layla Ray Stewart. Layla was born on 31 January 2020 at about 4 p.m., she weighed around 5lbs 13ozs (2.63kgs).
Carlin is currently quite active at the church, as she's teaching young girls about the Bible, about praying daily and being loyal to God. She also holds lessons about children each Sunday night.
Hobbies and other interests
Carlin is a philanthropist who has worked with a couple of charity organizations, and has travelled with her church on multiple occasions to help those in need.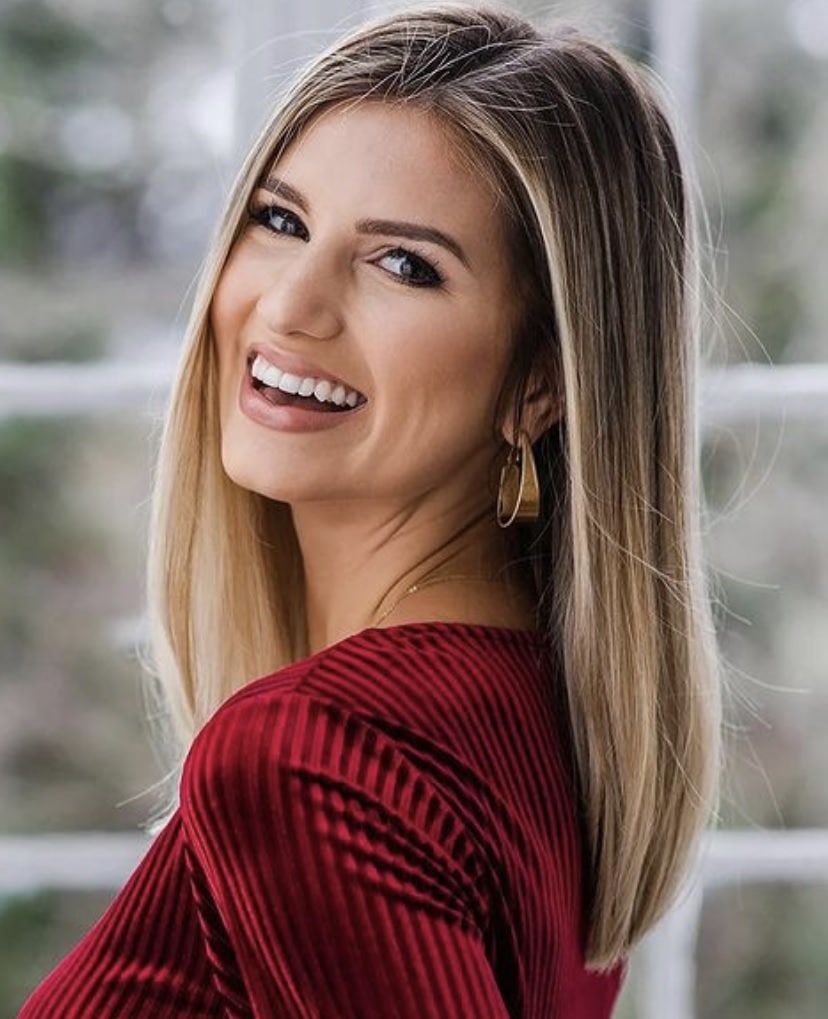 In August 2017, she travelled to the Philippines on a mission to work with the organization Blessing International.
Carlin is interested in photography and while she enjoys it when someone takes pictures of her, she is also keen on taking them herself. There are numerous professional photos uploaded onto her Instagram account.
She is keen on spending her free time outdoors in nature, and has recently gone camping with her husband and daughter. She also enjoys being close to water, which is why summer is her favorite season.
Carlin is physically very active as she works out every day, and is also following a strict diet, thus her slim body.
She likes to watch romantic movies in her spare time, and her favorite actors and actresses are Channing Tatum, Ryan Gosling and Amanda Seyfried. A few of her favorite films are "Dear John", "The Notebook" and "Letters to Juliette". Carlin also likes to read books, and her favorite author is Nicholas Sparks.
Age, height and net worth
Carlin's age is 22. She has long brown hair and brown eyes, her height is 5ft 6ins (1.67m) and she weighs around 130lbs (58kgs).
As of February 2021, the Bates family has a net worth of around $250,000 which is very different from other, similar TV families, as Jim Bob Duggar of the Duggars has a net worth of more than $3.5 million.