• Casper Van Dien is an American actor of Dutch, Swedish, French and English descent.
• He graduated third in command from Admiral Farragut Academy and attended Florida State University.
• He is well known for his role as Johnny Rico in "Starship Troopers" and his appearances in other science fiction and action films.
• He was married to Carrie Mitchum from 1993-1997 and they have two children, Grace and Cappy.
• He is worth $7 million and Carrie Mitchum is worth $1 million.
Casper Van Dien is an American actor, perhaps best known for his role as Johnny Rico in "Starship Troopers". This actor has a track record of troubled marriages, but one of them stands out – his marriage to Carrie Mitchum. Keep reading this biography to find out all you need to know about Casper Van Dien and his daughter, Grace.
Early Life, Family, Educational Background
Casper Robert Van Dien Jr. was born on 18 December 1968 under the zodiac sign of Sagittarius, into a family of Dutch origin, in Ridgewood, New Jersey USA. Although he holds American nationality, Casper Jr. is from a mixed ethnicity, comprising of Dutch, traces of Swedish, French and English.
Casper Jr, was born to Diane Morrow, a nursery school teacher, and Casper Robert Van Dien Sr., who was a fighter pilot and US Navy Commander. His grandfather too, was a Marine in the Second World War.
Thus, Casper Van Dien Jr. comes from a lineage of military personnel. No doubt it was surprising when Casper Van Dien Jr. chose to follow a path very different from that of his ancestors.
Despite their very differing careers, Casper Sr. and Diane Morrow Van Dien co-owned an international sailing school for 19 years, and the institution retained its rank as the second best sailing school in the US for about 17 years of its existence.
Casper and his sisters: Sudi Van Dien, Kristin Van Dien Arikian and an unnamed half-sister, were raised on a street named after their ancestor, Van Dien Avenue. They only moved to Milton, Florida when Casper was older, and where he attended St. Petersburg Campus of Admiral Farragut Academy, from which he graduated third in command in 1988.
Upon his graduation from the military school, he enrolled into Florida State University, Tallahassee, where he was an active member of the Sigma Alpha Epsilon fraternity.
As a matter of fact, Casper Van Dien says his only regret is not serving in the military; he remains proud of his family's service to the country.
The Van Dien family has an age-long tradition that every first son born in the lineage shall be named Casper. This is evident in the actor himself, and his son, Cappy Van Dien whose first full name is Casper.
The actor has a cousin, Raymond Hunter, who is a popular sculptor.
Career
Acting Career
As soon as Casper decided to start acting professionally, he moved to Los Angeles, the hub of entertainment, and in no time he landed minor roles in TV dramas.
In 1990, he made his debut in "Menu for Murder" in which he played the role of a life guard. Subsequently, he was cast as Tyler Moody in the American soap opera "One Life to Live" (1993), and as Griffin Stone in seven episodes of "Beverly Hills, 90210" (1994).
Casper made his breakthrough in 1997, when he played Johnny Rico in the American action film "Starship Troopers", boosted the following year when he was cast as Tarzan in "Tarzan and the Lost City". From the late '90s through the early 2000s Casper Van Dien mesmerized a global audience with his roles in "Sleepy Hollow" (1999), "Python" (2000), and "Officer Down" (2005), among several others.
Due to the positive reception the original movie received, Casper reprised his popular role of Johnny Rico in "Starship Troopers 2: Hero of the Federation" (2004) and "Starship Troopers 3: Marauder" (2008).
In the American thriller "Dead Water" (2019), directed by Chris Helton, Casper Van Dien was cast as a lead actor, playing John opposite Judd Nelson. He's mostly mostly been cast in science fiction and action films, but he recently joined the cast of the film, "Daughter", unreleased at this time.
The actor has also made guest appearances on numerous TV shows including "The Tonight Show with Jay Leno" (1997), "Larry King Live" (2006), "Home & Family" (2012) and "Cult Classics with Casper Van Dien" (2017) among 46 others.
He recently joined the cast of the film, "Daughter", unreleased at this time.
Video Games
Aside being a terrific film actor, Casper Van Dien has brought life to various video game characters. He contributed to "Wing Commander IV: The Prince of Freedom" in 1996 as the Confed Redshirt Number 3.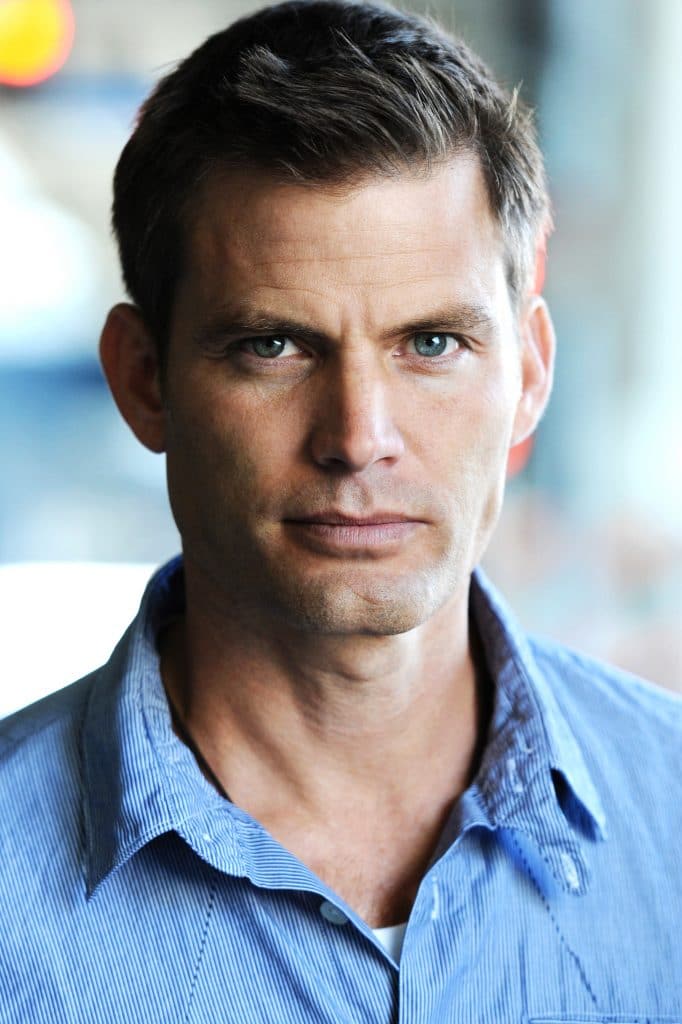 A few years after his first appearance in "Starship Troopers", he was cast as a voice actor in the video game edition of the movie, reprising his own character, only this time, as a voice actor.
Producing and Directing
Asides being in front of the camera, Casper had an interest in working behind the scenes of a film set; he produced his first Television film, "Modern Vampires" in 1998. Subsequently, he helped produce "I Married a Princess" (2005), "Starship Troopers: Invasion" (2012), and "All About the Money" (2017) among about seven others.
He also decided to try his hand at directing, three films so far – Sleeping Beauty" (2014), "Patient Killer" (2015), and "The Last Bid" (2016) which he also starred in.
The second film he directed, "Patient Killer", won the Best Film and Best Director Awards. It was also bought by Lifetime, and aired on the TV network. It won Best Picture at the Fort Lauderdale International Film Festival in 2014.
Personal Life, Wife and Children
Casper Van Dien was diagnosed with dyslexia early in life, which caused him to lose a spot in some auditions, because he was facing difficulty reading the script.
Casper married actress Carrie Mitchum in 1993, when he was still starting out in the industry, and on 23 September 1993, Carrie gave birth to their first child, Casper Robert Van Dien, commonly known as 'Cappy' Van Dien or 'Bo'.
Three years later- on 15 October 1996, the couple welcomed a daughter who they named Caroline Dorothy Grace Van Dien, popularly known as Grace Van Dien.
The union between Carrie Mitchum and Casper Van Dien didn't last for long, as they were divorced for undisclosed reasons in 1997, just four years after their marriage.
Casper subsequently married American actress Catherine Oxenberg in 1999, and they have two daughters, Ananda Maya Van Dien and Celeste Alma Van Dien, born in 2001 and 2003 respectively, but Casper filed for a divorce in 2015.
On 9 June 2018, Casper married his third wife, actress Jennifer Wenger who was his co-star in the film, "Darkness Reigns".
Casper's daughter, Grace Van Dien, followed the footsteps of her parents and maternal grandparents to make a mark in Hollywood. In her career as an actor, she may have played her best roles in "Stranger Things" (2016), "Charlie Says" (2018) and "The Village" (2019).
Appearance, Clothing Style
Casper's height is 5ft 10 ins (1.78m) and he weighs about 163lbs (74kgs). He has greying brown hair and blue eyes. Photographs of Casper reveal him as a fashionable man. He likes to dress in button-down shirts and pants or fancy suits.
Hobbies, Favorite Things and Interesting Facts
Casper Van Dien loves sailing.
He also enjoys watching plays in local theaters.
Reading is his hobby.
His favorite Halloween candy is Reese's Pieces.
Casper was a published poet at 17.
Net Worth and Salary
After the divorce between Casper and Catherine Oxenberg, the duo decided to sell off the mansion which overlooked the Broad Beach in Malibu, which they had bought 10 years prior. It was reportedly valued at $2.77 million.
In mid-2021, Casper Van Dien now has a net worth of $7 million, which he's amassed from his long years of working in the entertainment industry. Meanwhile, his ex-wife Carrie Mitchum is worth a little over $1 million. Any other property owned by Casper Van Dien is unknown to the public at this time.
Who is Carrie Mitchum?
Caroline Elizabeth 'Carrie' Mitchum was born on 15 June 1965 under the Gemini star sign, in Los Angeles, California USA.
She also comes from a family of actors, having been born to Christopher and Cindy Mitchum, and having the famous actor Robert Mitchum as her grandfather. Her younger brother Bentley Mitchum is also an actor. Coming from a family with roots in the entertainment industry, it wasn't difficult for Carrie to find a spot in the industry.
She is possibly best known for her role as Donna Logan, in 414 episodes of TV series "The Bold and the Beautiful" from 1987 through 2001. While working on the most significant TV drama of her career, Carrie still took on minor roles in 'The Karen Carpenter Story" (1989), "Dead Silence" (1991), "Married With Children" (1994) and "James Dean: Live Fast, Die Young" (1997), among others.
In 1993, Carrie married Casper Van Dien, a union which resulted in the birth of their two children – Grace and Cappy Van Dien.
After her marriage with Casper Van Dien ended, Carrie Mitchum knew she had to start working again, but chose her other passion, cooking. She enrolled in Le Cordon Bleu, Paris, and completed her course at its subsidiary, Le Cordon Bleu College of Culinary Arts in Pasadena, California.  In 2015, she was announced as the Executive Chef for Succulent Cafe, located in Solvang, California US.
In May of 2020, she started Mitchum's Kitchen, where she has built a global community of people who are interested in all things food and dining. For Carrie Mitchum, cooking trumps acting, anyday.
Apart from her two children with actor Casper Van Dien, Carrie has a son born from a relationship after the divorce.
Carrie Mitchum has dark blonde hair and brown eyes. She stands at 5ft 5ins (1.67m) tall, but her weight is unknown. She is mostly active on Facebook, where she has her business page.