• Christopher Kennedy Masterson is an American DJ and actor
• He has appeared in various films and TV shows, and is best known for his role in the Fox sitcom "Malcolm in the Middle"
• He is a pet lover, sociable and likes to travel, listen to music and watch films and TV series
• He is worth $10 million as of early 2023 and is married to actress Yolanda Pecoraro
• His brother Danny Masterson is an actor, DJ and producer and his sister Alanna is also an actress
Christopher Masterson is an American disk jockey (DJ) and actor, who is possibly best known for appearing in the Fox family sitcom "Malcolm in the Middle."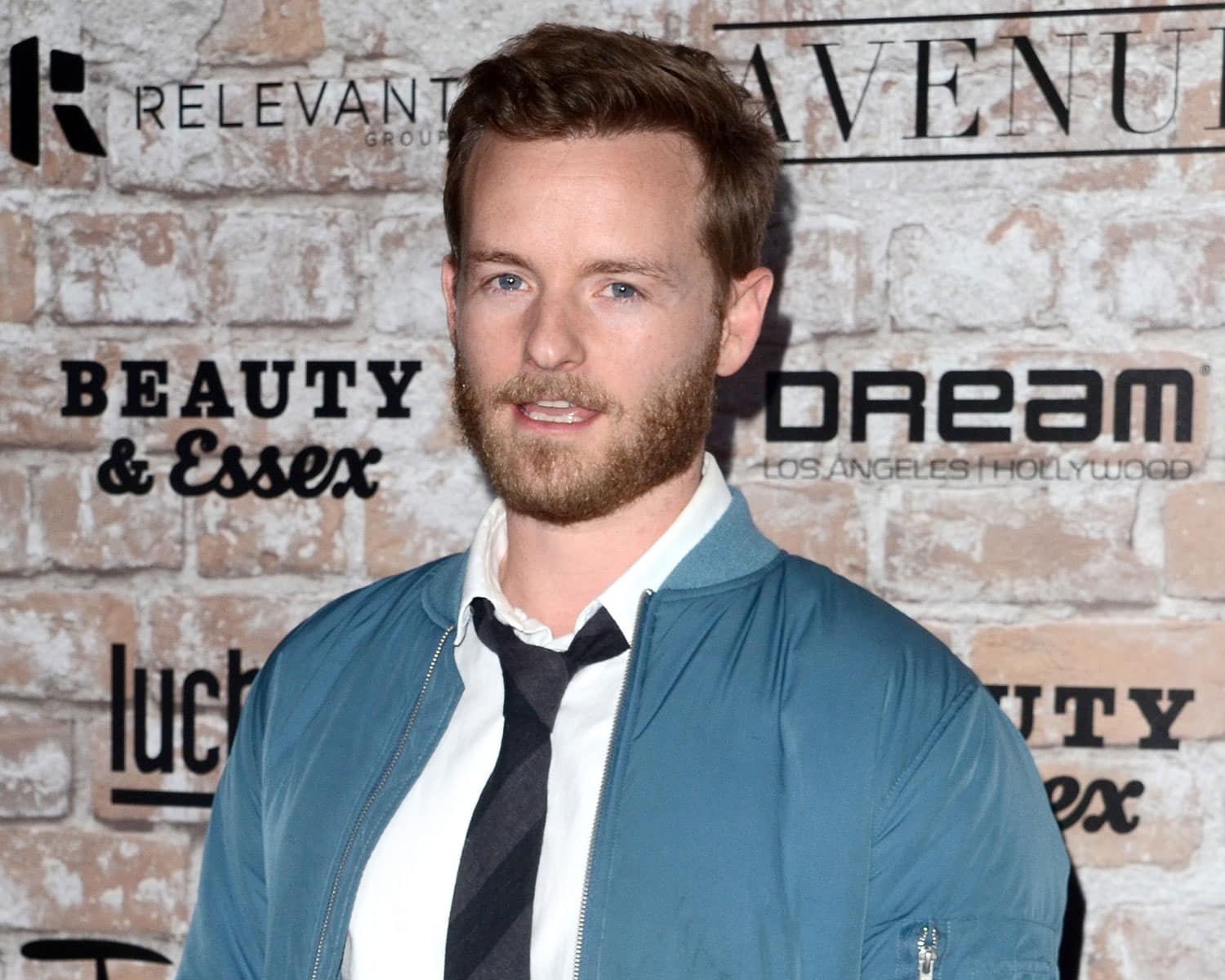 Age, Early Life, and Education Background
Christopher Kennedy Masterson comes from Long Island, New York, and was born under the Aquarius zodiac sign on 22 January 1980, which makes him 43 years old as of 2023. He was born to the manager Carol Masterson, and her husband, the insurance agent Peter Masterson. Christopher is of Irish descent. His elder brother is Danny Masterson, who is an actor, DJ and producer – he is a Scientologist. After his parents parted ways, Kennedy's mother got hitched to the Australian rugby player, Joe Reaiche, and through their union, the actress Alanna Masterson and Jordan Masterson were born. Christopher's father also went on to marry another woman, and they welcomed a son named Will Masterson.
Christopher hasn't disclosed anything about his educational background.
Hobbies and Interests
Christopher is a pet lover, and likes flaunting his dog on his Instagram page.
He's also very sociable, and likes attending celebrity events and parties.
Moreover, he's an avid traveler who likes touring destinations with artistic views. His career has seen him tour many states, and other international destinations including Europe and Asia.
In his spare time, the "Malcolm in the Middle" star likes listening to music, and watching films and TV series.
Film Appearances
Christopher began his career as a child actor in the 1988 film, "Hiroshima Maiden", playing the role of Timmy Bennett. In 1992, he appeared alongside Matt Dillon, Campbell Scott and Bridget Fonda in Cameron Crowe's comedy-drama "Singles." Then later that year he played the starring role of Danny Morris in the Italian film "Mom I can Do It" ("Momma ci penso io"). Before the century ended, he was seen in the anthology horror movie "Campfire Tales" and the P.J. Hogan-directed romantic comedy "My Best Friend's Wedding" both in 1997, and the crime drama "American History X" in the year that followed.
In 2000, he was cast as Geoffrey in the fantasy action, "Dragonheart: A New Beginning", and was selected to play Buddy in the supernatural parody, "Scary Movie 2" in the year that followed. In 2005, Masterson played Zach in the Ben Rekhi-directed film "Waterborne", then starred alongside Bryan Cranston in the Nicholas Peterson-written and directed film "Intellectual Property" in 2006. He was later cast in the romantic comedy "Made for Each Other" in 2009, and "Impulse" in 2010. Christopher's next roles were in "Electric Sheep" in 2012, "Urge" in 2016, and "Beneath the Leaves" in 2019.
TV Appearances
Christopher made his TV debut in an1993 episode of the CBS TV sitcom "Danny Brown" in. In the year that followed, he appeared in six episodes of another CBS drama, "The Road Home." Before the century ended, he appeared in single episodes of several series, including the legal thriller "The Client" in 1996, the fantasy drama "Touched by an Angel" in 1997, and the action drama, "The Pretender" in 1998.
He rose to stardom for starring as Francis in Linwood Boomer's sitcom "Malcolm in the Middle", appearing in the show for 118 episodes from 2000 to 2006. Masterson is also credited for playing Todd in three episodes of the period teen sitcom "That '70s Show" in 2002, and for voicing Shane G. in five episodes of the animated series "The Wild Thornberrys" in 2003 and 2004. His other appearances have been in the series "White Collar" in 2011, "Onion News Empire" in 2013, and "Haven" in 2014.
Masterson has invested in "Card Player Magazine", together with Laura Prepon and his brother.
Awards and Nominations
In 2001, Masterson won a joint Young Star Award in the category of Best Young Ensemble Cast for his role in "Malcolm in the Middle", shared with Frankie Muniz, Erik Per Sullivan and Justin Berfield; he was nominated for the same award together with the same in the year that followed.
Social Media Presence
Masterson is active on Instagram (@itschrismasterson) with over 205,000 followers. He also has a Twitter account that is followed by around 25,000 fans.
Height, Weight, and Physical Appearance
Masterson is of Caucasian ethnicity and has a pair of blue eyes and blonde hair. He has an athletic physique, weighs approximately 150lbs (68kgs), and is 5ft 10ins (1.78m) tall.
Net Worth
Masterson has been active in the American showbiz industry for over three decades, which has seen him become famous and relatively rich – he's authoritatively worth around $10 million as of early 2023.
Personal Life
Christopher is a married man. He walked the aisle with the New Jersey-born writer and actress, Yolanda Pecoraro in 2019. Yolanda is also a Scientologist, and is famous for her roles in the films "Death Tunnel" and "The Ugly Truth." She announced her pregnancy on Instagram in November 2020, and went on to post a series of her bikini photos showing her growing bump. The duo welcomed their first child, a daughter Chiara Darby in 2021.
In 2008 and 2009, Masterson allegedly dated the American TV host, model and actress Arielle Vandenberg, who is perhaps best known for hosting the dating reality show, "Love Island," which premiered on CBS in July 2019. He was also romantically linked with the American actress Laura Prepon, who is famous for portraying Donna in the Fox sitcom "That '70s Show" – their relationship lasted from 1999 to 2007. She is now married to the actor, Ben Foster, who has appeared in various projects including the films "Hell or High Water" and "The Contractor."
Christopher Masterson And Wife Yolanda Pecoraro Welcome First Childhttps://t.co/6PcHp5mOil#ChristopherMasterson #Wife #YolandaPecoraro #FirstChild #baby #firstbaby #pregnant #givesbirth #birth #christophermastersonwife #malcolminthemiddle #yolandapecorarogivesbirth #Yolanda pic.twitter.com/6naX6ogWp1

— D STAR NEWS (@D_STAR_NEWS) April 5, 2021
The Masterson Family
Danny Masterson
Cristopher's elder brother Danny, was born on 13 March 1976 in Long Island, New York, which makes him 46 years old. He's also a DJ and Actor and is perhaps best known for his appearances in "That '70s Show," "Men at Work" and "The Ranch." Danny has a child with his spouse, Bijou Phillips, whom he married on 18 October 2011. In 2020, he was detained and charged with forcible rape, but denied the charges. He is worth approximately $8 million as of 2023.
Alanna Masterson
Alanna is Christopher's younger half-sister, who was born in Long Island, New York, on 27 June 1988 (34 years old). She is famous for her roles in the AMC post-apocalyptic horror series' "The Walking Dead" and "Talking Dead," and the mystery drama "Mistresses" among others. She has a net worth of around $2 million as of 2023.
Jordan Masterson
Jordan was born on 6 April 1986, which makes him 36 years old. He's famous for appearing in the comedy movie "The 40-Year-Old Virgin," the comedy series "Greek," and the sitcom "Last Man Standing." He's accumulated a net worth of around $3 million from his career in the showbiz industry.