Clayton Cardenas:
• Born in West Covina, California USA in 1985
• Ethnicity: Filipino-Mexican
• Has a Bachelor of Arts degree in communications and marketing
• Actor, film producer, painter, and model
• Net worth estimated at over $500,000
What is Clayton Cardenas' ethnicity?
Clayton Cardenas was born in West Covina, California USA, on 24 November 1985 – his zodiac sign is Sagittarius, he holds American nationality. and his ethnicity is Filipino-Mexican (paternal side). He is an actor, film producer, painter and a model, who might be known best for his portrayal of Angel Reyes, one of the lead characters in the crime thriller series "Mayans M. C." created by Elgih James and Kurt Sutter, and which also stars JD Pardo and Sarah Bolger. It follows EZ Reyes who, after being released from jail, goes back to his life of crime. The series has been airing since 2018, and has been nominated for 12 awards.
Early life and education
Clayton was raised in West Covina alongside his sister Janae by their parents. Neither Clayton nor Janae have shared any details concerning their mother and father as they prefer to stay away from the media's attention.
Clayton became interested in acting while attending elementary school, and appeared in various plays performed there, while he was also interested in sports and played football for the school's team. He wasn't planning to become a professional actor, and upon matriculating in 2003, Clayton worked various jobs to financially support himself while gathering money to pay for his college tuition. In 2007, he enrolled at California Lutheran University, and in 2009 obtained his Bachelor of Arts degree in communications and marketing.
Clayton went on to work in his field of study for the following five years, before launching his acting career with his portrayal of Bad Boy 3 in the 2014 short comedy "Nice Guys Finish", written by Johnny Whitfield who also starred in it alongside Santina Ferrante and Emma Sofia Fazzuoli.
Roles in movies
In 2015, Clayton portrayed The Hitman in the short thriller "House on Lockdown", once again written by Johnny Whitfield, and the same year saw him appear in two other films: the romantic comedy "Actor for Hire" and the short drama "Secret Love".
In 2016, he portrayed a bystander in the short drama "Madaran", written and directed by Rayka Zehtabchi, and the same year he starred as Miles in the short drama "Was".
Clayton then appeared in the crime comedy "Lowlife", which follows three people each trying to find a kidney for themselves – it won two awards while it was nominated for four others. Clayton went on to appear in nine short films of the movie series "Mayans M. C. – Inside Season 1", such as "The Troublemaker, Elgin James", "The Mayans Table Read" and "Designing Mayans M.C."
His most recent appearance in a film has been in the short drama "Mayans M. C. – Season 2: Mayhem Preview – FX", directed by Ethan Wilson, and which also starred Richard Cabral and Michael Irby.
Roles in TV series
Clayton made his debut TV series appearance in the 2014 episode "I Am" of the drama "Out the Box", but which failed to attract any attention.
In 2017 he was invited to play Diego Castillo in five episodes of the third season of the crime drama "American Crime", created by John Ridley, starred Felicity Huffman, Regina King and Timothy Hutton, and followed the lives of people who found themselves in court after committing various crimes. It won 14 awards and was nominated for 90 others, including five Golden Globes.
Clayton appeared in single episodes of various series, such as the action adventure crime "S.W.A.T.", the crime drama "Snowfall", and the mystery crime drama "FBI". His most recent role in a TV series has been when he portrayed Romeo Solis in the 2020 episode "Redemption in Her Corner" of the critically acclaimed mystery crime drama "Law & Order: Special Victims Unit", created by Dick Wolf and which stars Christopher Meloni, Mariska Hargitay, and Ice-T.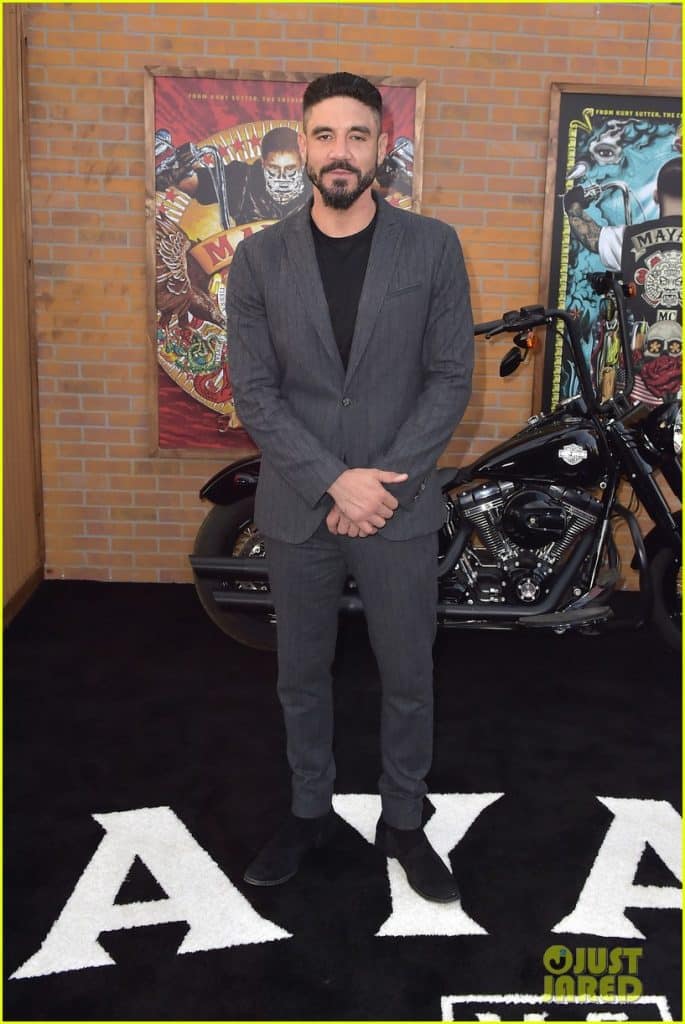 The series has been airing since 1999, and has won 55 awards including a Golden Globe, while it's been nominated for 157 other awards.
Other works
Clayton has five producing, one writing and one directing credit. In 2014, he wrote the episode "I Am" of the series "Out the Box", while the following year saw him direct another episode, "Mister". He produced three episodes of the same series, and then worked on the mini-series "Wrecking Spot Sessions". Also in 2015l, Clayton produced the short drama "Secret Love", and in 2016 another two shorts – "In Varrio We Trust" and "The Was".
He has appeared in four talk-shows and TV specials; in 2015 in the talk-show "The Future of Hollywood" and the TV special "Wrecking Spot Sessions", while his two other appearances were in the 2019 short videos "FX Mayans M. C. Season 2: First Look" and "Mayans M. C. – Inside Season 2: Giving Back – FX".
Love life and wife
Clayton is very secretive when it comes to his love life, and hasn't talked about any women he might have dated since the launch of his acting career, however, there are some people on the internet who claim to have seen Clayton walking hand in hand with his wife, but no proof has been provided to support these claims, and Clayton hasn't commented.
There are many who believe him to be gay, as Clayton can mostly be seen in the company of men, and that he has mostly uploaded pictures with other men onto his Instagram account have contributed to the spread of these rumors, but Clayton hasn't commented on his sexual orientation.
As of January 2021, he appears to be single, hasn't married and doesn't have children.
Hobbies and other interests
Clayton has five to six training sessions at the gym each week thus his muscular body. He is also following a strict diet, mostly because it's important for both his modelling and acting career to stay in shape.
He is interested in fashion, and keeps up with all the latest trends. Clayton has uploaded numerous pictures of himself wearing different outfits onto his Instagram account.
He is a fan of tattoos, and has many inked onto his body, most of which are on his left arm.
Painting is one of Clayton's favorite hobbies, and pictures of many of his works can be found uploaded onto his Instagram account.
In his spare time, Clayton likes to watch movies starring his favorite actors and actresses Will Smith, Denzel Washington and Angelina Jolie, such as "The Independence Day", "Bad Boys" and "Lara Croft: Tomb Raider – The Cradle of Life".
Age, height and net worth
Clayton's age is 35. He has short brown hair and brown eyes, his height is 6ft 3ins (1.9m) and he weighs around 190lbs (86kgs).
As of January 2021, his net worth has been estimated at over $500,000.