• Morgan Eastwood is an American actress and daughter of famous actor and film director Clint Eastwood.
• She was raised in Los Angeles alongside her six half-siblings, and attended a local elementary and high school.
• She has three acting credits to her name, and has also been credited with singing, producing, and being a production assistant.
• Morgan is currently dating Tanner Koopmans, and her net worth is estimated at over $100,000.
• Clint Eastwood has appeared in and directed numerous movies and has won 157 awards including four Oscars.
Who is Morgan Eastwood?
Morgan Colette Eastwood was born in Los Angeles, California USA on 12 December 1996 – her zodiac sign is Sagittarius and she holds American nationality. She's an actress, but who's probably known best for being the daughter of famous American actor and film director Clint Eastwood.
Early life, siblings and education
Morgan was raised in Los Angeles alongside her six half-siblings, including Kimber Lynn, Kyle and Scott Eastwood, by their father and her mother Dina Marie Ruiz, who's a famous American actress and a TV reporter, probably known best for her lead role in the reality TV series "Mrs Eastwood & Company".
Morgan attended a local elementary school at which her interest in acting was born, thanks to her parents who occasionally took her to the sets of their movies and TV series.
Morgan then moved on to a local high school, and began appearing in school plays, but soon accepted that she wasn't talented enough to succeed in the film industry. She was physically active though, as she played volleyball and tennis, and also took creative writing classes.
Upon matriculating in 2014, Morgan decided not to attend college, but to focus on her career.
Career as an actress
Morgan has only three acting credits to her name. She made her debut appearance with her portrayal of The Little Girl in Truck in the 2004 critically acclaimed sports drama movie "Million Dollar Baby", written by Paul Haggis and F. X. Toole, directed by Clint Eastwood who also starred in it alongside Hilary Swank and Morgan Freeman. It follows a woman who's being trained to become a professional boxer, and it won 67 awards including four Oscars, while it was nominated for 86 other awards.
In 2008, she appeared as The Girl on Tricycle in the hit biographical crime movie "Changeling", written by J. Michael Straczynski, once again directed by Clint Eastwood, and which starred Angelina Jolie, Colm Feore and Amy Ryan. It follows Christine Collins who's being persuaded by the Los Angeles Police Department that an imposter is actually her missing child. The movie won 14 awards and was nominated for 54 others, including three Oscars.
Her only other role has been in the 2019 short drama movie "I See You", written and directed by Jordan Crawford, who also starred in it alongside Morgan and Sebastian Segura-Acosta; it failed to attract any attention.
Other credits
She has been credited with singing the song "This Time the Dream's on Me" in the 2009 documentary movie "Johnny Mercer: The Dream's on Me", in which she played a supporting character. Morgan also made an appearance in seven episodes of the reality series "Mrs Eastwood & Company" in 2012.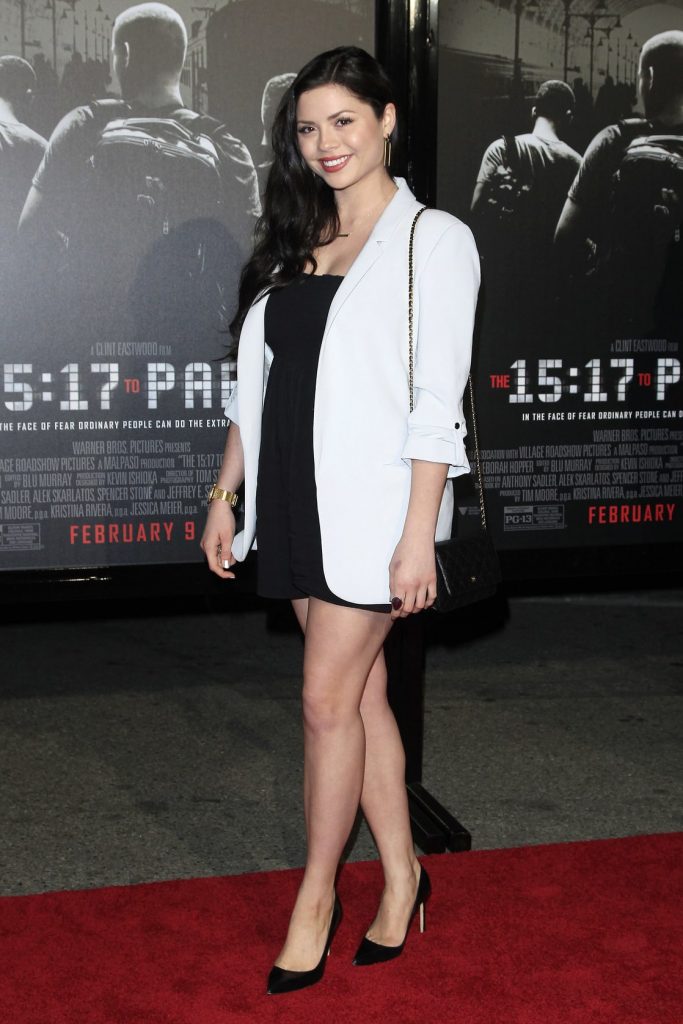 She produced the 2018 short drama movie "Daddy's Playground", as well as the 2019 short film "I See You", and was a production assistant on the 2019 biographical crime movie "Richard Jewell", and the 2020 short action movie "Pamela & Ivy".
Love life and relationships
Morgan prefers to keep the details of her love life to herself, but has still allowed her fans to have a glimpse into it.
Just recently on 14 February 2021, she uploaded many pictures onto her Instagram account featuring her with her boyfriend Tanner Koopmans. The two went on a road trip for the Valentine's Day and apparently had a lot of fun together. Neither has spoken about how and when they met, but it's widely believed that they met at a party and have been together since early 2020.
Morgan hasn't spoken of any other boys whom she has perhaps been with, but a rumor has it that she was in several short-term relationships before meeting Tanner.
As of April 2021, she's dating Tanner Koopmans, hasn't married and doesn't have children.
Hobbies and interesting facts
Morgan's passionate about travelling, and has been all around the US with her parents as they took her with them to most of their red carpet events. She has also been to various European countries including England and France.
Her favorite season is summer as she enjoys swimming in the ocean, playing beach volleyball and sun tanning.
Morgan's physically active as she practices dancing and occasionally goes to the gym.
Her father's 14 years older than her maternal grandfather.
In her spare time, Morgan likes to watch movies starring her favorite actors and actresses Jim Carrey, Ryan Gosling and Amanda Seyfried, such as "Bruce Almighty", "The Notebook" and "Letters to Juliette".
Age, height and net worth
Morgan's age is 24. She has long brown hair and brown eyes, her height is 5ft 5ins (1.65m) and she weighs around 128lbs (58kgs). As of April 2021, her net worth has been estimated at over $100,000, while her father's net worth is reputedly over $375 million.
Who is Clint Eastwood?
Clint Eastwood Jr. was born in San Francisco, California USA, on 31 May 1930 – his zodiac sign is Gemini and he holds American nationality. He has been credited with appearing in more than 70 movies and TV series, producing over 50 and directing more than 40, while he's also received close to 40 special thanks, and has appeared in over 300 talk-shows, documentaries and TV specials. Clint has won 157 awards including four Oscars, while he has been nominated for 174 other awards.
He was raised in San Francisco alongside his younger sister Jeanne Bernhardt by their mother Ruth (nee Runner), who died in 2006 aged 97, and their father Clinton Eastwood who died in 1970 aged 64. Following his father's death, his mother married John Belden Wood.
Clint studied at Piedmont Middle School, but was asked to quit after he burned an effigy at the school. He then moved to Oakland Technical High School, while it's unknown whether or not he actually matriculated. Clint worked various jobs during that time, as a golf caddy driver, lifeguard and a grocery clerk. He joined the US Army, and was a lifeguard at Fort Ord.
He auditioned for many movie roles in the early 1950s, while a couple of his first appearances were in the 1955 science fiction "Revenge of the Creature" and the comedy "Francis in the Navy", and then in the 1956 western "Star in the Dust". Clint gained recognition in 1964 with his portrayal of the lead character in the spaghetti western "A Fistful of Dollars" which made him a star not just in Italy but around the world, followed by "A Few Dollars More", and in 1966 in the critically acclaimed epic spaghetti western "The Good, the Bad and the Ugly".
He then appeared in many popular western and war movies, and in 1980 he both directed and starred in the western "Bronco Billy" which helped him gain recognition as a director as well. A couple of Clint's most notable performances over the years were in the 1984 neo-noir slasher crime movie "Tightrope", "Where Eagles Dare" in 1986, the 1988 biographical movie "Bird" which won him two Golden Globes, and the 1997 political thriller film "Absolute Power".
In 2003, he directed the neo-noir mystery crime movie "Mystic River" which won two Oscars and in the same year, the National Society of Film Critics named Clint Best Director of the Year. He then directed two movies about the Battle of Iwo Jima fought in the Second World War entitled "Flags of Our Fathers" told from the American perspective, and "Letters from Iwo Jima" told from the Japanese point of view.
Most recently in October 2020, it was announced that Clint would be directing, producing and starring in a movie based on the 1975 novel "Cry Macho", written by N. Richard Nash.
He married his first wife Maggie Johnson in 1953, but had affairs during the marriage which ended in 1984; he was openly dating Sondra Locke from 1975 to 1989 although still married to Maggie. From 1990 to 1995, Clint dated Frances Fisher and from 1996 to 2014, he was married to his second wife Dina Ruiz, Morgan's mother. Even though he has been asked by his interviewers on numerous occasions, Clint refuses to disclose the exact number of his children.
He's taking good care of both his mental and physical health and doesn't smoke unless a role requires him to, and he practices transcendental meditation daily. Clint's also an avid golfer, and is the owner of the Tehama Golf Club.
He doesn't believe in God but finds spirituality in nature.