• Born in McAlester, Oklahoma USA in 1976.
• Established voice actor with over 190 titles to his name.
• Net Worth estimated at over $1 million in 2021.
• Voiced many popular anime roles such as Victor Nikiforov in "Yuri!!! On Ice" and Rin Tsuchimi in "Shuffle!"
• Also works as a voice director for various anime series.
Who is Jerry Jewell?
Jerry Dean Jewell was born on 30 July 1976 under the zodiac sign of Leo, in McAlester, Oklahoma USA. He's a 44-year-old voice actor and voice director, probably best recognized for working on anime series for OkraTron 5000 and Funimation. He's lent his voice to such roles as Rin Tsuchimi in "Shuffle!" (2005-2006), Victor Nikiforov in "Yuri!!! On Ice" (2016), and Kyo Soma in "Fruits Basket" (2019-2021).
How rich is he, as of now? Jerry Jewell Net Worth
As of mid-2021, Jerry Jewell's net worth is estimated at over $1 million, earned through his successful career in the entertainment industry as a professional voice actor and voice director, who has worked on more than 190 television and film titles since he launched his career back in the early 1990s.
Early Life, Parents, Siblings, Nationality, Ethnicity, Educational Background
Jerry Jewell spent his early years in his hometown of McAlester, where he was raised by his parents; however, there is no public information about their names and professions. It's also unknown whether he has siblings, or is an only child. He holds American nationality and belongs to White Caucasian ethnic group. Jerry Jewell hasn't shared any details about his education, either.
Career Beginnings
Jerry Jewell's professional career began in the early 1990s, when he started providing his voice to characters in numerous Japanese manga and anime series, making his debut with the roles of Jin and other characters in the highly-popular "Yu Yu Hakusho: Ghost Files" from 1992 to 1994.
It was followed by his voice-overs of Akito Hayama in Miho Obana's short manga series "Kodocha" and Eis Shenron in "Dragon Ball GT", based on the "Dragon Ball" manga by Akira Toriyama, both from 1996 to 1997.
Rise to Fame
Jerry Jewell gained enormous popularity when he took the role of Jimmy Kudo in the detective manga series "Detective Conan", also known as "Case Closed" (1996-1998), written by Gosho Aoyama. It sold over 230 million copies worldwide, becoming one of the best-selling manga series. He reprised the role in various feature films based on the series, such as "Detective Conan: The Time Bombed Skyscraper" (1997), "Detective Conan: The Last Wizard Of The Century" (1999), and "Detective Conan: The Phantom Of Baker Street" (2002), to name a few.
His next major project came when he voiced several characters in one of the most popular anime series – "One Piece" – from 2000 to 2013. Concurrently, he continued to work on other series, and gave voice to Tony Frost in "Blue Gender" (2000), Kyo Sohma in "Fruits Basket" (2001), and Nam / Sky Dragon in "Dragon Ball" (2001-2002).
Continued Success
Between 2003 and 2004, Jerry Jewell provided the voice of Barry the Chopper / Number 66 in the manga series "Fullmetal Alchemist", directed by Seiji Mizushima; he would later reprise the role in its 2009 sequel, entitled "Fullmetal Alchemist: Brotherhood". It was followed by his portrayal of Hyogo in the anime series "Samurai 7" (2004), based on Akira Kurosawa's 1954 film "Seven Samurai".
Thereafter, Jerry landed the roles of Taira in Harold Sakuishi's manga series "Beck: Mongolian Chop Squad" (2004-2005), and Sorata in "Reservoir Chronicle: Tsubasa" (2005), written and illustrated by the manga artist group Clamp. He then did the voice-over of Rin Tsuchimi in the Japanese visual novel "Shuffle!" from 2005 to 2006, developed by Navel. His next major role came in 2006 when he portrayed Zelman in "Black Blood Brothers", after which he voiced various characters in such manga series as "Claymore" and "D.Gray-man", both in 2007.
Roles in the Late 2000s
It was followed by Jerry's voice-overs of Claire Stanfield in Ryohgo's anime series "Baccano!" (2007-2008) and Asim Jamar in the anime series "Dragonaut: The Resonance" (2007-2009). He then played Pinocchio in Yu Aida's manga series "Gunslinger Girl: Il Teatrino" and The Bat in the anime series "Rosario + Vampire", both in 2008.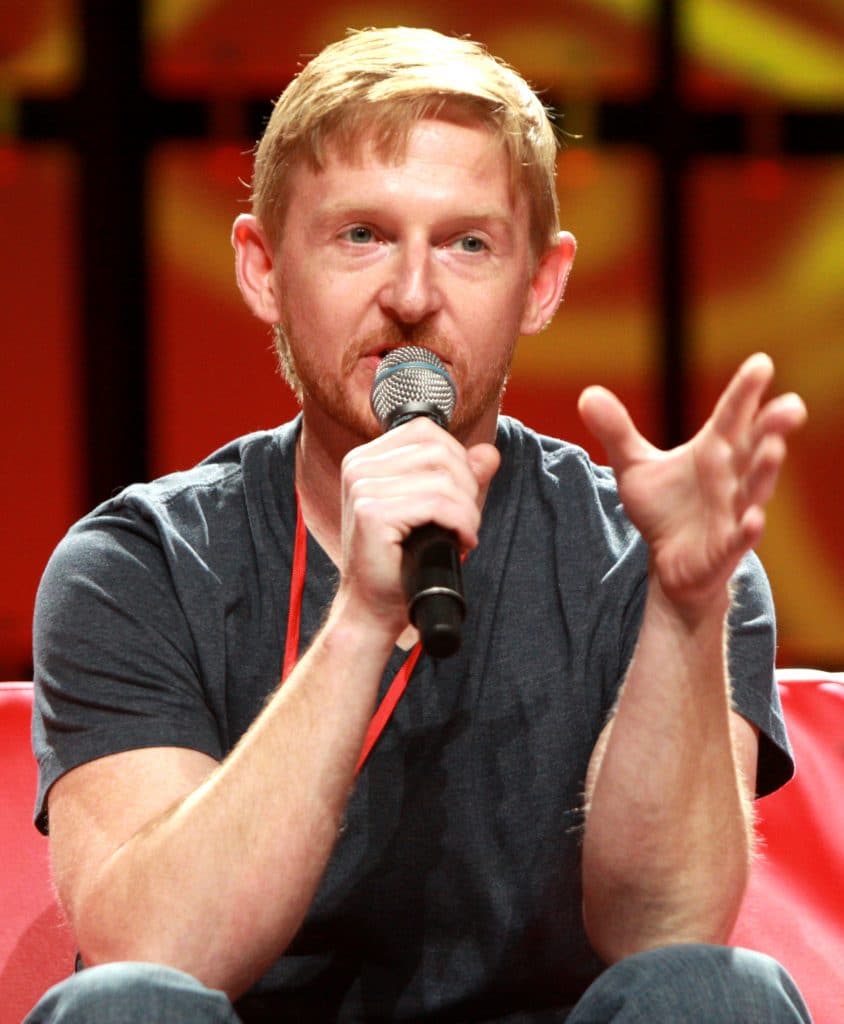 Through 2008 and 2009, Jerry Jewell did the voice-overs of Lailalo in "Birdy The Mighty Decode" and Doumyoji in "Linebarrels Of Iron".
From 2008 to 2010, Jerry provided his voice to Lau in Yana Toboso's "Black Butler" and Higa in Sakurako Gokurakuin's "Sekirei". Thereafter, he starred as Cliff in "Tenchi Muyo! War On Geminar" (2009-2010), different characters in "A Certain Scientific Railgun" (2009-2013), and Lyon Bastia in "Fairy Tail" (2009-2019). In 2010, he voiced Natsuno in "Shiki" and Lucile in "The Legend Of The Legendary Heroes".
Further Work
With the beginning of the next decade, Jerry Jewell continued to line up successes – he lent his voice to various characters in both Navel's visual novel "We Without Wings: Under The Innocent Sky" (2011-2012), and the anime series "Hagani: I Don't Have Many Friends" (2011-2013). It was followed by his voice-overs of Muneyoshi Kugayama in "Hyouka", Kyoya Hikami in "Aesthetica Of A Rogue Hero", and Yuki Tenpoin in "Code: Breaker", all in 2012.
In the following year, he played Azana in the mysterious anime series "Karneval", and joined the cast of "Attack On Titan", in which he voiced Moblit and other characters through to 2019; he reprised the role in its 2015 sequel "Attack On Titan: Junior High". He then provided his voice to Shikiba and additional characters in "D-Frag!" and Jake in "Kenzen Robo Daimidaler", both in 2014. Afterwards, Jerry voiced various characters in the 2015 manga series "Maria The Virgin Witch", written and illustrated by Masayuki Ishikawa, and during the same year, he also had the part as Shinya Hiragi in "Owari No Serafu".
Projects in the 2010s
Jerry Jewell's next significant role came when he joined the cast of the anime series "High School DxD", in which he starred as Ajuka from 2015 to 2018. He then voiced Gieve in the anime series "The Heroic Legend Of Arslan: Dust Storm Dance", and lent his voice to Aion in "Show By Rock!!", both between 2015 and 2016.
Headed back to Ohio! https://t.co/AME1FNmjL1

— Jerry Jewell (@VAJerryJewell) March 4, 2020
In 2016, he did the voice-overs of Yu Kamoda in "Prince Of Stride", Snowlily in "Servamp", and Kusuo Saiki in "The Disastrous Life Of Saiki K.".Later that year, he also played Victor Nikiforov in "Yuri!!! On Ice" and Shara in "Drifters". Afterwards, Jerry had the part of Ohtomo in "Trickster", and Jest in "Puzzle & Dragons X", both from 2016 to 2017.
He then voiced several characters in "My Hero Academia" (2016-2020) and "Black Clover" (2017-2020). It was followed by his portrayals of Sandal in "Sakura Quest", Oliver Blomdahl in "Knight's & Magic", and Usagi in "Juuni Taisen", all in 2017. In 2018, Jerry Jewell landed the voice roles of various characters in the anime mini-series "Karakai Jouzu No Takagi-san" and Raeven in the anime series "Overlord", after which he lent his voice to Yoshiaki in "Afterlost: Where I End and You Begin" in 2019.
Most recently, he reprised the role of Kyo Soma in "Fruits Basket" (2019-2021) and landed different roles in "Appare-Ranman!" (2020).
Additionally, Jerry has worked as a voice director for such series as "Code: Realize – Guardian Of Rebirth", "Harukana Receive", and "A Certain Scientific Accelerator", among others. Thanks to his accomplishments, Jerry has received four Behind the Voice Actors (BTVA) Award nominations.
Personal Life and Appearance
Jerry Jewell was married to Inawna Marie Mooney. They exchanged wedding vows at a ceremony held on 27 October 2001, but after almost six years of marriage, Jerry and Inawna parted ways and divorced on 7 August 2007. The couple shares a child.
Regarding his appearance, he has short ginger hair and blue eyes. He stands at a height of 5ft 10ins (1.78m). Information about his weight, vital statistics, biceps size and shoe size isn't available.