Daisy Lowe:
• British fashion model and actress
• Daughter of Pearl Lowe, British fashion designer
• Jewish ethnicity
• Father is Gavin Rossdale
• Modeled for Chanel, Topshop, PPQ, Nanette Lepore, Sue Stemp, Vivienne Westwood, and Henry Holland
• Appeared in prominent magazines such as Elle, GQ, Paradis, Maris Clair, Grazia, and Instyle
• Acting career in 2009
• Appeared in music videos
• Competed in 'Strictly Come Dancing'
• Net worth estimated at $6 million
Daisy Lowe is a British fashion model and actress who has graced many catwalks throughout her career. She is also known for being the daughter of British fashion designer Pearl Lowe.
Everything you need to know about supermodel Daisy is contained in this biography. Dig in to find out!
Early Life, Family, Educational background
Daisy Rebecca Lowe was born on 27 January 1989, under the zodiac sign of Aquarius, in Westminster, London England. While she holds British nationality, Daisy retains her Jewish ethnicity. Daisy's mother, Pearl Lowe (a former singer turned fashion designer) raised her, with the help of her step-father, Bronner Handwerger, who worked as a fertility specialist.
They lived together in Primrose Hill, North London. When the couple split, Pearl's mother moved to Hampshire, leaving Daisy in the care of her grandparents.
It was widely believed that Bronner was Daisy's biological father, while Gavin Rossdale (singer and actor) served as her godfather. It was not until 2004 that a DNA test revealed Gavin was her biological father due to a one-night stand he had with Pearl Lowe in the '80s. Daisy didn't know her father until she was 14! Pearl Lowe dissected the story in her autobiography, "All That Glitters, " released in 2007.
Daisy had her education at South Hampstead High School.
She had dreams of becoming an archaeologist, but she lost interest in that field when she started making money from modeling.
Even after the huge discovery, Daisy Lowe and her father did not get off to a good start. Gavin Rossdale neither spoke to Pearl nor Daisy until he was ready. However, it appears that the duo are back on track. Describing her relationship with Gavin, Daisy says to the Evening Standard, 'I now have a really good relationship with my father.'
Daisy now has three step-siblings from her mother: Alfie, Betty, Frankie Goffey, and three from her father: Kingston, Zuma, and Apollo Rossdale.
Career
Modeling
Daisy Lowe has been around famous people all her life, so it's not surprising that she chose a career in entertainment.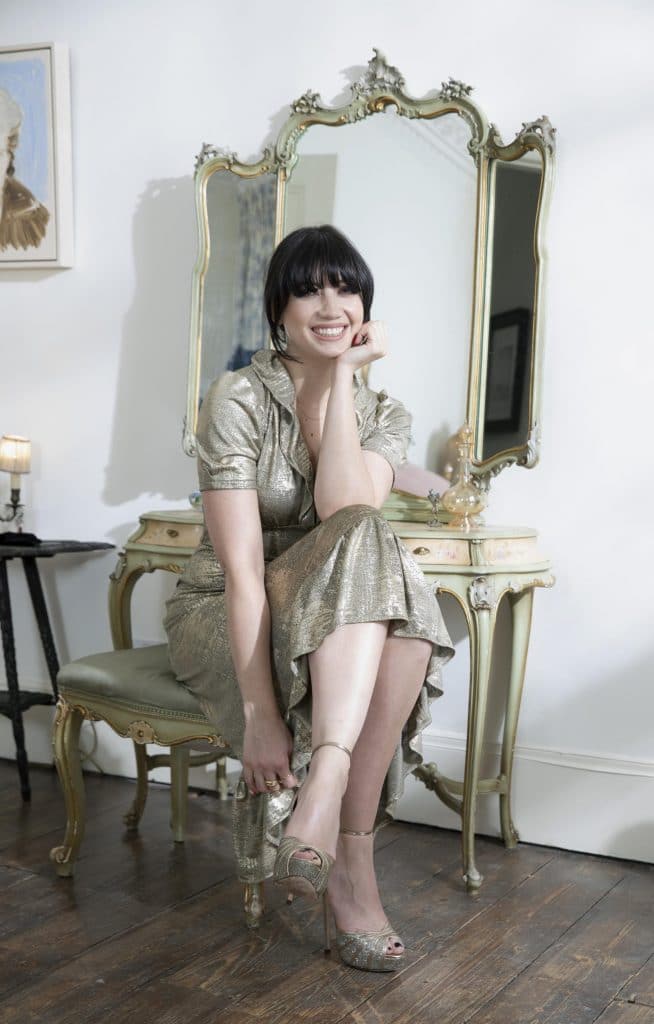 Between 12 and 14 years of age, Daisy did some random shoots for several companies. Her modeling career officially started in when a talent scout approached her in Camden Town. Subsequently, they linked her to Select, a London-based modeling agency. She was 15 at the time. In February 2006, Daisy was photographed by Steven Klein, a New York-based photographer, for her feature in Vogue Italia. Later in September, she modeled for Urban Outfitters, appeared on printed ads for French Connection, and was profiled in Harper's Bazaar.
She worked with Steven Klein again in March 2007 for Xurbia, a W magazine pictorial. In the same month, she featured in Jane Magazine alongside Lydia Hearst-Shaw.
In May of 2007, Daisy made her second appearance in Vogue Italia, then the following month she posed nude for the cover of i-D Magazine, with Will Cameron (her partner at the time), in a shoot by Terry Richardson.
Fast forward to 2010; throughout May, Daisy documented her daily fashion choices in the "Today I'm Wearing…" series for Vogue UK. A few months later, she was announced as the face of Biba's and Stephen Webster's jewelry campaign.
In 2015, Daisy Lowe was 89th on the FHM 100 Sexiest List.
She has subsequently appeared on catwalks for Chanel, Topshop, PPQ, Nanette Lepore, Sue Stemp, Vivienne Westwood, and Henry Holland. She has also modeled for numerous fashion brands, such as Louis Vuitton, Agent Provocateur, Dr. Martens, Burberry, Whistles and Ben Sherman.
Her soaring career has also led her to appear in prominent magazines such as Elle, GQ, Paradis, Maris Clair, Grazia, and Instyle, among many others.
Daisy's career as a model means that she has to travel far and wide for shoots and fashion shows. Some places she's worked in are New York, Milan, Paris and London.
Acting Career
In 2009, Daisy Lowe kicked off her acting career with the role of Diane in "The First Days of Spring". She landed her first lead role in a psychological thriller, "Confine" (2013), playing the troubled ex-model, Pippa, after which she took on roles in "Pressure" (2015), "Absolutely Fabulous: The Movie" (2016), and "Teen Spirit" (2018).
Ms. Lowe has also appeared in music videos, such as "Come Closer" in 2011 for Miles Kane and "Leave Your Lover" in 2014 for Sam Smith.
In October of 2014, Daisy was featured in Channel 4's "Feeling the Nuts Comedy Night" alongside Jimmy Carr and Rylan Clarke, to raise awareness of testicular cancer.
Strictly Come Dancing
"Strictly Come Dancing" is a British television dance contest in which celebrities are paired up with professional dancers to compete against each other. The dance of choice was a ballroom and Latin dance. On 17 August 2016, Daisy Lowe was announced as a contestant for the 14th series of the show, partnered with the Slovenian dancer, Aljaz Skorjanec; judges eliminated them in week eight of the 14th series.
Daisy Lowe undoubtedly wears many hats.
In her 15-year career, she has been a model, TV host, DJ, video vixen, podcaster, and actress. When asked how she manages fame and the attention that comes with it, Daisy said to The Guardian, 'when I turned 19, I decided never to read anything about myself'.
Personal Life, Relationship
In typical celebrity fashion, Daisy Lowe has been in several public relationships, including her share of terrible ones. The model revealed on The Truth Flirts Podcast that she was body-shamed by an ex-, who said she was 'disgusting and needed to lose weight'. However, she, didn't identify which ex- said such demeaning things to her.
After Daisy broke up with Cameron McMeikan, she started dating English singer Jack Penate, but the duo split after few months, apparently due to the lockdown.
When her best friend Matilda Napier was running late for their walk on The Heath, Daisy met Jordan Saul. They bonded over their mutual love for dogs and officially became a couple on 4 June 2020.  They were sighted celebrating Daisy's 32nd birthday together, and seem to be very much in love, with no intentions of slowing down. Daisy took to Instagram to pen a beautiful message to her lover for their first anniversary, saying, 'Thanks for feeling like home…I'm so grateful that you're mine….'
Daisy Lowe lives in London with her boyfriend, her puppy Monty, and her boyfriend's Belgium Shepherd, Kai.
Appearance, Clothing Style
Daisy Lowe is 5ft 10ins (1.78m) tall, and weighs about 134lbs (61kgs). She has naturally brown hair and hazel eyes.
As a supermodel, Daisy's wardrobe consists of varying outfits. She doesn't have a set pattern of dressing, and just goes with whatever feels good; she often wears bikinis and bodysuits for commercial shoots, but goes with elegant evening gowns for red carpet events, while casual outings have her in sexy sundresses.
Hobbies, Favorite Things, and Interesting Facts
Daisy Lowe practices transcendental meditation every morning.
She loves traveling.
She's interested in all things fashion.
Baking is her favorite form of therapy.
Daisy is passionate about reversing climate change.
Net Worth and Salary
After years of working as a model and dabbling in other careers on the side, Daisy Lowe has accumulated a net worth estimated at $6 million. Her mother, Pearl Lowe, has an estimated net worth of $1.9 million, while Gavin Rossdale's net worth is reputedly over $45 million.