• American actor Bruce MacLeish Dern was born in Chicago, Illinois in 1936
• He is best known for his performance in the 2013 movie "Nebraska"
• He has starred in close to 200 movies and TV series
• He married thrice, with his third wife being Andrea Beckett
• He is 86 years old, with a net worth of $12 million
Who is Bruce Dern?
American actor Bruce MacLeish Dern was born in Chicago, Illinois USA, on 4 June 1936, meaning that his zodiac sign's Gemini. He's had roles in close to 200 movies and TV series, and is perhaps best known for his playing Woody Grant the main character in the 2013 adventure comedy movie "Nebraska", directed by Alexander Payne, and which also starred Will Forte and June Squibb. It follows an alcoholic who's travelled with his son from Montana to Nebraska to claim a $1 million prize; the film won 29 of its 204 award nominations, including six Oscar nominations.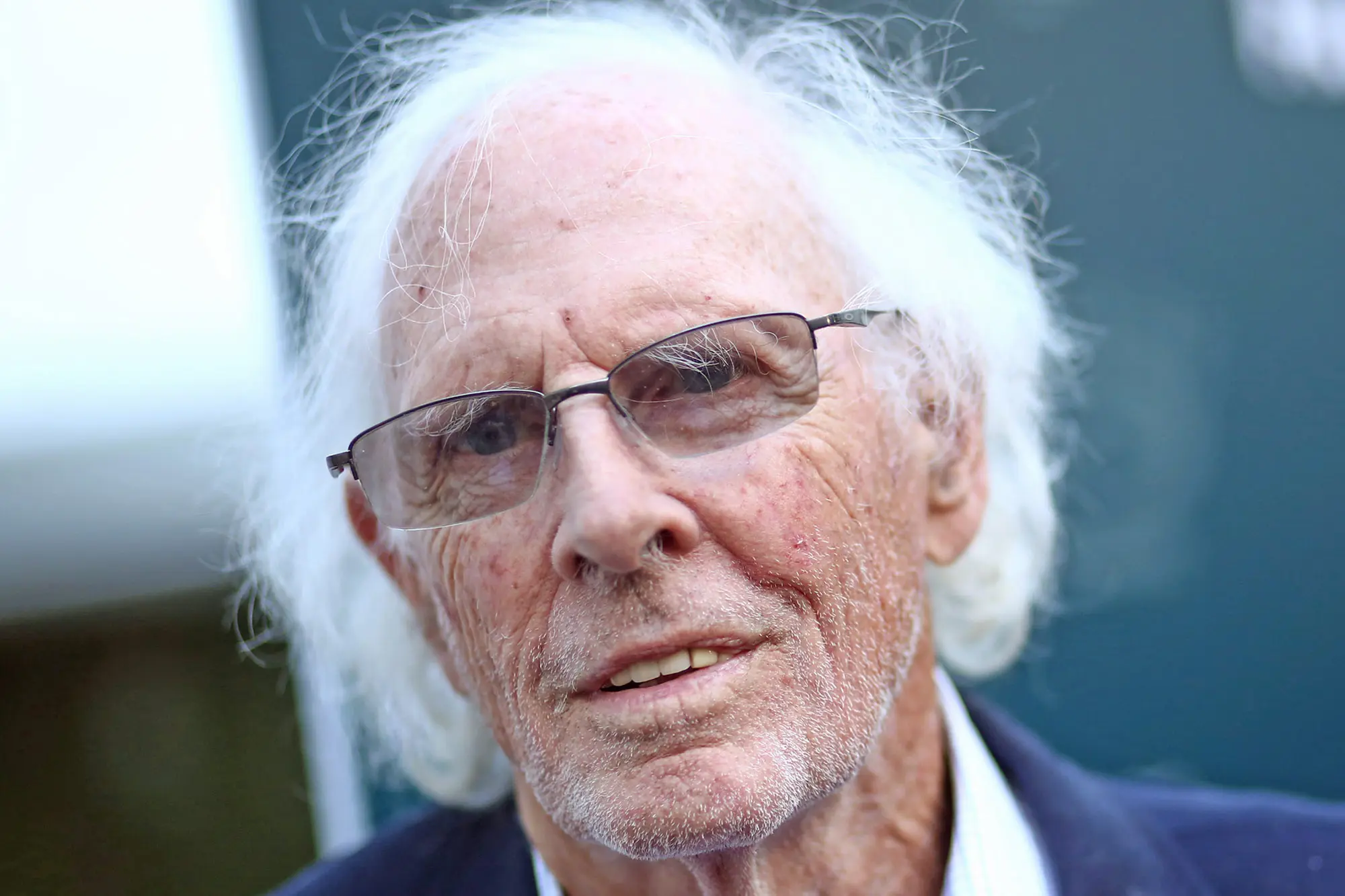 Education and early life
Bruce was raised in Kenilworth, Illinois by his father John Dern who was a lawyer and utility chef, who died aged 55 in 1958, and mother Jean (nee MacLeish) who passed away aged 64 in 1972. Bruce's maternal grandfather was Vice President of the store chain Carson, Pirie and Scott, and his paternal grandfather was Utah governor and US Secretary of War George Dern.
Bruce studied at New Trier High School, and was a track star during his teenage years, even entering the Olympic Trials. Upon matriculating in 1954, he enrolled at the University of Pennsylvania, graduating with a Bachelor's degree in 1958. Bruce then honed his acting skills at The Actors Studio in New York City, where he was taught by Lee Strasberg and Elia Kazan.
Roles in movies
Bruce made his debut film appearance in the 1960 historical romantic drama "Wild River", and a couple of his following roles were in the 1964 crime mysteries "Marnie" and "Hush… Hush, Sweet Charlotte", and the 1966 action thriller "The Wild Angels". What marked the decade for him was perhaps his playing of Hammond in the 1967 western "The War Wagon", directed by Burt Kennedy, and which starred John Wayne, Kirk Douglas and Howard Keel. It follows a man who's planning to have his revenge on the man who robbed, shot and imprisoned him, by stealing his large shipment of gold; the movie won a Western Heritage Award for Theatrical Motion Picture.
Some of Bruce's most notable performances in the '70s were perhaps in the 1971 crime western "Who Killed the Mysterious Mr. Foster?", the 1976 comedy "Won Ton Ton: The Dog Who Saved Hollywood", and the 1978 romantic war drama "Coming Home".
He appeared in only a couple of movies in the '80s, the most popular amongst these probably being the 1989 mystery thriller comedy "The 'Burbs", which Joe Dante directed, and in which Bruce starred alongside Carrie Fisher and Tom Hanks. It follows a group of neighbors who believe that the family who've just moved in on the block are members of a Satanic cult; the movie was nominated for only a single award.
Some of Bruce's memorable performances in the '90s were in the 1994 biographical adventure "Amelia Earhart: The Final Flight", the 1996 crime action "Last Man Standing", and the 1999 fantasy mystery horror "The Haunting".
In 2003, he portrayed Editor in the musical comedy "Masked and Anonymous", written and directed by Larry Charles, and which starred Bob Dylan, John Goodman and Jessica Lange. It follows a singer who's been forced to perform at a benefit concert, and the film 'won' The Stinker Bad Movie Award for Worst Supporting Actress (Penelope Cruz). Some of Bruce's other roles in the 2000s were in the  sports drama "Believe in Me" and the  science fiction adventure "The Astronaut Farmer" both in 2006, and the 2009 comedy "The Lightkeepers".
He appeared in more than 20 movies in the 2010s, including his portrayal of General Sandy Smithers in the hit 2015 crime mystery "The Hateful Eight", which Quentin Tarantino wrote and directed, and which starred Jennifer Jason Leigh, Kurt Russell and Samuel L. Jackson. It follows a bounty hunter and his catch who've found shelter in a cabin during a Wyoming winter; the movie won 46 of its 162 award nominations, including an Oscar win for Best Achievement in Music Written for Motion Pictures, Original Score.
Bruce's three most recent film roles have been in the comedy "The Hater", the horror thriller "Mid-Century", and the thriller "The Most Dangerous Game", all released in 2022.
Roles in TV series
Bruce's debut TV series role was his playing of Albert in the 1960 episode "The Man on the Monkey Board" of the adventure drama "Route 66", and the '60s then saw him appear in an episode of numerous series, with some of these having been the crime thriller "Naked City", the action adventure "Sea Hunt" and the drama "Surfside 6".
Bruce had no TV series roles from 1970 through 1984, then in 1985 was cast to star as Stanley Mott in the drama mini-series "Space", which also starred James Garner and Susan Anspach, and follows a space program which ran from after World War II to the moon landing of Apollo; the mini-series won two of its five award nominations.
Once again, from 1985 through 2002 Bruce appeared solely in movies, plus in 2003 voiced Randy Strickland in the episode "Boxing Luanne" of the animated comedy "King of the Hill". The year 2007 saw him play Vet in the episode "Boo" of the crime action "CSI: NY", and from 2006 through 2011, he played the supporting character Frank Harlow in the drama "Big Love"; created by Will Scheffer and Mark V. Olsen, it starred Chloe Sevigny, Jeanne Tripplehorn and Bill Paxton, and follows the life of a businessman who has three wives; the series won seven of its 61 award nominations.
Bruce has since appeared in only four TV series, with his two most recent appearances having been in eight episodes of the 2019 crime mystery "Mr. Mercedes", and eight episodes of the 2021 drama "Goliath".
@AwardsRadar gets it! Legendary @BruceDern deserves an #Emmy nomination for his work this season on @goliathtv. Come on voters! @AmazonStudios #goliath #foryourconsideration #emmys2022 @JoeyMagidson #bestsupportingactor https://t.co/3dwi40E4Ih

— Wallman PR (@WallmanPR) June 10, 2022
Other credits
Bruce has received nine special thanks, including for the 2002 short documentary video "Hal Ashby: A Man Out of Time", the 2008 talk-show "Dr. X's Creature", and the 2017 short western film "The Good Time Girls".
He sang the song "You Are My Sunshine" in the 2020 action movie "Death in Texas".
Bruce produced the 2021 drama movie "Coast".
Some of the talk-shows in which he's recently made a guest appearance include "I Am Burt Reynolds", "Hollywood Insider" and "Call Me Uncle Bud with Bruce Dern".
Awards and nominations
Bruce has won 18 of his 59 award nominations, including two Oscar nominations in 1979 and 2014, for Best Actor in a Supporting Role for "Coming Home" and Best Performance by an Actor in a Leading Role for "Nebraska", respectively.
Some of his wins include a 1983 Silver Berlin Bear Award for Best Actor, for "That Championship Season", a 2013 Cannes Film Festival Award for Best Actor, and a 2014 Movies for Grownups Award for Best Actor, both for his performance in "Nebraska".
Love life and wife
Bruce has married thrice. His first wife was American non-celebrity Marie Dawn Pierce – they married on 7 September 1957, but their divorce was finalized in 1959.
In 1960, Bruce married famous American actress, screenwriter and director Diane Ladd; she's appeared in close to 150 movies and TV series, and was nominated for three Oscars for Best Actress in a Supporting Role in 1975, 1991 and 1992, for her performance in movies "Alice Doesn't Live Here Anymore", "Wild at Heart" and "Rambling Rose", respectively. Diane gave birth to their daughter Diane Elizabeth Dern on 29 November 1960, who was 18 months old when she fell into a swimming pool and died from head injuries. On 10 February 1967, Diane gave birth to their second daughter Laura Elizabeth Dern, and she's today a famous actress with over 100 credits to her name, and won a 2020 Oscar for Best Performance by an Actress in a Supporting Role, for "Marriage Story".
Bruce and Diane's divorce was finalized on 18 September 1969; on 1 November 2010, Bruce, Diane and their daughter Laura all received stars on the Hollywood Walk of Fame.
Since 20 October 1969, Bruce has been married to his third wife, American non-celebrity Andrea Beckett.
Interesting facts and hobbies
Bruce enjoys collaborating with famous American actors and producers Jack Nicholson and Roger Corman.
He most often portrays psychotic and villainous characters.
In the 1972 movie "The Cowboys", Bruce's character killed John Wayne's character, after which  he received many death threats in the following a couple of years.
He's been passionate about running since his teenage years, and has completed many marathons and ultra-marathons – races longer than 50 miles. He's revealed that he doesn't smoke or drink coffee and alcohol, all because of running.
Bruce is a grandfather, as his daughter Laura has a son Ellery Walker Harper and a daughter Jaya Harper with her former husband Ben Harper.
He's a huge fan of European soccer, and cheers for London's Chelsea Football Club.
Some of Bruce's favorite actors are James Dean, Morgan Freeman and John Wayne, while some of his favorite movies include "Giant", "East of Eden" and "Rebel Without a Cause".
Height, eyes and wealth
Bruce's age is 86. His eyes are brown and he has gray hair, he's 6ft 1in (1.85m) tall and weighs around 180lbs (83kgs).
Bruce's net worth's been estimated at over $12 million, as of December 2022.