• Larry Storch is an American retired actor and comedian with close to 250 acting credits to his name.
• He is best known for his portrayal of Corporal Randolph Agarn in the popular western comedy series "F Troop" (1965-1967).
• Larry has voiced various characters in the animated family comedy "Groovie Goolies" (1970), and appeared in the crime horror drama "The Alfred Hitchcock Hour" (1960s).
• He has received a Primetime Emmy nomination and has made guest appearances in numerous talk-shows.
• Larry is 98 years old, has an estimated net worth of over $1 million, and is an avid animal lover.
Who is Larry Storch?
Lawrence Samuel 'Larry' Storch was born in New York City, USA, on 8 January 1923 – his zodiac sign is Capricorn, and he holds American nationality. He's a retired actor and comedian, with close to 250 acting credits to his name, while he's perhaps still known best for his portrayal of one of the lead characters, Corporal Randolph Agarn, in the popular western comedy series "F Troop". It was created by Richard M. Bluel, also starred Forrest Tucker and Ken Berry, and follows the lives of soldiers stationed at an outpost in the Wild West. The series aired from 1965 to 1967, and was nominated for two awards, including a Primetime Emmy.
Larry hasn't been active in the film industry since 2010, which is why there have been some rumors circulating the internet claiming that he's passed away, however, these have been proven false.
Early life and education
Larry was raised in New York City alongside his younger brother Jay (also an actor), by their father Alfred Storch who was a realtor, and their mother Sally Kupperman Storch who was a telephone operator. Jay was born in 1924, and passed away in 1987.
Larry studied at DeWitt Clinton High School, but because of the Great Depression, he dropped out and found work to financially support himself and help his parents; Larry worked as a stand-up comedian, earning $12 a week. He then joined the US Navy, serving on a submarine during World War II.
Roles in movies
Larry launched his acting career aged 28, in the 1951 adventure drama "The Prince Who Was a Thief", and two years later he played Sergeant Bagradian, in the critically acclaimed war comedy drama "Stalag 17", written and directed by Billy Wilder, and which starred William Holden, Don Taylor and Otto Preminger.
It tells the story of J. J. Sefton, who is believed to be an informer, after two American WWII prisoners were killed while trying to escape from a German prisoner of war camp. The movie won three awards, including an Oscar, while it was nominated for five other awards.
Larry became popular in the '60s, when he appeared in a number of hit movies, with some of the most popular amongst these being the 1960 romantic comedy "Who Was That Lady?", the 1963 war comedy drama "Captain Newman, M. D.", and the 1965 action adventure comedy "The Great Race".
In 1971, Larry was cast to voice Hare in the animated family comedy "Aesop's Fables", and in 1972 he portrayed David in the comedy "The Couple Takes a Wife". It was directed by Jerry Paris, starred Bill Bixby, Paula Prentiss and Myrna Loy, and follows a couple who want to hire 'a second wife'.
Some of Larry's other notable performances in the '70s were in the 1973 animated adventure comedy "Treasure Island" (voice role), the 1974 animated family drama "Oliver Twist" (voice role) and the 1975 action thriller drama "Airport 1975".
In 1980, he was cast to play Scoutmaster in the science fiction horror thriller "Without Warning", and some of his other film roles in the '80s were in the comedy drama "S. O. B.", the adventure drama "The Adventures of Huckleberry Finn", and the action crime comedy "Fake-Out".
In the last two decades of his acting career prior to retiring, Larry appeared in only a couple of movies, with his three final roles having been in the 2002 comedy "The Funkhousers", the 2005 romantic comedy "Funny Valentine", and the 2005 drama "Bittersweet Place".
Roles in TV series
He made his TV series debut in a 1953 episode of the comedy "The Arthur Murray Party", and the '50s saw Larry appear in an episode of a couple of series, such as the family adventure drama "Shower of Stars", the family comedy "The Phil Silvers Show", and the comedy "Hennesey".
He gained recognition in 1962, when he voiced the lead characters Koko the Clown and Mean Moe, in the animated family drama "Out of the Inkwell". It also starred Hal Seeger and Beverly Arnold, and follows the adventures of Koko the Clown, Kokette and Mean Moe. The '60s saw Larry win roles in a couple of popular series, such as the comedy "Car 54, Where Are You?", the crime horror drama "The Alfred Hitchcock Hour", and the animated drama "Tennessee Tuxedo and His Tales".
In 1970, Larry voiced various characters in the animated family comedy "Groovie Goolies", and in 1971 he portrayed Duke Farentino, in the comedy "The Doris Day Show". Between 1969 and 1972, he voiced various characters in the animated family comedy "Sabrina the Teenage Witch", which starred Jane Webb, Dal McKennon and Howard Morris, and follows the life of a witch who's using her powers to help teenagers.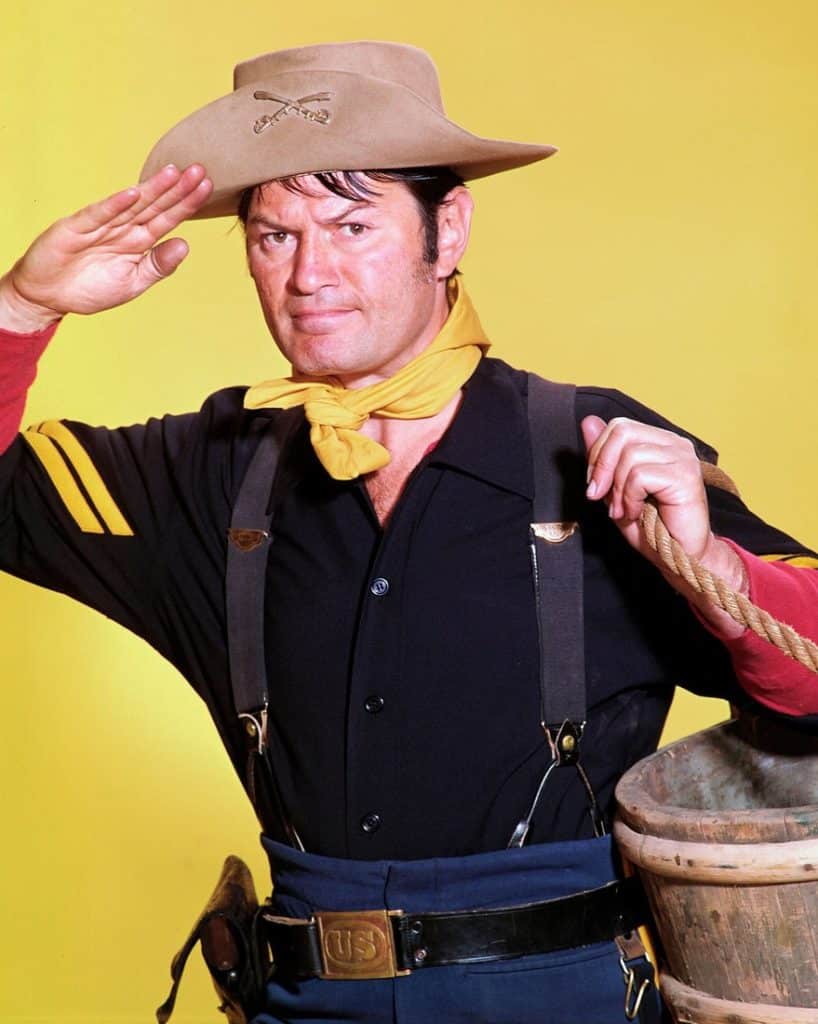 Larry had appeared and voiced characters in around 30 series in the '70s, including the comedy drama "All in the Family", the comedy "The New Temperatures Rising Show", and the animated family comedy "The Brady Kids" (voice role).
His most notable performance in the '80s was his voicing of various characters in 13 episodes of the animated family comedy "Foofur", created by Phil Mendez, starred Michael Bell, Susan Blu and William Callaway, and which follows the lives of several dogs; the series was nominated for two awards.
In the 1990s and the 2000s, Larry appeared in only a couple of series, while three of his final roles before retiring from acting, were in the 1996 episode "Dr. Amore" of the action drama "Land's End", a 1996 episode of the soap opera "Days of Our Lives", and a 2010 episode of the comedy "Medium Rare".
Other credits
In 1955, Larry sang the song "That's Entertainment", in the episode "That's Life" of the series "Shower of Stars". He sang three other songs in three other series: in "F Troop" in 1966, "Gomer Pyle: USMC" in 1967, and "The Ghost Busters" in 1975.
Larry received special thanks for the 2006 documentary film "Goolians: A Docu-Comedy".
He has made a guest appearance in numerous talk-shows, such as "The Jerry Reed When You're Hot You're Hot Hour", "The Tonight Show Starring Johnny Carson", and "The Merv Griffin Show".
Awards and nominations
In 1967, Larry was nominated for a Primetime Emmy Award for Outstanding Continued Performance by an Actor in a Leading Role in a Comedy Series, for "F Troop".
Love life and relationships
Larry married Norma Catherine Greve on 10 July 1961, in a large ceremony, attended by many of their friends and family members; Norma was an actress, who's still remembered today for her roles in the 1973 science fiction adventure movie "The Six Million Dollar Man", and the 1986 comedy film "The Perils of P. K."
Larry and Norma actually met each other in 1946, and she became pregnant and in the following year gave birth to their daughter Candace Herman. Because the two didn't want to stay together, they gave Candace up for adoption, however, she was reunited with them after they married. Before Larry, Norma was married to Jimmy Cross, and she already had two children when she married Larry.
Larry and Norma's marriage ended on 28 August 2003 when Norma died, aged 81. Larry hasn't spoken of any other women whom he has perhaps dated since Norma's death, and he seems to be single as of August 2021.
Hobbies and other interests
Larry has been interested in music since a very early age, and learned to play the saxophone in his 20s; during those years, he could often have been heard playing at Riverside Park.
He loved to travel while still active in the film industry, and Larry has been to all of the US states, many European countries, as well as several Asian and African countries. New York City still remains his favorite place in the world.
He's a huge lover of animals, and has had various pets, including dogs, cats and rabbits.
Larry today has his own favorite actors and actresses, some of whom are Robert De Niro, Al Pacino and Julia Roberts, and a couple of his favorite movies include the trilogy "The Godfather", "Scarface" and "Sleeping with the Enemy".
Age, height and net worth
Larry's age is 98. He has short brown hair and brown eyes, his height is 5ft 8ins (1.73m) and he weighs around 152lbs (69kgs).
As of August 2021, his net worth has been estimated at over $1 million.