• Garrett Watts is an American YouTube personality, TikTok creator and activist.
• His early life and career include being born in Memphis, Tennessee, attending Mountain View High School in Arizona, and having worked on movie sets, waited tables in restaurants, and being a digital content creator.
• His YouTube channel has around 3 million subscribers and over 100 million views.
• His hobbies include Harry Potter, X Men, Marvel, playing basketball and baseball, and owning pet mice.
• His estimated net worth is $600,000, as of mid-2021.
Garrett Watts is an American YouTube personality and a TikTok creator, best known for running a vlogging kind of a channel. There are some very interesting things about him, among them is being an activist for multiple causes.
Early life, family, educational background
Garrett Watts was born on 15 June 1989, in Memphis, Tennessee USA. His mother's name is Linda, and his father is Randy C., an author who used to be a private investigator with MJM Investigations. Garrett is the youngest of four children – he has two brothers named Randy and Andrew, and his sister is Marianne.
Andrew now lives in Chicago, Illinois, his brother Randy works in the police department, and has a wife Jessica Marie, and three children. Marianne is a make-up artist owning "Canvas by Marianne", and is engaged to Ethan Hall.
As for his education, Garrett attended Mountain View High School in Arizona, and after matriculating in 2007, he enrolled at Mesa Community College, just like his brother Andrew. He subsequently attended University of California, Los Angeles (UCLA) and eventually graduated in Film Studies.
Career
Garrett's work history contains some unusual jobs, before becoming the social media star that he is today.
His Facebook bio says that he worked as a DJ at an event planning enterprise, and after that as a concierge at Aroma Coffee & Tea Company. In an interview with Insider, Garrett spoke about the jobs he's done before YouTube, and said that he's been on at least a hundred movie sets, waited tables in about fifteen restaurants, and concluded with "I've done everything possible before YouTube, which I really appreciate about myself. Because I see some of these kids who are super young on YouTube — on social media, not just YouTube — they're 15, 16, 17, I always want to shake them and just be like, 'Go live your life, do something else before all this stuff happens."
As he was always interested in comedy, he started pursuing it as a career, and became a post assistant on "Space Station 76". This show has been associated with Liv Tyler and Matt Bomer, so it was a big deal for a young person like Garrett. He's also worked as a casting co-ordinator at Nigel Lythgoe Production.
Once he discovered the vast space and opportunity for development online, Garrett turned to the internet. The first platform he used was Vine, a short-form video hosting social network extremely popular between 2013 and 2017, when it was closed. Vine was mostly used for comedy type of videos, and was an entry point into the entertainment industry for a huge number of people.
Before his YouTube career took-off, Garrett worked as a digital content creator in the production of the YouTube channel Funny Or Die.
Garrett's career took a while to get going – he launched his YouTube channel on 3 May 2012, but didn't post anything until 25 October of the same year, and even then he didn't appear in it. The video was about a certain Coco Peru, a drag queen who has been the star of numerous videos on Garrett's channel. She usually goes on adventures to Target, K Mart, or Walgreens, and plays video games. After his first few videos Garrett went on a bit of an hiatus, returning to YouTube in June 2016.
His "about" section on YouTube says "I love so many things about this world & I just want to share those things with you… Life is fundamentally fun & fascinating. No matter what I do on this channel, my videos will always reflect that belief." and it perfectly describes the kind of content he has been putting out for years, which is honest, usually light-hearted and playful.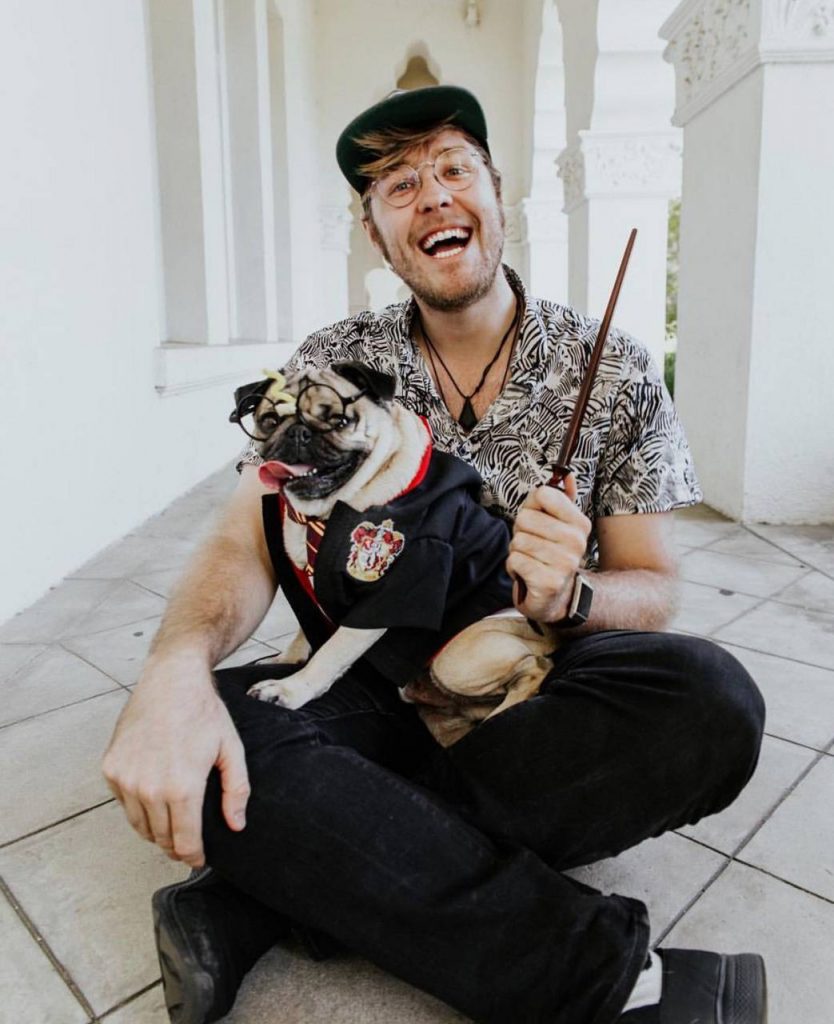 Garrett's channel had a sudden expansion around the time he returned, as he was in a year-long relationship with Shane Dawson, and the two made a lot of videos together. In a way, Shane helped Garret grow his fan base, but when the couple split in 2017, Garrett's fans stayed with him and are still very supportive.
Garrett and Shane were in a friend's group that was famous online, including Andrew Siwicki who became Ryland Adams, and even launched a podcast together called "Sweet Boys". They aren't friends with Shane, as the aftermath of controversies about Shane's behaviors, both with friends and romantic partners.
Garrett's gained over three million subscribers, and over a 100 million views overall.
Personal life, boyfriend
"Other people's expectations will get you nowhere, in fact, they'll lead you down a pretty dark road.". This is what he said to Insider, about being a little bit eccentric and an "oddball" as he says. His audience loves him for his chaotic, but sweet editing style and a non-conforming attitude, that shines through every video he makes.
When he started university Garret moved to Los Angeles, and that is where he still lives in a small house with a garden. He is currently single but has had several relationships, of which the most notable was his relationship with Shane Dawson. The two met on dating app Tinder, and have been together on and off for a couple of years.
Garrett has been openly gay, and regularly posts on his Instagram and Twitter accounts celebrating his own and others' homosexuality.
Hobbies, favorite things, and interesting facts
Garrett is a very interesting person, and his online presence represents that well. He's a big "Harry Potter" fan as well "X Men" and "Marvel".
He shares his house with Benjamin and Tyler – they are dolls that he loves very much.
Garrett has a strange taste in pets, as he owns a few pet mice, and baked them a cake in one of his videos.
Garrett is legally blind, but still loves playing basketball and baseball whenever he has some free time.
Appearance, clothing style
Garret is approximately 6ft4ins (193 cm). He's been wearing glasses his whole life, so they've become a kind of his trademark.
When it comes to his style of clothing, it usually involves colorful shirts and socks, paired with jeans and sneakers.
Net worth and salary
Garrett's main source of income is the revenue he gets from YouTube. Sometimes he makes sponsored posts on Instagram, but not very often. It's been estimated that Garret's yearly income comes to $100,000, and his overall net worth is estimated to be about $600,000, as of mid-2021.