• American singer, actor and dancer, known for his role in The Paynes and voicing Young Simba in The Lion King
• Raised in Granada Hills, Los Angeles, California by his parents James and Larisa McCrary, with brother Josh McCrary
• Acting career began in 2015 and included guest roles in K.C. Undercover, Teachers, and I'm Dying Up Here
• Music career began with Childish Gambino's "Terrified" and debut EP Shine in 2019
• Charitable work includes Camp Ronald McDonald, St. Jude Children's research hospital, and "Stuck with U"
• Hobbies include playing ukulele, basketball, DJing and sneaker collecting
Who is JD McCrary?
JD McCrary is an American singer, actor and dancer, who shot to fame with the role of Kenny Payne in the TV series "The Paynes" (2018) aired on the Oprah Winfrey Network, and as the voice of Young Simba in the animated film "The Lion King" (2019). He's also known for such songs as "My Name" and "Keep in Touch" on his debut extended play (EP) "Shine", released in April 2019.
Early Life, Parents, Siblings, Education
Born JayDon McCrary on 18 July 2007, in Granada Hills, Los Angeles, California USA, into a mixed African- American family, he spent his childhood in his hometown, raised by his parents James and Larisa McCrary.
#FridayFun 👊🏽💪🏽 pic.twitter.com/9N8xb3WZSw

— JD McCrary (@jdmccrary) January 16, 2021
He has a brother, Josh McCrary who is also involved in show business, appearing as a guest actor in "Shameless" (2016), and supplying the voice of Elephant Shrew in "The Lion King" (2019).
From an early age, JD began demonstrating his talents, singing to such hits as "Bad" and "Thriller" by Michael Jackson, and dancing too. At the age of six, he knew he wanted to become an actor, and since he and his parents were just 30 minutes from the center of show business, he got his chance at a rather early age. JD currently attends Mayall Academy of Arts & Technology Magnet.
Acting Career Beginnings and Immediate Success
JD's acting career began in 2015 with the recurring role of Young Ernie in the Primetime Emmy Award-nominated TV comedy series "K.C. Undercover", aired on Disney Channel from 2015 to 2018, starring Zendaya, Veronica Dunne and Kamil McFadden. He continued with minor roles in the TV series "Teachers" (2017), and "I'm Dying Up Here" (2017).
Then in 2018, he was selected for the role of Kenny Payne in the TV comedy series "The Paynes", starring alongside Cassi Davis, LaVan Davis and Jackee Harry, featuring in 16 episodes of the popular TV series, and introducing his talents to the wider audience.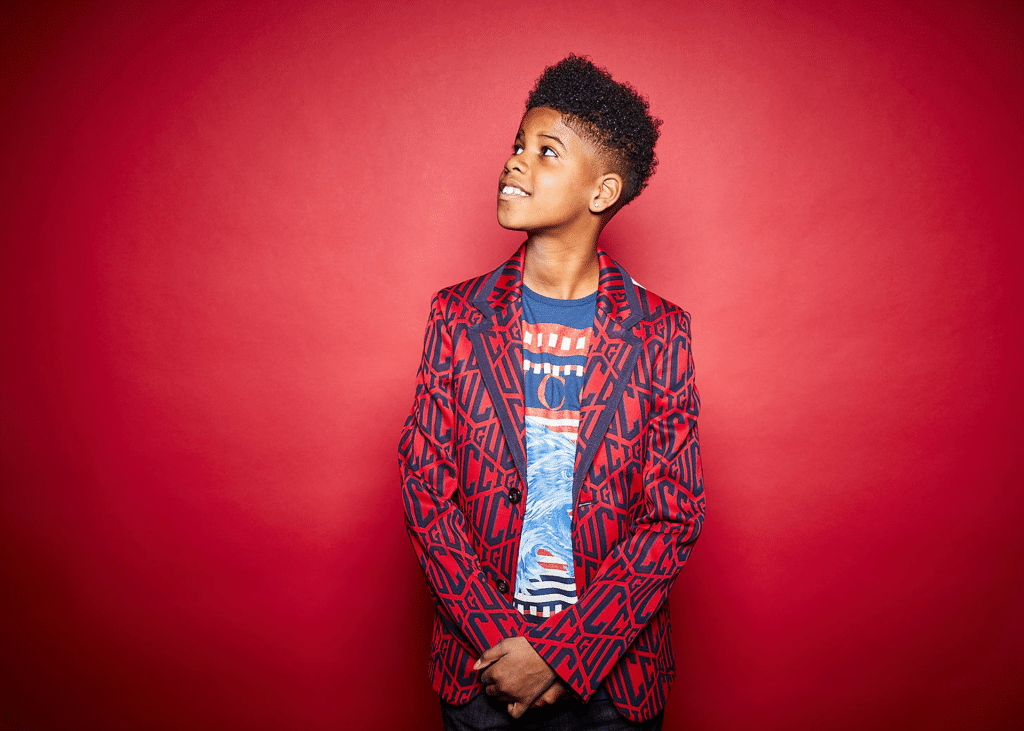 Afterward, he was selected for the role of Isaac in the film "Little" (2019), and the same year he was to voice Young Sumba, in the new take on the popular tale of the lion cub "The Lion King", co-starring Donald Glover and Beyonce, and the young star talked about his experience working with Beyonce and Glover. The voice role garnered him worldwide popularity, and earned him a Saturn Award nomination in the category of Best Performance by a Young Actor. He is currently working on the film "13", and the TV series "Vital Signs".
Music Career
JD has also soared to musical heights, and being just 13 years old, he has already achieved world success. In 2016 he was affirmation as a musician featuring in Childish Gambino's song "Terrified". He made his first live performance as he sang "I Want You Back" on the TV show "Little Big Shots", originally performed by The Jackson 5. He was then a musical guest on "The Ellen Show", in which he sang "Who's Lovin' You", and then sang "Terrified". at the 60th Annual Grammy Awards, next to Childish Gambino. In December 2017, he sang the national anthem at the Staples Center for the official Los Angeles Clippers game.
First Single and EP
, JD saw the release of his first single entitled "Inviting All of You" in early 2018, and after a few months, it was announced that JD had signed with the Disney Music Group's Hollywood Records, thus becoming the youngest artist to ever sign with the record label; his first music video, "My Name", was released on 28 August the same year. He continued to lead musical and acting careers in parallel, and the first single for the record label came in January 2019, entitled "Keep in Touch", while in April of the same year he released his first EP, "Shine", including songs such as "L.O.V.E. U", "Stole My Heart", and "Nothing's Wrong" becoming instant hits.
Since then, new songs have been released, including "Winter Wonderland" and "Closer to Christmas", and the young star has collaborated with other musicians, such as Childish Gambino, Jon Bellion and G Tom Mac. You can follow JD and his recent activities on his YouTube channel, as he uploads his recent creations, including "The Christmas Song".
Net Worth
As of early 2021, JD McCrary's net worth has been estimated to be around $300,000, earned through his successful endeavors as a musician and actor.
Personal Life, Dating, Girlfriend, Single?
Regarding his private life, JD likes to keep personal things away from the spotlight. His dating life is a huge secret, as he hasn't shared anything about it, and for the time being, he is more focused on his career and education than on dating.
Appearance and Vital Statistics
This young sensation has black hair and brown eyes. He stands at a height of 5ft 4ins (1.62m), while his weight and other vital statistics are currently unknown, though he has an athletic figure.
JD McCrary Interest and Hobbies
Playing ukulele- the young star is talented for a number of things musical, and one of them is the old string instrument; he often shoots videos of himself playing it.
He adores basketball, is a huge fan of the Los Angeles Clippers, and frequently attends games of this NBA franchise.
Humanitarian work- although he is only 13 years old, this young star has already given back to the community, as he participated in the Camp Ronald McDonald's annual holiday carnival, and during the festival was signing autographs and spent time with families who are on the charity services list. Furthermore, he recorded the cover of the song "Stuck with U" with Coco Quinn, and all the proceeds of the song were donated to St. Jude Children's research hospital.
A proper sneakerhead- JD has more than 50 pairs of sneakers in his home, and as he's stated, he loves all of them.