--Kellie Martin is an American actress best known for her role in the drama series "Life Goes On".
--She has nearly 80 acting credits to her name and has received numerous accolades and award nominations including a Primetime Emmy nomination.
--Her early life and education were spent in California, and she attended Yale University.
--She has been in multiple series and movies, the most recent being "Christmas in Montana" (2019) and "An Amish Sin" (2022).
--Kellie is married to aviation attorney Keith Christian and they have two daughters. She has an estimated net worth of $3 million.
Who is Kellie Martin?
If you were a fan of the drama series "Life Goes On", which followed the story of a modern American family who struggled with love and life problems in mid-western suburbia, you must be familiar with one of the main characters, Rebecca 'Becca' Thatcher, a nerdy, attractive girl who was socially awkward.
The actress who portrayed this character, Kellie Martin, is probably still known best for this role, although she has nearly 80 acting credits to her name. Besides the recognition, the aforementioned role brought Kellie numerous accolades and award nominations, including a Primetime Emmy nomination for Outstanding Supporting Actress in a Drama Series.
To learn more details about her career, and also her life, keep on reading.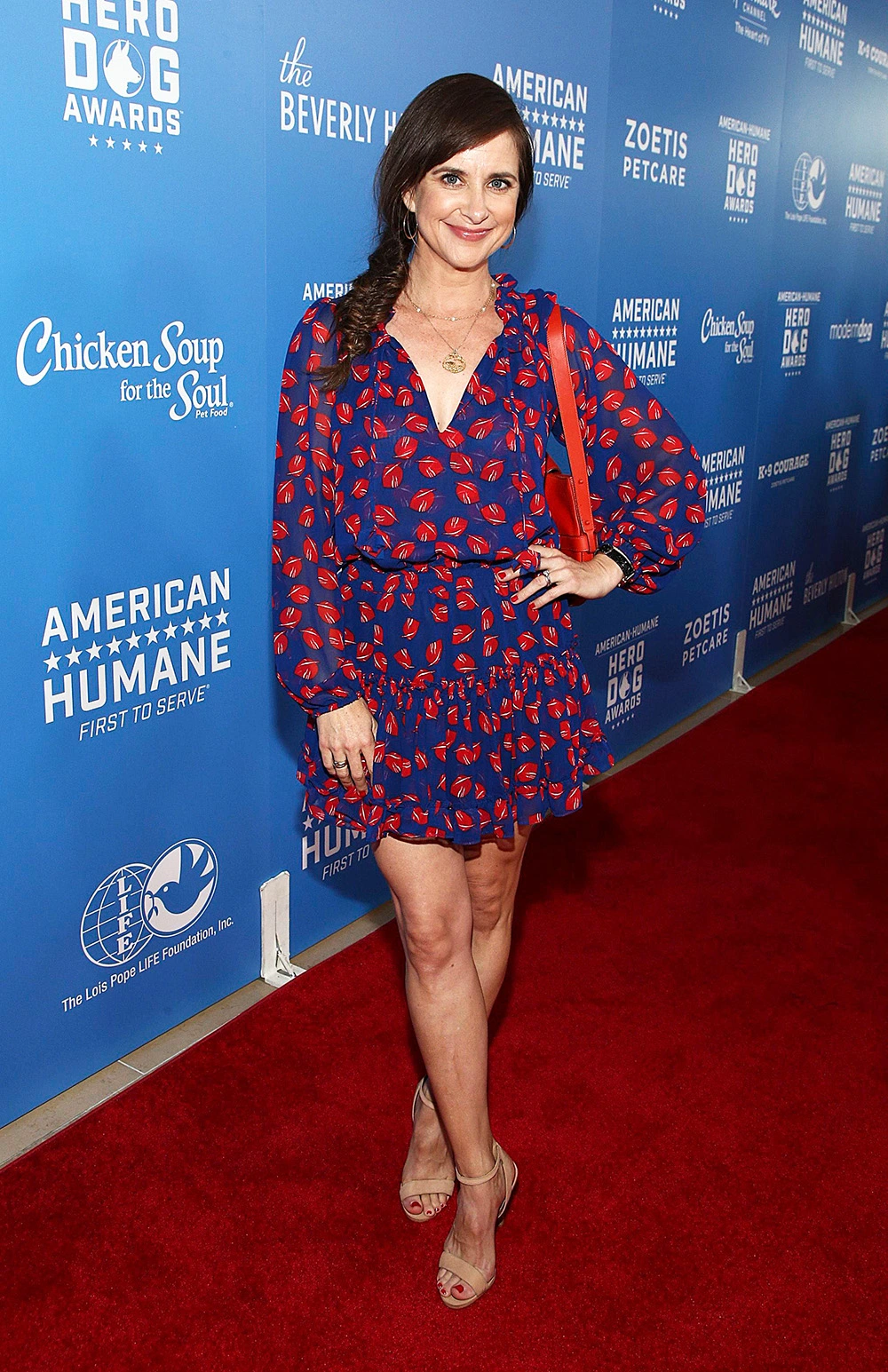 Bio-Early life, family, and education
Born Kellie Noelle Martin under the zodiac sign of Libra on 16 October 1975, in Riverside, California USA. She holds American nationality and her ethnicity is White. She was raised by her parents, Debbie and Doug, who both worked as producers in the entertainment industry. Kellie had an elder sister, Heather, who sadly died from Lupus in 1998, aged just 19.
Kellie began her acting career as a child actress, and although she enjoyed working on television and in movies, she decided that continuing her education alongside her career would be beneficial. Kellie attended a local high school, and upon matriculating in 1993, she enrolled at Yale University, from which she graduated with a Bachelor's degree in Art history in 2001.
Roles in series
Kellie made her acting debut as Flossie in an episode of the series "Father Murphy" in 1982. Two years later, she was cast to play Lisa Ratchett in two episodes of the series "Highway to Heaven". In the following years, she guest-starred in several popular series, mostly in an episode or two.
In 1989, Kellie was cast to play Becca in "Life Goes On", also starring Chris Burke and Patti LuPone. The series aired until 1993, had 20 award nominations and won nine, including two Primetime Emmys. Besides the mentioned Primetime Emmy nomination, Kellie was also nominated for the Young Artist Awards for Best Young Actress Supporting Role in a Television Series, and Best Young Actress Starring in a Television Series.
She won the Young Artist Award for Best Young Actress Starring in a Television Series, twice, in 1991 and '92. Kellie also won the Viewers for Quality Television Award for Best Supporting Actress in a Quality Drama Series, in 1992.
@Kellie_Martin ER always in our memories, especially the beautiful Lucy Knight.
Greetings from Argentina dear Kellie. ❤⚘ pic.twitter.com/ZqCaAfoeCN

— Lᴜᴄʏ Kɴɪɢʜᴛ. (@darlinmoonx) July 13, 2018
Concurrently, she was heard as Molly in the animated series "Taz-Mania" (1991-1994), then in 1994  and '95, Kellie played the title role in the historic drama series "Christy", based on the bestseller by Catherine Marshall, which won the MovieGuide Award for Most Inspirational Television Program.
From 1998 through 2000, Kellie played medical student Lucy Knight, in two seasons of the worldwide popular series "ER". The show, starring Anthony Edwards, George Clooney and Julianna Marguiles, aired from 1994 until 2009, had 370 award nominations and won 156, including 23 Primetime Emmys.
Kellie left the show after she made an appearance in 36 episodes, to finish her studies at Yale. In 2003, she returned on television playing Melinda Granville in an episode of the series "Law & Order: Special Victims Unit".
She followed by her lead role as Samantha in "Mystery Woman", a drama about the mystery bookshop owner Samantha, who with help of her two friends, investigates murders; her co-stars were Nina Siemaszko and Clarence Williams III. The series aired from 2003 until 2007, but despite no nominations the audience rated it 7.4/10.
In the following years, Kellie guest-starred in "Ghost Whisperer" (2009) and "Drop Dead Diva" (2010). Next, in 2012, she was cast to play Army Captain Nicole Galassini in the sixth season of the series "Army Wives", starring Brian McNamara, Catherine Bell, and Wendy Davis, a war romantic drama about one man and four women who were bonded by the fact that they are loving someone in the US Army.
From 2016 until 2019, Kellie starred as Hailey Dean in the Hallmark series "Hailey Dean Mystery", the story of a therapist Hailey and her friend Finch, an investigator, who together solve murders. Concurrently, she was seen as Officer Kimberly Leahy in the series "The Guest Book" (2017-2018) –  these were her most recent TV roles.
Roles in movies
Kellie made her first movie appearance in the 1985 TV movie "The Canterville Ghost". Her big-screen debut was her role as Kristi Carlson in the 1986 movie "Jumpin' Jack Flash", starring Whoopi Goldberg, and in the same year, Kellie was seen as Missy Roberts in "Body Slam", a musical comedy but which was poorly rated by the critics and the audience.
Next, Kellie was Sheila in the 1988 movie "Doin' Time on Planet Earth", followed by her role in the adventure comedy "Troop Beverly Hills", starring Shelley Long, which also had no nominations.
The early '90s saw Kellie as Sherry in the 1993 comedy-drama "Matinee", then her first lead role was in the 1994 TV movie "Christy", a spin-off from the eponymous series, which followed the story of a young teacher who moves to the Tennessee mountain region of Cutter Gap to make a difference.
Kellie also starred in the 1994 TV crime drama "Death of a Cheerleader", followed by roles in numerous TV movies, such as "Hidden in Silence" (1996) and "On the Edge of Innocence" (1997). She returned to the big screen as Beth Sabistan Starnes in the 2001 movie "All You Need", which was nominated for the Prism Award.
She was next seen as Jen in the 2003 movie "Malibu's Most Wanted", a crime comedy that follows the story of a senator who arranges for two African-American actors to kidnap his wealthy white son so that he'll give up his desire to become a rapper.
Kellie had a small part in "Open House" (2004), and two years later, she returned on television starring opposite Martin Cummins in the movie "Live Once, Die Twice". In the following years, she was seen in the TV movies "Lethal Obsession" (2007), "The Jensen Project" (2010), "I Married Who?" (2012), and "The Christmas Ornament" (2013).
Most recently, Kellie was seen in the Hallmark movie "Christmas in Montana" (2019), and "An Amish Sin", which premiered in October 2022 – set in the 18th century, the story is about an Amish teenage girl who tries to escape and find her independence, was well-rated by the audience.
Love life and husband
Before she married, back in the early '90s Kellie was in a relationship with Joey Lawrence, an American actor, and singer-songwriter. From 1993 to 1995, she was in a relationship with Scott Weinger, also an actor, who is perhaps known best for his role in the series "Fuller House".
Kellie met her future husband, Keith Christian, at Yale University, and they started dating soon afterwards, which blossomed into a marriage, and they exchanged their wedding vows on 15 May 1999, the ceremony held in Keith's hometown of Polson, in Montana US.
Their first daughter, Margaret 'Maggie' Christian was born on 4 November 2006, and they welcomed their second daughter Olivia James on 13 February 2016.
The family of four lives in Los Angeles, California, where Keith works as an aviation attorney at Irell & Manella Company.
Age, height, and net worth
Kellie's age is 47. Her trademark is her smile and cobalt-blue eyes, and she's a natural blonde but dyes her hair dark brown. If you've wondered how tall Kellie is, she stands at a height of 5ft 2ins (1.57m) and weighs around 145lbs (65kgs), with vital statistics of 38-27-38.
When it comes to her wealth, let us inform you that Kellie is the owner of a toy store, and thanks to her business as well as her acting career, she's earned a decent amount of money. According to sources, as of December 2022, Kellie's net worth has been estimated at over $3 million.