• Kristoffer Polaha is an American actor of Czech descent, who acted in TV shows and movies, as well as in Hallmark films.
• He studied at the Robert Louis Stevenson boarding school in Pebble Beach, California and graduated from New York University's Tisch School of the Arts.
• He is married to actress Julianne Morris and they have three sons.
• His net worth is estimated to be close to $6 million.
• He is involved with several charitable organizations and hosts "Polaha Chautauqua" on Instagram.
Kristoffer Polaha is an American actor turned writer who has been growing an acting career in television and Hallmark movies for decades now. He wrote and published his first book called "Moments Like This" in March of 2021. Today the 44-year-old is a husband and father of three.
Early life, family, educational background
Kristoffer Jon Polaha was born on 18 February 1977 in Reno, Nevada USA, into a Christian family of Czech descent. His mother's name is Esther who was a nurse, and his father is Jerome, who was a judge on the Second Judicial District Court in. Kristoffer is the youngest of four brothers, the others named Erik, Michael, and John. Kristoffer grew up and attended school in Reno, until in 1991 he went to boarding school at his own request – he told Hallmark For All Seasons in an interview in February of 2021 "I went to boarding school, by the way.
When I was a kid in Reno and my best friend Graham, was at boarding school… I was the one who said, "I want to go to boarding school."… A part of why I wanted to go to boarding school was, I remember thinking at the time, "[my dad] left at 16, I'll leave at 14." He studied at the Robert Louis Stevenson boarding school in Pebble Beach, California, where he fell in love with acting and the theater. He mentions his teacher Hamish Tyler – the high school theater director as well as the football coach – as the main culprit for Kris's love for acting. After high school, he attended  New York University's Tisch School of the Arts, graduating with a BA degree in 1999.
Career
In his early career, Kristoffer did numerous theater productions, such as "Uncle Vanya" at the Stella Adler Conservatory, and "The Long Days Journey Into The Night" at the Roundabout Theater, both in New York.
TV shows
In the early 2000's he appeared in support roles in several TV shows, until in 2004 he was cast in the lead role in the 21-episode soap opera "North Shore". In 2007 Kris had a role in the hit TV drama "Mad Men", then in 2008 he starred in the TV show "Miss Guided", and had a supporting role in the biographical movie "Billy: The Early Years" about evangelist Billy Graham.
Throughout 2009 Kristoffer had several guest-starring roles in TV shows, including "Life Unexpected", "Dollhouse" and "Better Off Ted". In 2010 he signed a talent-holding deal with CBS, and played Henry Butler on the CW's "Ringer". He appeared in MTV's "Awkward", and in 2017 played Jeffrey in five episodes on the "Get Shorty", then in 2018 Kris appeared in six episodes of the thriller "Condor".
My TV dad from #lifeunexpected, my TV "girlfriend's" dad in #mystery101 and my real friend in real life. Going on #1 walk around a lake, decade #2 of being pals, and project #3 with @robinthomas101 pic.twitter.com/BJ3D8UBYww

— Kristoffer Polaha (@KrisPolaha) May 3, 2021
Movies
While he was acting in TV shows, Kris appeared in some TV movies as well. The first was the "The Third Degree" in which he played Jason, then again in 2003 he played none other than John F. Kennedy Jr. In the "America's Prince: The John F. Kennedy Jr. Story". In 2014 Polaha played John Galt in the science fiction drama "Atlas Shrugged: Part III" – the third installment of a film series based on the philosopher Ayn Rand's 1957 book called "Atlas Shrugged". Among other movies he's played in there is the "Devil's Knot", "Back in the Day", "Where Hope Grows". In 2017 Kristoffer won the Jury Award for Best Actor at Seattle Shorts Film Festival for his performance in the movie "Frontmen" – he was also the executive producer for this film.
In recent years Kris has appeared in some big Hollywood blockbusters, like "Wonder Woman 1984" and "Jurassic World: Dominion" which is to be released in 2022.
Kristoffer Polaha seems to have found his place in Hallmark television shows and movies, of which he's done many. Among them are "Dater's Handbook" starring opposite Meghan Markle, then "Rocky Mountain Christmas", "Pearl In Paradise" and "Double Holiday". He also appeared in Hallmark's film series "Mystery 101".
Books
In 2020 Kris signed a contract with Rosewind Books to co-author a five-part series of romantic books with Anna Gomez. Variety reports that the first piece of the series entitled "Moments Like This" was scheduled to be published in February, but it eventually came out in March of 2021. The story is set in Hawaii, and revolves around a woman who lost her career and her love, and is trying to find herself again. Kris plans on adapting the books for the screen, and he'd like to do it through his own production company, Podunk Productions.
Personal life, return to faith, marriage
Kris grew up in a Christian home, but when he hit puberty he started questioning religion and testing his faith. He told The Blaze "I remember praying specifically one day in the fall, and I said, 'Lord, I want to know if this is you acting in my life or if this is me. And I'm just not going to pray for six months,'" Polaha recalled. "And I took this sabbatical from praying, which ended up being this six-year journey of it being, I call it my 'wilderness journey,' just kind of lost in the wilderness.". While in college he spent some time traveling the world and exploring different religions, including Buddism and Islam and other eastern practices. Kris spoke of a particular moment that made him realize that he needed to come back to Jesus, a random accident in New York City that was supposed to kill him. He was walking down 9th Avenue with his friend Catherine.
He randomly decided to move to her left side when the grates from the sidewalk blew open and shattered glass from the nearby storefront window. The fire marshall later told him that, had he remained on the right side of Catherine he would have been decapitated, but he was still blown into the street, and by some miracle the red light was on so no cars were in the street. Kris had to have 180 stitches and had a head injury. He almost died twice that night, and that was his moment of epiphany, which left him in a state of virtual shock for two weeks. Nowadays Kris is very religious and devoted to God.
Kristoffer Polaha is a married man and a father of three boys. His wife is Julianne Morris, whom he met in 2001, introduced by Jensen Ackles (best known for playing Dean in the CW's "Supernatural") in Casa Vega, the Mexican restaurant in Los Angeles, while Ackles and Polaha were working on the pilot for "The Third Degree".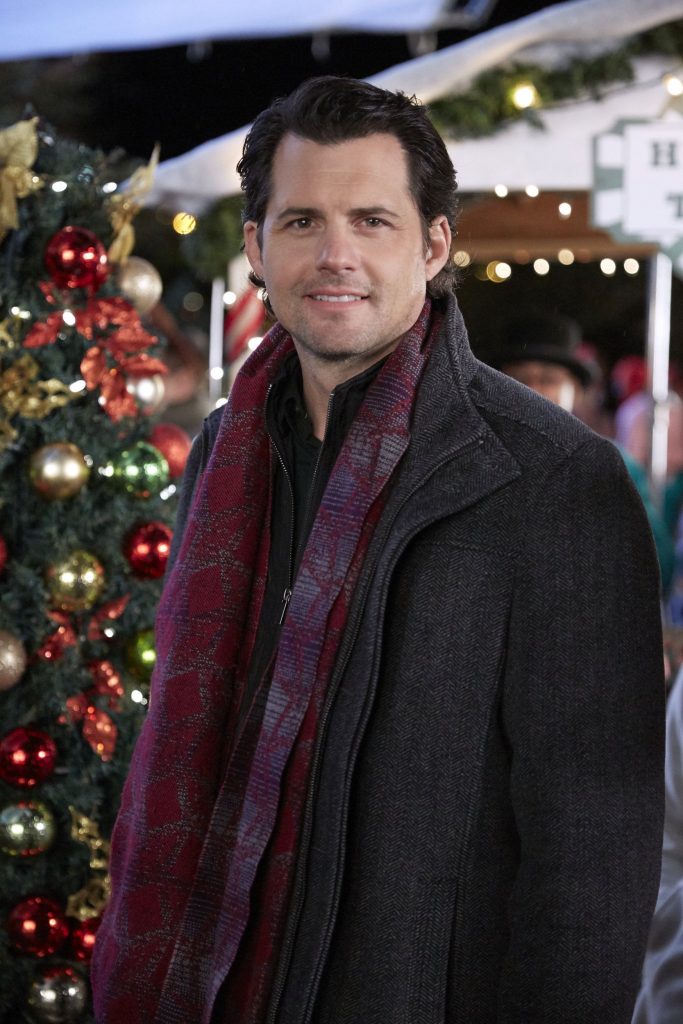 Polaha told Highbrow Magazine – "She was surrounded by this whole circle of dudes, and it was like time stood still for a second. Then, we all sat down at this table and it was a table that was kind of small, but she got squished in between two guys that she already knew. So, she orchestrated a move to another table, and she was at the end.  I had a choice. I could sit next to some guy or I could sit next to her. I sat next to her and we talked. We talked the whole night.". He said it was love at first sight, followed by an innocent two-year courtship that led to marriage on 7 June 2003 at the Windermere Chapel in Windermere, Florida.
Julianne Morris born on 8 May 1968, in Columbia, South Carolina, and is an actress as well as a very religious woman, and advocated sexual abstinence before marriage. Julliane appeared in the TV movie "Witch Hunt", and in soap operas "The Young and The Restless" and "Days Of Our Lives".
She also had a guest-starring role in the hit show "Two And A Half Men".
The couple will soon celebrate their 18th wedding anniversary. They had their first son, Kristoffer Caleb on 28 July 2004, second son Micah on 6 April 2006, and third son Jude on 2 January 2011. The Polaha family currently resides in Los Angeles.
Hobbies, favorite things, and interesting facts
Kris is involved with several charitable organizations. Her Arts In Action is a non-profit organization established in 2011, and has a goal to produce and sell art that educates on global topics, creates social change, and then funds sustainable projects in Burkina Faso and Sierra Leone, and access to the visual arts in Minnesota. World Vision is a Christian humanitarian organization that is dedicated to working with families and their communities across the world to reach their full potential by tracking down causes of poverty and injustice.
In 2004 Kris participated in the Honolulu Marathon in honor of Hunter S. Thompson and completed his run in 7:19.14.
In 2020 when COVID lockdown happened, in March Kris started the "Polaha Chautauqua" – a kind of a show he does on Instagram, which has different topics every week, and is described as "part therapy, part Bible study, part inspiration".
Appearance
Kris stands tall, at 6ft 2ins (187 cm), and weighs 178lbs (81kgs) with a burly body type. His signature physical traits are deep-set eyes and a square face. During the quarantine he grew his beard, which he was not known for doing before.
Net worth and salary
Kristoffer's main source of income is acting. As of mid-2021, his net worth is estimated to be close to $6 million.