• Born in New Orleans, Louisiana USA on October 13, 2000
• Lead singer of the rock punk band the Regrettes
• Collaborated with various popular artists, including Gerard Way and Morrissey & Billie Joe Armstrong
• In a relationship with Dylan Minnette, an American actor and singer
• Net worth estimated at over $100,000
Who is Lydia Night?
Lydia Night was born in New Orleans, Louisiana USA, on 13 October 2000 – her zodiac sign is Libra, and she holds American nationality. She's a musician and an actress, who's probably known best for being the lead singer of the rock punk band the Regrettes.
Early life and education
Lydia was raised alongside her younger brother in New Orleans, by their father Morgan Higby Night, who's a musician and the owner of a nightclub, and their mother who's a housewife.
Lydia became interested in singing at a very early age, and was only two years old when she began performing at her father's nightclub, singing the song "Beat on the Brat" by the Ramones. When she was six years old, the family moved to Santa Monica in California, and not long afterwards to Los Angeles.
Lydia was seven years old when she joined her first band, LILA (Little Independent Loving Artists), and they mostly performed at school events, as well as at McCabe's guitar shop in Santa Monica. She continued singing throughout her entire education, and upon matriculating from Grand Arts High School in 2019, Lydia didn't enroll at college, but chose to focus on her career.
Career as a musician
In 2012, aged 11, Lydia and the American musician and actress Marlhy Murphy founded the rock-pop duo Pretty Little Demons. They performed at the 2013 South by Southwest festival, becoming the festivals' youngest performers. They were noticed by the famous Canadian actor Ryan Gosling, who then invited Lydia to join his rock band Dead Man's Bones, which she declined.
In 2013, the girls' debut extended play (EP) was released, entitled "Flowers", and the following year saw the release of their debut studio album, entitled "Unknown Species".
In 2015, Lydia and Marlhy changed the duo's name to the Regrettes, and in October of the same year released their next EP "Hey!", as well as the music video "Hey Now!", which has since been listened to over 3.2 million times on YouTube. In the early 2016, Marlhy left the duo, and three new people became members of the Regrettes – Maxx Morando, Sage Chavis and Genessa Gariano – thus making it a band.
On 13 January 2017, they released their new album "Feel Your Feelings Fool!", and in 2018, their EP entitled "Attention Seeker" was released.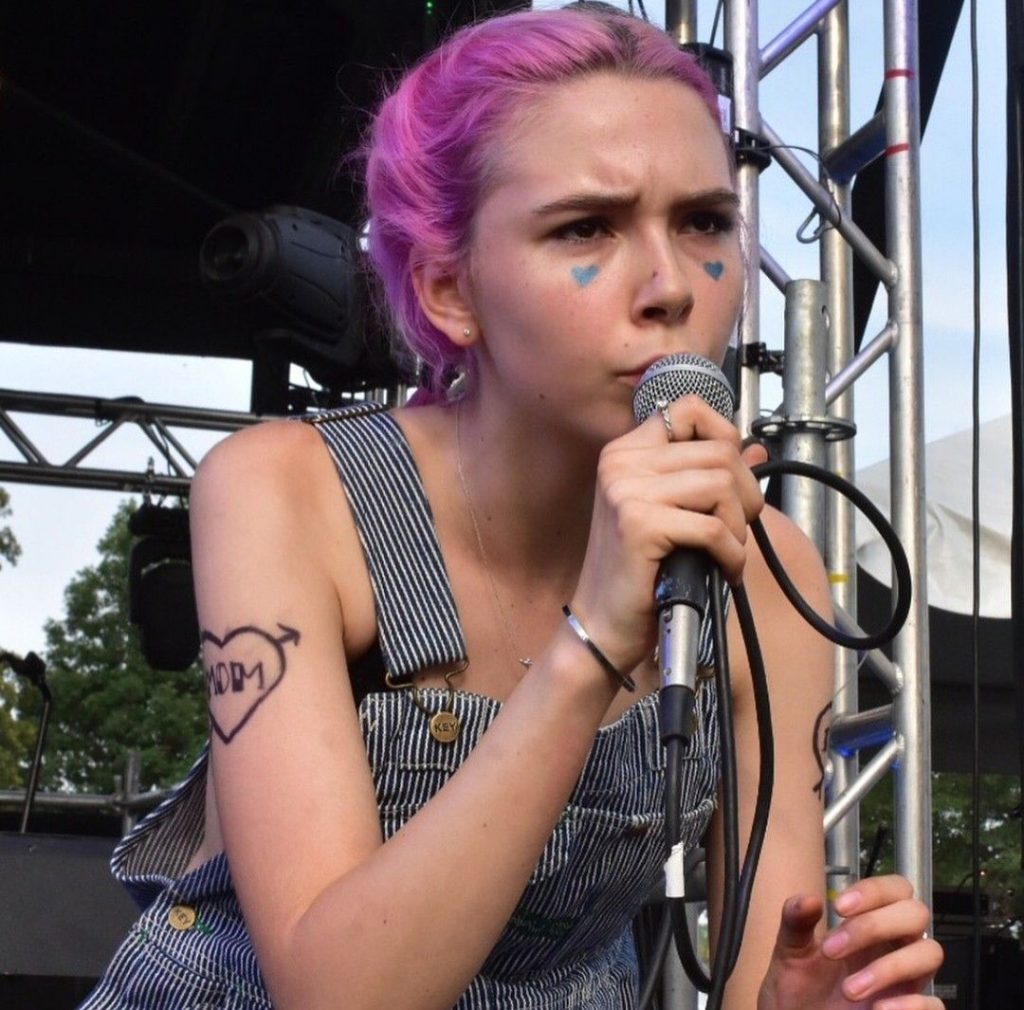 Lydia simultaneously worked on her solo career, and collaborated with various popular artists. On 8 April 2019, she was featured in the song "Dasher" by Gerard Way, and on 19 June 2019, Lydia was featured in the Morrissey and Billie Joe Armstrong's cover of the song "Wedding Bell Blues".
On 9 August 2019, the Regrettes released their latest album, "How Do You Love?"
Acting, and other credits
Lydia has just a single acting credit: in 2021, she appeared in the short music video "Olivia Rodrigo: SOUR Prom".
In 2017, Lydia wrote the song "Hey Now" for the comedy drama movie "The Last Word", written by Stuart Ross Fink, directed by Mark Pellington, it starred Shirley MacLaine and Amanda Seyfried, and follows the friendship between a retired businesswoman and a young journalist.
In the same year, Lydia's song "Hey Now" was sung in an episode of the talk-show "Conan", and in 2020, she wrote the song "California Friends" for the critically acclaimed comedy movie "Unpregnant". It follows Veronica who's about to matriculate from a local high school, and has just learned that she's pregnant.
Lydia has also been featured in a number of talk-shows, including "Affinity Magazine at Gov Ball" and "Stronger Than You Think".
She's currently shooting for the upcoming documentary movie "You Don't Own Me".
Lydia's an Instagram star, as she's followed by more than 630,000 people on the network, while she's uploaded close to 500 pictures. Most of these have been taken during her everyday life, and often feature her in new clothes. She's also quite popular on TikTok, as she's followed by close to 200,000 people, while she has amassed more than 3.5 million likes of all her videos combined.
She launched her Twitter account in November 2020, and it's today followed by close to 200 people, while Lydia has already tweeted more than 1,300 times. She has a Facebook page as well, but it's only followed by six people.
Love life and boyfriend
Lydia's quite open when it comes to talking about her love life, and has also opened up about having been sexually abused in 2017; she was in a relationship with Joey Armstrong, a member of the American punk rock band SWMRS, when he sexually abused her. He was 22 at that time, while Lydia was 16.
Since 2018, she has been in a relationship with Dylan Minnette, an American actor and singer, probably known best for his portrayal of Clay Jensen, in the teenage drama series "13 Reasons Why", while he's made a guest appearance in numerous hit series, such as "Lost", "Prison Break" and "Grey's Anatomy".
Lydia and Dylan can often be seen travelling, and eating at restaurants together.
As of July 2021, Lydia's in a relationship with Dylan Minnette, hasn't married and doesn't have children.
Hobbies and other interests
Lydia's interested in fashion, and is trying to keep up with all the latest fashion trends; she's a shopaholic, as she goes shopping for clothes multiple times every week.
She's a cat-lover, and her two pet cats can be seen featured in some of her Instagram pictures.
Lydia enjoys spending her spare time in nature, and is a huge fan of flowers.
Her favorite season is summer, as she likes to relax at the beach while sun tanning or playing beach sports with her friends.
She has her own favorite actors and actresses, some of whom are Matt Damon, Natalie Portman and Scarlett Johansson, and a couple of her favorite movies are "Good Will Hunting", "Leon: The Professional" and "Lost in Translation".
Lydia's passionate about travelling, and her career has already taken her to various US states. Her dream travel destination is Paris in France, which she's hoping to visit in 2022.
Age, height and net worth
Lydia's age is 20. She has long brown hair which she usually dyes blonde, her eyes are brown, her height is 5ft 8ins (1.73m), while she weighs around 128lbs (58kgs).
As of July 2021, her net worth has been estimated at over $100,000.