• Sigrid Thornton is an Australian film and television actress
• She grew up in Brisbane and lived in London for two years
• Her career started in the 70s and rose to prominence in the 80s with roles in The Last Outlaw, The Man From Snowy River, The Lighthorsemen, and Paradise
• She has appeared in over 65 film and TV titles and has won an Order of Australia medal
• She is an advocate for women and enjoys traveling
Who is Sigrid Thornton?
Sigrid Thornton is an Australian film and television actress, who is perhaps still best known to the world as Amelia Lawson in the TV series "Paradise" (1988-1991), and as Claire Baldoni in the film "Face to Face", among many other roles that she's secured so far in her career.
Sigrid Thornton Wiki: Age, Childhood, and Education
Sigrid Madeline Thornton was born on 12 February 1959 under the Aquarius zodiac sign, in Canberra, Australian Capital Territory, the daughter of Neil Thornton and his wife Merle, feminist activist, author and academic.
Many thanks to the wonderful creative team at @StellarMagAU .

Photography: Damian Bennett @damianbennettphoto
Styling: Kelly Hume @kellyahume
Interview: Angela Mollard @angelamollard. Today in Sunday Telegraph (NSW), Sunday Herald Sun (VIC), Sunday Mail (QLD), Sunday Mail (SA) pic.twitter.com/h4v84sQB0y

— Sigrid Thornton (@sigrid_thornton) January 24, 2021
She grew up in Brisbane, and went to St. Peter's Lutheran College, after which she enrolled into the Twelfth Night Theatre Junior Workshop, and later lived in London for two years, during which time she played with the Unicorn Theatre.
Career Beginnings
Sigrid's career started in the early '70s with a minor role in the TV series "Homicide" (1973), and two years later she had another minor role in the TV series "Division 4". 1977 brought her film debut as Wendy in the drama "The F.J. Holden", directed by Michael Thornhill, starring Paul Couzens, Eva Dickinson, and Carl Stever.
In the same year she was Buffy Turnbull in the TV series "The Sullivans", and in 1978 portrayed Sue Glover in the TV series "Father, Dear Father in Australia". Before the decade ended, she started appearing as Roslyn Coulson in the TV series "Prisoner", appearing in 30 episodes from 1979 until 1980.
Rise to Prominence
In the '80s, Sigrid turned into a star. She began the decade with the role of Kate Kelly in the TV mini-series "The Last Outlaw", and then in 1982 starred as Frances in the TV mini-series "1915", and the same year as Jessica Harrison in the romantic adventure drama film "The Man From Snowy River", which she reprised in the sequel "Return to Snowy River" in 1988.
In 1987, she was Anne in the war-drama film "The Lighthorsemen", while in 1988 she began portraying Amelia Lawson in the TV western-drama series "Paradise", which lasted until 1991, appearing in a total of 56 episodes of the popular series.
She continued quite successfully through the '90s, starring in the film "Over the Hill" (1992), and two years later in the television sci-fi thriller drama movie "Trapped in Space". Before the end of the of the decade, she was chosen for the part of Laura Gibson in the comedy-drama series "SeaChange", starring in the first three seasons from 1998 until 2000 – in 2019, the fourth season was picked up by Nine Network after it was previously aired on ABC.
The new millennium brought her the voice role as Narrator in the animated series "The New Adventures of Ocean Girl" (2000), while in 2003 she was Mayor Wilson in the film "Inspector Gadget 2". In 2005 she joined the cast of the medical drama series "MDA" as Dr. Robyn Masterton, appearing in four episodes. Next, she was Lola Green in the television drama film "Little Oberon" (2005), while three years later she starred in the television horror mystery film "Dream Life". In 2010 she was Gerry Lloyd in the TV crime-drama series "Underbelly", and in 2011 she appeared in the award-winning drama film "Face to Face", starring Vince Colosimo, Luke Ford and Matthew Newton.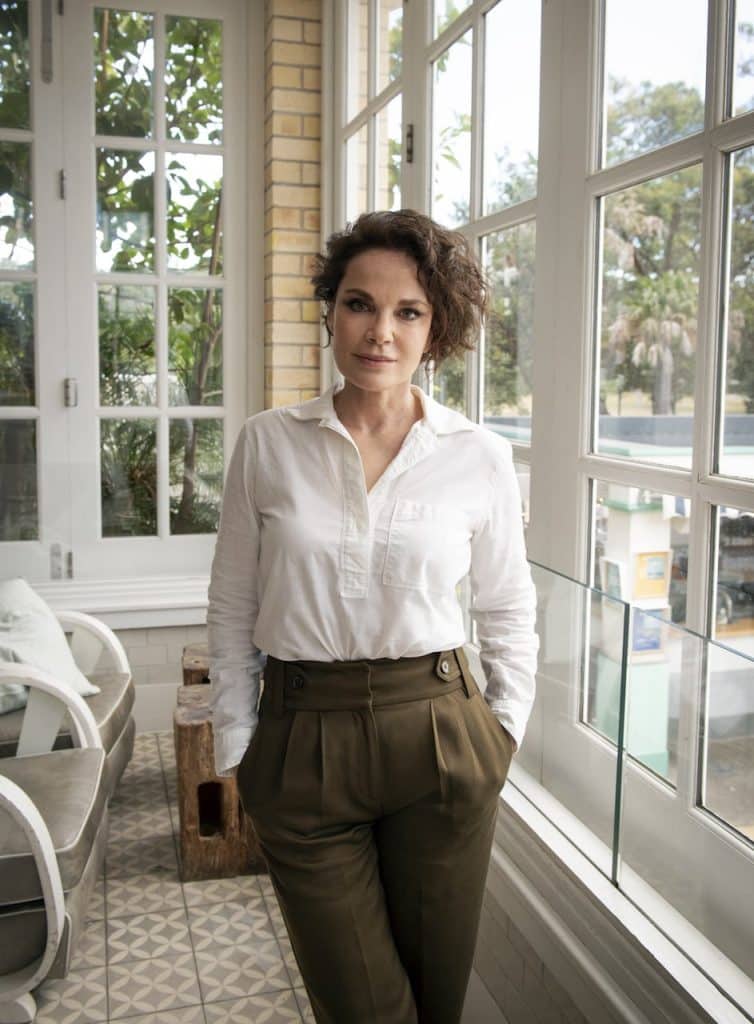 Subsequently, in 2016 Sigrid portrayed Lara Dixon in the TV series "The Code", while from 2016 to 2018 she was Sonia Stevens in 26 episodes of the crime-drama series "Wentworth", with Kate Atkinson, Katrina Milosevic and Robbie Magasiva. Most recently, she portrayed Diane Cresswell in the TV drama series "Amazing Grace", and is set to star in the crime-drama film "Slant", scheduled for release later this year.
Stage Credits
Additional to her great career on screen, Sigrid has also had some successful days on stage.
Back in 2002, she toured with the production of the play "The Blue Room". In 2009 she featured in the musical "Little Night Music", which was her debut with Opera Australia. The role of Blanche DuBois in the play "A Streetcar Named Desire" shot her to fame as a stage actress, and her next popular role was in the play "Diary of a Nobody" in 2015, the same year thst she was Goldie in the play "Fiddler on the Roof", performed at the Princess Theatre, Melbourne.
Personal Life, Marriage, Husband, Children
Sigrid is an accomplished actress, but also a wife and a mother.
Back in 1981, she married actor, producer, and director, Tom Burstall and since then, the couple has welcomed two children, Jaz and Ben.
Net Worth
As of mid- 2021, Sigrid Thornton's net worth has been estimated to be around $5 million, earned through her successful career as an actress, during which she's appeared in over 65 film and TV titles, all of which have contributed to her wealth, as well as her career on stage.
Appearance and Vital Statistics
This popular actress has dark brown hair and brown eyes.
She stands at a height of 5ft 5ins (1.65m), weighs approximately 120lbs (55kgs), while her vital statistics are 34-25-36, bra size 38B.
Hobbies, Interests, and Trivia
Sigrid is known for her work with a number of charities, including Vision Australia, then the Royal Children's Hospital, and World Vision, and also Reach Foundation. Furthermore, she has done everything to help sustain and develop the film industry of Australia, including Film Victoria.
She was awarded an Order of Australia medal during the Queen's Birthday Honor for services to television/theatre and film, but also for her charity work.
Sigrid enjoys traveling, and thanks to her work as an actress, has visited a number of countries across the world, including the US, but she also lived in England for a few years.
Like her mother, Sigrid has advocated for women, focusing mainly on their place in the television industry.