-Dirk Blocker is an American actor known for his role in the TV series "Brooklyn Nine-Nine"
-He is the son of Dan Blocker, a famous actor, and his mother was Dolphia Parker, a housewife
-He has appeared in more than 70 movies and TV series, including "Black Sheep Squadron", "Matlock", "Made in Heaven", and "Short Cuts"
-He is married to actress Danielle Aubuchon since 3 November 1990
-As of February 2021, Dirk's net worth is estimated at over $3 million
Who is Dirk Blocker?
Dennis Dirk Blocker was born in Hollywood, California USA on 31 July 1957 – his zodiac sign is Leo and he holds American nationality. He is an actor who is perhaps known best for his portrayal of one of the lead characters Detective Michael Hitchcock in the crime comedy series "Brooklyn Nine-Nine" created by Dan Goor and Michael Schur, and which also stars Andy Samberg and Stephanie Beatriz. The series has been airing since 2013, and follows Detective Jake Peralta and his colleagues working in the New York Police Department. It's won 14 awards including two Golden Globes, and has been nominated for 108 other awards.
Dirk is still quite active in the film industry although he has talked about wanting to retire.
Early life and education
Dirk was raised in Hollywood alongside his younger brother David Blocker, who is a popular film producer known for the 1984 romantic comedy film "Choose Me" and the 2007 biographical adventure drama "Into the Wild". He also has twin sisters Danna Lynn and Debra Lee. Dirk's father was Dan Blocker, a famous actor known for his roles in the series "Cimarron City" and "Bonanza", and his mother was Dolphia Parker, a housewife.
Dirk became interested in acting while attending a local high school, and was 17 when he made his debut TV series appearance in two 1974 episodes of the drama series "Marcus Welby, M.D.", created by David Victor and which starred Robert Young, James Brolin and Elena Verdugo. It follows the doctor Marcus Welby and his young assistant Steven Kiley.
After he matriculated in 1975, Dirk chose not to enroll at a college but to pursue a career as an actor.
Roles in TV series
Dirk has appeared in more than 70 movies and TV series, and we are about to mention some of his most notable performances in this article.
At the very beginning of his career, Dirk was invited to make a guest appearance in single episodes of various series such as the romantic family drama hit "Little House on the Prairie", the drama "The Family Holvak", and the comedy "Phyllis".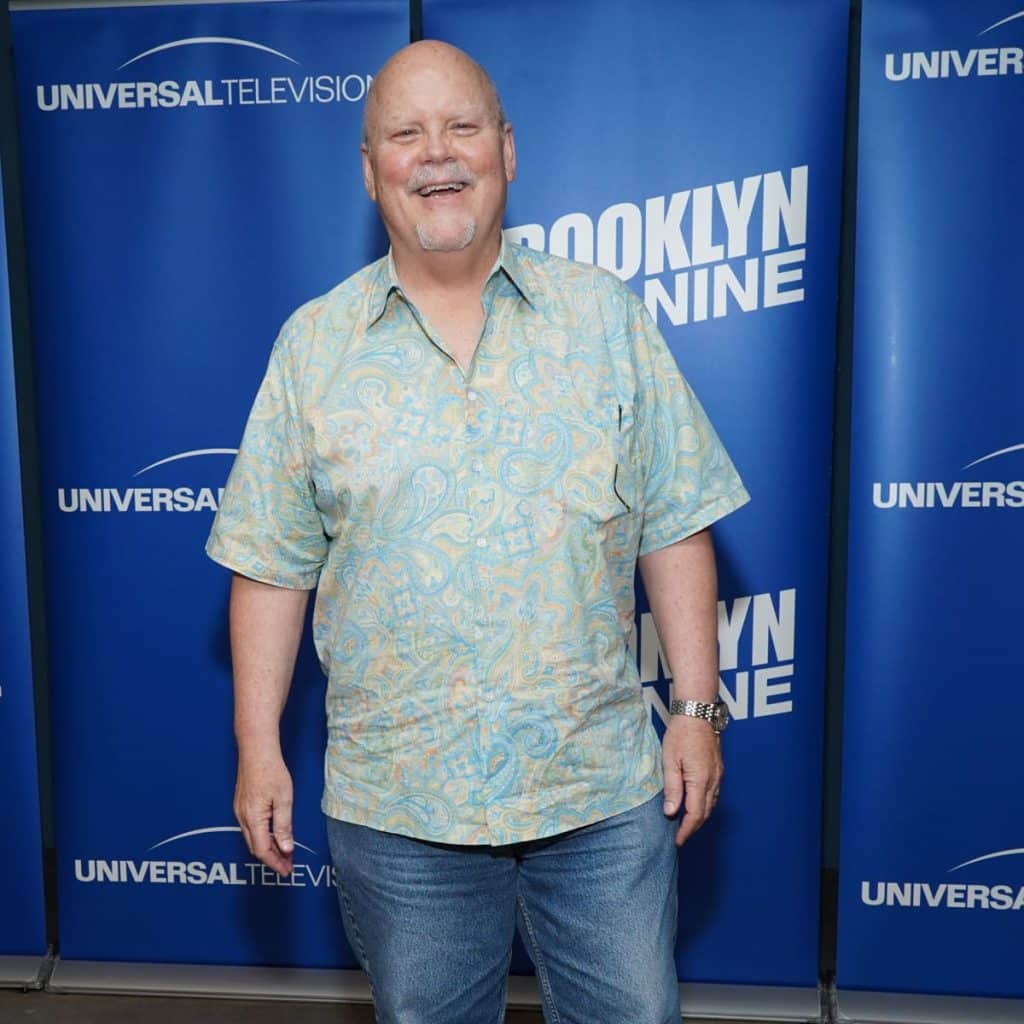 He gained recognition in 1976 when cast to star as 1st Lieutenant Jerome 'Jerry' Bragg in the action adventure drama "Black Sheep Squadron", which also starred Robert Conrad and Simon Oakland, and follows the US Major Gregory 'Pappy' Boyington and his pilots during the Second World War; the series was nominated for three awards including a Golden Globe.
The year 1983 saw Dirk portray the lead character Dr. Norman Rostov in the drama "Ryan's Four", but which was cancelled after airing five episodes. He then appeared in an episode or two of over 15 series, before Dirk was cast to portray a supporting character in the mystery crime drama "Matlock", which starred Andy Griffith and follows one of the most expensive criminal defense lawyers who has a special method of defending his clients: by finding the real killer.
It won five awards and was nominated for five others including a Golden Globe.
In 1997, Dirk was cast to play the supporting character Chuck Furness in four episodes of the drama "Pacific Palisades". Three of his most recent roles in TV series have been in the 2005 episode "Weapons of Mass Destruction" of the war action drama "Over There", the 2009 episode "Pleasure Is My Business" of the mystery crime drama "Criminal Minds", and the 2017 episode "The Getaway" of the comedy "There's… Johnny!"
Roles in movies
Dirk made his debut film appearance in the 1976 western "Bridger", which failed to attract a lot of attention and received mixed reviews.
In 1980, he portrayed Blaylak – Green Team in the comedy "Midnight Madness", written and directed by Michael Nankin and David Wechter, and which starred David Naughton, Debra Clinger and Joel Kenney. The movie follows five teams made up of college students as they compete in a scavenger hunt.
A couple of Dirk's following roles were in the 1982 crime drama "The Border", the 1984 romantic science fiction "Starman", and the 1985 crime comedy "Trouble in Mind". The year 1987 saw him play a supporting character in the romantic fantasy comedy "Made in Heaven", which starred Timothy Hutton and Kelly McGillis, and follows a man who dies and gets sent to heaven where he falls in love with a beautiful girl; the movie was nominated for two awards, winning one.
Dirk then chanced to appear alongside a young Brad Pitt in the 1989 horror comedy "Cutting Class", and in the same year, appeared in Clint Eastwood's action comedy "Pink Cadillac".
Perhaps one of the most popular movies Dirk has appeared in was the 1993 comedy drama "Short Cuts" written and directed by Robert Altman and which starred Andie MacDowell, Julianne Moore and Tim Robbins. It follows the lives of several residents of Los Angeles, and won 17 awards while it was nominated for 19 others, including an Oscar. In 1997, Dirk portrayed a bowler in the crime thriller "Mad City", which starred the famous actors John Travolta and Dustin Hoffman, and follows a security guard holding a group of children hostage on a school trip, while a reporter covering the event bonds with the kidnapper.
The movie was nominated for a single award.
Three of Dirk's most recent roles in movies have been in the 1999 drama "Inherit the Wind", the 2005 mystery drama "McBride: The Chameleon Murder", and the 2016 family drama "Advance & Retreat".
Other credits
He appeared in the 1979 documentary film "Circus of the Stars #3", as well as in the TV specials "The 35th Annual Primetime Emmy Awards" and "Paul Reiser: Out on a Whim". Dirk has been invited to make a guest appearance in several talk-shows, including "The Mike Douglas Show", "Home & Family" and "Hollywood Game Night".
In the 2016, Dirk sang the song "Jingle Bells" in the episode "Captain Latvia" of the series "Brooklyn Nine-Nine".
Awards and nominations
Dirk and his colleagues were nominated for two awards for their performance in the series "Brooklyn Nine-Nine": a 2015 Screen Actors Guild Award for Outstanding Performance by an Ensemble in a Comedy Series, and an IGN Summer Movie Award for Best TV Ensemble.
Love life and wife
Dirk is more or less secretive when it comes to his love life, but it's known that he's been married to Danielle Aubuchon since 3 November 1990. They dated for several year prior to exchanging vows, and it appears as the two agreed not to have children, to focus on their acting careers, however, there are those who believe that one of them is perhaps unable to have children.
Danielle Aubuchon is an actress with five credits to her name.
She made her debut film appearance in the 1985 crime comedy "Trouble in Mind", and her following roles were in the 1987 film "Made in Heaven", the 2000 drama movie "First, Last and Deposit" and the 2003 pilot episode of the drama "The Lyon's Den". Most recently, in 2017 she appeared in the episode "The Big House Pt. 1" of the series "Brooklyn Nine-Nine".
Dirk hasn't talked about any other women he might had dated before meeting Danielle, and as of February 2021, he's married and doesn't have children.
Hobbies and other interests
Dirk is an author, having published his book "Master and the Little Monk" which has just recently been turned into a short video that can be watched on Vimeo for free.
Here's to Season 8! Now in production. #sothankful @JoelMcKMiller @nbcbrooklyn99 pic.twitter.com/O5ucb1gk0a

— Dirk Blocker (@DirkBlocker) December 16, 2020
While he is not really interested in politics, Dirk has recently expressed his dissatisfaction with Donald Trump, and voted for Joe Biden in the 2020 presidential election, while he also encouraged others to vote for Joe as well.
Since the coronavirus pandemic, Dirk has been interested in doing puzzles and writing short stories and poems.
He is a dog lover, and has a pet dog which can be seen featured in a couple of his Instagram pictures and videos.
Dirk has his own favorite actors and actresses, some of whom are Samuel L. Jackson, Bruce Willis and Helena Bonham Carter, while a couple of his favorite movies are "Pulp Fiction", "Sin City" and "Fight Club".
Age, height and net worth
Dirk's age is 63. He has brown hair and blue eyes, his height is 5ft 9ins (1.75m) and he weighs around 185lbs (85kgs).
As of February 2021, his net worth has been estimated at over $3 million.