-DJ Akademiks is a social media star and DJ who rose to popularity through the content on his self-titled YouTube channel.
-His YouTube channel currently counts over 2.4 million subscribers and over a billion views.
-He is known as one of the controversial personalities in the YouTube community due to his habit of making a fuss over irrelevant matters.
-His estimated net worth is around 6$ million.
-He had a beef with Eminem, Meek Mill, and Chrissy Teigen.
Who is Dj Akademiks?
Livingston Allen, professionally known as DJ Akademiks, is a social media star and DJ who rose to popularity through the interesting content his self-titled YouTube channel. He usually covers entertainment news, making reaction videos and audio commentary. DJ Akademiks was born under the Zodiac sign Taurus on 17 May 1991, in Spanish Town, Jamaica. As of mid-2021, he's 30 years old and holds both American and Jamaican nationality.
Early Life and Family
DJ Akademiks lived in Spanish Town until 2011, when he relocated with his family to New York, USA; he hasn't disclosed any information about his parents and any siblings. Reportedly, during his formative years he had troubles adjusting to the new environment and culture, but upon matriculating from high school, he enrolled at Rutgers University, from where he graduated with a Bachelor's degree in Biomathematics.
During his college days, he developed an interest in music, and later began DJing.
He also continued to take classes at the Rutgers University to obtain a Master's degree in Math Finance.
Rise to Stardom-
With a knack for entertainment and music, while he was in still college, Allen launched the website entitled "Late Night Creep", with the goal of covering interesting news in hip-hop and pop. Achieving moderate success, he transitioned to YouTube in 2013, making commentary videos, and interviewing rappers such as Charlamagne. The channel was initially entitled LateNight CreepVids, but change the name to the current one.
It didn't take long for his channel to start attracting fans, as he covered the 2014 drill music scene in Chicago, which at the time was very popular. Allen continued interviewing rappers, and making commentary videos with sensationalist titles such as "40 Glocc tells DJ Akademiks Kendrick Isn't The King of SHIT", and "Drake Kicks Future Off his tour Over Slick Talk".
Over the years, he's always stayed on the top of the trend, covering the most interesting happenings and arguments between the rappers. He also launched the web series "Everyday Struggle", which also became very popular.
Besides the self-titled YouTube channel, which currently counts over 2.4 million subscribers and over a billion views, Allen has four other channels, entitled DJ Akademiks, The War In Chiraq, King Akademiks, and DJ Akademiks TV2, with a combined total of nearly a million subscribers. His content on these channels resembles his usual reaction/ commentary videos, however, it seems that the only active account is DJ Akademiks, on which he posts a couple of times a week.
Music Career
In one of his videos, he disclosed that he always enjoyed music, and had wanted to make something original. Additionally, he came to the hi-hop scene the save the rap game.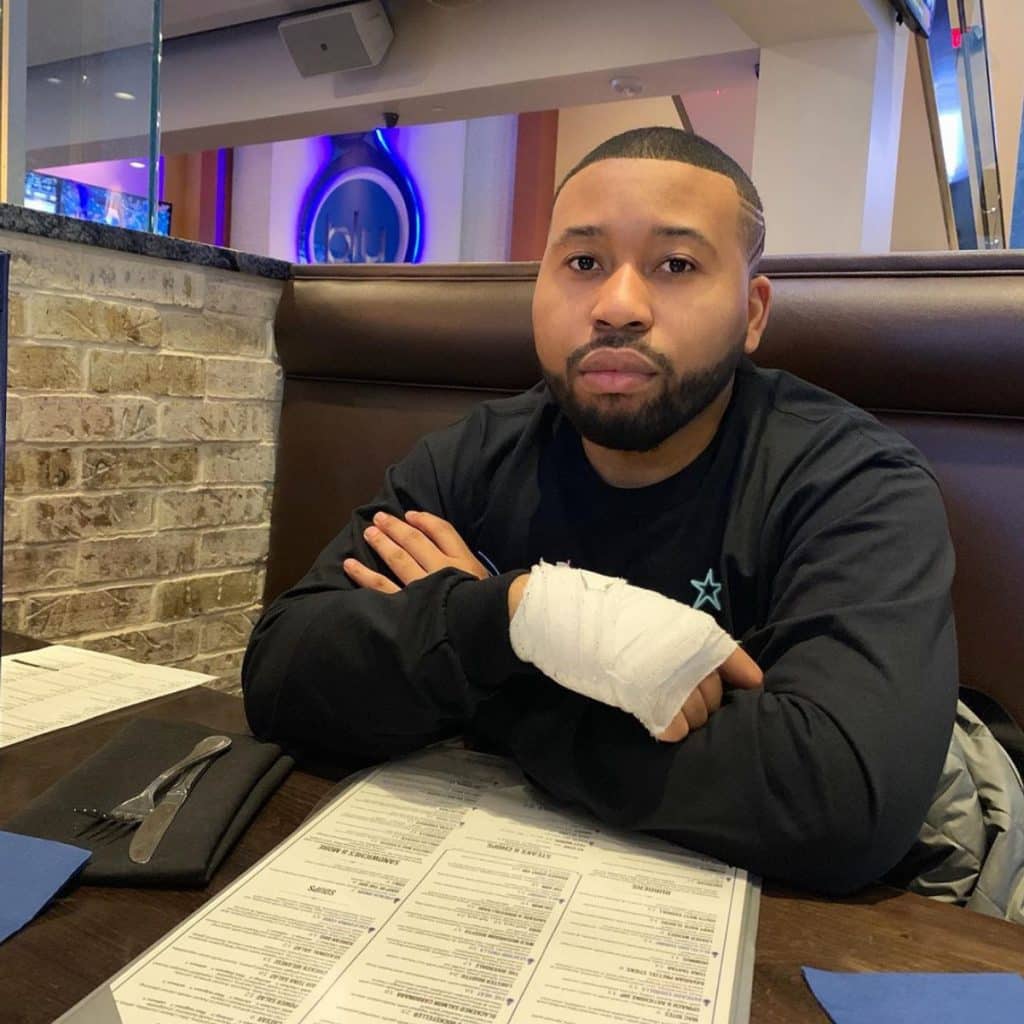 In 2018, he officially dipped his toes in music, launching his career under the stage name Lil Ak, which is his musical alter-ego. Shortly afterwards he released his first EP entitled Clout Chasers, with four tracks Chug Jug, Durag, Selina, and Super Lit. Later that year, he dropped a music video for his second track, "Triggers", followed by several others, including "Blue Clues" and "Hypebeast".
The following year he collaborated with Teka$hi69, and released the song entitled "LANES", which currently has over three million views. His latest music project was another Teka$hi69 collaboration, released in 2020 entitled "Gata", which currently has nearly five million views.
In 2019 he also hosted and served as executive producer for the docuseries posted on "Snap Originals" YouTube channel entitled "Tekashi Vs. The World". The series recounts Tekashi's rags-to-riches saga, which eventually ended with him being imprisoned on various counts.
Social Media
Besides YouTube, Allen is popular and active on various other platforms.
His Instagram account has over 4.3 million followers, while Twitter counts over 1.2 million fans. In addition to his verified Instagram accounts, he has several others, including for his musical alter ego Lil AK, which currently counts over 400,000 fans. His third account, entitled akademiks.cars, features exclusive photos and videos of some of the rarest cars of celebrities and rappers.
Controversy
In 2018 he was dragged into a scandal after a rival blog, Hip Hop Overload, disclosed some information indicating that DJ Akademiks is an informant hired by the FBI to take down the rapper Teka$hi69 for racketeering and illegal drug trafficking. The Hip Hop Overload, a site that covers the latest news in the entertainment and lifestyle, also added that Tekashi's former manager, Kifano Jordan exchanged some harsh words with DJ Akademiks. Reportedly, he called him the fake best friend who accepted the deal to leek information about Tekashi to have his charge of obstruction of justice go away.
Shawty said if you don't make over $200k a year .. u don't qualify to date her. 😳😳😳 pic.twitter.com/CvgfWiybLN

— DJ Akademiks (@Akademiks) July 16, 2021
Following the incident, DJ Akademiks gave an exclusive interview to the media company TMZ,  debunking these allegations. According to his public statement, DJ Akademiks had never been questioned or held by the police on the mentioned issues. After his public statement, Kifano Jordan's lawyer came forward and denied that Kifano made any comments about Dj Akademiks or implicated him any other way.
The Beef King
Over the years, Allen has covered and discussed various sensitive issues and situations in his familiar satirical tone, which doesn't sit with everybody, especially some celebrities he's talked about in his videos. In addition to his lengthy YouTube career and music career, Allen became known as one of the controversial personalities in the YouTube community due to his habit of making a fuss over irrelevant matters. The list of his beefs is quite long, and includes famous rappers and celebrities such as Eminem, Nicki Minaj, and Joe Budden.
Beef with Eminem
Reportedly, during one of the "Everyday Struggle" episodes hosted by him and Joe Budden, DJ Akademiks trashed Eminem's ninth album entitled "Revival", which prompted Eminem to write a verse about him: "Somebody tell Budden before I snap, he better fasten it or have his body bag get zipped. The closest thing he's had to hits is smackin' bitches and don't make me have to give it back to Akademiks . Say this shit is trash again, I'll have you twisted"." After hearing the verse, DJ Akademiks asked, "What did I do?" and continued sharing his criticism about the album.
Beef with Meek Mill
In 2020, DJ Akademiks announced he was suing the rapper, Meek Mill, for defamation after he called him "a sensitive gangsta". This beef refers to the previous rivalry between Meek Mill and Tekashi, who was a good friend of DJ Akademiks.
Reportedly after Tekashi went to jail, Meek Mill unfollowed him, prompting DJ Akademiks to go off on Meek Mill, calling him a hypocrite for talking about Tekashi. Meek Mill responded by saying stop using his name for clout. However, DJ Akademiks continued to call out Meek Mill in his videos, who in turn threatened to have him canceled. Later, Dj Akademiks challenged to a one-on-one fight, calling out his empty threats, adding that he had no power in the industry.
Beef with Crissy Teigen
DJ Akademiks posted on his Instagram John Legend's new album entitled "Bigger Love2", which underperformed in sales in the first week, trashing it. John Legend's wife, Chrissy Teigen, responded to his post which she later deleted. DJ Akademiks addressed the situation on his streams, telling John Legend to check his wife, followed by a sexist rant about her.
In 2020 he was suspended from Twitch and the multimedia company Complex Ambition for his inappropriate comments and slurs.
Following the incident, he apologized for his behavior and agreed to take down the two episodes from his channel. However, it did not help, according to his tweet, which stated: "Since Meek Mill canceled me and got me fired from Complex and banned for life from Twitch… I gotta resurrect my rap career… LIL AK is back reporting live from the other side of the TRENCHES! UBER EATS FREESTYLE OTW".
Personal Life
Interestingly, DJ Akademiks likes to keep his personal life away from the public eye. It's known that in 2018 he dated Angelica Ggx, the social media star and model from the Dominican Republic; the couple would break-up within a year. Later Angelica came forward and disclosed information about DJ Akademik's abusive and violent behavior, adding that he's a womanizer ,and had cheated on her several times as other women approached her during their relationship.
Following these grave accusations, an altercation ensued between the former couple, as allegedly Angelica tried to attack DJ Akademiks with a knife. On his live stream, he said." Shorty came at me with a knife. I ran like a bi*ch. No lie, Angelica tried to kill me dawg, I kid you not, she ran in here with two knives." Dj Akademiks also live-streamed the police's arrival at his house to investigate, and she was subsequently arrested.
Would you like to know his net worth?
According to reports, his estimated net worth is around 6$ million, which he's earned through his career as a social media star and host. He additionally earns from brand endorsements, merchandise, and DJ gigs.
Physical stats
Dj Akademiks is 5ft7ins tall (172 cm) and weighs around 154lbs (70kgs). His hair is black, while his eyes are brown.
In his free time, he likes to play video games such as Fortnite.