• Dominic Cooper is an English stage, television, and film actor.
• He is best known for his role as Jesse Custer in the TV series Preacher (2016-2019).
• His career began on stage at Repertory Theatre and he has appeared in more than 55 films and TV titles.
• He was in a relationship with actress Amanda Seyfried from 2008 to 2009 and with actress Ruth Negga from 2010 to 2016.
• As of mid-2021, Dominic Cooper's net worth has been estimated to be around $5 million.
Who is Dominic Cooper?
Dominic Cooper is an English stage, television and film actor, who is best known to the world as Jesse Custer in the TV series "Preacher" (2016-2019), while he is also known as Fielding Scott in the thriller drama series "Spy City" (2020), among numerous other roles that he secured so far in his career, both on-screen and on stage.
Dominic Cooper Bio: Age, Childhood, and Education
Dominic Edward Cooper was born on 2 June 1978 under the Gemini zodiac sign, in Greenwich, London, England, to Julie, a nursery school teacher, but also interested in theater, and Brian, an auctioneer.
He is the youngest of four siblings, having two older brothers, and he also had a sister who died tragically in a car accident aged five, before Dominic was even born. His parents divorced when he was five years old and his father later remarried, so Dominic has a half-brother from that romance. Furthermore, Dominic also has a half-sister from his father's extramarital affair.
He went to Thomas Tallis School located in Kidbrooke, but after matriculating didn't know what to do with his life, so on the advice of his then-girlfriend, he enrolled at the prestigious London Academy of Music and Dramatic Art (LAMDA), where he studied acting and film editing, and graduated in 2000.
Career Beginnings
Dominic's career began on stage at Repertory Theatre in Stoke-on-Trent in the play "Charley's Aunt" in 1999. After this, he appeared in the TV series "The Gentleman Thief" (2001), and in the same year also portrayed Sidney Davidson in the TV fantasy horror drama mini-series "The Infinite Worlds of H.G. Wells", starring Tom Ward in the title role, and Barry Stanton as Dean Frederick Masterman. He spent the early 2000s building a portfolio by appearing in such films as "Black Plague" and "The Final Curtain", both in 2002, while in 2003 he had a minor role in the romantic comedy film "I'll Be There", starring Charlotte Church, Craig Ferguson and Jemma Redgrave.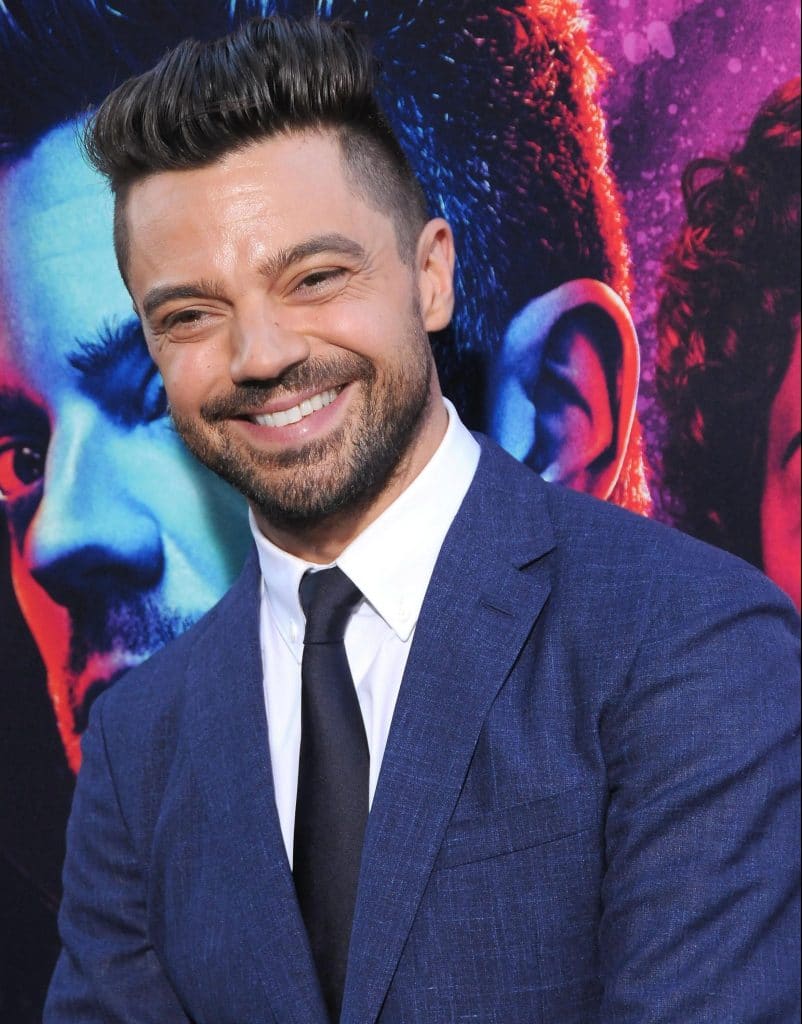 In 2004 he joined the cast of the TV series "Down to Earth" for eight episodes, playing Danny Wood, and two years later he secured his first major role as Dakin in the romantic comedy-drama film "The History Boys", starring Richard Griffiths, Frances de la Tour, and Clive Merrison.
Rise to Prominence
Dominic was making huge steps forward, and in 2008 he was Sky in the award-winning romantic comedy musical "Mamma Mia!", which starred Meryl Streep, Pierce Brosnan and Amanda Seyfried.
In the same year he appeared in the thriller crime-drama film "The Escapist", with Brian Cox, Damian Lewis and Joseph Fiennes in the lead roles, and later that year Dominic starred as Charles Grey in the historical drama "The Duchess", about 18th-century aristocrat Georgiana, Duchess of Devonshire, co-starring Keira Knightley and Ralph Fiennes. The following year, Dominic appeared in the Academy-Award nominated drama film "An Education", with Carey Mulligan, Peter Sarsgaard and Alfred Molina as main stars of the film.
— Dominic cooper (@dominiccoop) April 12, 2021
In 2011, Dominic was chosen for the part of Howard Stark in the film "Captain America: The First Avenger", which he reprised in the TV series "Agent Carter" (2015-2016). He starred in the romantic drama film "Summer in February" in 2013, alongside Emily Browning and Dan Stevens, while in 2014 he was the creator of James Bond, Ian Fleming in the TV mini-series "Fleming", and continued rather successfully, starring as Dino Brewster in the film "Need for Speed" and as Mehmed in the film "Dracula Untold", all in 2014.
The next year brought him the starring role in the romantic comedy-drama film "Miss You Already", with Drew Barrymore and Toni Collette, while in 2016 he was selected for yet another successful role, as Jesse Custer in the TV series "Preacher", starring in all 43 episodes of the award-winning series until its end in 2019. Concurrently he also played Llane Wrynn in the epic fantasy film "Warcraft", and was John Stratton in the film "Stratton". In 2018, he reprised the role of Sky in the sequel "Mamma Mia! Here We Go Again", while most recently he played Fielding Scott in the TV crime-drama series "Spy City".
He is currently working on several projects, including the TV series "That Dirty Black Bag" in which he'll play Arthur McCoy, and is set to star as Andy Peacock in the television comedy movie "Peacock".
Career in Theatre
In addition to his work on screen, Dominic is also known for his appearances in various plays. From 2001 to 2002, he featured in the play "Mother Clap's Molly House", performed at National Theatre. In 2002 he toured internationally with the play "A Midsummer Night's Dream", performing in Spain and the US as well as in the UK. From 2003 to 2004 he was Will in the play "His Dark Materials", while he toured the world with the play "The History Boys" from 2004 to 2006, which included performing on Broadway.
His latest stage appearance was in 2016 as John Wilmot, 2nd Earl of Rochester, in the play "The Libertines", performed at the Theatre Royal Haymarket in London.
Personal Life, Dating, Girlfriend, Single?
Dominic was in a romantic relationship with actress Amanda Seyfried from 2008 to 2009, then after their split, Dominic started dating actress Ruth Negga, and they were together from 2010 until 2016. The couple met on the set of the National Theatre's production of Phedre in 2009. The two even starred together in the TV series "Preacher" following their split.
Since 2018, Dominic has been in a relationship with actress Gemma Chan; the two first appeared together in public at the British Fashion Awards.
Net Worth
As of mid- 2021, Dominic Cooper's net worth has been estimated to be around $5 million, earned through his successful career as an actor, during which hes appeared in more than 55 film and TV titles, while his career in theater has also added to his wealth.
Appearance and Vital Statistics
This award-winning actor has dark brown hair and dark brown eyes. He stands at a height of 5ft 10ins (1.77m), while he weighs approximately 157lbs (71kgs). His vital statistics are 41-31-14, and his shoe size is 10.
Hobbies, Interests, Trivia
Dominic has made some great friends in show business, and one of them is actor James Corden with whom he shared a house in the early stages of their respective careers. Dominic introduced James to his wife Julia, and he's godfather to their first child, Max.
Dominic is known for his charity work, and has worked closely with a number of philanthropic organizations, including Save the Children.