Who is Lynda Day George?
Lynda Day George is a legendary actress, probably still best known to the world as Lisa Casey in the TV series "Mission Impossible" (1971-1973), and as Mary Riggs in the horror mystery film "Pieces" (1982), in addition to many other notable roles that she had secured during her career, active for 28 years before she decided to retire.
Where is Lynda Day George Now?
Lynda was acting until the late '80s, but since then has rarely been seen in public, making her last appearance in the documentary "AFI's 100 Years… 100 Thrills: America's Most Heart-Pounding Movies" in 2001. She is now residing in Toluca Lake, California USA, and is working on her memoirs with an unnamed biographer – for now, the working title is "Lynda Day George: A Hollywood Memoir".
Lynda Day George Wiki: Age, Childhood, and Education
Born Lynda Louise Day on 11 December 1944 under the Sagittarius zodiac sign, in San Marcos, Texas USA, to a US Air Force officer father, and a homemaker mother. She hasn't disclosed her parents' names, but has said that she had a brother, who sadly passed away in the '70s after losing his battle with cancer. She went to West Phoenix High School in Phoenix, Arizona, and dreamed of becoming a surgeon, however, she gave up on that and focused on her career as a model and actress. The legendary actor, Peter Graves took her under his wing, which only helped Lynda's acting career; he became her mentor and friend for life.
Career Beginnings
Lynda's career started in the early '60s, with a minor role in the TV series "Route 66" (1963), and the same year she featured in the television movie "Rockabye the Infantry", starring William Bendix. After a few other minor appearances, Lynda made her first breakthrough with the part of Judy Reynolds in the drama film "The Gentle Rain", in which she starred alongside Christopher George and Fay Spain. Throughout the '60s, Lynda built her portfolio with guest roles in such TV series as "Hawk" (1966), "The Green Hornet" (1966), "The Virginian" (1967), and "Bonanza" (1968), among others, while in 1969 she starred in the television horror movie "Fear No Evil".
Rise to Prominence
Lynda set off the '70s rather busily, first as Amelia Cole in the short-lived TV series "The Silent Force" (1970-1971), then as Sue McSween in the western film "Chisum" (1970), starring John Wayne, Forrest Tucker and Lynda's future husband, Christopher George. In 1971, Lynda was chosen for her career role as Lisa Casey, thus joining the cast of the TV series "Mission Impossible", which starred her mentor Peter Graves. Lynda appeared in 44 episodes between 1971 and 1973 as cosmetologist and mistress-of-disguise Lisa Casey, which earned her a Primetime Emmy Award nomination in the category for Outstanding Continued Performance by an Actress in a Leading Role (Drama Series – Continuing), and also a Golden Globe Award nomination in the category for Best TV Actress- Drama.
Lynda carried on her success as Lisa Casey into the rest of the '70s, enjoying the most fabulous years of her career. In 1973 she starred in the television movie "Set This Town on Fire", while two years later she was one of the main stars of the television drama movie "The Trial of Chaplain Jensen", next to James Franciscus and Joanna Miles. In 1976, she was Cathy Armello in the television action-adventure movie "Mayday at 40,000 Feet!", and starred in the TV mini-series "Once an Eagle" (1976-1977).
The following year, Lynda starred in the television sports mystery-drama movie "Murder at the World Series", and co-starred with Christopher George in the sci-fi horror film "Day of the Animals". To speak further of her success, Lynda portrayed Mrs Reynolds in the Primetime Emmy Award-winning TV mini-series "Roots", with LeVar Burton, Robert Reed and John Amos in the lead roles.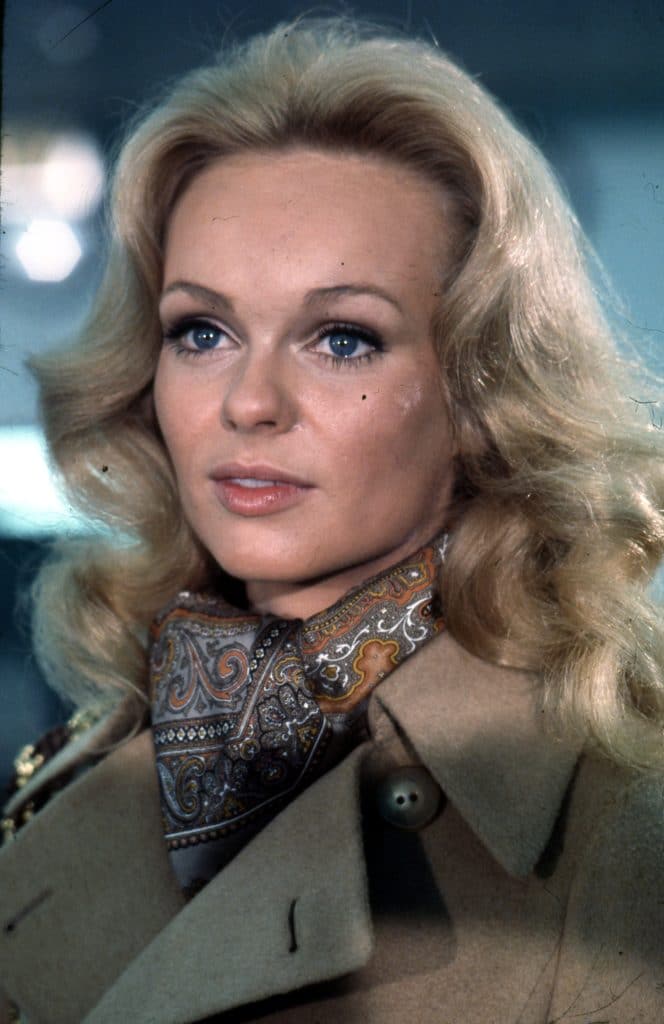 Before the decade ended, Lynda was Sandra Barry in the television horror-thriller movie "Cruise Into Terror", starring Dirk Benedict, Josh Forsythe, and Frank Converse, and appeared in the Primetime Emmy Award-nominated sci-fi movie "The Return of Captain Nemo".
Retirement
Lynda continued successfully into the early '80s, first with the lead role in the horror film "Beyond Evil" (1980), while in 1982 she had another starring role, in the horror film "Pieces", co-starring her husband and Frank Brana. The following year, Lynda took a role in the horror film "Mortuary", next to Mary Beth McDonough and Bill Paxton.
Her husband died in 1983 from a heart attack, after which Lynda lost interest in acting, making only a few more sporadic appearances, such as in the role of Mrs Burt Schneider in the TV series "Hardcastle and McCormick" (1985), then as Diane Shelley in the TV series "Murder, She Wrote" (1985), and in 1989 she reprised the role of Lisa Casey in the revival of "Mission: Impossible", after which she officially retired.
Personal Life, Marriages, Husband, Children
Lynda has three marriages behind her. She was first married to Joseph Pantano from 1963 until 1970, with whom she welcomed a son name Nicky. Lynda divorced Joseph to be with Christopher George, and the two married the same year.
George was best known to the world as Sgt. Sam Troy in the TV action adventure-drama series "The Rat Patrol" (1966-1968), for which he received a Golden Globe Award- nomination in the category for Best TV Star- Male. Their marriage lasted until 1983, when he died of a heart attack; they had a daughter together, Kristina Casey. Intriguingly, Lynda and Christopher filed a lawsuit against Lynda's first husband to have Nicky declared as Christopher's natural son.
Her third marriage was with Doug Cronin, and lasted from 1990 until 2010 when Doug died from cancer.
Lynda is known for being one of the early activists against ozone-layer depletion.
Net Worth
As of mid- 2021, Lynda Day George's net worth has been estimated to be around $16 million, earned largely through her successful acting career, during which she has appeared in more than 80 film and TV titles, all of which have added to her wealth. No doubt she also inherited from her two deceased husbands
Appearance ad Vital Statistics
This prominent actress has brown hair and brown eyes. She stands at a height of 5ft 10ins (1.77m), weighs approximately 120lbs (54kgs), with vital statistics of 38-25-37, bra size 36D. She continues to reside in California.