Who is Eddy Burback?
Eddy Burback is an American YouTuber, who achieved fame by making reaction and comment videos on his YouTube channel, focusing on such subjects as films, among others. He's collaborated with several other YouTube stars, including Gus Johnson and Drew Gooden, among others.
Eddy Burback Biography: Age, Childhood, and Education
Edward Burback was born on 28 November 1996 under the Sagittarius zodiac sign, in Chicago, Illinois USA. Unfortunately, there is no information about Eddy's educational background, as well as his parents and siblings.
Growing up, Eddy's passions were films and cartoons, and as he got older, his love for moving pictures increased, which resulted in the creation of his YouTube channel in 2011. However, he didn't make any videos until 2013 and the film "Paranormal Zacktivity", though this video has since been deleted. In 2016, he uploaded the video "E.T. Ripoff Loves McDonald's?!- Horrible Movie Scenes", which started the entire "Horrible Movie Scenes" series of videos. He continued uploading videos related to the film industry, with funny comments and reactions, which only increased his popularity.
Rise to Prominence
In addition to the "Horrible Movie Scenes" series, Eddy started making other, commentary videos, making funny and interesting comments on a number of topics such as about "Vine Stars", then the one about Sprint Commercials, and how disgusting kids videos on YouTube are. Furthermore, he has a "Bad Movie" series of videos, in which he's roasted a number of films.
Thanks to his increasing popularity, Eddy struck up friendships with a few other YouTubers, including Gus Johnson, becoming a member of his Gus Johnson & Co, alongside Abelina Sabrina, Nakey Jakey, Drew Gooden, and Danny Gonzalez.
This collaboration turned out to be a perfect move, since it launched him to stardom. Eddy now has more than 850,000 subscribers on his official YouTube channel, and his videos have been viewed more than 58 million views. Some of the most popular videos include "Late Night TV Needs to Change", which has over 2.3 million views, then "Stranger Danger Films from the 90s are Insane" with around 2.2 million views, "Please Get This Girl Off My Timeline", which has been viewed more than 2.1 million times, and "I Think This Dude Wants to Kill Me" with two million views, among numerous other videos that have only increased his popularity.
Gus & Eddy Podcast
Back in 2018, Eddy and Gus created a collaborative YouTube channel, and launched their Gus & Eddy podcast, talking on numerous topics. First, they introduced the entire crew, consisting of such YouTube stars as Nakey Jakey, Drew Gooden, Ian Hecox, Chris Ray Gun, James Allen McCune, and Parker Games. The first podcast video was "Lego Star Wars Will Make You Hate Your Brother", which now has over 315,000 views, and the two continued with funny and interesting videos, slowly building their own fan base. Nowadays, the two have over 230,000 subscribers, and their videos have been viewed more than 22 million times.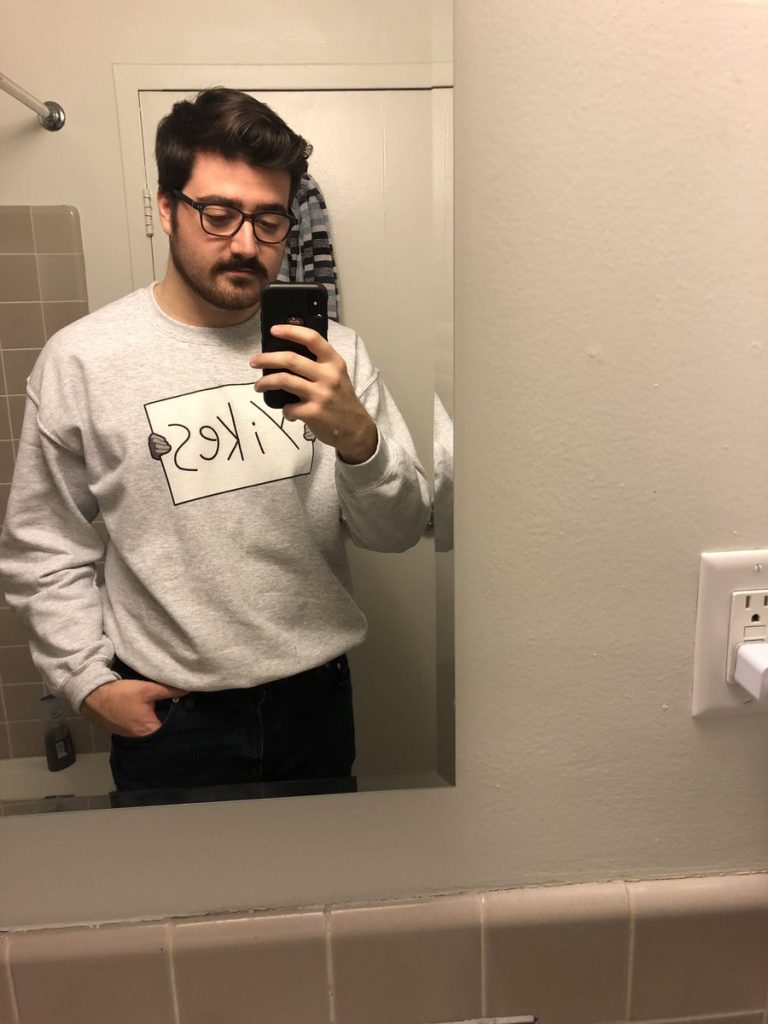 Some of the most popular videos include "Michael Reeves Really Hates Turtles", which features Michael Reeves as a guest star, which has been viewed over 815,000 times, then "Booger Wall: The Trial of the Century", with over 730,000 views, and "PaymoneyWubby Scammed a Blind Woman", which has been viewed more than 465,000 times, in addition to other videos from the two that have only added to Eddy's popularity.
Personal Life, Dating, Girlfriend
When it comes to his personal life, Eddy has been rather secretive about his endeavors. However, according to some sources, he is in a relationship with TikTok star Chrissy Tiber, better known as Chribbleys, while other sources state that he is currently single. Chrissy has featured in his videos and Twitch streams, but he hasn't talked about this relationship.
Net Worth
As of mid- 2021, Eddy Burback's net worth has been estimated at around $1.2 million, earned through his successful career as a content creator, active since 2011.
Appearance and Vital Statistics
This prominent YouTube star has brown hair and dark brown eyes. He stands at a height of 6ft 1ins (1.85m), while he weighs approximately 135lbs (65kgs). His vital statistics are 44-28-39, and his biceps is 19ins. His shoe size is 8.5.