• Eoin Macken is an actor, director, model, and author from Dublin, Ireland
• He has modeled for Ralph Lauren, GQ, Hollister, and Abercrombie & Fitch
• He is known for his roles in Resident Evil: The Final Chapter, Merlin, and The Night Shift
• He is currently writing and producing a project called Elephant and co-wrote a children's book series
• His estimated net worth is around $2 million
Who is Eoin Macken?
Eoin Christopher Macken is an actor, director and model, perhaps best recognized for his roles in "Resident Evil: The Final Chapter", "Merlin", and "The Night Shift". Some might also recognize him from the campaigns for Ralph Lauren and Abercrombie and Fitch. He was born under the Zodiac sign Pisces on 21 February 1983, in Dublin, Ireland. Eoin holds Irish nationality, and as of 2021, he is 38 years old.
Early life and Family
Not much information is available about Eoin's childhood and background. Eoin was born to James Macken, while his mother's name remains unknown. His father was an esteemed Barrister at Law who died in 2007.
He has a younger sister named Freya Macken and three half-siblings. Reportedly, Eoin developed an interest in acting while in high school, but didn't follow it until he enrolled at University College, Dublin, participating in the faculty's drama society.
 Modeling Career
While he was studying to earn a Bachelor's Science degree in psychology, he kicked off his acting and modeling career. In 2002 he participated in the faculty's fashion show, followed by his first deal with the modeling Morgan the Agency. The following year, he graced various ads, and was also chosen as the face of the Abercrombie and Fitch campaign. Later, Eoin modeled for Ralph Lauren, GQ, and Hollister, then in 2008 he was the face of the Braun campaign.
Acting Career
A triple facet, Eoin launched his acting career by appearing in the 2006 Irish comedy entitled "Studs", alongside Brendan Gleeson and Emmett J. Scanlan. During the same year, he appeared in the short movie "Triple Bill", followed by his role in the film "Short". In 2008 he made his debut as a writer and director, of the psychological thriller entitled "Christian Blake", in which he also starred as Christian, the main character. During the same year, he starred in several episodes of the Irish soap opera "Fair City", portraying the role of Gavin Cluxton, the drug dealer, and the short movie "Fifth Street".
He appeared in several films in 2009, including "Aces", "Savage" and "Once Upon A Time in Dublin".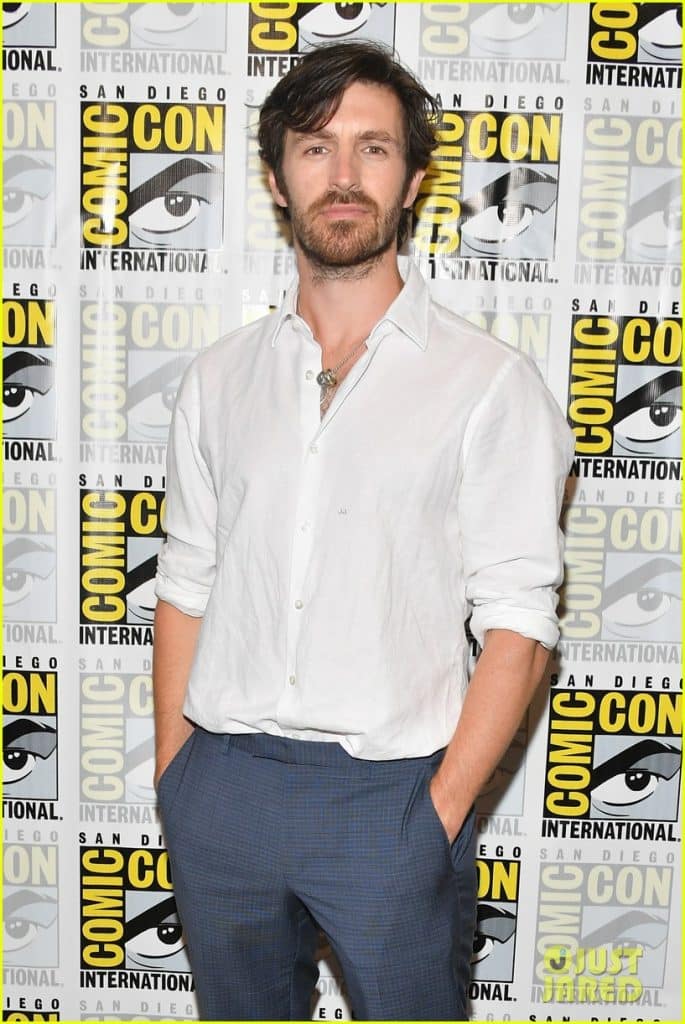 In the same year, he tried luck with writing and directing his second feature film, "Dreaming For You", and appeared in two made-for-TV movies entitled "Pubworld" and "Small Island". As an individual who has been in the modeling industry, he directed the documentary entitled "The Fashion of Modeling", tackling various notions and aspects of Irish Fashion.
The following year was another busy year for Eoin, appearing in several productions and movies, including the Irish series "Raw", and the action-war movie "Centurion" starring Michael Fassbender and Dominic West. After appearing in the short movies "Through the Night" and "Siren", he scored the recurring role of Sir Gawain in the fantasy-adventure drama series "Merlin", starring in 30 episodes. The show ran for five seasons, achieving success and over 20 nominations throughout its run.
His next role came in 2012, as he appeared in the thriller movie "Suspension of Disbelief", followed by the romantic comedy movie entitled "The Callback Queen". In 2013 he released his third feature movie entitled "Cold" opposite Tom Hopper – the story revolves around two brothers as they reconnect after the unexpected death of their father; for some reason, Eion later changed the name of the movie to "Leopard". In 2014, he scooped the lead role Dr. T.C. Callahan in the medical drama series "The Night Shift", which ran for four seasons, receiving average reviews with critics aiming at the derivative and cliché-ridden plot.
After being cast as Antipas in the TV movie "Killing Jesus", he appeared in the sci-fi action movie "Resident Evil: The Final Chapter" opposite Milla Jovovich. Similar to the previous five installments of the "Resident Evil" franchise, this movie received critical acclaim and smashed at the box office. In 2018 he landed the lead role in the sci-fi horror series "NightFlyers", created and produced by Syfy and Netflix, however, after receiving negative criticism, Syfy canceled the series after one season. The following year he starred in several movies, including the action thriller "Close" opposite Naomi Rapace, and the horror movie "The Hole in the Ground".
His latest and upcoming appearances
In 2020 he appeared in the crime series "Stumptown" and the supernatural movie "I Am Fear". During the same year, he wrote and directed the drama movie entitled "Here Are the Young Men", starring Anya Joy-Taylor and Travis Fimmel, released in the US in April 2021. Recently, Eoin announced on his Instagram that the movie has received four nominations from the Irish Film and Television Awards.
He additionally starred in the horror movie entitled "Till Death" opposite Megan Fox, which was released on 2 July 2021. In a recent interview, he talked about his character in the movie, who is a sociopath, saying "I read the script, and I thought it was interesting, even though it's a strange concept.
Latest Interview:@eoincmacken chats to me (@InTheWordsOf_CM) about the moral dilemma his new film – which is out today – #HereAreTheYoungMen throws at you! @Buzz_Magazine

Read it here – https://t.co/MCDiBEQVBI pic.twitter.com/KJIfFutpxZ

— Carl Marsh (@InTheWordsOf_CM) April 30, 2021
And the director was like "Okay – by the way you're gonna play a sociopath" I said okay we could work on that."
According to reports, Eoin is currently writing and producing another project entitled "Elephant". In addition to his numerous endeavors, he also co-wrote the upcoming children's book series entitled "'Lucy & Pete Have an Adventure', to be published in late 2021.
Talking of his other upcoming projects, he is set to appear in various productions such as the TV series "La Brea" and the movie "Cellar".
Personal Life
Talking of his dating history, Eoin dated the Irish singer Una Healy from 2006, and although the relationship seemed serious and headed to a long-term commitment, they parted ways in 2008.
In 2010 he started a romantic relationship with the actress Kellie Blaise, during which they co-wrote the song "Round the Bend", and also directed the music video, but after a year they broke up. Since then, he hasn't been tied to anyone in particular, and is currently single. Additionally, some rumors circulated about his potential relationship with Anya Joy Taylor, however, this was never confirmed.
Rumors about his sexuality
After Eoin's convincing portrayal of the gay character, Dr. T.C. Callahan, coupled with his career as a model, many fans and viewers began doubting his sexual orientation. However, the rumors proved to be false, as Eoin is clearly heterosexual, but a very persuasive actor who is able to compel serious attention and acceptance.
Physical stats and Hobbies
Eoin is 5ft 11ins tall (180), weighs around 154lbs (70kgs), with body measurements of 41-15-32, and has dark brown hair and brown eyes.
In addition to his numerous occupations, he is skilled in various sports and outdoor activities, including horseback riding, kickboxing and climbing. In his free time, he also likes to surf, swim and sail. Additionally, he is no stranger to playing golf and soccer.
What is his net worth?
As of mid-2021, his estimated net worth is around $2 million, acquired through his career as a model, actor,and producer. During his 15-year long career, he has appeared in various successful movies such as "Resident Evil: The Final Chapter", which grossed over $350 million at the box office.
He is very active on his Instagram, which currently counts over 150,000 followers. Eoin, is also active on Twitter, with over 75,000 followers. He usually uses his social media to share snippets from his projects, and other interesting career events.