• Eric Allan Kramer was born on March 26, 1962 in Grand Rapids, Michigan USA
• He holds an estimated net worth of over $4 million as of mid-2021
• Eric graduated from University of Alberta with a BFA degree
• His most notable roles include Thor in "The Incredible Hulk Returns" and Dave Rogers in "The Hughleys"
• Rumors have circulated that he is gay and has 4 children
Who is Eric Allan Kramer?
Eric Allan Kramer was born on 26 March 1962 under the zodiac sign of Aries, in Grand Rapids, Michigan USA. He's a 59-year-old actor and director, probably best recognized for landing the role of Thor in the made-for-TV superhero film "The Incredible Hulk Returns" (1988), playing Dave Rogers in the ABC / UPN sitcom "The Hughleys" (1998-2002), and featuring as Bob Duncan in the Disney Channel sitcom "Good Luck Charlie" (2010-2014).
How rich is he, as of now? Eric Allan Kramer Net Worth
As of mid-2021, Eric Allan Kramer's net worth is estimated at over $4 million, earned through his successful career as a professional actor and director, who has worked on more than 100 television and film titles since he launched his career back in 1987.
Early Life, Parents, Siblings, Nationality, Ethnicity, Educational Background
Eric Allan Kramer spent his early years in Edmonton, Canada, where he was raised by his father, Roger Kramer, who is known for being an American athlete and former professional Canadian Football League (CFL) player, and his mother, whose name remains a mystery. It's also unknown whether he has any siblings or is an only child. He holds American nationality and belongs to White Caucasian ethnic group. Regarding his education, Eric attended Jasper Place High School in Alberta, Canada, and upon matriculation, he enrolled into the University of Alberta, from which he graduated with a BFA degree.
Rise to Fame
Eric Allan Kramer started his acting career in 1987, by making his debut feature film appearance as Luke Collins in the made-for-TV Western film "The Gunfighters", next to George Kennedy, after which he landed his breakthrough role as Thor in Kenneth Johnson's made-for-TV superhero film "The Incredible Hulk Returns", released on NBC in 1988. Two years later, he took the lead role of Ator in the Italian fantasy adventure film "Quest For The Mighty Sword", directed by Joe D'Amato. Between 1990 and 1991, Eric appeared in the recurring role of Drew McCrorey in the NBC sitcom "Down Home", which was followed by his portrayals of Russian baseball player Boris in the made-for-TV sports comedy film "The Comrades Of Summer" (1992).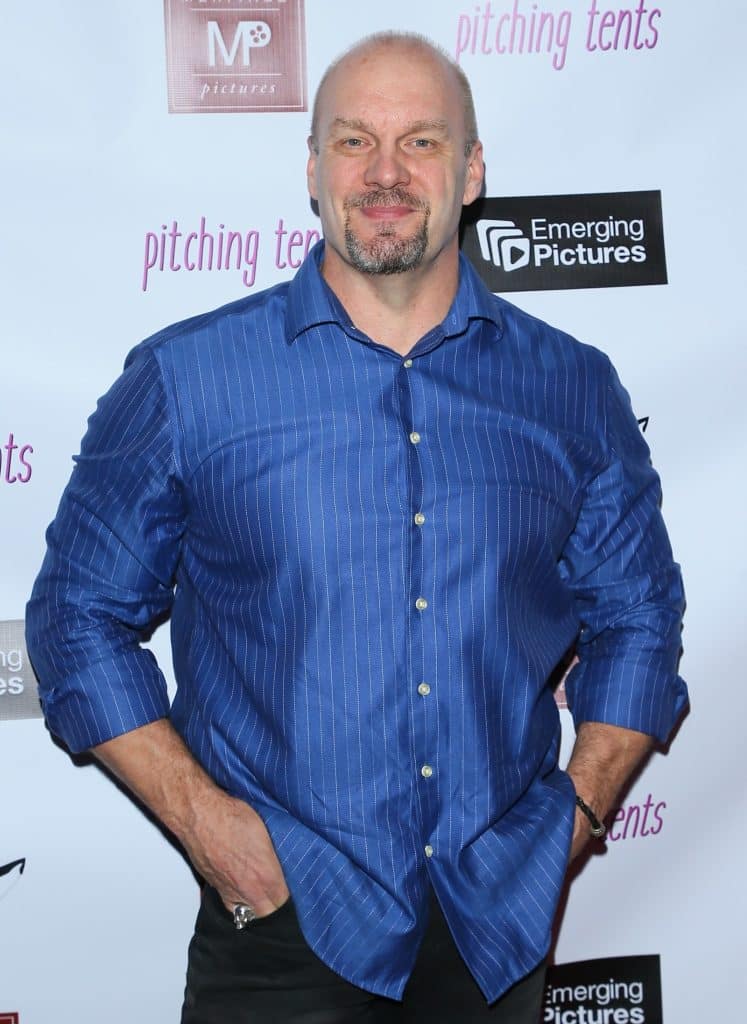 His most notable roles came in the next year, when he played Little John in the musical adventure film "Robin Hood: Men In Tights", co-written and directed by Mel Brooks, and featured as Boris in the romantic crime film "True Romance", alongside Christian Slater, Grady Oldman, and Brad Pitt, written by Quentin Tarantino and directed by Tony Scott; despite being a commercial failure, the film received critical acclaim and earned a cult following. He then played Whitey van de Bunt in the CBS sitcom "Bob", also in 1993.
Continued Success
In 1994, Eric Allan Kramer landed the role of Dieter in the Canadian comedy film "Road To Saddle River", next to Michael Hogan, and had a support part as Isaac in the NBC sitcom "Hope & Gloria" in 1995.
It was followed by his appearances as Hulk in the 1996 comedy film "High School High", and Sgt. Henry Bardshar in the 1997 TNT historical action drama miniseries "Rough Riders". His next remarkable appearance came in the foowing year when he joined the main cast of the ABC / UPN sitcom "The Hughleys", in which he starred in the role of Dave Rogers until its finale in 2002. Concurrently, he also played Alan Hale, Jr. in the ABC docudrama "Surviving Gilligan's Island" (2001), and had a supporting part as Sheriff Gaines in the ABC mystery series "Push, Nevada" (2002).
In 2003, Eric then featured as Bear in the sex comedy film "American Wedding", next to Jason Biggs and Alyson Hannigan, the third installment in the "American Pie" franchise. The film was a huge box office success, grossing over $230 million worldwide against the budget of $55 million.
His next major role was in Jason Ensler's 2006 dark comedy film "Grilled", in which he played Irving. It was followed by his portrayals of Pete in the comedy TV series "Hollywood Residential", which was aired on the Starz network in 2008, and Steve in the musical drama film "Flying By" in 2009.
Further Work
In 2010, Eric became a regular cast member of the Disney Channel sitcom "Good Luck Charlie", in which he landed the main role of Bob Duncan until the series ended in 2014; he even directed two episodes of the series in 2012 and 2013, and also reprised the role in "Good Luck Charlie, It's Christmas!" (2011), a Christmas Disney Channel Original Movie based on the series.
He then had a part as Ragnar Danneskjöld in the third film in the "Atlas Shrugged" film series, entitled "Atlas Shrugged Part III: Who Is John Galt?", and starred as John in the fantasy comedy film "Mostly Ghostly: Have You Met My Ghoulfriend?", both in 2014. It was followed by his portrayals of Mr. Evilman in the Nickelodeon comedy series "The Thundermans" (2015) and Officer Seely in the CBS sitcom "Mike & Molly" (2015-2016).
Recent Years
In 2016, Eric Allan Kramer was cast as Principal John Decost in the teen drama web series "Guidance", released on the go90 streaming service, and played Darryl Masters in the horror film "8989 Redstone", directed by Jay Chapman.
Through 2018 and 2019, he was selected to take the main role of Scott Miller in the AMC comedy-drama series "Lodge 49", which was aired for two seasons before it was canceled due to low ratings. He then provided his voice to Iron Mike Wilcox in the action-adventure horror video game "Days Gone" in 2019. Most recently, he starred as Briles in the Nickelodeon buddy comedy series "Side Hustle" (2020-2021).
Appearance, Vital Statistics, and Weight Loss
Eric Allan Kramer is bald and has blue eyes. He stands at a height of 6ft 2ins (1.88m); his current weight isn't available, but it's known that he weighed 260lbs (118kgs) at the time he was filming "Good Luck Charlie".
However, he then started going to the gym, and paying attention to his diet, and by the end of the shooting season, Eric had lost 35lbs (15kgs). Information about his vital statistics, biceps size, and shoe size hasn't been revealed.
Personal Life
Rumors were swirling around that Eric Allan Kramer married James Bonci back in 2013 and that they had a son named Manny. However, he denied it all and cleared the rumors, after which many people doubted his sexuality and believe that he's gay. On the other hand, Eric is a full-time father according to his bio on Twitter. Some informational websites claimed that he has four children, named Amity Kramer, Manny Kramer, Sedona Harlan Kramer, and Leianesse Kramer, but this information hasn't been confirmed yet. His residence is in Los Angeles, California.