--Trainwreckstv is a 30-year-old social media sensation, gamer, and podcast host.
--He has over 1.3 million followers on Twitch, 330,000 followers on Twitter, and 60,000 followers on Instagram.
--His net worth is estimated at close to $1 million.
--He has collaborated with other famous social media personalities and gamers, runs his own podcast, and has an official YouTube channel.
--He is in a relationship with Kayla and is known for his charity work.
Who is Trainwreckstv?
Tyler Faraz Niknam, better known by his online alias Trainwreckstv, was born on 20 December 1990 under the zodiac sign of Sagittarius, in Scottsdale, Arizona USA. He is a 30-year-old social media sensation, gamer, and podcast host, probably best recognized for being a Twitch streamer – he has more than 1.3 million followers on his Twitch account. He also runs his official Twitter account with over 330,000 followers, and his official Instagram account with more than 60,000 followers. He has amassed over 190,000 subscribers on his YouTube channel, while his videos have had been viewed almost 24 million times.
— Trainwreck (@Trainwreckstv) May 23, 2021
How rich is he, as of now? Trainwreckstv Net Worth
As of mid-2021, Trainwreckstv's net worth is estimated at close to $1 million, acquired through his internet-based career, which includes sponsored posts, donations, stream subscriptions, and collaborations with other famous social media personalities and gamers. He has also increased his wealth through sales of his merchandise line.
Early Life, Parents, Siblings, Nationality, Ethnicity, Educational Background
Trainwreckstv spent his early years in his hometown of Scottsdale, where he was raised by his parents about whom he remains silent; there's no information about their names and professions, but it's known that he's an only child. He holds American nationality, and is of Iranian descent.
Soccer and Educational Background
Trainwreckstv started playing soccer at the age of five, and while attending Chaparral High School he was a member of the team; also played for the Olympic Development Program for his state. Upon matriculation, he furthered his education at Arizona State University, where he continued to play soccer. He graduated with a Bachelor's degree in Analytic Philosophy, as well as a Bachelor of Science degree in Biochemistry in 2014.
Rise to Fame on Twitch
Trainwreckstv has always been interested in video games and his career began when he came up with the idea to become a streamer.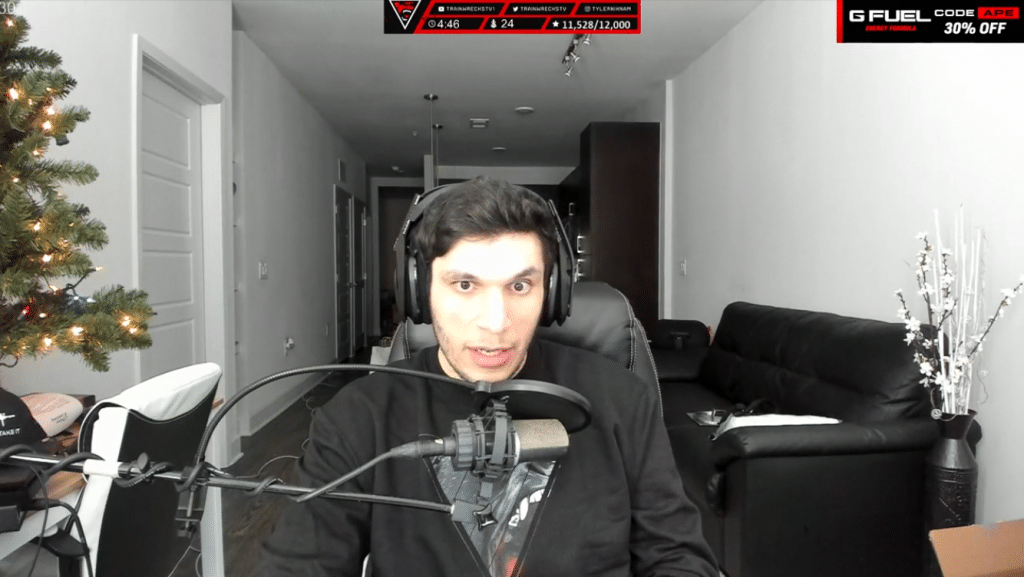 On 26 June 2015, he created his account on the world's leading live streaming platform for gamers, called Twitch, under the username '@trainwreckstv', and began streaming various video games, such as "League Of Legends", "Dota Auto Chess", "World Of Warcraft", "Halo", "PlayerUnknown's Battlegrounds", and "Call Of Duty", among many others. The number of his followers increased with each video, which encouraged him to continue further, and expanded his content, and start doing IRL (In Real Life) streaming videos, in which he streams various activities which aren't related to video gaming, as well as videos in the category of 'Just Chatting', in which he communicates with his fans.
Collaborations and Scuffed Podcast
Trainwreckstv's Twitch channel took off when he started to collaborate with other popular streamers, including Andy Milonakis, Summit, Asmongold, RajjPatel, Pokimane, Esfand, Destiny, and many others, which enormously increased the number of his followers. He eventually launched his own Twitch podcast, called "Scuffed Podcast", in April 2019, in which he and several other streams gather to talk about a variety of topics; this led him to become one of the most popular streamers on the platform, gaining so much popularity that he was the second most-watched streamer with 89,000 followers during the night of the 2020 United States Presidential Election.
Among Us Tournament
In late 2020, Trainwreckstv started streaming the hit video game "Among Us", an online multi-player social deduction game developed by Innersloth two years earlier. Thanks to his unique style of play, he quickly became famous in the "Among Us" community, and participated in various tournaments, such as Code Red Among Us Tournaments, which he won four times in a row. He was named one of the best players of the game on Twitch by Digital Trends.
YouTube Channel
Once he reached a decent number of followers on the Twitch platform, Trainwreckstv became active on YouTube as well. He launched his official channel on 18 November 2015, while he posted his first video entitled "What The Fuck Are These Transmogs?" a month later.
He continued to post gameplay videos and streams, and quickly enlarged his fan base. Some of his most viewed videos include "The Speech That Started It All", "SARGON OF AKKAD, TYT's HASAN PIKER, DESTINY, NICK F, & co-host ASMONGOLD – POLITICAL PODCAST", and "DESTINY GOING CRAZY VS OPPOSING VIEWS – HEATED DEBATE – Scuffed Podcast Episode 22", to name a few.
Twitter, Instagram, and Website
Additionally, Trainwreckstv expanded his influence across other social media platforms to promote himself. He runs his official Twitter account under the username '@Trainwreckstv', and is active on Instagram, on which you can find him under the nickname 'tylerniknam'. He also has his own website, through which he sells a line of merchandise.
Controversies
In November 2017, Trainwreckstv was banned from Twitch for five days for hate speech towards the female community. During the speech, he accused several female streamers of stealing other streamers' subscribers and views, and referred to them with such pejoratives as "sluts"; he later apologized via Twitter. In October 2018, he was suspended during a game of "Overwatch", for ranting women who play support players in video games.
Appearance and Vital Statistics
Trainwreckstv has short dark brown hair and dark brown eyes. He stands at a height of 5ft 11ins (1.80m), while his weight is around 200lbs (91kgs), with vital statistics of 42-32-38; his biceps size is 21, and shoe size 10 (US).
Personal Life
Trainwreckstv is in a relationship with Kayla, a social media personality and former Twitch streamer, who goes by the name 'felissetv'. The public isn't aware of when exactly the two became romantically involved, but it's known that they've been together for several years. They frequently share cute snaps on their social media. Their current residence is in Austin, Texas.
Charity Work
Trainwreckstv is also recognized for his charity work, raising funds through hosting charity editions of the Scuffed Podcast. In January 2020, he raised over AUD 40,000 for the World Wide Fund for Nature Australia, and later that year USD 35,000 for the charity Color of Change.