• Sarah Schauer is a social media star and copywriter with over 1.6 million followers on TikTok and 455,000 subscribers on her YouTube channel
• She is related to Brittany Broski, aka 'Kombucha Girl', who is her cousin
• Sarah graduated from Old Dominion University and is currently employed at EP+Co. as a copywriter
• She is a lesbian and was dating Bri Clemens before breaking up in 2020
• She is 26 years old, 5ft 2ins tall, and has an estimated net worth of over $1 million
Who is Sarah Schauer?
Sarah Schauer was born in Philadelphia, Pennsylvania USA, on 5 October 1994 – her zodiac sign is Libra and she holds American nationality. She is a social media star who's perhaps known best for the short comedic videos she posts onto her Instagram and TikTok accounts.
Early life and education
Sarah spent her childhood in Philadelphia, where she was raised alongside her older brother and sister by their parents who owned a small family business. She is related to Brittany Broski – aka 'Kombucha Girl' – a TikTok star, who is her cousin.
Sarah attended a co-ed school as a child, then in 2016 she graduated from Old Dominion University in Norfolk, Virginia with a degree in Marketing and Business Analytics. During her time there, she was a member of the Alpha Phi sorority.
I'd be such a cute janitor pic.twitter.com/XfQ9kiZnU7

— sarah schauer 🦂 (@sarahschauer) May 22, 2021
Sarah started her social media career on Vine in October 2015, when she posted her first clip, a reVine of bosyeru1e's video, and a month later posted her first original Vine. She quickly went viral for her sarcastic style of humor and relatable content, with her Vines mostly themed around the life of a college student, dating, and everyday situations, often making references to alcohol which made some fans wonder whether she had an addiction. In 2017, Sarah was nominated for the last ever Shorty Award in the category Viner of the Year; she had almost 850,000 followers on Vine before the platform was shut down.
Sarah is verified on her TikTok account as 'sarahscauer', and has over 1.6 million followers.
She posts a similar type of content as on her old Vine account, while also being more open about her sexuality and relationships with women.
While her Vine compilations still amass over a million views on other people's YouTube channels, Sarah also has her own YouTube channel with over 455,000 subscribers which she launched in May 2018, and onto which she usually posts TikTok reaction videos and makeovers. She also often collaborates with other content creators, such as her cousin Brittany Broski and Trixie Mattel, with her most popular video being "Complete Chaos with my Cousin (feat. Brittany Broski)" which numbers over 2.4 million views.
Sarah has almost 210,000 followers on her Instagram account, onto which she uploads her comedic skits alongside casual photos.
Her bio reads 'YouTuber and former copywriter with two braincells. she/they, le$bean'.
She is also very active on Twitter, and has over 450,000 followers. She tweets several times a day, over 66,000 times so far.
Aside from making videos, Sarah also specializes in digital marketing, having worked for TekArk Solutions as a social media specialist, while she's currently employed at EP+Co. as a copywriter and meme expert.
Love life and relationships
During her Vine career, Sarah wasn't very open about her relationships, but has disclosed that she was dating a guy back in 2016. However, in December 2019, she revealed that she is a lesbian, and was dating Bri Clemens whom she often featured on her YouTube channel in videos such as "Doing My Girlfriend's Makeup" and "Seeing My Girlfriend for the First Time in MONTHS".
The couple broke-up in 2020, but haven't talked about it publicly or disclosed why.
In April 2021, Sarah posted her first YouTube video with Emily Motti dubbed "What'd You Learn Late in Life You Should've Known Earlier? (feat. my partner!)", revealing that the two are dating. As of May 2021, they still appear to be in a relationship, and frequently post photos and videos featuring them together onto their social media accounts.
Sarah hasn't married and doesn't have children.
Hobbies and interesting facts
Sarah loves cats, sometimes referring to herself as 'a crazy cat lady', and has a cat named Dobey.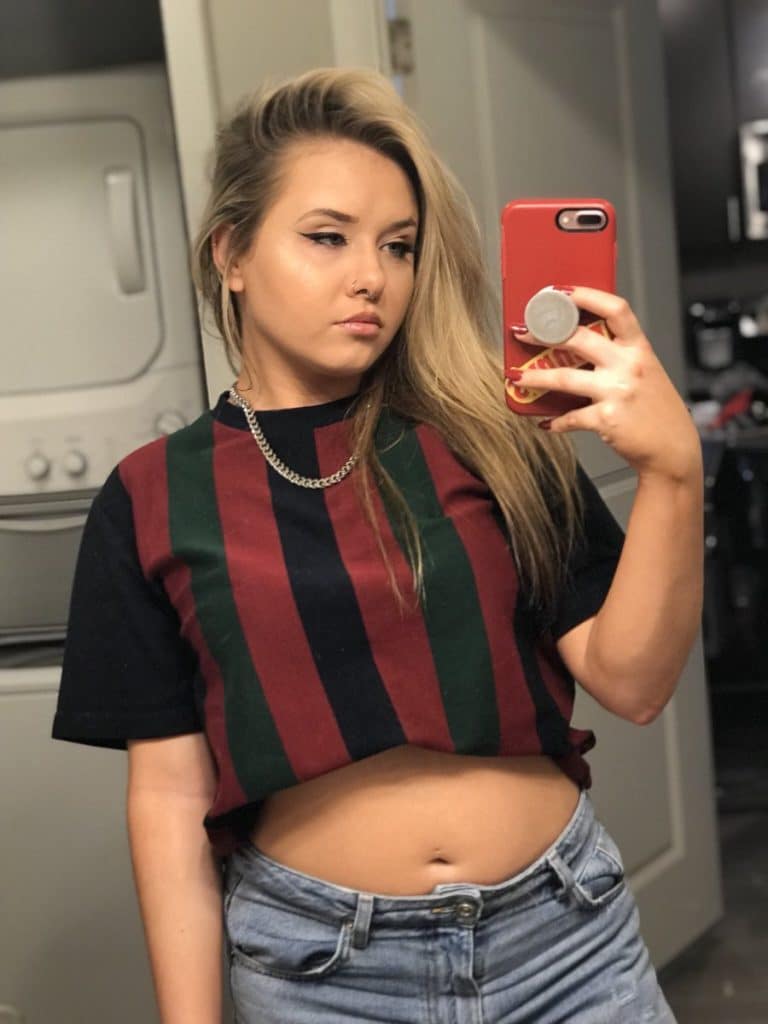 She was employed by Denny's, a famous American diner restaurant chain, in charge of their Twitter account, and was encouraged to post humorous tweets to attract younger customers.
Sarah loves to watch movies in her spare time, especially comedies with some of her favorites being "Superbad", "Easy A", and "The Hangover", while her favorite actors are Eddie Murphy, Adam Sandler and Michael Cera.
She has shown interest in make-up and beauty from a young age, and considered being a professional make-up artist before her social media career kicked-off. She still loves experimenting with her looks, and has posted videos of herself trying out drag queen styled make-up and cosplay onto her YouTube channel.
Age, height and net worth
Sarah is 26 years old, with long blonde hair and hazel eyes. She's 5ft 2ins (1.57m) tall and weighs around 123lbs (56kgs). As of May 2021, her net worth has been estimated at over $1 million.
Who is Sarah's famous cousin Brittany Broski?
Brittany Alexis Tomlinson was born in Dallas, Texas USA, on 10 May 1997 – her zodiac sign is Taurus and she holds American nationality. She is a social media star and a comedian perhaps known best for her comedic TikTok skits.
Brittany grew up in Dallas, and showed interest in acting at a very early age. In middle school and high school, she was a part of her schools' improve troupes, and also participated in theatre, having appeared in local productions of "Bus Stop", "Spamalot" and "The Addams Family".
In 2018, she graduated from Texas A&M University with a degree in communications, and has worked various jobs since then. In 2019, she was employed at a bank but after her boss found out her kombucha video became viral on the Internet, she was fired for possibly putting the company's reputation in jeopardy.
Brittany created her TikTok account in 2019, and her first viral video was of her making a 'depression meal'. In August of the same year, she posted her most viral video to date, featuring herself tasting a kombucha drink while making various facial expressions and confused comments. It quickly gained traction outside of TikTok, and Brittany earned the meme status and the nickname "Kombucha Girl".
She inspired the creation of "Ratatouille the Musical", after a video in which she used the song from the original Disney movie became popular on TikTok.
In 2019, she moved to Los Angeles with Sarah Schauer with whom she has collaborated on numerous YouTube videos.
Brittany is considered to be one of the faces of TikTok, and in 2019 she won the Break the Internet Award for TikToker of the Year. Her account currently numbers over 6.2 million followers, while her YouTube channel has almost 900,000 subscribers.
Brittany is 24 years old, with long blonde and blue eyes. She's 5ft 7ins (1.7m) tall and weighs around 158lbs (72kgs). As of May 2021, her net worth has been estimated at over $1 million.