• Hila Hakmon Klein is a YouTuber, social media star, and entrepreneur, who rose to popularity through her YouTube channel entitled H3H3 Productions which she runs with her husband, Ethan Klein.
• She served two years in the Israeli Defense forces and then enrolled at the Shenkar College of Engineering, Design, and Art in Ramat Gat, Israel, but dropped out to focus more professionally on the H3H3 Productions channel.
• They have 3 YouTube channels, H3 Podcast, H3 Podcast Highlights and Ethan and Hila, and the podcast channel counts over three million subscribers.
• Hila and Ethan have a combined net worth of $20 million, and own three houses in California.
• Hila is an animal lover and fashion enthusiast, and is active on Instagram and Twitter.
Who is Hila Klein?
Hila Hakmon Klein is a YouTuber, social media star, and entrepreneur, who rose to popularity through her YouTube channel entitled H3H3 Productions, which she runs with her husband, Ethan Klein. She was born under the Zodiac sign Sagittarius on 12 December 1987, in Tel Aviv, Israel, so as of 2021, she's 33-years-old, and holds Israeli nationality.
Early Life and Family
Hila was born to Sephardic Jewish parents – her mother is of Turkish-Jewish descent, while her father has Libyan-Jewish ancestry. She has one sibling, a brother, Moses, who is currently dating the social media star and YouTuber Trisha Paytas.
Hila spent her formative years in Israel, where she completed her high school education. After matriculating, she enlisted into the Israel Defense forces, which is mandatory.
In an episode of the H3H3 Podcast, she discussed her time in the military, saying "My job was to logistically help with other officers with their hotel and rooms. It was all on the computer. I felt like a computer thing. It was super boring, and I really hated it. It felt like I was not doing anything."
After serving two years, she enrolled at the Shenkar College of Engineering, Design, and Art in Ramat Gat, Israel. However, she didn't obtain her degree, droppingd out to focus more professionally on the H3H3 Productions channel.
YouTube Career
Hila and Ethan launched the YouTube channel in 2013. In the beginning, they directed their focus at making commentary and reaction videos involving current events, celebrities, and YouTube policies.
Hila mainly worked behind the camera, organizing the set while Ethan appeared in the videos, narrating and discussing. The channel quickly garnered a fan base, for critiquing and making fun of other YouTubers and celebrities. Their format of videos which includes absurd sketches and short video memes, also relies on an ironic and sarcastic manner of delivering a point to stress some feature or an idea.
Some of the first videos they posted are entitled "Jeff Dunham: American Hero", "College Kid Blaze it 420", and "Guraffic Park". Hila made her appearance in 2014 in their 50,000 subscriber special video, entitled "FAQ with Ethan and Hila [h3h3productions]". Their channel now counts over six million subscribers; additionally, they've collaborated with numerous other social stars.
H3 Podcast and other channels
After achieving success and popularity with their unique content, they launched three other YouTube channels: Ethan and Hila, H3 Podcast, and H3 Podcast Highlights. Hila and Ethan's channel features mostly video blogs, commentary, and reaction videos such as "My Epic Coachella Vlog", "Freezing in Sweden", and "Logan Paul Cured My Colorblindness." It appears that they aren't very active on the channel – the last video was posted in 2020, but still counts over two million subscribers.
In the H3 Podcast, the Klein family serves as the host, and it features conversational interviews with various social stars and celebrities. The channel also houses two sub-series: "After Dark" unscripted in which Ethan and Hila discuss current affairs, and "Content Court", which is a combination of commentary and narration, in which they examine controversial online personalities.
In 2020 Ethan introduced another sub-series entitled "Frenemies", with Trisha Paytas as the co-host. The series received a lot of praise for breaking the stigma on various sensitive topics such as mental health, and was one of the most-watched podcasts in 2020. However, the series also received a lot of backlash from fans, criticizing Trisha's insensitivity and ignorance surrounding Judaism and the Holocaust. In June 2021, it was announced that the series would be canceled due to irreconcilable disagreements between Trisha and Ethan. Currently, their podcast channel counts over three million subscribers.
The Klein family is mostly active on their third H3 Podcast Highlights channel, which has 1.6 million subscribers, and features conversational interviews with popular artists and social stars, with commentary videos.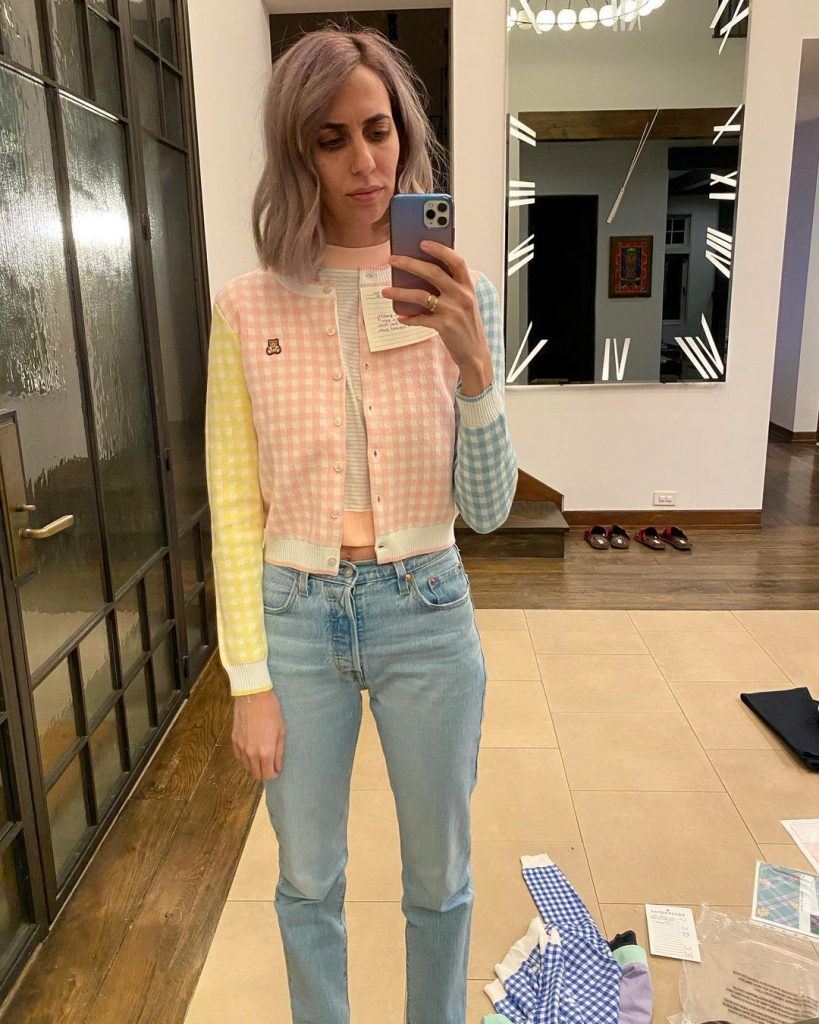 Personal life
Not much is known about Hila's dating history and any previous boyfriends. Hila and Ethan met at the Holocaust Museum in 2007, while she was still serving in the army. Ethan was still in college in California – his birthplace – and was offered an amazing opportunity to go to Israel, financed by the educational organization entitled Birthright Israel.  In the video, Ethan disclosed the moment he first laid eyes on Hila, saying "And there's this girl who is flipping tall and beautiful, she's got these huge blue eyes and black hair that is in crazy contrast to her eyes. I just felt like compelled to try to approach her and speak to her."
They soon began dating, and in 2009 she moved to California with Ethan, to her parent's disapproval. At the time, Ethan had finished college and was trying to find work just like Hila.
However, after countless unsuccessful job entries, they ran out of the money and were faced with a tough decision. Either Hila would return to Israel, or they would try to make something work. In order to occupy their thoughts with anything but their financial situation, they began working on a children's book – Hila did the art while Ethan wrote the story. However, their life path took them in a completely different direction, as they began selling weed to get by. Luckily they didn't stay in the business for too long, as they both found jobs.
After a five-year relationship, they married in Israel in 2012. In June 2019 they welcomed their first child, Theodore, and Hila recently announced her second pregnancy in a live H3 Podcast.
WERE PREGNANT!!!!!!!!!!! pic.twitter.com/S1DkOD9owp

— Ethan Klein (@h3h3productions) May 28, 2021
Briefly About Ethan Klein
The successful social media star, Ethan Klein, was born in 1985 in Ventura, California, to Jewish parents Gary and Donna Klein. Regarding his education, he matriculated from Buena High School and enrolled at the University of California, Santa Cruz. He graduated in 2009 with a Bachelor's degree in English Language and Literature. Besides his numerous endeavors on the YouTube platform, in 2015 he also launched the mobile game H3H3: Ball Rider, available on the app store.  Even though he is mostly known for his sarcasm and critical attitude, he has been very vocal about his problems with mental health. He suffers from severe social anxiety, dyslexia, and partial Tourette syndrome, evidenced by uncontrollable tics.
Controversy and Law Suits
Given that Ethan has been very outspoken about many sensitive issues, often using offensive comparisons and slurs for comic effect, he was bound to land a lawsuit or became involved in a controversy. During his and Hila's long run on YouTube, they have been in various scandals, including the current one with their previous partner Trisha Paytas, and her sister. In 2016 the fellow YouTuber, Matt Hosseinzadeh, professionally known as MattHossZane, sued the couple for copyright infringement, his lawyer claiming that they used more than 70% of his video, violating the law of fair use. However, Hila and Ethan won the lawsuit as the judge ruled that their commentary video constituted "fair use as a matter of law".
Ethan made allegations against The Wall Street Journal in 2017 after their author Jack Nicas wrote an article debating on YouTube policies for putting out racial content.
Frenemies merch live at 12:30 pst https://t.co/17JkHhKRG5 pic.twitter.com/NPHOzntaNf

— Ethan Klein (@h3h3productions) July 9, 2021
Ethan pointed out that the article was written selectively and that the author used an altered screenshot in the article. However, being unable to prove his claims, Ethan withdrew his accusations and the video, replacing it with another video in which he explained his reasoning.
Thrista Paytas Scandal
After the ugly and unpleasant end of the sub-series "Frenemies with Trisha Paytas", Trisha's sister produced a TikTok video accusing Ethan of calling out Trisha under false allegations of sexual harassment, and not paying for Disney tickets. Additionally, money issues had been a constant bone of contention between Trisha and Ethan, as she later accused him of swooping 5% of the revenue made from the H3H3 podcast for production costs.
The situation was taken up a notch when Ethan and Hila made the video entitled "The Real Reason Frenemies Broke Up", in which they debunked and made fun of those allegations; naturally, Trisha posted a video telling her side of the story. However, most fans sided with Ethan, prompting her to write "I see a lot of your comments, and you think I'm making a mistake-I hear you and I'm not here to combat that. I'm leaving to ease the tension everywhere. I don't want to be the toxicity in their machine. I'm sorry so many of you are disappointed in me."
On 23 June 2021, Ethan introduced the spin-off from "Frenemies" entitled "Families", inviting his mother Donna to be the co-host.
Teddy Fresh-Clothing Line
In 2017, Hila founded a clothing line which she named "Teddy Fresh". Her streetwear label features a variety of '80s-inspired clothing pieces, including beanies, jackets, and jewelry with a distinct teddy bear logo.
Even though many fans debated on the price range of her clothing line, which according to some fans was too expensive, others claimed it was affordable. Most of the fans praise the detailed embroidery, which separates this brand from others.
Would you like to know her net worth?
Hila and Ethan's combined net worth is estimated at $20 million, which they have acquired through their numerous YouTube channels and sponsorship deals. According to reports, the couple bought a lavish mansion in Bel Air in 2019, which cost a whopping $9 million. Additionally, they own another two houses, a contemporary Encino house which they bought for $2.3 million, and an "ordinary" residence in Woodland Hills in California valued at $720,000.
Physical stats and Hobbies
Hila is 5ft 5ins tall (165cm), weighs around 120lbs (55kgs), with vital statistics of 36-28-40. Her hair is black, while her eyes are blue. She is an avid animal lover, and has a Yorkshire terrier named Shredder.
The fact that she's founded her own clothing company speaks to her fashion enthusiasm. She also likes to visit thrift stores and combine weird and unusual outfits.
Regarding the religious outlook, both Hila and Ethan claim that they are agnostics. However, they do participate in certain Jewish practices and ceremonies.
She is very active on Instagram and Twitter; her Instagram counts over a million followers, while her Twitter has over 900,000 fans. She usually posts photos of Theodore, her fashion inspirations and outfits, and snippets from their various channels.