• American actor and chef Joseph R. Gannascoli born in 1959 in Brooklyn, New York City, USA
• Appeared in more than 50 films and TV series, best known for playing Vito Spatafore in "The Sopranos"
• Still active in film industry, currently shooting for upcoming TV series "Letters to Addy" and movie "Fight Valley 2: Lockdown"
• Made debut film role in 1993 crime comedy "Money for Nothing" and debut TV series role in 2004 episode "Everybody Loves Raimondo's" of "Law & Order"
• Married to wife Diana Benincasa since 2005, have daughter together
Who is Joseph R. Gannascoli?
American actor and chef Joseph R. Gannascoli was born in Brooklyn, New York City USA, on 15 February 1959, so his zodiac sign's Aquarius. He's appeared in more than 50 movies and TV series, but is probably still best known for playing Vito Spatafore in the evergreen crime series "The Sopranos", which David Chase created, and which starred Edie Falco, Lorraine Bracco and James Gandolfini. It follows New Jersey crime boss Tony Soprano who's begun seeing a psychiatrist, the series aired its 86 episodes from 1999 through 2007, and won 143 of its 452 award nominations.
Joseph's still active in the film industry, and is currently shooting for the upcoming TV series "Letters to Addy" and movie "Fight Valley 2: Lockdown".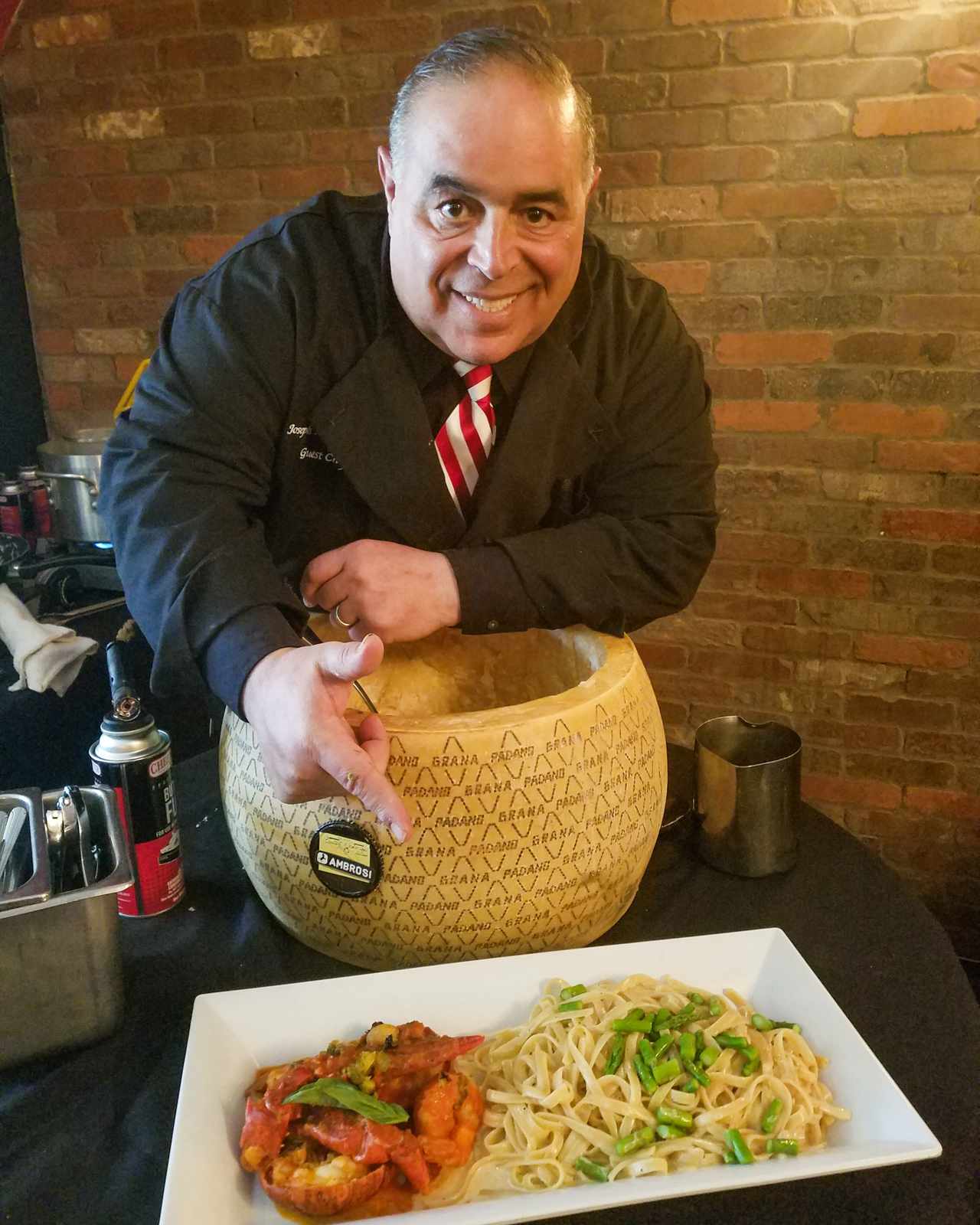 Education and early life
Joseph was raised in Brooklyn by his parents of Italian descent, but he rarely speaks about them in public; he hasn't mentioned having siblings either, but it's believed that he was raised alongside his younger brother.
Joseph became interested in cooking during his early teenage years, enjoyed helping his mother in the kitchen, ande began dreaming about opening an Italian restaurant when he was 15. He matriculated from a local high school in 1977, and then enrolled at St. John's University, from which he graduated with a Bachelor's degree in communications in 1980.
Career before acting
Joseph started working as a chef at Manhattan Market in 1981, and after a year moved to New Orleans, Louisiana to work at Commander's Palace; he spent the following decade working at various restaurants in Louisiana, New York and California.
He eventually opened his own Soup As Art Restaurant in Brooklyn.
Roles in movies
Joseph's debut film role was playing Charlie DiSalvo in the 1993 crime comedy "Money for Nothing", and the following year saw him play Security Guard in the evergreen biographical comedy "Ed Wood", which Tim Burton directed, and which starred Sarah Jessica Parker, Martin Landau and Johnny Depp. It follows a movie director who's trying to fulfil his dreams even though he lacks skills, and the film won 29 of its 63 award nominations, including two Oscar wins for Best Actor in a Supporting Role (Martin Landau) and Best Make-up.
— Joe Tilleli (@JoeHasSpoken) May 20, 2022
Some of Joseph's roles in the rest of the decade were in the 1995 crime drama "Never Talk to Strangers", the 1996 thriller drama "The Funeral", and the 1999 crime comedy "On the Run".
The year 2006 saw him play Giusuppe Primavera in the sports comedy "Beer League", written and directed by Frank Sebastiano, and which starred Artie Lange, Ralph Macchio and Anthony DeSando. It follows the lives of an unemployed man and his softball teammates – the film won one of its two award nominations. Joseph could then have been seen appearing in the 2006 drama "Dog's Life", the 2008 adventure comedy "College Road Trip", and the 2009 short drama "Situation".
The year 2012 saw him play New York Mets Fan in the action adventure comedy "Men in Black 3", which Barry Sonnenfeld directed, and which starred Josh Brolin, Tommy Lee Jones and Will Smith. It follows Agent J and Agent K who are working for a secret organization, and the film won one of its 14 award nominations. Joseph appeared in several popular movies in the remainder of the decade, such as the 2014 romantic comedy "Leaving Circadia", the 2015 crime thriller "An Act of War" and the 2019 biographical crime drama "The Brawler".
His three most recent film roles have been in the 2021 short thriller "BURN", the  short thriller "White Hot Fury" and the  comedy "King Lahiri", both in 2022.
Roles in TV series
Joseph's debut TV series role was playing Artie Baldo in the 2004 episode "Everybody Loves Raimondo's" of the crime mystery "Law & Order", and his following role came in 2011, when cast to play Salvatore in the episode "On the Fence" of the crime comedy "White Collar"; also in 2011, Joseph appeared in the pilot episode of the comedy "The Fuzz".
The series "The Fuzz" began airing in 2014, and Joseph was cast to star as Sonny; it was created by Christopher Ford, and also starred Rachel Bloom and Jon Gabrus. Set in a world in which humans and puppets co-exist, the series follows Officer Herbie and his partner, and won an International Academy of Web Television Award for Best New Series.
In 2016, Joseph starred in all six episodes of the crime mystery action "Vengeance", and has since appeared in two more TV series: he played Richard Moon in three episodes of the 2017 crime mini-series "John the Thief", and Sal in the 2022 pilot of the drama "Bring on the Dancing Horses".
Other credits
Joseph sang the song "It Had to Be You" in the 2008 adventure comedy movie "College Road Trip".
He produced the 2013 comedy movie "Chasing Taste", and the 2016 crime mystery series "Vengeance".
Joseph's already received special thanks for the upcoming series "Letters to Addy".
Some of his talk-show appearances have been in "Wicked Bites", "Celebrities in the Basement" and "Bong Appetit".
Awards and nominations
Joseph and his colleagues were nominated for a 2007 Screen Actors Guild Award for Outstanding Performance by an Ensemble in a Drama Series, for "The Sopranos".
Love life and marriage
Joseph doesn't usually speak about his love life in public, but his wife Diana Benincasa's kept him company during many of his red carpet appearances.
The two married on 11 June 2005, and have a daughter together; Diana prefers to stay away from the media's attention, and not a lot has been revealed about her profession. Joseph and Diana are also keeping their daughter away from media – her name and birthdate haven't been disclosed.
Joseph hasn't mentioned other women whom he's been with, he's married to Diana Benincasa as of January 2023, and they have a daughter together.
Interesting facts and hobbies
Joseph had to have double-hip replacement surgery in 1999, and this was incorporated into the sixth season of the series "The Sopranos", as his character Vito Spatafore could've been seen limping and talking about undergoing hip surgery.
He's also an author, having published his crime novel "A Meal to Die For: A Culinary Novel of Crime" in January 2006.
Joseph's followed by more than 150,000 people on Instagram and has posted nearly 1,300 pictures and videos onto the social media network.
He enjoys travelling to Europe, especially to Italy and France; his favorite city is Torino (Italy).
Joseph's a philanthropist, and has prepared many free meals for the homeless and war veterans.
His favorite actor is Robert De Niro, and some of his favorite movies include "The Good Shepherd", "The Irishman", and the trilogy "The Godfather".
Height, eyes and wealth
Joseph's age is 63. He has brown eyes and short black hair, is 5ft 8ins (1.73m) tall and weighs about 170lbs (78kgs).
Joseph's net worth's been estimated at over $3 million, as of January 2023.