• August Maturo is an American teen actor and social media star.
• He is best known for his role in the sitcom "Girl Meets World" and the horror film "The Nun".
• He has two siblings and started acting at the age of 5.
• He is an advocate for food allergy awareness and has life-threatening allergies to peanuts, sunflowers, tree nuts, sesame, and coconut.
• His estimated net worth is $1 million.
Who is August Maturo?
August Maturo is an American teen actor, and social media star, perhaps best recognized for his role in the sitcom "Girl Meets World" and the horror film "The Nun". He was born under the Zodiac sign Virgo on 28 August 2007, in Ventura County, California, USA, so holds American nationality, and as of mid-2021, he is 14 years old.
Bio, Wiki, Family
August's parents are Joe and Maha Maturo; reportedly, his mother, Maha, named him August because she thought the name sounded "cool". His mother noticed that August was a gifted and smart kid who began reading and writing at the age of two. Interestingly, he likes to study and do research; his favorite subjects are math and geography.
August Maturo talks about starring in two films https://t.co/hJbR9nP47L

— Digital Journal (@digitaljournal) May 4, 2021
August has two siblings, a sister Michele and a brother named Ocean, with whom he shares the same birthday, and who is also an actor, having appeared in "American Horror Story" and "Stalked at 17". Additionally, he portrayed the younger version of his brother's character in "Girl Meets World", named Auggie Matthews. When it comes to his educational background, August finished primary school in 2020, and enrolled at high school.
Acting Career
He began his career at a young age: as a child, August was very lively, showcasing interest and talent for both dramatic and comedic roles, which prompted his mother to find him an agent, and everything stemmed from that point.
At the age of five, August began landing his first roles as a child actor, such as single episode appearances in the TV series' "How I Met Your Mother" and "Weeds", and additionally portrayed the character of Isaac in the TV movie "Applebaum".
After making minor appearances in the TV series "Dads" and "Raising Hope", he scored the role of Auggie Matthews in Disney's TV series "Girl Meets World" opposite Rowan Blanchard and Sabrina Carpenter. The first episode aired in June 2014, and the show ran for three seasons through 2017. The story of Riley and her best friend Maya navigating through high school challenges won the hearts of many Disney fans. It has also achieved great success and praise for the cast, including numerous nominations such as Teen Choice Awards, Primetime Creative Arts Emmy Awards, and Writer's Guild of America Awards.
In 2015 August garnered a joint nomination for Young Artist Award in the category Outstanding Young Ensemble in a TV Series for his portrayal of Auggie.
In 2014, August made episodic appearances in "Suburgatory", "See Dad Run", and "Bones". In 2016, he starred in "The Odd Couple" and "Teachers", and the following year landed his first voice role as Puck McSnorter in the animated series "Mickey and the Roadster Racers"; the show has run for three seasons since 2017, with a total of 86 episodes, but after two seasons, the creators changed the name to "Mickey Mouse Mixed-up Adventures", and in late 2020, it was announced that the show would be succeeded by a new series entitled "Mickey Mouse Funhouse", which will premiere in 2021 on Disney Junior.
In 2015 he switched from his familiar spot on screen, and transitioned to the theater, appearing in the Christmas play "Peter Pan and Tinkerbell: A Pirates Christmas", opposite his "GMW" co-stars Sabrina Carpenter and Corey Fogelmanis – the following year he won the Best Actor Young Entertainer Award for playing Michael Darling in the play.
After bouncing from one TV series to another, in 2018, he made his feature movie debut starring as Daniel in the gothic supernatural horror film "The Nun", starring Demian Bichir and Taissa Farmiga. The movie is a spin-off from the well-known and successful movie entitled "Conjuring 2", which is the fifth installment of the Conjuring Franchise. Despite receiving mixed to average reviews, the movie acquired the title of the highest-grossing horror film of all time.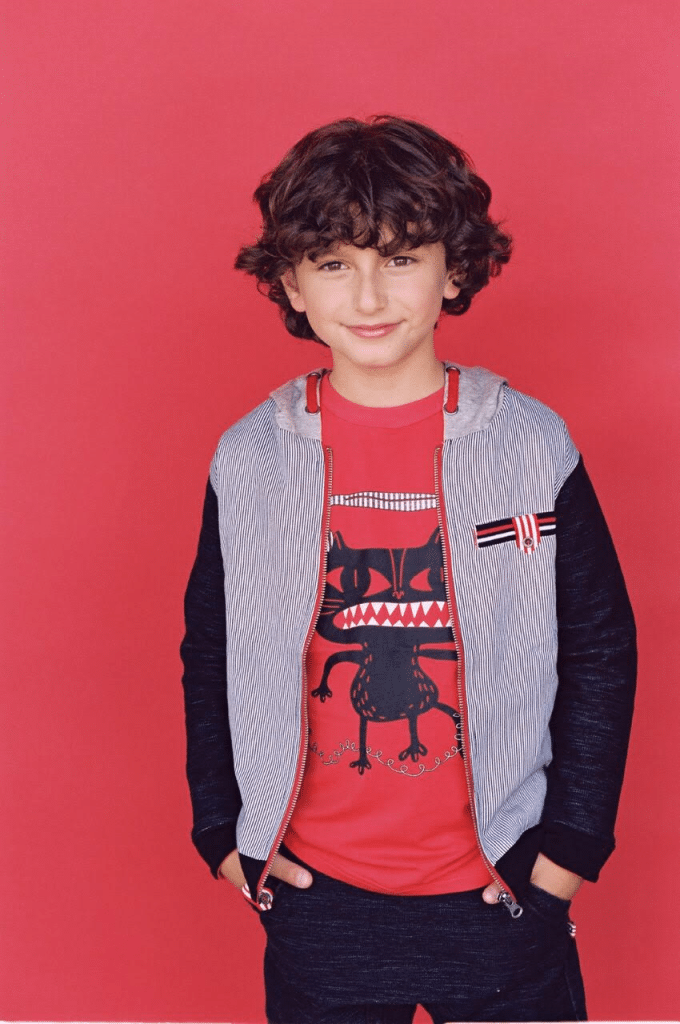 The general consensus reads: 'The Nun boasts strong performances, spooky atmospherics, and a couple of decent set-pieces, but its sins include inconsistent logic and narrative slackness'.
During the premiere of the movie, August said: 'If you watched from anybody's point of view here, you would think "Oh my god this is really scary", when you see the movie. But from a different point of view, like the set and make-up, it does not seem so scary.' He also said that his mother was not so keen on him auditioning for the part, because of the genre, but August had thought it might be cool to observe how they construct and film scary movies.
In 2019 he appeared in the TV movie entitled "Shepherd: The Story of a Jewish Dog", and his latest roles include the indie horror movie "Slapface" as a lead character opposite Mike Manning and Libe Barer, and the TV sitcom "Conners".
He is also set to appear in the short movie "Boys", which is currently in post-production.
Personal life
Although not quite 14, regarding his on-screen girlfriends, he dated Ava Morgenstern, played by Ava Kolker in the TV series, "GMW". During the filming, August often took photos with Ava on his social media accounts as they shared quite a bond off-screen. However, when it comes to his personal life, it is believed that he is in a relationship with fellow actress McKenna Grace, who is best known for appearing in Disney's sitcom "Crash $Bernstein" and the soap opera "The Young and the Restless". In June 2020, August posted the photo , featuring McKenna with captions:" Best friends since baby teeth. You're the greatest friend I could ever have. You're so funny, loving, and you always stay positive no matter what.
Please stay that way forever and ever. I love you so much! Happy Birthday @mckennagraceful". In February this year, he posted another photo on Instagram that features him and McKenna hugging with captions" Forever My Palentine."
Social Media Presence
August is very active on his social media accounts, which are managed by his mother. He is very popular on Instagram, which currently counts 1.8 million followers, while on Twitter, he has nearly 200,000 fans. He usually posts photos with his friends, and on his upcoming projects. He also has a TikTok account with over 120,000 followers and 250,000 likes. In 2015, he launched a YouTube channel that currently has nearly 5,000 subscribers, with the intention of conducting experiments on camera. However, it seems that his schedule is very busy, as his last video was posted in 2017. Some of his videos include "The FIZZ Inflator" and "August & Ocean Make a Rubber Egg & Chicken Bone".
What is his net worth?
His estimated net worth is already around $1 million, which he's earned through his career as an actor. His net worth at such a young age is not surprising given that "The Nun" grossed over $365 million. Additionally, he gained a lot of popularity and fame for portraying Auggie, so looking well for the future.
Physical Stats and Hobbies
His hair is dark brown, and his eyes are brown. In his free time, August likes to play the piano, dance, and sing.
He is a great fan of Pokemons; his favorite Raichu.
August is also an animal lover, who adopted a German Shepard in 2017, and named him Sailor.
An interesting detail about his collaboration with the creators and producers behind "GMW"- August was given the silver boxing gloves pendant from the production team as a gift. In an interview, August said that he had wanted to be a scientist instead of pursuing an acting career, as he likes to conduct experiments. He also mentioned that he might try his luck as a writer.
More About August Maturo
After experiencing potentially fatal anaphylaxis while shooting "GMW", he became an advocate for food allergy awareness. At the age of three, he was diagnosed with life-threatening allergies, to peanuts, sunflowers, tree nuts, sesame, and coconut. In the light of raising awareness, he became the FAACT Celebrity Spokesperson, he said: "'I'm so excited to be working with FAACT to help raise awareness about life-threatening food allergies! I hope that by sharing my own food allergy story, I can help others understand how serious this condition is. I also want other kids like me to know that they are not alone!"
August also shared that despite having various allergies, he hasn't let that stop him from having a wonderful life, he disclosed:" You don't have to be scared, because you can learn how to manage it. Sure you have to carry epinephrine with you everywhere, you have to always read food labels, or call manufacturers, and you can't have foods that other people can have."