• Mia Kaitlyn Talerico is a child actress and social media star, known for her roles in Disney TV series "Good Luck Charlie" and "Mani".
• She rose to fame by appearing in the series "Good Luck Charlie" and various Disney specials and series.
• She is active on social media, with 1.2 million followers on Instagram and nearly 60,000 subscribers on YouTube.
• She received death threats in 2014, which were reported to the LAPD.
• She has an estimated net worth of $1.5 million, earned from her acting career.
Who is Mia Talerico?
Mia Kaitlyn Talerico is a child actress and social media star, perhaps best recognized for her roles in the Disney TV series "Good Luck Charlie" and "Mani". She additionally rose to fame by posting on Instagram and YouTube. She was born under the Zodiac sign Virgo on 17 September 2008, in Santa Barbara, California;  Mia holds American nationality, and as of 2021, she is 13 years old.
Rise to Stardom and Family
Mia was born to Chris and Claire Talerico – some media outlets suggest that Mia has a sister named Aubrey, but she's confirmed that this information is false. In an interview, her parents said that they didn't plan Mia's career in the entertainment business, however, other people had suggested to them that Mia should try her luck with commercials.
Encouraged by their friends, her parents found a talent agent for Mia, and three auditions later, she landed the role of Charlie in the drama series "Good Luck Charlie".
Considering that casting a toddler is different from regular auditions, co-creator of the show Drew Vaupen said that the most valuable trait is how well the child behaves around strangers.
In an interview, he remembered Mia's first audition, disclosing: "Mia stood out from all the others because she was so electric. She came to her audition already wearing her signature ponytail, and she literally lit up the room with her smiles. She trusted others to hold her and talk to her -a rare thing among newborns." Additionally, Vaupen said that they originally planned to cast twins, considering that they are more convenient to work with on a set.
However, he was unable to find a perfect match and decided to risk and cast Mia as Charlie, saying: "It's like flying without a net. She may have a bad day and we can't shoot and it'll cost us tens of thousands of dollars. But so far, so good. She's the most obedient actor I've ever worked with".
Given that the filming set was situated in Los Angeles, her mother Claire had to travel every weekday with Mia from Santa Barbara.
While the adorable Charlie unknowingly bossed around the set, the show aired the first episode in 2010, which topped the Disney charts for average viewership. The series follows the Duncan family and their upheavals, as they try to adjust to their life to the births of their fourth and fifth children.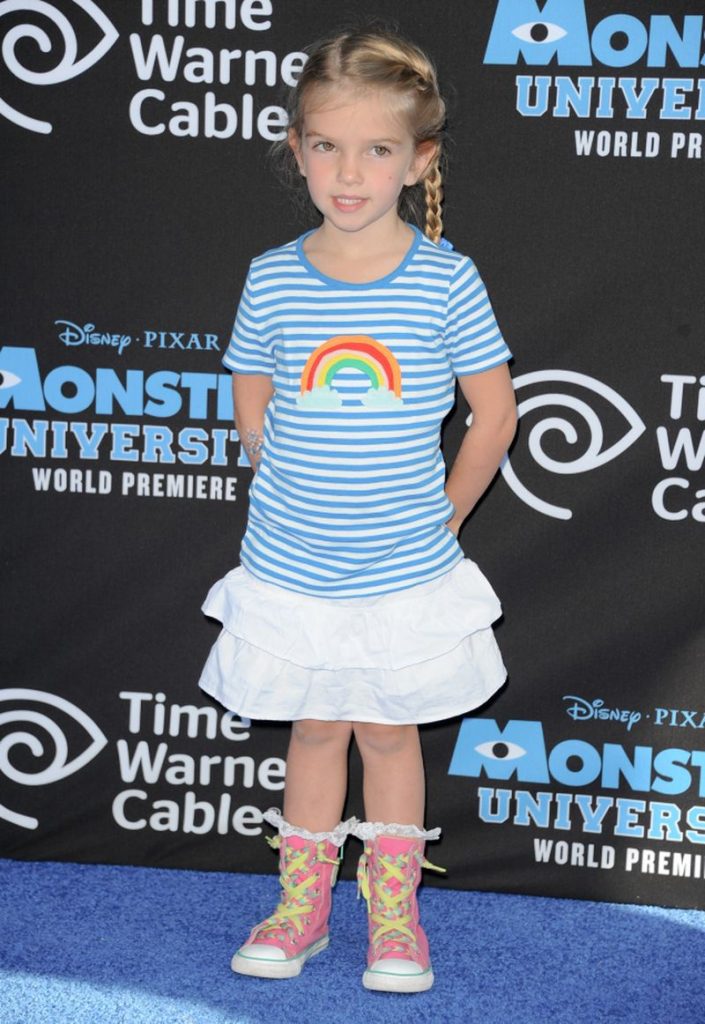 The show ran for four seasons until 2014, when Disney announced that the series would end after the finale aired on 16 February.
After the huge success the show achieved, Disney produced the movie based on the series entitled "Good Luck Charlie! It's Christmas", starring Bridgit Mendler, Leigh-Anne Baker and Bradley Perry.
Her Other Roles
During the filming of "Good Luck Charlie", Mia appeared in various Disney specials and series, including "Radio Disney Music Awards", "Nickelodeon Kids' Choice Awards 2013", and "So Random". In 2015 she had a small role in the short movie entitled "Shadow Theory", followed by her portrayal of Larissa McAdams in another short drama film, "Photographic Memory".
In 2018 she was cast as Paige Rogge in the web series "Mani", appearing in 17 episodes opposite Hayley Leblanc and Lawrence Wayne Curry.
Her latest role was in 2020 when she portrayed the role of Molly in an episode of the crime drama series "Conrad". Via an Instagram post, Mia confirmed that she would star in the series as the recurring character. Additionally, she appeared with the rest of the cast in the CBS program "Entertainment Tonight" in "Good Luck Charlie: Reunion". The familiar faces of the popular show took a trip down memory lane, discussing favorite moments and on-set chemistry.
In the interview with ET's Philiana, Mia said that she didn't remember most of the scenes, disclosing "When it ended, I kinda remembered when I was four or five. I remember the last live show and little snippets of scenes, but not that much."
Social Media Presence
Mia is very active on social media, especially Instagram, counting 1.2 million followers. She usually posts photos of interesting places, film sets, and family gatherings.
Mia also has a YouTube channel, which she launched with her mother in 2016. The self-titled channel features video blogs, Do It Yourself (DIY) crafts, and toy reviews such as "Unicorn Cupcakes with Mia and Piper", and "Elastic Hair Ties DIY".
Her channel currently has nearly 60,000 subscribers and has attracted over a million views.
Additionally, she also uses Cameo, the online service which enables fans to hire celebrities for personalized videos and shoutouts. In her video she says: "Hey It's me Talerico and I'm so excited to be giving you, your relatives, your friends, anybody you know a shout-out. Any occasion, birthday, first day at school, finishing school, marriage, anniversary, you know! Hope You Have Fun."
Death Threats
While many viewers perceived Mia as an adorable little baby, not everyone shared this point of view.
In 2014, an unidentified person sent death threats via Instagram to Mia, who at the time was five years old. The messages contained derogatory and offensive language, with a photo of Mia's head covered by a bloody fist. Even though the reason for these actions remained unknown, some suspect that the introduction of a lesbian couple into the TV sitcom might have enraged some conservatives who decided to lash out at Mia. Her mother reported the death threats to the LAPD and contacted Disney security, however, the police never identified the culprit.
Personal Life, Physical stats and Hobbies
Given her age, it is too early to talk about her personal life.
Her current height is 4ft 6ins (137cm), while her weight is about 80lbs (36kgs). Her natural hair is blonde, further adorned with green eyes.
Mia is an avid animal lover; she has a guinea pig named Nacho, and two dogs, Maverick and Wookie.
When she's not on the set, she likes to dance, spend time with her friends, and travel; her favorite destination is Disneyland. Additionally, Mia is a huge fan of the seaside, and uses every chance to go to a beach; she's recently taken up surfing. Her favorite brand is DaniBoy Kids.
What is her net worth?
Mia's estimated net worth is around $1.5 million, which she's earned through her acting career. Reportedly she gets paid between $10,000 and $15,000 per episode.