• Best known for her role in "Raven's Home" and "Free Reign"
• Is 16 years old and an honors student at Johnson Ferry Christian Academy
• Has done modeling and commercials, and appeared on the catwalk for up-and-coming fashion icon Jason Christopher Peters
• Collaboration with Disney resulted in her appearing in "Raven's Home" and "Bunk'd"
• Net worth estimated to be around $400,000 as of mid-2021
Navia Robinson is an American actress, dancer and singer, still an up-and-coming star, who's future seems very bright. Navia is best known for her role in the "Raven's Home" and "Free Reign".
Early life, family, educational background
Her full name is Navia Ziraili Robinson, born on 4 May 2005, in Marietta, Georgia USA. Details about her family, such as her parents' names and occupations, are not known publicly, but it's known that she has two brothers, and has posted about them on her social media.
Navia is just 16 years old, and is currently still in high school.
She is an honors student at the Johnson Ferry Christian Academy, and was also an honor student at Shallowford Falls Elementary School.
Navia has been expressing her many talents including dancing, singing and acting, ever since she was a toddler. She has also attended numerous acting schools and workshops across Atlanta, and Los Angeles. It seems that she's already perfected her gifts and skills, as at the age of six, she was named the Overall Top Child Model at the Actors, Models, and Talent for Christ "Shine" event in Orlando Florida, pronounced the winner in categories like acting, solo singing, singing in a troupe, and fashion catwalk modeling.
Career
It was clear at a young age that she was a mega star in the making, and this young star, often described as a "quadruple threat", has had her mind set on her goals from a very early on. She continuously showcases her many talents, and attracts the attention of many major agencies. At the moment she has several managers, and her representatives are J. Pervis Talent Agency of Atlanta, CESD Talent Agency in Los Angeles and New York, and Generation Model Management also in New York.
Navia's career started in 2011, and she's already done numerous commercials and promotional campaigns, including advertisements for Moe's Southwest Grill, Dr. Charles Stanley's In Touch Ministries and Smithfield Foods Inc., and the Boosterthon Fun Run Organization.
She's done modeling work as well, in fact, she appeared on the catwalk for up-and-coming fashion icon Jason Christopher Peters. She also completed regional and national commercials for AT&T, Golden Corral Restaurants, and Synovus Bank.
In 2015 she was invited by Disney executives to attend their intensive two-week boot camp in Los Angeles, after which Navia's on-screen career was launched, when she appeared in "Being Mary Jane", playing the role of D'Asia, a young niece to Gabrielle Union's character, in the show which ran for two years on the BET Network. In 2016 Nicki Minaj took notice of young Navia, and chose her to play young Nicki in the pilot episode for Nicki's self-titled biographical TV show.
Navia also had a guest role in the hit fantasy and drama show "The Vampire Diaries".
She was featured in the Netflix original drama show "Free Rein", which was released in 2018. In 2019 she accepted the role of Zayla in "Marvel Rising: Playing With Fire". She later took to Twitter to confess her love and admiration to Marvel Universe, and the magic it represents.
Navia's collaboration with Disney resulted in her appearing in the family sitcom "Raven's Home". Raven was the main character from the now cult Disney show "That's so Raven", and is a continuation of her story. Navia plays Raven Symone's daughter Nia Baxter.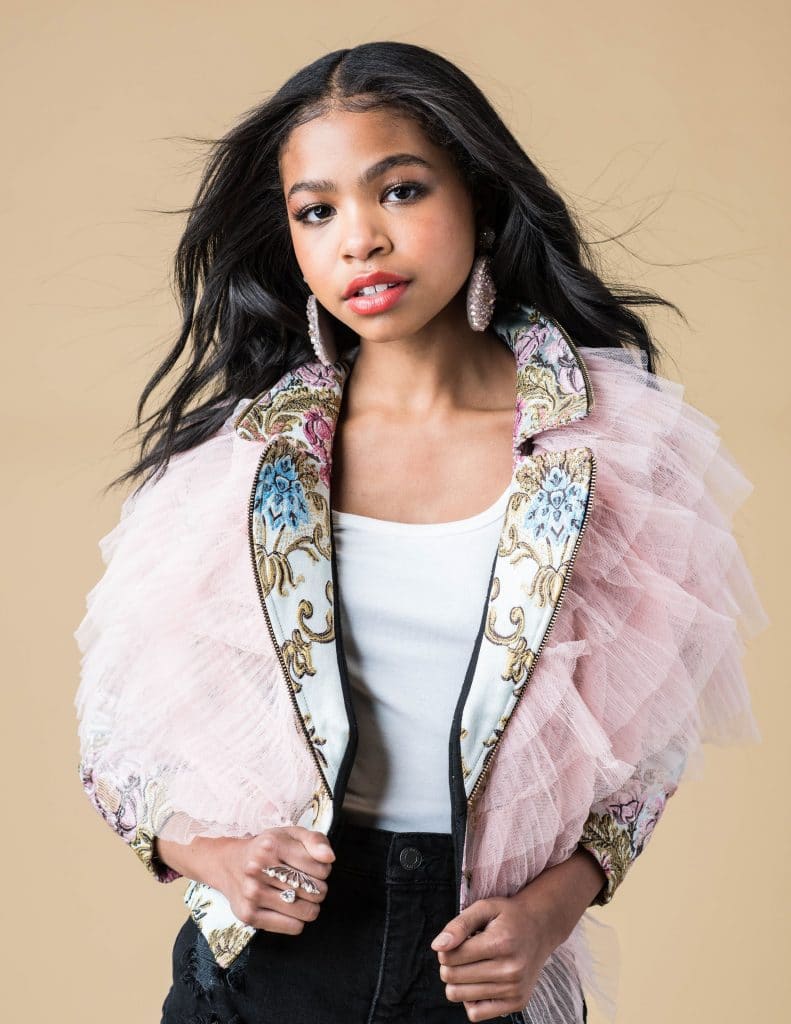 Navia has also appeared in the comedy "Bunk'd", and has done some voice acting too, lending her voice to Valerie D'Avion in the animated action TV series "The Rocketeer".
Navia's other creative ventures include singing, having released three songs, all of which can be heard on "Raven's Home".
Personal life
Navia seems like a very focused and dedicated young lady, learning early on not to expose her private life to the public eye. She's focused on studying and developing her career and skills so much, that she most likely does not have time for much else.
She is most likely single, but is quite active on social media, and chooses to use her platform to impact a change, if and when she can.
Whether she's participating in the Women's March, or lobbying for climate change initiatives, she is passionate about important causes and speaks up for what she believes in, including racial injustices in the US today. When George Floyd was killed she took to Instagram and posted this: "This is George Floyd. He was described by loved ones as a 'gentle giant' and advocated strongly against gun violence within his community. His life was unjustly and inhumanely taken from him…". Navia also thinks it's devastating to see people turning Floyd's death into a political issue.
Hobbies, favorite things, and interesting facts
Navia claims that she knows the movie "Devil Wears Prada" by heart, and that it's her favorite.
She has her own issue of the "A Book of" series. It's a magazine, and every issue revolves around one actor, containing interviews and pictures. The proceeds from Navia's "A Book Of" are going to the Children's Miracle Network hospitals.
When preparing for her role in "Free Rein", Navia took classes to learn horseback riding.
Her Instagram account has 1.1 million followers. Aside from Instagram, she has a Twitter account, which has around 18,000 followers.
Navia's motto is: "You can turn off the sun, but I'm still gonna shine."
Appearance, clothing style
Navia is 5ft5ins (165 cm) tall, weighs about 110lbs (50 kgs), and her vital statistics are 30-23-35. She's said before that she loves being active and staying in good shape. Her most prominent physical features are her cat-shaped eyes and a mole on her upper lip.
Net worth and salary
Navia's main source of income is her acting. Her salary is hard to approximate, as she is still not a full-time actress, but a student as well. Her net worth is estimated to be around $400,000 as of mid-2021.