• Patrice Lovely is an American actress, singer and comedian, best known for her roles in "Love Thy Neighbor" and "Boo! A Madea Halloween"
• She attended Alabama State University and has two brothers, Derrick and Carlo McInnis
• She became a member of the Universal Soul Circus and made her acting debut in 2011
• Patrice is an animal lover and enjoys target shooting, football, fishing and nature
• She has a net worth of $2 million and is active on various social media platforms, with over 250,000 followers on Instagram
Who is Patrice Lovely?
Patrice Lovely is an actress, singer and comedian, perhaps best recognized for her roles as Hattie Mae Love in the American sitcom "Love Thy Neighbor", and the comedy movie franchise "Boo! A Medea Halloween". She was born under the Zodiac sign Capricorn on 4 January 1968, in Jackson, Mississippi, USA. As of 2021, she is 53 years old and holds American nationality.
Early life and Family
Her mother's name is Martha McInnis, while her father's name remains unknown. She has two brothers, Derrick and Carlo McInnis. Not much is known about her early life and background, except that she spent most of her childhood in Alabama, where she attended Alabama State University. Upon graduating, she relocated to Atlanta, Georgia.
Career
Patrice didn't start her career until the late '90s. In 2004 she became a member of the Universal Soul Circus, performing as the first African-American female ringmaster, opposite comedian and ringmaster Shuckey Duckey, professionally known as Mabelle. In her interview with Madame Noire, she talked about her experience as a first ringmaster, disclosing: "It was excellent. I got a chance to meet so many different people from so many different countries. I have friends now all over the world. I met so many people from Columbia and China, and to see this talent and to be there with them, is like nothing I'd ever experienced before."
Throughout the years, she continued performing with the Circus, including in 2009 portraying the character of "Auntie". Patrice made her acting debut in 2011, starring as Hattie Mae Love in the Christmas comedy movie "A Madea Christmas" opposite Tyler Perry and Chad Michael Murray. The following year she reprised her role in the sequel entitled "Madea Gets a Job", and in the video entitled "I Don't Want to Do Wrong". During the same year, she appeared in the play written by Tyler Perry entitled "The Haves and The Haves Not".
In 2013 she stepped away from her usual role, and portrayed Beulah May in the comedy movie "Je'Caryous Johnson's Marriage Material".
She also continued to portray her well-known character of Hattie, Linda's cantankerous mother and owner of the Love Train Diner, in the sitcom "Love Thy Neighbor", broadcast on the Oprah Winfrey Channel. The show, which served as a spin-off from the Madea franchise, starred other well-known actors such as Palmer Williams, Kendra C Johnson and Zulay Henao. It premiered in 2013 and ran for five seasons, concluding in 2017.
The following year she returned as Grandma Hattie in another Tyler Perry musical play entitled "Hell Hath No Fury Like a Woman Scorned", and in 2016, reprised her role as Hattie in the horror-comedy movie "Boo! A Madea Halloween". Despite receiving harsh criticism and mostly negative reviews, the movie was a box-office hit, grossing over $74 million, becoming the third-highest-grossing Madea film.
Patrice also appeared as Hattie in two sequels, entitled "Boo 2! A Madea Halloween", which came out in 2017, and "A Madea Family Funeral", which premiered in 2019.
In addition to her successful acting career, Patrice has also dipped her toes into music, recording two gospel albums entitled "Glory Road" and "Seven Days". Talking of her recent music endeavors, in 2020 she recorded the track "Gone Get Ya Sum" and launched the music video, which currently counts nearly 60,000 views.
Personal Life
There is not much about her personal life and dating history. She was rumored to have dated William Jackson, however, she's never disclosed any information. According to her statements, she was previously married, but hasn't revealed the name of her ex-husband.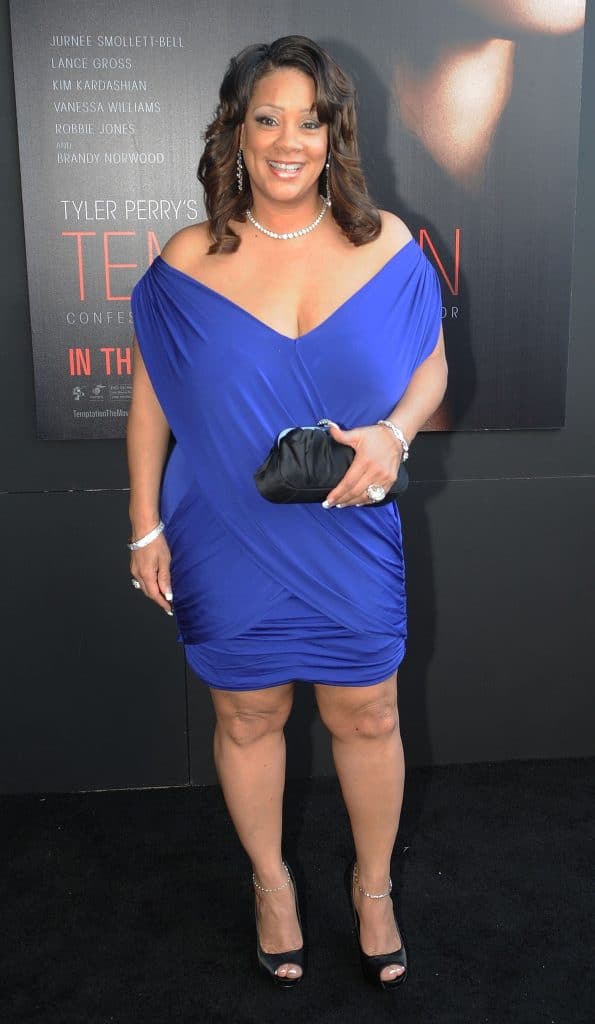 In an interview, she said:" Actually, I met my first husband at the circus, he was doing the sound. He was from Johannesburg, South Africa. "
She also addressed the lack of information about her personal life on the internet, disclosing: "People ask me about that all the time, they say "There is nothing about her life, we don't know if she has children if she is married if she has a boyfriend". I'm gonna leave it like that because my life is my life. It is my private life. Just know that Patrice Lovely loves to love."
Physical stats and Hobbies
Patrice is 5ft 1in tall (155cm) and weighs around 130lbs (59 kgs). Her natural hair is dark brown, further adorned with green eyes. When it comes to her body shape, she has a voluptuous and curvy physique. Additionally, she wears a nose ring.
Patrice is a huge animal lover; she has two dogs named Kaizer and Addie.
Regarding her hobbies, she enjoys target shooting with her siblings, and is said to be very good at it. Patrice also likes watching football and proudly supports the LSU Tigers Football team. Occasionally she goes fishing in nature with her friends and family, and is a great nature lover.
Patrice describes herself as "Very talented, fun, loving, caring, outgoing, giving, and a woman of God".
Patrice shares a very special connection with Tyler Perry – in an interview she talked about the moment they came together, she said: "I was on a tour with Allen Payne, and it was the final week.
Alan had to go back to meet the Paynes, who were on the tour with Tyler Perry, and Alan mentioned my name. On the last day of the tour, Tyler flew to Detroit to get me. I knew he was there for me. We hugged, and we locked."
Net Worth
As of 2021, Patrice's net worth is estimated at $2 million, acquired through her career as an actress. She additionally earns through her "MA" merchandise line, which currently offers men's and women's T-shirts with signature "Miss Hattie" print.
She is very active on her social media accounts and posts weekly. Her Instagram has nearly 250,000 followers, while her Twitter has nearly 40,000 fans.
She has amassed quite a following on other platforms, including Facebook, on which she has over 16,000 followers, and TikTok, with over 2.2 million followers and 11 million likes. Recently, her Facebook account was hacked but she managed to recover it.
Recently, she's gained a lot of online popularity by making funny videos and dance challenges in which she portrays Miss Hattie. Patrice often collaborates with the member of the dance and rap group "Fresh The Clowns", Freshboyyira.
In addition to these numerous platforms, Patrice also has an "MA's Lovely Club", which her fans can join for a certain membership fee and access BTS content, exclusive first look at her next projects, and special live performances.