Bertie Highmore:
• Born on 8 February 1995 in London, England
• 25-year-old former child actor, angel investor, and investment manager
• Younger brother of actor Freddie Highmore
• Net worth of close to $1 million
• British nationality, belongs to White Caucasian ethnic group
Who is Bertie Highmore?
Albert Samuel 'Bertie' Highmore was born on 8 February 1995 under the zodiac sign of Aquarius, in London, England. He is a 25-year-old former child actor, angel investor, and investment manager, but perhaps best recognized for being the younger brother of famous actor Freddie Highmore.
How rich is he, as of now? Bertie Highmore Net Worth
As of early 2021, Bertie Highmore's net worth is close to $1 million, earned from his brief involvement in the film industry, and his successful career in business. On the other hand, his famous brother Freddie Highmore has a reputed net worth of over $4 million.
Early Life, Nationality, Ethnicity, Educational Background
Bertie Highmore spent his early years in his hometown of London, where he was raised alongside his brother Freddie by their parents, father Edward Highmore, known for starring in the role of Leo Howard in the BBC drama series "Howards' Way" (1985-1990), and mother Sue Latimer, a talent agent whose clients include such actors as Daniel Radcliffe and Imelda Staunton. Bertie holds British nationality, and belongs to White Caucasian ethnic group. He went to Highgate School, and then enrolled into the London School of Economics, from which he graduated with a Bachelor of Science degree in Management and Finance.
Professional Career
Bertie Highmore gained recognition at the age of four, when he landed the supporting role of Col, one of the sons of Helena Bonham Carter in the 1999 comedy film "Women Talking Dirty", alongside his brother Freddie. Unlike his brother, Bertie didn't pursue further his acting career.
According to his LinkedIn account, he currently works as an angel investor and investment manager. He started his career working as an analyst at Purple Seven in 2013, then after a year he went to work in the Securities Division at Goldman Sachs, through to 2016. In 2017 and '18, Bertie worked as a quant trader for Susquehanna International Group, LLP, then in March 2018, he joined the Investments Team at Blenheim Chalcot.
He worked there until July 2020, when he was hired to work as a commercial finance manager for Blenheim Chalcot's portfolio company Avado. Most recently, in December 2020, he started working as an investment manager at Blue Wire Capital.
Personal Life, Appearance and Vital Statistics
Bertie Highmore is quite secretive regarding his privacy, so there is no information in the media as to whether he has a girlfriend or not. Regarding his appearance, Bertie is apparently a handsome young man, with short light brown hair and blue eyes. He stands at a height of 5ft 9ins (1.75m), while he weighs around 156lbs (71kgs). His vital statistics, biceps size, and shoe size are unavailable.
Who is His Brother? Freddie Highmore Short Wiki/Bio
Alfred Thomas 'Freddie' Highmore was born on 14 February 1992 under the zodiac sign of Aquarius, in London, England. He attended a local primary school in the Hampstead Garden suburb of the London Borough of Barnet, after which he enrolled into Highgate School on a scholarship. Upon matriculation, Freddie furthered his education at Emmanuel College, Cambridge, from which he graduated earning a double first in Arabic and Spanish.
Career Beginnings
Freddie Highmore started his acting career in 1999, when only seven years old. He made his debut film appearance in the role of Sam in the comedy film "Women Talking Dirty" (1999), along with his younger brother Bertie.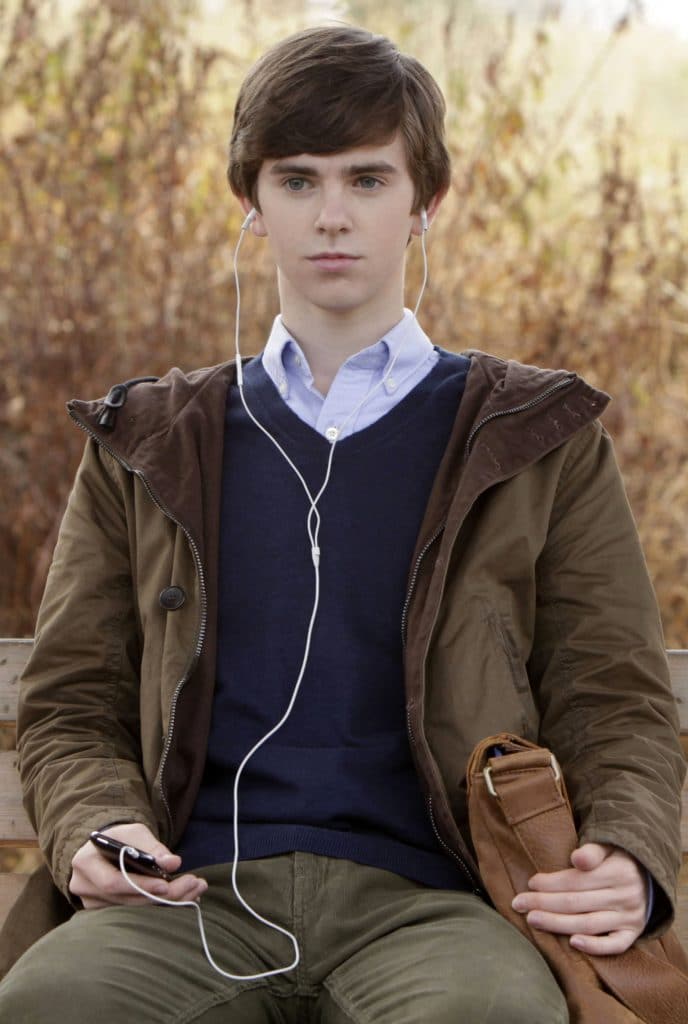 Thereafter, he played Steven Green in the BBC fantasy comedy-drama film "Happy Birthday Shakespeare" in 2000, and in the following year, was cast as young King Arthur in the TNT fantasy mini-series "The Mists Of Avalon", and landed the small role of a son at a playground in the CBS adventure drama fantasy mini-series "Jack And The Beanstalk: The Real Story", starring alongside his father Edward. It was followed by his portrayal of Oscar Bingley in the made-for-TV romantic comedy film "I Saw You" (2002).
Rise to Fame and "Finding Neverland"
In 2004, Freddie Highmore returned to the big screen when playing Raoul Normandin in Jean-Jacques Annaud's family adventure drama film "Two Brothers", next to Guy Pearce, and featured as Robert in the fantasy comedy-drama film adaptation of Edith Nesbit's novel "Five Children And It", directed by John Stephenson.
Later that year, Freddie gained enormous popularity for his critically acclaimed portrayal of Peter Llewelyn Davies in Marc Foster's historical fantasy drama film "Finding Neverland", alongside Johnny Depp, Kate Winslet and Julie Christie, which follows the story of Scottish novelist and playwright J. M. Barrie and his friendship with a family who inspired him to create "Peter Pan". Freddie's performance in the film earned him a number of awards and nominations, such as a Critics' Choice Movie Award for Best Young Performer, and a Saturn Award nomination for Best Performance by a Younger Actor.
Continued Success
Freddie's next major role came in 2005, when he starred as Charlie Bucket in the musical fantasy film "Charlie And The Chocolate Factory", directed by Tim Burton and based on Roald Dahl's novel of the same title; he was allegedly recommended for the role by his "Finding Neverland" co-star Johnny Depp.
For this role, Freddie again won a Critics' Choice Movie Award for Best Young Performer, as well as a Satellite Award for Outstanding New Talent. In the same year, he also provided his voice in the film's accompanying video game of the same title.
In 2006, Freddie played young Max Skinner in the romantic comedy-drama film "A Good Year", directed by Ridley Scott, and landed the role of Arthur Montgomery in the live-action/animated fantasy adventure film "Arthur And The Invisibles", which he would later reprise in its sequels "Arthur And The Revenge Of Maltazard" (2009), and "Arthur 3: The War Of The Two Worlds" (2010).
In 2007, Freddie starred in the title role in the drama film "August Rush", along with Jonathan Rhys Meyers, Keri Russell, and Robin Williams, and then provided his voice to Pantalaimon in the adventure fantasy film "The Golden Compass", and its video game of the same title.
Further Work
Freddie followed with his portrayal of twin brothers Jared and Simon Grace in Mark Waters' 2008 fantasy adventure film "The Spiderwick Chronicles", after which he lent his voice to them both in its accompanying video game of the same title. In the same year, Freddie provided his voice to Little Jack in the animated film "A Fox's Tale", and then did the voice over of the title role in the 2009 animated film "Astro Boy", and its video game with the same title, plus "The Video Game", and the 2010 short video "Astro Boy vs. The Junkyard Pirates".
During the same year, he starred in the role of Hally Ballard in the drama film "Master Harold… And The Boys", directed by Lonny Price, and featured as Nigel Slater in the BBC biographical comedy-drama "Toast", alongside Oscar Kennedy, Victoria Hamilton and Helena Bonham Carter.
Roles in the 2010s
In 2011, Freddie landed the role of George Zinavoy in the romantic comedy-drama film "The Art Of Getting By", along with Emma Roberts.
Two years later, he lent his voice to the title character in the animated fantasy adventure film "Justin And The Knights Of Valour", and then joined the main cast of the A&E psychological horror drama series "Bates Motel", which is the prequel to Alfred Hitchcock's iconic 1960 film "Psycho". He starred in the main role of Norman Bates, appearing in all 50 episodes until the series ended in 2017, with his work on the series earning him a People's Choice Award for Favorite Cable TV Actor. Freddie also served as a writer for the fourth season episode "Unfaithful", and the fifth season episode "Inseparable", as well as directing for the fifth season episode "The Body". Concurrently, he also starred in the role of Jack the Driver in the drama film "The Journey", played Charlie Brenner in the comedy-drama film "Almost Friends", and featured as Victor Ferguson in the BBC Two period drama mini-series "Close To The Enemy", all in 2016.
Recent and Upcoming Projects
After portraying Adrian Baton in the HBO mockumentary sports doping film "Tour De Pharmacy" in 2017, Freddie was chosen to play the lead role of Dr. Shaun Murphy in the medical drama series "The Good Doctor", which has been aired on ABC ever since, he also served as a producer for the series. His performance earned him a Golden Globe Award nomination for Best Actor in a Drama Series – he also wrote the episode "Hello", and directed two episodes, "Risk And Reward" and "Autopsy".
Most recently, Freddie provided the voice of Ben in the animated fantasy film "Dragon Rider", and produced the film and featured as Thom Laybrick in the action adventure asy film "The Vault", both in 2020. It's been announced that he will produce the upcoming historical drama series "Leonardo", and will provide his voice of The Duke of Cheshire in the upcoming animated film "The Canterville Ghost".