• Social media personality, fashion blogger, and YouTuber
• Rose to fame for creating content with her daughter on Instagram and Musically
• Was homeschooled and later attended a high school
• Became a single mother at 19
• Has a book entitled "Cole and Sav: Our Surprising Love Story"
• Has faced online backlash for inconsistencies in her stories
• Has over 7 million followers on Instagram
• Is a devout Christian
• Owns a small Pomeranian named Karl
Who is Savannah LaBrant?
Savannah Labrant is a social media personality, fashion blogger, and YouTube,r who initially rose to fame for creating interesting content with her daughter on Instagram and Musically. She additionally gained popularity for the LaBrant Fam YouTube channel, which she runs with her husband, Cole LeBrant.
Early life and family
Savannah was born under the Zodiac sign Pisces on 2 March 1993, in Santa Clara, California, USA, into a devout Christian family. As of 2021, she is 28 years old and holds American nationality. Her mother is Deborah Soutas, a former model, while the name of her father remains unknown. In a video, Savannah disclosed that her parents divorced due to her father cheating on her mother, and that it affected her gravely, which is probably the reason why her father isn't currently in the picture.
Her sister is Chantelle Paige, a songwriter, singer, and travel blogger, best recognized as a former member of the R&B/hip-hop duo entitled "Flipside". From an early age, Savannah was a very lively child who expressed interest in dancing and performing. Later, she and Chantelle followed in her mother's footsteps and modeled during their formative years; eventually, her focus turned to photography. Regarding her education, she was homeschooled and later attended a high school. However, her academic ambitions and career aspirations were halted as at the age of 19she learned that she was pregnant. In a video, she said that her family had been very supportive and had decided to embrace her child no matter what, Savannah disclosed: "My mum just started crying, and she goes "Well we are going to love this little baby ".
Her life took a dramatic turn, and Savannah chose to focus on her child and be a parent, giving birth to the daughter she named Everleigh on 12 December 2012. Adamant to obtain a university degree, she enrolled at the University of California. and after graduation, launched the website entitled "Little Red Rose Photography", on which she posted her work.
Rise to Stardom
Savannah Soutas gained online fame through an Instagram account, with her mother Deborah (known as Gigi) and her friend Michelle Foley, entitled ForEverAndForAva, which showed the friendship between Savannah's daughter Everleigh and Michelle's daughter Ava. The account and the girls were extremely popular, being covered in several magazines and websites, including BuzzFeed, Huffington Post, InStyle.
Everleigh and Eva were also featured in a "Toddlerography" segment on the "The Late Late Show with James Corden" and Jenna Dewan. Additionally, Savannah launched an account on Musically, which garnered over four million followers.
The LaBrant Fam YouTube Channel
In Summer 2016, Savannah met former Viner Cole LaBrant at The Grove outdoor mall in Los Angeles, when Cole was visiting his family with his best friends and brother for a month. At the time of their meeting, Savannah was a 23-year-old single mom, while Cole was 19 years old. They began dating soon after, and in January 2019 the couple announced their engagement via social media. Six months later, they officially tied the knot in a lavish and romantic ceremony.
While Savannah was mainly active on her Instagram and website, Cole, who had already gained fame through Vine, had subsequently launched a YouTube channel in 2015 after the shutdown of the Vine platform, and posted videos such as "Prom With Selena Gomez", which went viral. However, after he met Savannah, his content changed drastically and became centered around his relationship with Savannah and her daughter; one of their first videos is entitled "Game Day Has Sad Ending ", "First Time at Disneyland Vlog with Savannah and Everleigh". They continued creating family-friendly content, documenting Everleigh's interesting journey and moments as well as their roles as parents. Later they changed the name of the channel to The LaBrant Family.
The book
In addition to their busy lives as YouTubers and parents to three children, they have also published the book entitled "Cole and Sav: Our Surprising Love Story".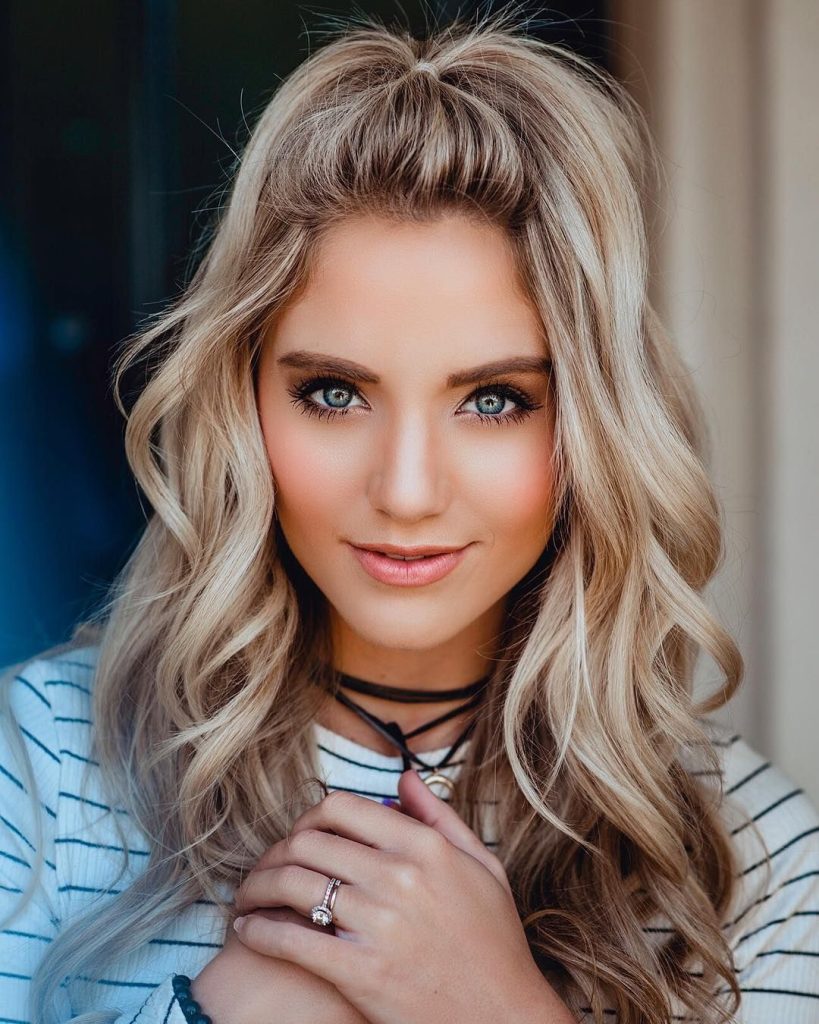 The book recounts the most important moments of their relationship, from their first meeting to their wedding and after. It also includes their individual insights about previous relationships, and the lessons they had learned along the way.
Who is Everleigh's father?
While it's known that Cole Labrant isn't the father of Savannah's first daughter, then who is? In her video "My 19 and pregnant Story", she talked about her relationship with Tommy Smith, whom she dated before Cole, and after a couple of months of dating she became pregnant. While she often said that her family and friends were supportive of her pregnancy, that was not the case in her relationship with Tommy. In the video, she said: "After I gave birth, my friends started to wither away, and it was not entirely because of Everleigh. A lot of it was because of the relationship that I was in. I lost a lot of friends because nobody supported my relationship".
Additionally, in various other videos she refers to this relationship as "toxic" and "abusive", adding that it had derailed her from the path of God and Christianity.
Inaccuracies in her Stories
Since gaining popularity and launching their joint family channel, LaBrant's especially, Savannah has received online backlash for numerous inconsistencies in her stories about her past and her relationship with Everleigh's father, Tommy. In her book and video, she referred to her pregnancy as unplanned, saying: "We had just broken up when I realized I was "late", so I bought a pregnancy test. Tommy came over, and we saw the results together. I was pregnant". However, a source close to the family who wrote in the LaBrant snark forum, claimed that Everleigh was planned, and also disclosed that Savannah had cheated on Tommy, which is contrary to her version of the story.
& just like that, Zealand is gonna have 3 sisters!😅 We can't wait to meet you sweet baby G I R L💗💗 pic.twitter.com/dcO28G2ENS

— Savannah LaBrant (@SavannahSoutas) December 12, 2021
While the authenticity and credibility of the source is impossible to determine, the forum has a history of disclosing vital information before they become public knowledge, such as the name of Zealand.
The other point of confusion with the LaBrant family is the relationship Savannah and Everleigh have with Tommy Smith. On various occasions, she and Cole mentioned Tommy in a negative context, and appear to minimize his role as a father. In the book, she described her volatile relationship with Tommy: "Two months after dating, we slept together for the first time. Pretty much the next day, my super-sweet boyfriend changed completely. It was like he got what he wanted and then stopped trying." Additionally, Cole revealed some incriminating information, saying that Tommy had been upset about their dating and had written on her car with a side note that read "I'm so sorry".
Later, Savannah said that they were co-parenting and that they had had a good relationship for the sake of Everleigh. Cole also added that Tommy had been a great father to Everleigh.
There is no way to get the whole story from YouTube videos and social media posts on what happened behind the scenes. However, what is available online seems to present contradictory messages about LaBrant's relationship with Tommy.
Scandals and controversy
Besides their contradictory stories, the couple has been criticized for exploiting their children for views, and creating clickbait titles and thumbnails, which seems to imply that one or more of their children is in danger, or hurt. In August 2018, the couple faced controversy after they appeared to clickbait the California wildfires for one of their videos. The original video showed a composite image of the family with a photo of a fire in the background, implying that the family was in danger, while the video was entitled "A Giant Fire Makes Us Evacuate".
However, one of their neighbors saw the video and the thumbnail, and explained that the LaBrant family lived in an area that wasn't ravished by fire. hence they didn't need to evacuate – "Since I live in the same neighborhood as them, I was baffled as to what fire they could be referencing…I watched half of the video and was so outraged that they would exploit the Holy Fire tragedy for their profit". Following the criticism, the LaBrant family changed the title of the video and the thumbnail. The family has also been called out for social media posts that appear to use their Christian faith to push their viewpoints on controversial issues such as politics, racism, and LGBTQ+ issues.
What is her net worth?
As of 2021, Savannah's estimated net worth is around $3 million, which she has mainly acquired through her YouTube and social media accounts. She also earns through brand sponsorships and advertisements. Additionally, it's estimated that the couple earn around $5 million yearly through their YouTube channel.
The whole family is pretty popular and active on Instagram. Savannah has nearly seven million followers, while her husband has over five million fans. Her daughter Everleigh also has an Instagram account with five million followers, while Posie has over a million followers on her account (managed by the parents). The youngest LaBrant member, Zealand, also has nearly 700,000 followers. Savannah's Twitter account has over 7,000 followers, while her TikTok has 28 million with over a billion likes.
Physical stats
Savannah is 5ft3ins tall (160cm) and weighs around 126lbs (56kgs). Her natural hair is blonde, further adorned with blue eyes. She has a fit body, and exercises to stay in shape.
Most of her free time she spends with her children and husband.
Savannah is an animal lover and owns a small Pomeranian named Karl.
Additionally, both Savannah and Cole are devout Christians, and they often share their religious outlook on their social media.