• William Frederick Burr is an actor, stand-up comedian and producer, best known for his starring role in the animated comedy series "F is for Family".
• As of January 2021, Bill's net worth has been estimated at over $12 million.
• He made his debut TV series appearance in the comedy "Townies" and his debut film appearance in 2001 in the thriller comedy "Perfect Fit".
• Bill is married to Nia Renee Hill and they have two children.
• Bill enjoys flying helicopters, playing drums and is a fan of heavy metal and rock music.
Who is Bill Burr and what is his net worth?
William Frederick Burr was born in Canton, Massachusetts USA, on 10 June 1968 – his zodiac sign is Gemini and he holds American nationality. He is an actor, stand-up comedian and a producer, who might be known best for his starring role in the animated comedy series "F is for Family", which he also created. It has been airing since 2015, and follows the Murphy family living in the '70s, and has been nominated for four awards including two Primetime Emmys.
As of January 2021, Bill's net worth has been estimated at over $12 million.
Anything Better?
with myself and @PaulVirzi

Coming in January! @allthingscomedy pic.twitter.com/KCNnlsYKwb

— Bill Burr (@billburr) January 1, 2021
Early life and education
Bill was raised alongside his four siblings in Canton by their father Robert Edmund Burr who was a dentist, and their mother Linda Ann who was a nurse.
Bill became interested in comedy and acting at quite an early age, as he and his siblings spent most of their free time in front of their TV watching comedy movies and series. He attended a local high school from which he matriculated in 1987, and two years later enrolled at Emerson College (Boston, Massachusetts) from which he graduated with a Bachelor's degree in radio in 1993.
Bill started by working in warehouses, and enjoyed his job as he could just drive away in a forklift if his boss gave him a hard time.
Roles in TV series
Bill launched his career by doing stand-up comedy in 1992; in 1994, he moved to New York City, and appeared in various TV shows and podcasts before becoming full-time actor in 1996.
He made his debut TV series appearance in the comedy "Townies", which starred Molly Ringwald, Lauren Graham and Jenna Elfman, and follows three friends trying to move from their fishing community to a big city. Bill went on to appear in an episode or two of various series, such as "Two Guys, a Girl and a Pizza Place", "Law & Order: Criminal Intent" and "Chappelle's Show". In 2011 he was invited to portray Kuby in four episodes of the critically acclaimed thriller crime drama "Breaking Bad", created by Vince Gilligan and which starred Bryan Cranston, Aaron Paul and Anna Gunn.
The series is rated one of the best of all time, and won 152 awards including two Golden Globes, while it was nominated for 238 others.
In 2004, he appeared in six episodes of the comedy "Kroll Show" and a couple of his following roles were in singles episode of series "New Girl", "Crashing" and "Puppy Dog Pals". One of Bill's most recent roles in series has been in two episodes of the action adventure science fiction "The Mandalorian", which follows a bounty hunter travelling around the galaxy.
Roles in movies
Bill made his debut film appearance in 2001, when he played a doorman in the thriller comedy "Perfect Fit", which received mixed reviews and failed to attract a lot of attention. A few of his following roles were in the 2002 romantic comedy "Passionada", the 2007 comedy "Twisted Fortune" and the 2009 comedy "The Burr Effect" which he directed and starred in.
The year 2011 saw him star as Billy in the short comedy "Cheat" which he also directed, and is about Joseph who is trying to cheat on his girlfriend with his two friends helping him. In 2013, Bill portrayed Mark Mullins in the action comedy "The Heat" written by Katie Dippold, directed by Paul Feig and which stared Sandra Bullock, Michael McDonald and Melissa McCarthy – the film was a hit, winning seven awards while it was nominated for 16 others.
In 2014, Bill played supporting characters in three movies – "Zombeavers", "Walk of Shame" and "Black or White", and was in 2015 invited to portray Jerry in the family comedy "Daddy's Home", which starred the famous comedians Will Ferrell and Mark Wahlberg. He reprised his role in "Daddy's Home 2" in 2017, while his three most recent appearances in movies have been in the 2018 biographical historical drama "The Front Runner", the 2020 comedy "The King of Staten Island", and the 2020 comedy "The Opening Act".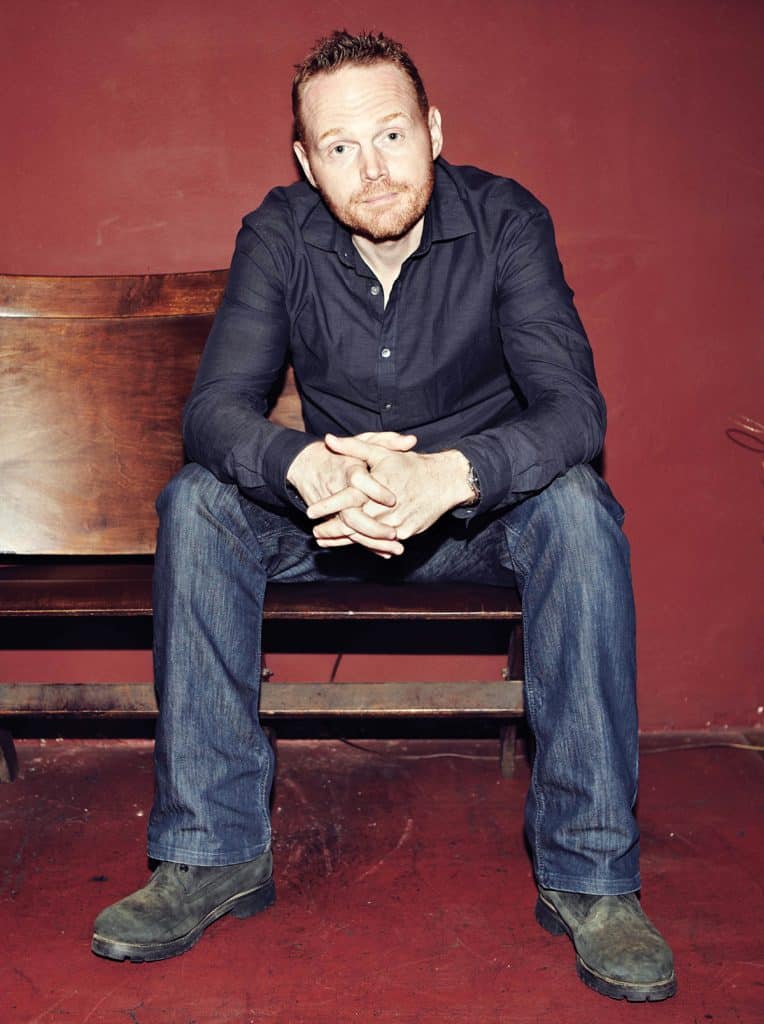 For his performance in "The King of Staten Island", Bill was nominated for a Hollywood Critics Association, Indiana Film Journalists Association, Music City Film Critics' Association and a Sunset Film Circle Award for Best Supporting Actor.
Bill has recently finished shooting for the short film "The Beast, Heroes of the Wildfire".
Other works
Bill has been credited with producing 23 movies and TV series, and writing 17. He has appeared in roughly 90 TV shows, documentaries and TV specials, with some of his most notable being in "The Joe Rogan Experience", "You Made It Weird with Pete Holmes" and "The Nerdist Podcast". He has voiced Jason Michaels in the video games "Grand Theft Auto IV" and "Grand Theft Auto IV: The Lost and Damned".
Bill has released seven comedy albums including "Emotionally Unavailable", "Comedy Central Presents" and "One Night Stand", and has also five Netflix specials, some of which are "You People Are All the Same", "I'm Sorry You Feel That Way" and "Walk Your Way Out".
Since May 2007, Bill has been hosting his own "Bill Burr's Monday Morning Podcast".
Wife, daughter and family
Bill is quite secretive when it comes to his love life, and is trying to keep his family away from the media's attention. He married his other half, Nia Renee Hill in 2013 in a private ceremony, attended by only their closest friends and family. On 20 January 2017, the two welcomed their daughter Lola, while their son followed in June 2020. The family of four is living in Los Angeles as of January 2021.
Nia is an actress who has been credited with appearing in seven movies and TV series, while some of her most notable performances have been in the 2011 comedy series "Lila, Long Distance", the 2017 horror comedy series "Santa Clarita Diet", and the 2018 episode "Bill Burr" of the comedy "Crashing".
Neither Bill nor Nia have talked about any other people they might have dated before meeting each other.
Hobbies and other interests
Bill is interested in various things besides comedy, and one of his favorite hobbies is flying helicopters – he obtained his license sometime in the 2000s.
He is a huge fan of heavy metal and rock music, and a couple of his favorite bands are AC/DC, Iron Maiden and Led Zeppelin. He learned to play the drums during his teenage years, and has credited Led Zeppelin's drummer John Bonham, and Slayer's drummer Dave Lombardo, as his inspiration.
He is somewhat interested in politics, and voted for Ralph Nader of Green Party at the 2000 US presidential election.
Bill has his own favorite actors and actress, some of whom are Jim Carrey, Chris Rock and Julia Roberts, and a couple of his favorite movies are "Bruce Almighty", "The Longest Yard" and "Pretty Woman". He stated in one of his interviews that one of his all-time favorite movies is the 1990 biographical crime drama "Goodfellas", which stared Robert De Niro, Ray Liotta and Joe Pesci, and was directed by Martin Scorsese. The film is believed by many to be amongst the best movies ever made, and won 44 awards including an Oscar, while it was nominated for 38 other awards.
Age and height
Bill's age is 52. He is bald and has blue eyes, his height is 5ft 10ins (1.78m) and he weighs around 155lbs (70kgs).