• Dina Marie Fisher (nee Ruiz) was born in 1965 and is a reporter, news anchor, actress, and ex-wife of Clint Eastwood.
• As of February 2021, Dina's net worth is estimated at over $20 million.
• She grew up in Fremont, California and attended various universities, eventually graduating with a Bachelor's degree in broadcast communications.
• She is married to Scott Fisher and has a daughter from her previous marriage with Clint Eastwood.
• Clint Eastwood was born in 1930, grew up in San Francisco, and starred in the popular western series "Rawhide". He has gone on to become an acclaimed actor, director, and producer.
Who is Dina Eastwood?
Dina Marie Fisher (nee Ruiz) was born in Castro Valley, California USA on 11 July 1965 – her zodiac sign is Cancer and she holds American nationality. She is a reporter, news anchor and an actress, but who is perhaps known best for being the ex-wife of famous American actor, film director and producer Clint Eastwood.
How rich is she?
As of February 2021, Dina's net worth has been estimated at over $20 million while Clint's net worth is reputedly over $375 million.
Early life and education
Dina was raised in Fremont, California alongside her brother Dominic V. Ruiz by their mother Mary Lou Ruiz who died of cancer in August 2020, and their father Michael Ruiz who was adopted by a Puerto Rican/Portuguese couple when he was a couple of months old.
Dina was urged by her parents to focus on her education from a very early age, and was thus one of the best students at Mission San Jose High School. She was interested in various other things too, including creative writing, singing and acting, and took part in many of the events organized at the school. Upon matriculating in 1983, she enrolled at the community college Ohlone before moving on to Arizona State University located in Tempe. Dina eventually switched to San Francisco State University, from which she graduated in 1988 with a Bachelor's degree in broadcast communications.
Career as a reporter
Dina actually launched her career while still attending Ohlone College, as she became the anchor of the show "Newsline" which aired on Ohlone College Television.
In 1990, she was invited to join the KNAZ-TV station in Flagstaff, Arizona and worked as a reporter before being promoted to a news anchor. In 1991, Dina joined KSBW in Monterey-Salinas in California. She worked as their news anchor for six years before her very early retirement in 1997, as she wanted to focus on raising her daughter.
Career as an actress and TV personality
In 1998, Dina began hosting the show "A Quest for Excellence" which featured the daily challenges of both students and professors while it also featured celebrity interviews. She went on to make a guest appearance in various talk-shows such as "Entertainment Tonight", "Chelsea Lately" and "Bethenny". In 2012, she starred in the reality TV show "Mrs. Eastwood & Company" which follows the lives of Dina and her and Clint's daughter Morgan. It aired only nine episodes before being cancelled for low ratings.
Dina has three acting credits. In 1999, she was cast to portray Wilma Francis in the mystery crime movie "True Crime", directed by Clint Eastwood who also starred in it alongside Isaiah Washington and LisaGay Hamilton. It follows a journalist who is trying to prove the innocence of a man who is about to be executed for his alleged crimes; the movie was nominated for five awards. In 2002, Dina portrayed a reporter in the action crime film "Blood Work" once again directed by her ex-husband who also starred in it alongside Jeff Daniels and Anjelica Huston. It follows a retired FBI profiler who returns to work to help catch a serial killer. Dina's third appearance was in the 2012 drama movie "The Forger", written and directed by Lawrence Roeck, and which starred Lauren Bacall, Josh Hutcherson and Alfred Molina. It follows a teenager who joins an art-forgery community in Carmel in California.
Dina has a single producing credit: she produced the 2012 series "Mrs. Eastwood & Company".
She wrote the lyrics of the song "Invictus 9,000 Days" for the critically acclaimed 2009 biographical historical movie "Invictus" which starred the famous actors Morgan Freeman and Matt Damon, won 12 awards while it was nominated for 37 others, including two Oscars.
Dina received special thanks for the 2000 episode "Clint Eastwood: Out of the Shadows" of the documentary series "American Masters".
Love life and marriage with Clint Eastwood
Dina met Clint Eastwood in 1993 when she interviewed him, and they married in 1996. The couple welcomed their daughter Morgan on 12 December 1996, but on 22 December 2014, Dina and Clint divorced for unknown reasons.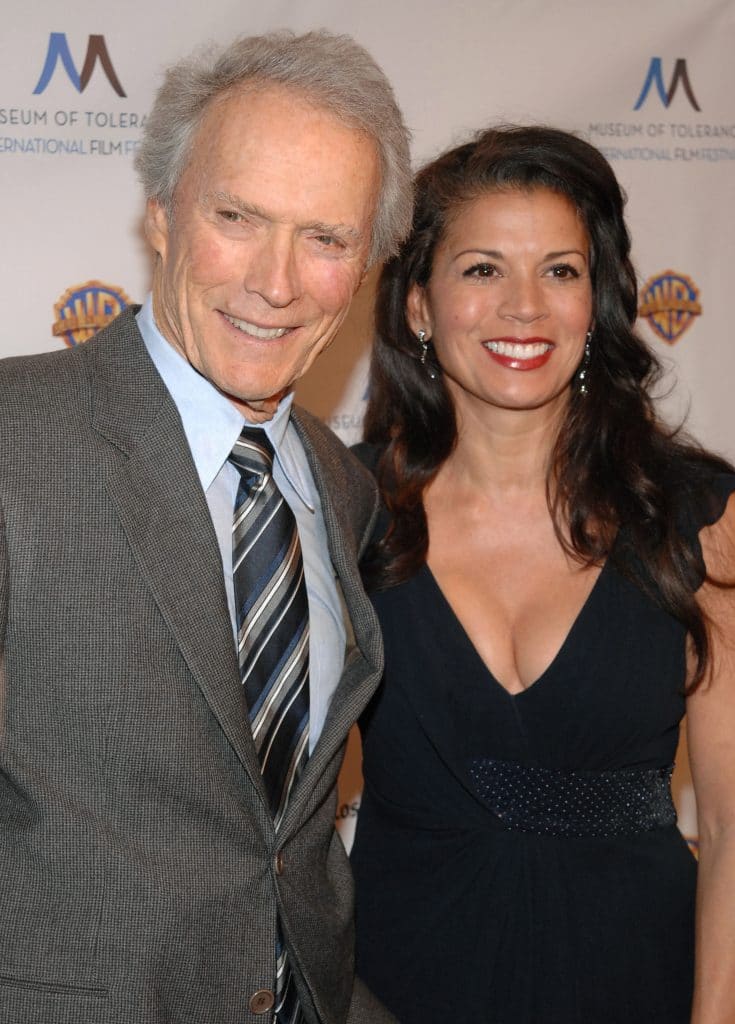 On 2 July 2016, Dina married Scott Fisher, a famous retired basketball player who was also the head coach of the Perth Wildcats competing in the Australian National Basketball League (NBL), and is today coaching the Ohlone College Renegades. He and Dina don't have children together.
Unlike Dina, Clint has been in numerous relationships; he hasn't disclosed or admitted to the exact number of his offspring. He met his future first wife Maggie Johnson in 1953, but in 1954, an unknown woman gave birth to her and Clint's daughter Laurie, who was then adopted by Helen and Clyde Warren. Clint cheated on Maggie throughout their entire marriage through to 1984 – from 1959 to 1973, he had an affair with Roxanne Tunis who gave birth to their daughter Kimber in 1964. It appears that Maggie didn't mind about Clint's affairs, and gave birth to their son Kyle in 1968 and their daughter Alison in 1972.
In 1975, Clint started living with the actress Sondra Locke, who was married to Gordon Anderson, and while Clint went on to divorce Maggie in 1984 and stayed with Sondra until 1988, she didn't divorce her husband, and stayed with him legally until her death in 2018.
Clint had an affair with the flight attendant Jacelyn Reeves, and she gave birth to their son Scott in 1986, and to their daughter Kathryn in 1988. In the early '90s, Clint dated the actress Frances Fisher, and she gave birth to their daughter Francesca in 1993. Since his divorce from Dina, he has been seen with several women.
As of February 2021, Dina is married to Scott Fisher, and has a daughter from her previous marriage with Clint Eastwood.
Hobbies and other interests
Dina is a huge dog-lover and her favorites are Pugs. She has three pet dogs, one of which is a Pug, which can be seen featured in many of her Instagram pictures and videos. Dina also has one pet cat.
She is physically very active as she does her stretching exercises every day as well as yoga, and Dina has two to three training sessions at the gym each week.
She is keen on travelling, and has been all around the world, while she prefers to visit attractive natural locations rather than overcrowded cities.
Dina has her own favorite actors and actresses, some of whom are Bill Murray, Meg Ryan and Julia Roberts – a couple of her favorite movies are "The Groundhog Day", "Sleepless in Seattle" and "The Runaway Bride".
Age, height and weight
Dina's age is 55. She has long brown hair and brown eyes, her height is 5ft 6ins (1.67m) and she weighs around 125lbs (57kgs).
Who is Clint Eastwood?
Clint Eastwood Jr. was born in San Francisco, California USA, on 31 May 1930 – his zodiac sign is Gemini and he holds American nationality. He gained recognition starring alongside Eric Fleming and Paul Brinegar in the popular western series "Rawhide" which aired from 1959 to 1965 and won five awards, while it was nominated for four others including a Golden Globe.
Clint was raised alongside his younger sister Jeanne Bernhardt in San Francisco, by their mother Ruth who died in 2006, and their father Clinton Eastwood who passed away in 1970. Clint studied at Piedmont Middle School at which he had poor grades, and had to go to summer camp. He went on to attend Piedmont High School, but after he burned an effigy on the school's property and wrote something obscene on the field scoreboard, Clint was asked to leave.
He still tried to attend Seattle University later in 1951, but was instead drafted, and fought in the Korean War.
After his role in "Rawhide", Clint starred in the 1960s epic so-called spaghetti westerns "For a Fistful of Dollars", 'For a Few Dollars More, and "The Good, the Bad and the Ugly", the latter which is today considered as one of the best western movies of all time. The late '60s saw him appear in many other critically acclaimed movies, including the 1968 World War II action "Where Eagles Dare". In the early '70s, Clint starred in the western "Two Mules for Sister Sara", the gothic movie "The Beguiled", and the western "Joe Kidd". He went on to direct and star in the 1977 action thriller "The Gauntlet", as well in the 1979 action "Escape from Alcatraz". The '80s once again saw Clint star in various hit movies ,such as the western "Bronco Billy", the action thriller "Sudden Impact" and the slasher crime "Tightrope".
Filming The 15:17 To Paris (2018) #ClintEastwood pic.twitter.com/6vZHwN1xjK

— Clint Eastwood Forever (@GoodBadUglyMule) February 14, 2021
In the '90s, he starred in the thriller "In the Line of Fire", the crime drama "A Perfect World" and the romantic drama "The Bridges of Madison County" which also starred Meryl Streep. Clint started the 2000s by directing the adventure drama "Space Cowboys" in which he also starred alongside James Garner and Tommy Lee Jones. In 2003, he directed the crime mystery "Mystic River" which won two Oscars, and in 2004 directed the critically acclaimed sports drama "Million Dollar Baby" which won four Oscars. Clint went on to direct two critically acclaimed movies about World War II, entitled "Letters from Iwo Jima" and "Flags of Our Fathers" both of which won many awards. In the 2010s, he directed several movies which received mixed reviews, and in 2020, he directed and starred in the movie "Cry Macho" based on the eponymous 1975 novel by N. Richard Nash.
Clint doesn't believe in God, but rather finds spirituality in nature; apparently he's allergic to horses!