• Jennifer Freeman is an American actress, model, businesswoman and author born in 198•
• She is 5ft 7in (170 cm) tall and has brown hair with golden highlights.
• She has been in movies such as "You Got Served" and "Johnson Family Vacation" and TV series such as "My Wife and Kids" and "Switched!"
• She is a spokesperson for Neutrogena and also runs an online shop of health products and probiotics.
• Her net worth is estimated to be close to $1 million.
Do you know Jennifer Freeman?
Jennifer Nicole Freeman, often called Jennifer N. Freeman, is an American actress, model, businesswoman and author, who was born in Los Angeles, California, USA, on 20th October 1985 to an Afro-American mother and Jewish father, and has twin sisters.  If you have seen the sitcom "My Wife and Kids" or the 2004 movies "You Got Served" and "Johnson Family Vacation", then you would remember this 35-year old actress.
Jennifer is an attractive dark-eyed woman with a height of 5ft 7in (170 cm), coffee-colored skin and prefers to wear her brown hair long with golden highlights. When she was about 18 years old in 2003, she was listed on the TV Guide's "Top 10 Hot Teens to Watch" list, and she still takes care of her figure to maintain an average weight of 120lbs (54 kgs).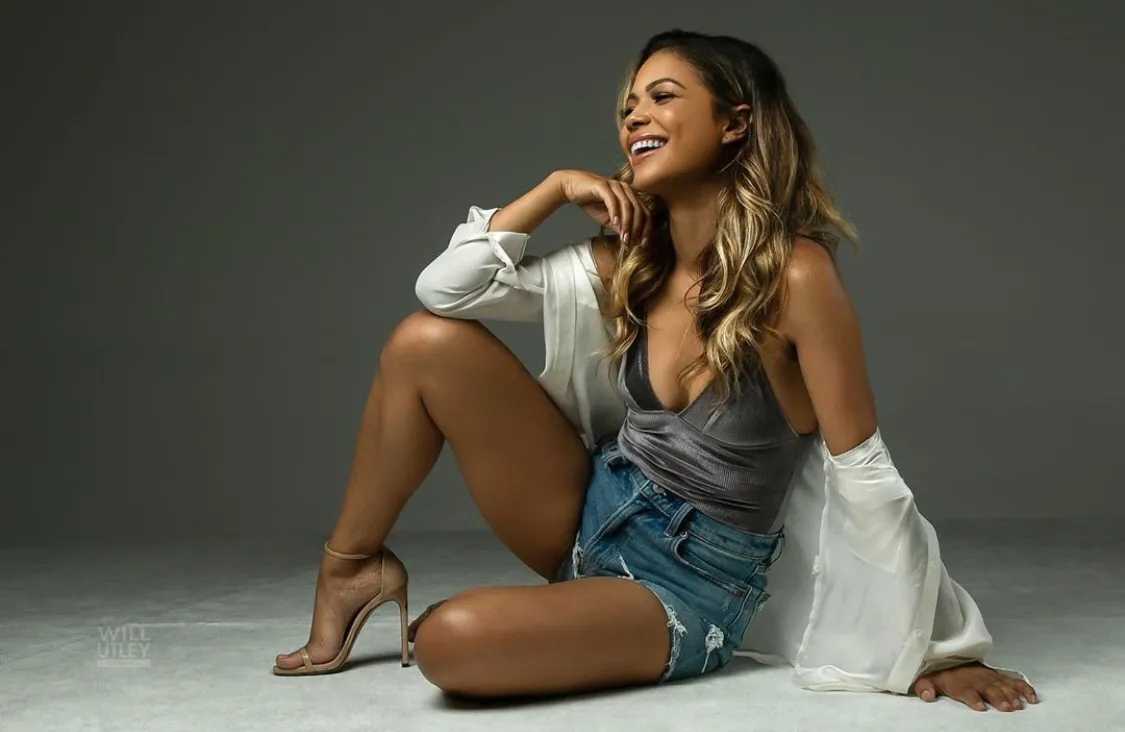 How Jennifer Freeman's Career took shape
Jennifer has a YouTube channel with almost 3,000 subscribers, on which she shares her workout routines, make-up hacks and other inspirational items. In her video "MANIFESTATION MONDAY | How I got into acting & Manifested my dreams!". she relates how she got into acting. Jennifer tells of a dream box that she kept as a child into which she threw pieces of paper onto which she had written her desires, including specific details. When she was nine years old, her mother took her shopping in Long Beach, California – Jennifer, who says she's always been talkative, was chatting away. A woman approached her mother and told her that her daughter 'has got so much personality and why don't you get her into acting?' The woman was Carla Alexander, a talent agent, who became, and still is Jennifer's manager.
Jennifer started modeling for commercials and Disney Movie Surfers. and that was her first step and the first rung on her ladder of success. She still writes down her dreams, and visualizes herself doing them.
2000 was a big year for Jennifer. She made her debut in the television movie, "The '70s" as CETA Kid #2 and then acted in minor roles in the film "The Visit", and the family TV series "7th Heaven" and "Even Stevens". She joined the cast of the TV sitcom "My Wife and Kids" in 2001 after Season 2, replacing Jazz Raycole in playing the part of Claire Kyle through 110 episodes until 2005. This opened many doors for her, and led onto the TV series "Switched!", in 2003 and "You Got Served" and "Johnson Family Vacation" in 2004.
2004 also saw Jennifer as one of Neutrogena's fresh young faces, and she still remains a spokesmodel and brand ambassador for this cosmetics company.
What about Jennifer Freeman's love life?
Jennifer's first known boyfriend was the American singer Usher, and in 2003 when she was 17, Jennifer met Omarion from the boy band B2K on the set of "You Got Served". They dated for a year, during which time she features in their video of their single tracks, "Girlfriend" and then briefly on the video "What a Girl Wants" in 2004.
Following in Omarion's footsteps in 2005 came the American singer Lil' Fizz, also from the band B2K; likewise their relationship survived only a year. In 2007 Jennifer had a short, but intense 7-month relationship with Marques Houston, the American singer. They became engaged in November 2007, but their relationship ended up on the rocks in January 2008.
Finally, at the age of 22, Jennifer met the 28-year old American basketball player Earl Watson. By December of that year they were engaged, and married on 16th May 2009 in Los Angeles, surrounded by all their friends including Jennifer's best friend, Kyla Pratt. Their daughter, Isabella Amour Watson, was born on 16th October 2009, and Jennifer took a break from acting to focus on being a mother and wife.
Born Earl Joseph Watson Jr. on 12th June 1979, in Kansas City, Earl's basketball career started in UCLA Bruins college. Thereafter he was drafted by the Seattle SuperSonics, and subsequently played 13 seasons in the National Basketball Association with seven different teams, including the Indiana Pacers and Portland Trail Blazers. In 2014 he took a backseat as a player, and became a basketball coach. Earl also founded "Emagine", an organization that supports and motivates the youth of Kansas City.
Celebrity Legs of the Hour: Jennifer Freeman #crazyaboutlegs pic.twitter.com/dJWSFNYI9A

— Crazy About Legs (@crazyaboutlegs) December 25, 2020
It seems that they had a rather volatile relationship, as according to an ABC News report in August 2010, the couple had gone through a break-up after Jennifer had attacked Earl when he had confronted her about some dubious messages on her 'phone, and had taken it away. Jennifer slapped and bit him, drawing blood, and tried to whack him with an iron; Earl filed for divorce the next day. A little while later they got back together again, and tried to patch things up. Sadly their marriage didn't endure, and it was finally over when Jennifer and Earl divorced on 15th November, 2010, just a year and a half after their wedding bells rang) The divorce itself created a lot of gossip about Jennifer trying to extract excessive alimony from Earl, claiming that her career was 'tanked' and she hadn't earned much money since "My Wife and Kids".
It would appear that both Earl and Jennifer are currently single.
So what else has Jennifer Freeman been up to?
In 2012, Jennifer returned to the big screen in "Falling Away" and then took more time off from acting until she starred in the crime thriller "True to the Game" in 2017.
Jennifer wrote a self-help book entitled "Journey to Loving Yourself", which was published on 29th October 2018. She also runs an online shop of Culturelle health products and probiotics.
In 2020, the fitness comedy series "Pump" was launched, with Jennifer playing the role of Brianna, and the family-oriented movie "The Business of Christmas" was released in the US on 3rd December 2020. Currently Jennifer is working on her role as Cassandra in the TV series "Be Someone", which is due to be launched in September 2021 and the action movie, "ATW" which will probably be released in 2021 as well.
Jennifer has become a busy star and a popular face in the entertainment world. She hasn't been active on Facebook since 2013, but regularly posts on Twitter where she has over 15,000 followers, and more than 400,000 on Instagram, where she has an "Empower" section demonstrating her spirituality and faith in God.
Jennifer likes keeping things secret regarding any new lovers, but regularly posts photos and videos of her daughter and herself.
Her net worth is estimated to be close to $1 million as of late-2021, and at her age, the sky's the limit, and she could still go a long way.