• Irina Vitalevna Baeva is a Russian model, actress, and Instagram influencer, born in 1992 in Moscow, Russia.
• She completed her primary and secondary education in Moscow and studied Journalism and Public Relations at Moscow State University.
• She moved to Mexico City to pursue her acting career and has since appeared in multiple TV shows and films.
• She has had two well-known relationships, with actors Emmanuel Palomares and Gabriel Soto.
• She has an estimated net worth of $4 million, earned from her acting, clothing endorsements, and magazine covers.
Who is Irina Baeva?
Irina Vitalevna Baeva is a Russian model, actress, and Instagram influencer, born on 25th October 1992, in Moscow, Russia. Keep reading to discover her net worth, love life, and more information.
Irina Baeva's Childhood & Education
Irina Baeva completed her primary and secondary education in her native city of Moscow, including studying Spanish, and learning the language by watching Mexican telenovelas. At Moscow State University, she studied Journalism and Public Relations, however, she left her studies to move to Mexico City.
Once in Mexico City, she began acting at the Centro de Educacion Artistica, and took classes at the Televisa studios in 2012.
Irina keeps her family life out of the spotlight, but we know that she has a sister named Nina Kabochkina, with whom she has a fantastic relationship, the pair often appearing together in social media posts. Nina took fans by storm when they discovered her social media profile, and articles have been written about her due to how much she resembles her famous sister. However, Nina shows no interest in being a public figure.
Irina Baeva's Career
Irina's acting debut came in 2015, when she appeared in the Mexican soap opera "Muchacha Italiana Viene a Casarse", playing the role of Katia for 13 episodes. From 2015 to 2016, she also appeared in over a hundred episodes of "Pasion y Poder", playing the role of Daniela.
Irina has proven herself to be a prolific actress, appearing in over 100 episodes of "Along Came Love", over 80 episodes of "Soltero con Hijas", and more than 70 episodes of "El Dragon: Return of a Warrior". Since 2015, Irina has been acting almost non-stop, and has also appeared in TV reality shows such as "Mira Quien Baila", a celebrity dance contest.
In 2018, Televisa Deportes invited the popular actress to host their sports show "La Jugada del Mundial", during that year's FIFA World Soccer Cup held in her birth country, Russia.
Irina Baeva's Love Life
Irina is just as well-known for her love life as for her acting skills. So far, Irina has had two boyfriends that we know of – Emmanuel Palomares and Gabriel Soto, both actors. Many times, Irina's dating life has been a topic of gossip.
Irina and Emmanuel met in 2014 while studying at the Centro de Educacion Artistica in Mexico, and after being friends for a year, realized they were in love. Irina even spoke to People magazine about her boyfriend at the time, saying that he was a great person and very patient with her. As neither had family in Mexico – Emmanuel is Venezuelan – they spent all their time together.
However, after being together for two years, the couple broke-up in 2017, apparently to focus on their acting careers, although it's rumored that Emmanuel put an end to the relationship because he didn't approve of Irina's friendship with a well-known director – nobody has confirmed or denied this supposition.
Emmanuel and Irina both starred in "Mira Quien Baila" in 2018, more than a year after their break-up. However, there was no reconciliation between the ex-couple.
Currently, Irina is dating the Mexican actor and model Gabriel Soto. Their relationship has been criticised since it is rumoured that Irina and Gabriel started dating in 2017, when Gabriel was still married to his now ex-wife Geraldine Bazan. It was confirmed in October 2017 that Gabriel and Geraldine were no longer living together, and soon afterwards there was speculation that Irina had been the cause of their break-up. Gabriel and Irina had worked together a few months earlier in the telenovela "Vino el amor".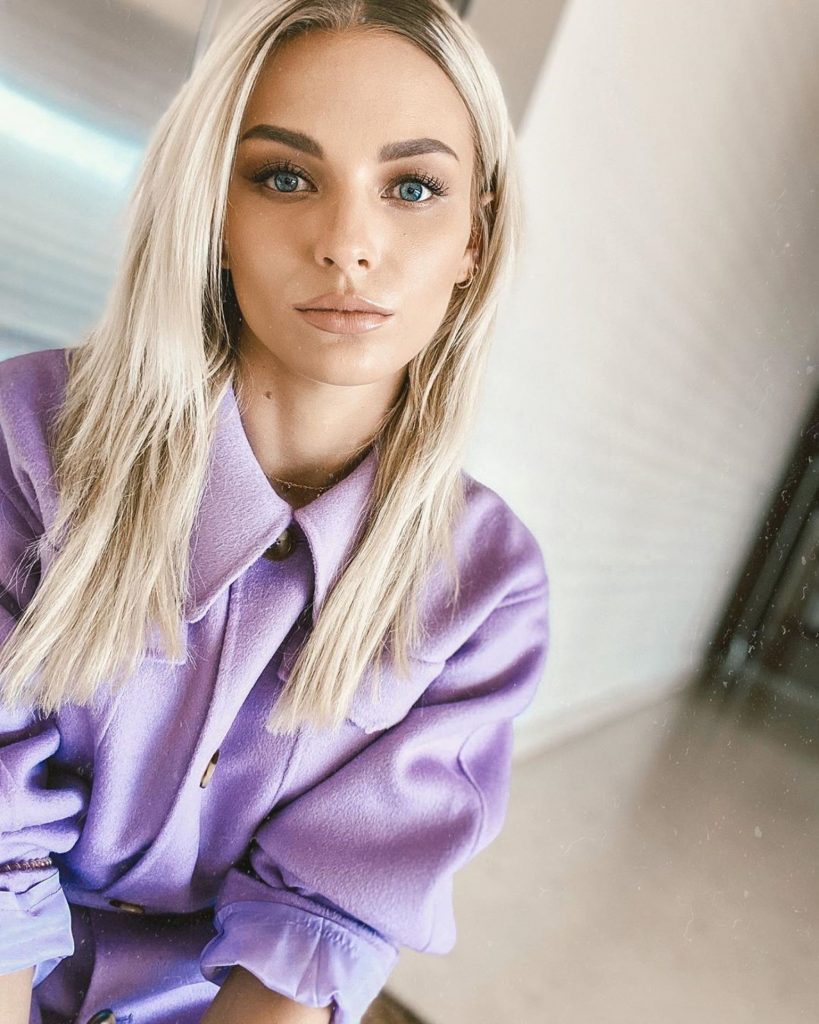 After months of speculation, Gabriel and Geraldine divorced in October 2018, which came as a shock to their fans as they were seen as something of a power couple. Throughout all of this, Irina received hate messages and was bullied on social media to the point where she temporarily deactivated her Instagram account.
Due to the criticism, the pair denied being a couple for months, until they made their relationship public in January 2019, when they posted their first picture together on social media, and immediately made the headlines. The next month they made their relationship more serious by appearing in the Valentine's Day issue of Hola Mexico.
In January 2020, the couple confirmed to Hola that they were currently living together and were very happy. However, Gabriel and Irina's relationship has been less than smooth, and it has been rumored many times that the couple were no longer together.
In December 2020, an explicit naked video of Gabriel Soto was leaked, which scandalized social media. However, Irina supported her boyfriend and asked the press not to talk about it, as Gabriel has two young daughters. Irina also stated that the video was recorded before they were together, and had nothing to do with her.
Irina Baeva's Social Media
Irina Baeva is something of an Instagram star, with over three million followers.
She uses her profile to share photos of her day-to-day life with her fans, and to promote online clothing brands such as yogawear line Alo.
Irina also uses IGTV, Instagram's feature which allows the user to share long videos, to show her fans a sneak peek of her latest projects, such as the second season of El Dragon.
Although at times Irina has been a target of social media bullying, she stated in a recent interview with TV program "Hoy" that she has learned to live with the criticism, and that although it was a difficult process, she's currently in a happy stage of life, and that the comments don't affect her.
Irina Baeva's Net Worth
As of early 2021, it's estimated by sources that Irina's net worth is close to $1 million, earned from her career as an actress over the last decade.
Irina Baeva has an estimated net worth of $4 million which comes from her acting, clothing endorsements, and magazine covers. We believe that this is a trustworthy estimate, due to the variety and success of Irina's different professional ventures.