• Meredith Eaton was born on Long Island, New York USA in 197•
• She holds a Bachelor's degree in interdisciplinary studies from Hofstra University, and a Master's degree in clinical psychology from Adelphi University's Derner Institute of Advanced Psychological Studies.
• Her most recognizable roles have been in TV series such as Family Law, Boston Legal, NCIS and MacGyver.
• She has been married twice and has one daughter with her second husband.
• As of 2021, Meredith Eaton's net worth is estimated at over $1.2 million.
Who is Meredith Eaton?
Meredith Hope Eaton was born on Long Island, New York USA, on 26 August 1974 – her zodiac sign is Virgo and she holds American nationality. She is an actress who might still be known best for her portrayal of Emily Resnick in the romantic crime series "Family Law" created by Anne Kenney, and which starred Kathleen Quinlan, Christopher McDonald and Merrilee McCommas. It follows a law company which works with families experiencing domestic conflicts, and the series won seven awards and was nominated for eight others including one Primetime Emmy, during its airing from 1999 to 2002.
Early life and education
Meredith was raised alongside her older brother Jeryn on Long Island by their father who was an administrative law judge, and their mother who was a clinical social worker.
Meredith's parents urged her and her brother to pursue college degrees, and put even more pressure on them after realizing that both wanted to become professional actors. Meredith attended a local high school at which she was a member of the school's drama club, and appeared in many plays performed there. Upon matriculating in 1992, she chose to accede to her parents' wishes, and enrolled at Hofstra University from which she graduated with a Bachelor's degree in interdisciplinary studies in 1996.
Meredith was named Hofstra's Alumnus of the Month in June 2007.
She continued working on her education, enrolling at Adelphi University's Derner Institute of Advanced Psychological Studies, from where she obtained her Master's Degree in clinical psychology.
After launching her acting career, Meredith stated that her knowledge of psychology has helped her become a better actress.
Roles in TV series
Meredith made her debut TV series appearance in 2001, when she appeared in single episodes of both the mystery crime drama "NYPD Blue", and the romantic comedy "Dharma & Greg".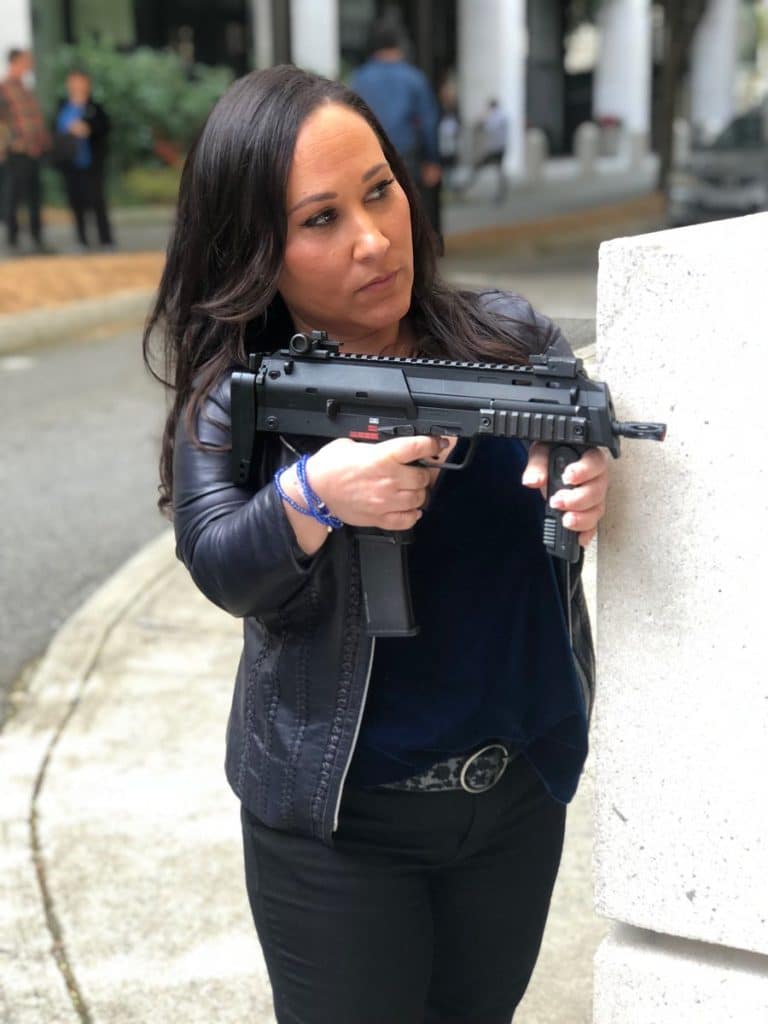 She became somewhat popular after her role in "Family Law", and was then invited to make guest appearances in various series, such as "CSI: Crime Scene Investigation", "House" and "Without a Trace". Meredith's following notable performance was in 2006 when she portrayed Bethany Horowitz in the crime comedy "Boston Legal", created by David E. Kelley and which starred James Spader, William Shatner and Candice Bergen. The series follows the life of Alan Shore who works at the legal company Crane, Poole and Schmidt, and it won 16 awards including one Golden Globe, while it was nominated for 67 other awards.
The year 2009 saw her portray Carol Wilson in three episodes of the action crime drama "NCIS", then in 2015 she was invited to portray Meredith Oberling in seven episodes of the crime comedy "Battle Creek", created by Vince Gilligan and David Shore, and which starred Josh Duhamel, Dean Winters and Aubrey Dollar. It follows two detectives working on the streets of Battle Creek.
Meredith's most recent role in a TV series has been in the action adventure drama "MacGyver", which stars Lucas Till, Tristin Mays and Justin Hires, and follows the life of Angus 'Mac' MacGyver, working for a clandestine organization. Meredith has been shooting for it since 2017, and has appeared in 73 episodes.
Roles in movies
Meredith made her debut film appearance in the 2002 musical comedy "Unconditional Love", which received mixed reviews, but was nominated for two awards. In 2003, she played Melody in the comedy "Mr. Ambassador", although it failed to attract any attention.
The year 2009 saw Meredith portray Mrs Tuttle in the sports comedy "Balls Out: Gary the Tennis Coach", and then gave her debut voicing performance in the 2012 adventure comedy "Fun Size". In 2013, Meredith portrayed a hospital nurse in the thriller drama "Paranoia", which starred the famous actors Gary Oldman, Harrison Ford and Liam Hemsworth, but still received only mixed reviews and didn't win any awards.
In early 2014, she starred as Covena in the mystery horror "Paranormal Activity: The Marked Ones", written and directed by Christopher Landon, and which also starred Andrew Jacobs and Jorge Diaz. The film follows a man who is going to be possessed by a mysterious entity, unless he uncovers the entity's true intentions.
Meredith's two most recent roles in movies have been in the mystery action dramas "Turks & Caicos" and "Veronica Mars", both in 2014.
Husband and daughter
On 20 May 2001, Meredith married Michael Gilden, an American actor who like Meredith was also 4ft tall. He's perhaps still remembered for his roles in TV series "Charmed" and "Family Law", and in the critically acclaimed black comedy crime movie "Pulp Fiction".
The two met on the set of "Family Law", and after marrying chose not to have children, but focused on their careers. The marriage ended with Michael's suicide by hanging on 5 December 2006.
On 12 October 2008, Meredith married Brian Gordon, a professional photographer, after less than a year of dating. Several months after they exchanged vows, Meredith gave birth to their daughter.
She hasn't talked about any other men she might have dated, and as of January 2021, Meredith is married to her second husband Brian Gordon, and they have one daughter together.
Hobbies and other interests
Meredith is a huge lover of animals, and a fighter for their rights. She has been working with various animal organizations since her teenage years, and is a big supporter of the organization People for the Ethical Treatment of Animals (PETA).
She is also a fighter for equal human rights, and a supporter of the movement Black Lives Matter.
She is interested in music, and was seven when she began taking piano lessons. She eventually started learning to play the guitar on her own, and today plays both instruments. Meredith's favorite bands and musicians are The Lumineers, Lady Gaga and Freddie Mercury.
In her spare time she enjoys watching movies, and her favorite actor and actress are Tom Cruise and Angelina Jolie, while a couple of her favorite films are "Top Gun", "Meet Joe Black" and "Mr. and Mrs Smith".
How tall is she?
Meredith's age is 46. She has long brown hair and brown eyes, is 4ft (1.22m) tall, and weighs around 97lbs (44kgs).
As of January 2021, her net worth has been estimated at over $1.2 million.