Tyler1:
• Born in 1995 in Missouri, USA
• Social media sensation, gamer, and Twitch streamer
• Has amassed over 2.5 million subscribers on his YouTube channel
• Net worth estimated at over $1 million
• Attended Central Methodist University before pursuing his streaming career
• Gained fame for playing the video game "League Of Legends" and participating in various tournaments
• Permanent ban in 2016 for toxic behavior, but returned in 2018
• Has his own merchandise line and pre-workout supplement
• In a relationship with Macaiyla since 2016
Who is Tyler1?
Tyler Steinkamp, better known by his online alias Tyler1 or T1, was born on 7 March 1995 under the zodiac sign of Pisces, in Missouri USA. He is a 25-year-old social media sensation, gamer, and Twitch streamer, probably best recognized for playing the video game "League Of Legends". He has more than four million followers on Twitch. He runs his official Twitter account with almost 570,000 fans, and official Instagram account with more than 700,000 followers. He has amassed over 2.5 million subscribers on his YouTube channel, and his videos have been viewed almost 400 million times.
How rich is he, as of now? Tyler1 Net Worth
As of late 2020, Tyler1's net worth is estimated at over $1 million, acquired through his Internet-based career, which includes sponsored posts, donations, stream subscriptions, and collaborations with other famous social media personalities and gamers. He also increases his wealth through the sale of merchandise.
Early Life, Parents, Nationality, Ethnicity, Educational Background
Tyler1 remains silent when it comes to his childhood and parents, so information about them and their professions isn't available in the media. Nonetheless, it's known that he has a brother named Eric, who is also a Twitch streamer. Tyler1 holds American nationality and is of partial African-American descent.
He attended Mark Twain Senior High School, and upon matriculation, he enrolled into Central Methodist University to study Computer Science, but eventually dropped out to pursue his streaming career. While in college, he played in the position of a running back in the university's American Football team.
Career Beginnings
With the rise of the popularity of video games and streaming services, Tyler1 took the opportunity to become expand his career and fame, making the decision to try himself as a streamer. So, he created his account on the world's leading live streaming platform for gamers, called Twitch, under the username '@loltyler1', and started streaming the highly popular video game "League Of Legends".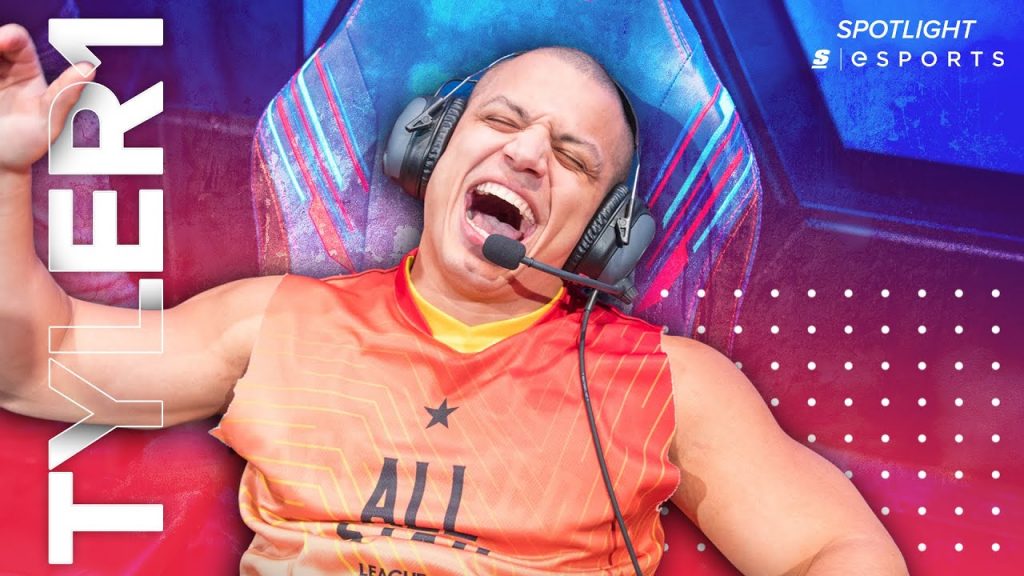 It is a multi-player online battle arena video game, released in 2009 by Riot Games. As time passed, he gained enough skill to participate in various tournaments, and in 2014 he was ranked 14th on the North American "League Of Legends" ladder.
Rise to Fame and Ban
Over time, Tyler1 became famous in the "League Of Legends" community mostly for the toxic behavior shown in his streams, including verbal abuse of other players, threats, as well as intentionally losing the game to the detriment of his playmates. He even allegedly encouraged other players to commit suicide, which led to him being permanently banned on 22 accounts by Riot. He was also named The Most Toxic Player in North America by the other players in the community.
In April 2016, he released a video entitled "I AM REFORMED", in which he said that he would change, after which his base of followers started to increase.
Unfortunately, he continued to behave in the same vein as before, although the number of his followers continued to grow. His bad behavior led several professional players to criticize him for that, and also to criticize developer Riot Games for not preventing such a thing, after which the company announced that Tylor1 would no longer be allowed to own an account and play "League Of Legends".
His accounts were immediately banned, so thereafter he branched out from playing it, but continued streaming other games, such as "PlayerUnknown's Battlegrounds".
Return to LOL
In late 2017, Tyler1 announced in one of his streams that he received an email from Riot Games that his ban would be called off if the accounts he played during the last month didn't have toxic behavior. In January 2018, he was unbanned, and continued streaming "League Of Legends". His first stream had more than 380,000 viewers, breaking the record for most concurrent viewers for an individual streamer on Twitch.
Subsequently, he admitted that he was addicted to the game, and encouraged other players to share their stories. In October 2020, the South Korean esports team T1 signed him as a content creator.
The Tyler1 Championship Series
In November 2017, Tyler1 created and hosted an online tournament – the Tyler1 Championship Series (TCS) – which was supposed to be a parody of the "League of Legends" Championship Series (LCS). The event became so popular that it was watched by professional players as well. Although he had no sponsors, Tyler1 gave the winning team a prize of $10,000, funded directly by himself. In the following year, he hosted the series again, and increased the prize to $50,000.
YouTube Channel
In addition to his streaming on Twitch, Tyler1 also became active on his YouTube channel, on which he continued to upload new gaming videos and streams. Some of his most popular videos are "TYLER1 DRAVEN HYPE MONTAGE", "MOST REALISTIC GAME", and "MOST TOXIC MINECRAFT PLAYER".
Twitter, Instagram, and Website
Additionally, Tyler1 runs his official Twitter account, and is also active on his official Instagram account. He has his own website too, on which you can buy items from his line of merchandise, which include t-shirts, sweatshirts, cases, mugs, etc. He also sells a pre-workout supplement called 'Blood Rush'.
Appearance and Vital Statistics
The famous gamer has long dark brown hair and blue eyes. He stands at a height of 5ft 7ins (1.70m), while his weight is 185lbs (83kgs), and his vital statistics are 40-29-38.
His shoe size is 7 (US). He is a gym addict, and maintains his muscular body working out regularly at the gym.
Relationship with Macaiyla
Tyler1's girlfriend is Macaiyla, known for being an Instagram star and Twitch streamer as well, with numerous video games such as "League Of Legends", "Minecraft", and "Bloodborne". They met at the TwitchCon in 2016, and immediately hit it off and became romantically involved. The couple is still going strong – they frequently share cute snaps on their social media, and appear in each other's videos. Their current residence is in New London, Missouri.