• Charlyne Yi is an American actress, writer, musician and comedienne
• She has been featured in several movies and series such as "Knocked Up", "House" and "Room 104"
• She started a musical band with fellow comedian Paul Rust and voiced characters in "Steven Universe" and "We Bare Bears"
• Charlyne has also been involved in charity work and is the founder of the NGO "Caring Is Cool"
• As of early 2021, her net worth is estimated to be around $1 million
Do you know who Charlyne Yi is?
Although her name may not ring a bell yet, Charlyne Yi is one actress to watch out for. She has not limited herself to acting, but has shown herself to be a well-rounded artiste.  She has remained low-key through it all, but her hard work and brilliance as a performer have continued to announce her. So who is Charlyne Yi?
Charlyne's early life and background
Charlyne Amanda Yi was born on 4 January 1986, under the Capricorn sun sign, in Los Angeles, California, USA. She is an American and has mixed ancestry from Germany, France and Korea.  Her father is Luciano Yi and her mother, Lydia Yi. There is little information about what they do for a living, if Charlyne has any siblings, and where they are today.
Her education
She attended Bloomington High school where she actively participated in drama and theatres, one of which is The Upright Citizens Brigade Theatre. After her matriculation, she enrolled into the University of California Riverside College, but dropped-out to pursue a full-time professional career in acting.
Her career life
Her first television appearance was in 2006 in an episode of the series "Help Me Help You". The following year, she made her movie debut in "Knocked Up" which was a huge success and garnered over $200 million at the box office. She also debuted as a screenwriter two years later, for the movie "Paper Heart" which earned her an award.
She featured in the widely successful medical drama series "House" between 2011 and 2012, in which she acted as Dr Park, who had problems with anger. She later featured as a guest in an episode of "Conan".
Charlyne decided to engage another artistic side, and in 2015 voiced the character 'Ruby' in 'Steven Universe', then did the same in "We Bare Bears" for the character Chloe Park. She has since starred in several movies and series, including "Room 104", "Twin Peaks", "Love" and "Always Be My Maybe" amongst others.
Charlyne is also a musician, and was a member of the band named The Glass Beef which she started together with Paul Rust, a fellow comedian and actor – the two performed together with a single guitar.
Their debut album entitled "The Farewell Album" was released in 2006, before they went their separate ways. Paul went on to start another group named 'Don't Stop or We'll Die', while Charlyne is currently a member of the band named 'Sacred Destinies'.
The versatile artiste has been featured in two music videos, one by Hockey entitled " Song Away" and another by the Philadelphia band entitled "Rabbit Hats".
As a comedienne, Charlyne has performed at various festivals including the 'US Comedy Arts Festival', 'Just for Laughs Festival', and others.
Is she married?
She has preferred to keep her love life low-key, but that hasn't stopped the media and her fans from speculating about it.
One of the people she was romantically linked to was Michael Cera, a comedian she seemed quite close to and also performed with. However, she cleared the air in 2009, stating that the two were just friends and were never in a relationship.
Another individual Charyne was also rumoured to be dating was writer Jeremy Kaluza. Neither of them debunked the rumour, but it soon died out.
According to a source, a mystery man named Jet Elfman is said to have filed for divorce from Charlyne. They were also said to have been  members of the musical band called 'Sacred Destinies'.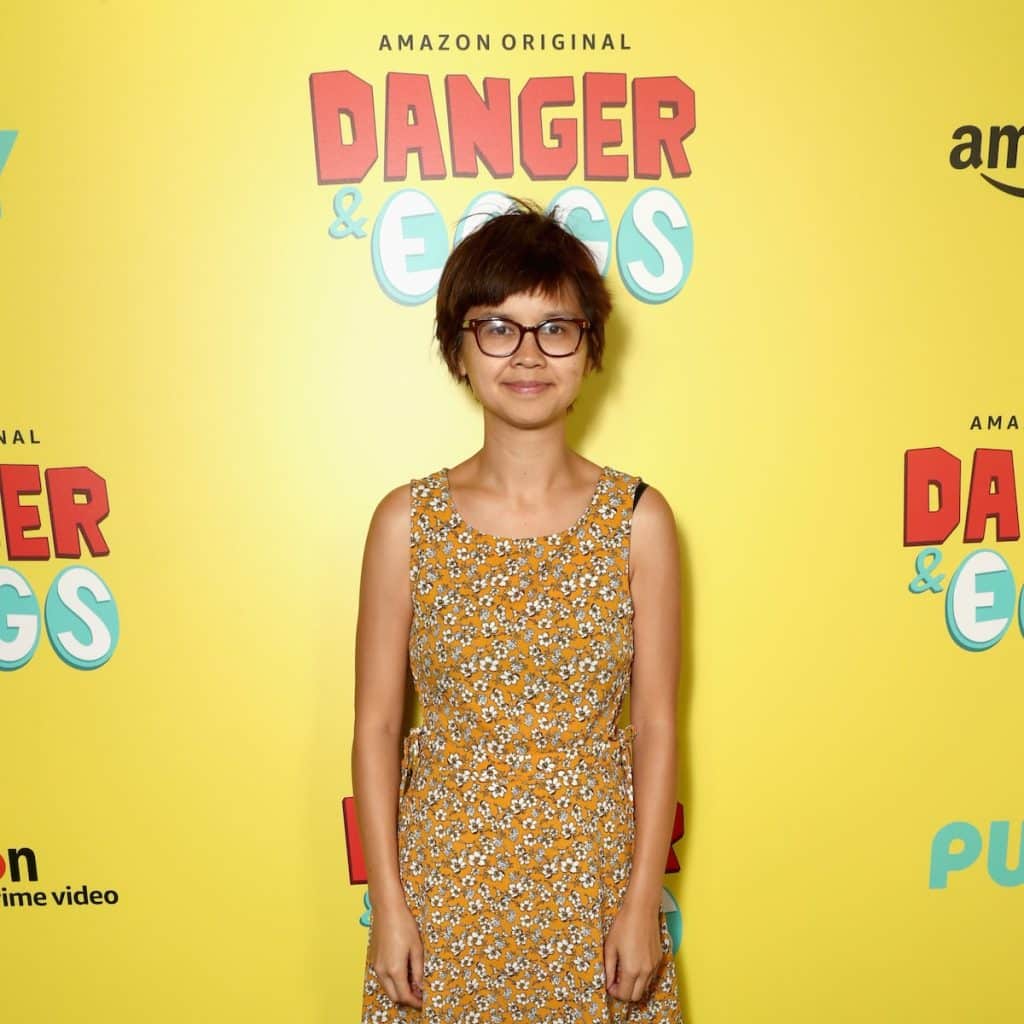 In 2014, she referred to him as her band member, and didn't give a hint about any relationship between them. The only time she commented on her relationship was in 2015 while speaking to Conan O'Brien, when she stated that she and her partner would live in their houses even after getting married, and nothing much was going to change about their lives.
Their marriage is said to have lasted about a year before they parted ways; they don't have any children. With the way she kept her marriage away from the public, there have been various assumptions about what might have led to the dissolution, but according to an online source named 'extra', Elfman was said to have stated 'Irreconcilable differences' as the reason and also asked for the refusal of spousal support for both of them.
Charlyne has continued to focus on her work, and isn't currently linked with anyone romantically.
Charlyne's hobbies and favourites
She is actively involved in charities including Oxfam America which she joined in 2010. She creates awareness about the effect of worldwide hunger and the need to alleviate it. She also has a non-governmental organisation called 'Caring Is Cool', which she founded in 2011.
When she isn't working on-screen, the multi-talented lady is busy reading her favourite novel and also writing – she has two books to her credit, 'Oh the Moon' and 'You can't kill Me Twice (so please treat me right)', the latter being a collection of poetry, and both were received quite well.
Scandals and controversies
Charlyne was in the news sometime in 2016, after she accused rock star Marilyn Manson of harassment during one of his visits to the cast while the drama series 'House' was still on-going. She stated that the musician harassed several women who were around and also referred to her as a man from China. She added that seeing Manson break down during one of his performances that year brought back memories, and she didn't like people who spoke up against harassments were often associated with the accused from then on. She hoped Manson would get well, and wished him a good recovery.
The actress also made headlines again in October of the same year, after she called out American writer and actress Amber Tambly's husband for making racist remarks towards her. In an interview with 'Vulture', she recounted her experience with David Cross and how he ridiculed her pants, asking her if she understood English and mocking her. In his defence, Cross stated that he was just performing a character from one of his comedy skits, and that his experience of the meeting was different. His wife, however, sided with the actress, condemning his behaviour and speaking against wives being held responsible for their husband's behaviour.
It has also been rumoured that the actress has struggled with depression for some time, but this is unconfirmed.
Awards and recognition
She was mentioned by Venus Zine among the "25 under 25" women in 2009. She was also awarded the Waldo Salt Screenwriting Award for her screenwriting debut "Paper Heart", and was nominated for Best Actress for her role in the same movie. She was also nominated for an Annie award in 2018, for her lending her voice to the character named Mai Su in the film "Next Gen".
Her physical features
The petite actress is about 5ft 2ins (1.60m) and weighs about 120lbs (54kgs). Her slim figure fits into a US 2 dress size. She has short dark brown hair, and wears glasses over her black eyes.
Her net worth
As of early 2021, Charlyne's net worth is estimated to be about $1 million, made through her successful career as an actress, writer and artist. Her multiple talents and versatility have paid-off for her, and as she takes on more projects in future, her annual income is also expected to increase.
Where to find her
She is quite active across various online platforms, including her Instagram account @charlyne_yi, on which she posts her art pieces and keeps her over 33,000 followers updated about her projects. She also engages her fans on her Twitter account of the same name, and also on Facebook.