Who is Jacob Vargas?
Jacob Vargas was born in Michoacán, Mexico, on 18 August 1971 – his zodiac sign is Leo, he is of Mexican ethnicity, and holds both Mexican and American nationality. He's an actor and a dancer, perhaps known best for playing the role of Joker, in the 2000 comedy film "Next Friday".
Early life and education
Jacob grew up in the Pacoima neighborhood of Los Angeles, California, alongside his four bothers and a sister; he and his family moved there from Mexico, when Jacob was one year old. His parents are devout Roman Catholics.
Jacob showed interest in dancing and acting at an early age. When he was 12, he discovered break-dancing, and started practicing it regularly. His talent earned him a small role in the popular sitcom "Diff'rent Strokes", where he did a break-dancing routine.
Jacob attended San Fernando High School in California. After matriculating, he was already finding success as an actor, so he didn't attended college.
Roles in TV series
Jacob made his acting debut in 1983, when he appeared in an episode of the comedy "Diff'rent Strokes". Three years later, he had a small role in an episode of the action crime drama "Hunter", and in the following years, he made appearances in an episode of several popular TV series, such as "The Tracey Ullman Show" (1987), "Full House" (1992) and "ER" (1995), before landing his first recurring role, in the 1996 drama "Malibu Shores".
Between 2000 and 2002, Jacob voiced the character Dr. Roberto Martinez, in nine episodes of the animated science fiction series "Max Steel".
In 2002 and 2003, he played one of the leads in the sitcom "Greeting from Tucson", created by Peter Murrieta, and which focused on a middle-class Latin American family. In 2008, he played the supporting character Guillermo, in the fantasy horror drama "Moonlight", which starred Alex O'Loughin, Sophia Myles and Jason Dohring.
Perhaps the most notable TV role for Jacob was in the final season of the popular crime thriller drama "Sons of Anarchy", in which he played the role of Allesandro Montez. The series was created by Kurt Sutter, and aired on FX between 2008 and 2014; it's centered on the members of an outlaw motorcycle club, operating in Charming, a fictional town in California, and explored issues such as government corruption, vigilantiism and racism, all while providing a realistic depiction of motorcycle gangs, which were prevalent in parts of the US.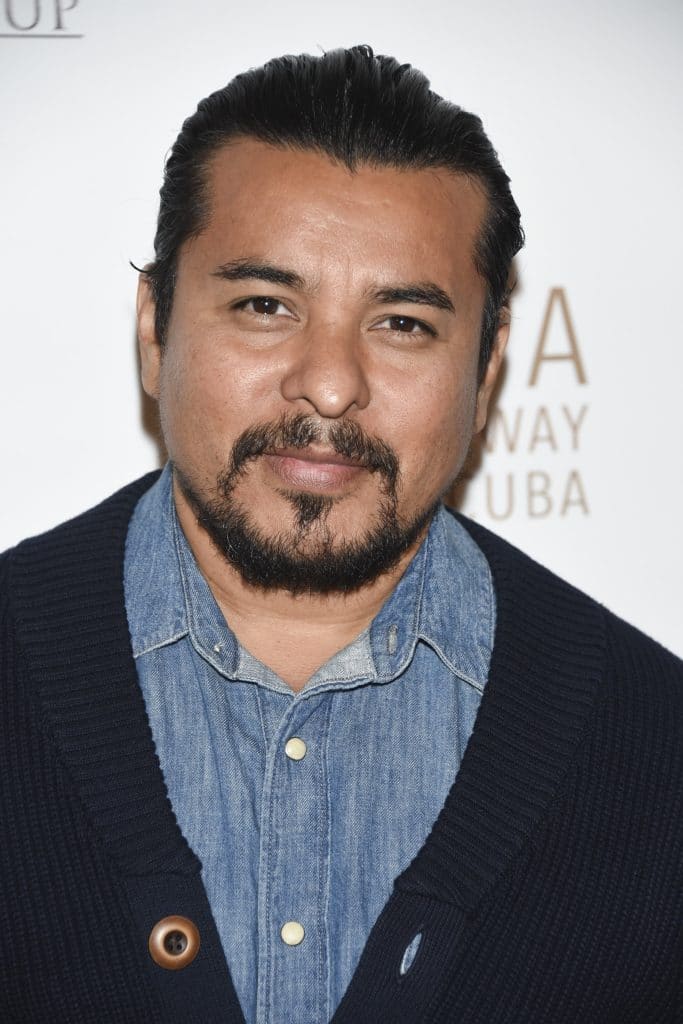 It earned praise from the public and critics alike, won 11 awards and was nominated for 56 others, including five Primetime Emmys.
Since 2019, Jacob has been playing the role of Allesandro Montez again, in the "Sons of Anarchy" spin-off series, "Mayans M. C.", centered on the Sons' rivals-turned-allies gang, the Mayans Motorcycle Club. The series premiered on FX on 4 September 2018, with the fourth season set to air in late 2022.
In 2019 and 2020, we saw Jacob star alongside Gabriel Iglesias and Sherrie Shepherd in the Netflix comedy "Mr. Iglesias", created by Kevin Hench.
Roles in movies
Jacob made his film debut in the 1986 crime drama "The Children of Times Square", written and directed by Curtis Hanson, and which starred Howard E. Rollins Jr., Joanna Cassidy and David Ackroyd. In the following years, he had roles in numerous movies, including "The Principal" (1987), "Crack House" (1989) and "Gas Food Lodging" (1992).
In 1993, Jacob starred in the critically acclaimed girl gang drama "Mi Vida Loca", directed by Alison Anders. Many consider his role in this movie to be his breakthrough, and Jacob was soon being cast in big budget Hollywood movies.
In 1995, he appeared alongside John Travolta and Denny DeVito, in the comedy crime thriller "Get Shorty". Two years later, he played the role of Abie Quintanilla in the biographical drama "Selena", written and directed by Gregory Nava, and which starred Jennifer Lopez, Edward James Olmos and Jon Seda. Jacob starred as Ice Cube's nemesis, Joker, in the 2000 comedy "Next Friday". In the same year, he appeared alongside Benicio Del Toro in the Oscar-winning thriller "Traffic".
In 2005, he had a role in another critically acclaimed movie, the biographical drama "Jarhead", a psychological study of Marine's state of mind during the Gulf War.
Two years later, he starred in the cult classic horror "The Hills Have Eyes 2", written by Wes and Jonathan Craven, directed by Martin Weisz, and which also starred Daniella Alonso and Michael Bailey Smith. In 2010, we saw Jacob appear in another horror flick, "Devil", following a group of people who are trapped in an elevator with the Devil himself.
The most recent movie role for Jacob was in the 2021 Hulu comedy "Plan B", directed by Natalie Morales. Later in 2021, we are expecting to see him star alongside Erika Christensen and Zoe Kravitz, in the crime thriller drama "Kimi".
Other credits
Aside from being an actor, Jacob is also the owner of the production company Third Son Productions. In 2001, he was the executive producer of the independent crime drama "Road Dogz".
In 2004, he co-produced and starred in the Broadway play "Latinologues". Through his production company, he has worked on several movie projects, such as "TV: The Movie" (2006) and "Crossing Point" (2016).
Awards and accolades
In 1987, Jacob was nominated for a Young Artist Award, for his performance in the crime TV series "Hunter". In the following year, he was nominated for two Young Artists Awards, for his performances in "The Tracey Ullman Show" and "The Principal".
In 1995, he received his first award, a NCLR Bravo Award (now known as American Latino Media Arts Award) for the Emerging Artist of the Year.
In 2001, he was rewarded with a Screen Actors Guild Award for the Outstanding Performance by the Cast of a Theatrical Motion Picture, shared with his co-stars from "Traffic".
Five years later, he won a Hollywood Film Award in the Ensemble of the Year category, shared with his co-stars from the biographical drama "Bobby".
In 2015, Jacob was named the Best Actor at the Broad Humor Awards, for his performance in "In Between the Gutter and the Stars".
Love life and relationships
Jacob is married to a non-celebrity, Sylvia Arzate. They have two daughters together – Rosa born in 2004, and Victoria in 2011. Jacob is a very private person, and likes to keep a low profile, thus he doesn't share a lot of information about his private life and family with the public, aside from occasionally posting family photos on his Instagram account.
Hobbies and interesting facts
Jacob is close friends with the British actor, Hugh Laurie, and even helped him film his audition reel for the lead role in the TV series "House".
His main hobby is dancing, and he's skilled at many Latin dances, particularly Cha Cha Cha, Salsa and Tango.
He's featured on a bottle of Tapatio hot sauce, called Salsa Picante.
Appearance, age and net worth
Jacob is 50 years old. He has short black hair and brown eyes, he's 5ft 7ins (1.71m) tall, and weighs around 170lbs (77kgs).
As of August 2021, his net worth is estimated at more than $3 million.