• Patrick Wayne was the second son of famous western film actor, John Wayne
• Throughout his career, he starred in more than 40 movies, 11 of which were alongside his father
• After graduating, Patrick spent 4 years as a member of the US Coast Guard
• Patrick Wayne is now worth more than $12 million
• John Wayne was posthumously awarded the Presidential Medal of Freedom in 1980
Patrick Wayne Wiki Bio
Patrick John Morrison – aka Patrick Wayne – is an American actor, the second son of the famous western film actor, John Wayne. Patrick was born in Los Angeles, California, USA, on 15 July 1939.
Throughout his career, he's been in more than 40 movies, in 11 of which he appeared alongside his father. In the 1980s, the TV audience got to know him as the host of the variety "The Monte Carlo Show", and then its 1990s revival "Tic-Tac-Dough".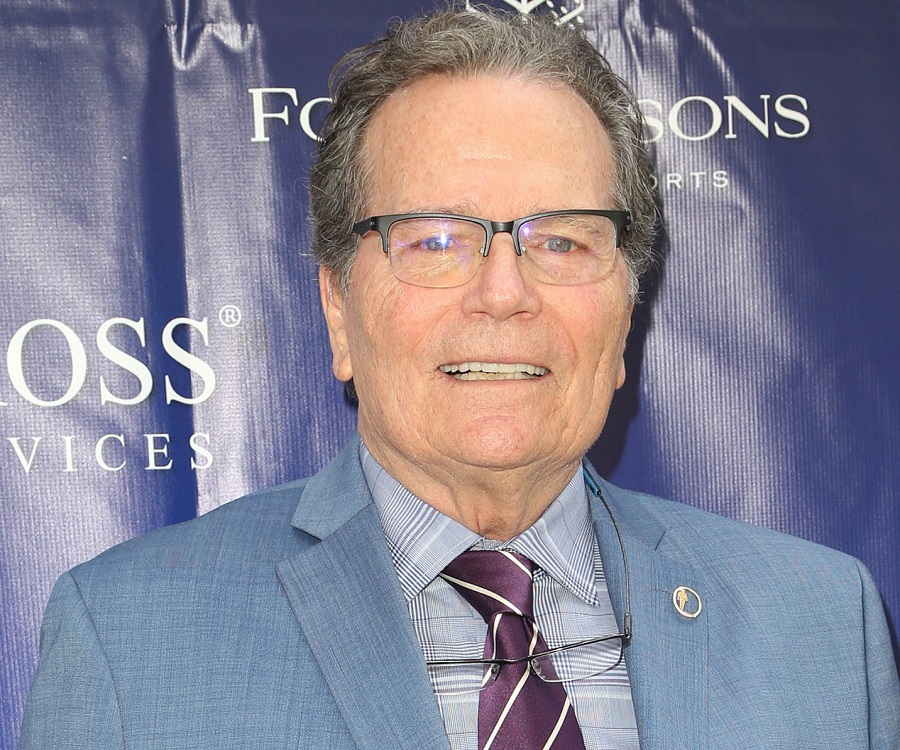 Family and early life
Patrick Wayne is the third of four children John Wayne had with his first wife, Josephine Alicia Saenz. As of late 2022, Patrick is the only survivor of his siblings, Michael, Mary Antonia and Melinda. From John Wayne's marriage with the Peruvian actress Pilar Pallete, Patrick has three half-siblings: Aissa, John Ethan and Marisa. Like Patrick, his brother Michael and half-brother Ethan have also become professional actors, but none have matched their father's success.
Patrick appeared in his first movie when he was only 11 years old, in his father's western "Rio Grande". In the following years, he made appearances in several movies directed by John Ford, which include "The Quiet Man" (1952), "The Long Gray Line" (1955), and "The Searchers" (1956).
After matriculating from a local high school, he enrolled at Loyola Marymount University, from which he graduated in 1961. During his time there, he was an active member of the Alpha Delta Gamma fraternity; he also starred in his own movie, "The Young Land" (1959). After graduating, Patrick spent four years as a member of the US Coast Guard.
Movies and TV shows
Through the 1960s, Patrick returned to supporting his father on-screen, in movies such as "The Alamo" (1960), "Donovan's Reef" (1963), and "The Green Berets" (1968). He also starred in the short-lived western comedy TV series "The Rounders", in which he played a down-on-his-luck cowboy who is indebted to the 2nd richest man in the US.
After working on John Wayne's "Big Jake" (1971), in the following decade, Patrick broke away again to find success on his own. Interestingly enough, he had more success in the fantasy and sci-fi genres, despite initially gaining recognition for appearing in westerns. One of his most notable roles from this period was in the 1977 fantasy drama "Sinbad and the Eye of the Tiger", in which he played the titular role. In the same year, he starred alongside Doug McClure and Sarah Douglas in the sci-fi adventure "The People That Time Forgot", based on the eponymous novel by Edgar Rice Burroughs.
In the 1980s, Patrick turned away from movies in favor of TV series, which were gaining more popularity at the time, appearing in shows such as "Shirley", "Charlie's Angels", and "Alfred Hitchcock Presents". In 1989, he played one of the leading roles in the action film "Chill Factor", and in the following years, Patrick made some episodic TV appearances, before retiring from acting altogether in 1997. His last film role was in the action-adventure drama "Check Mate", centered on an FBI agent who became a target for gangsters after killing one of their employees.
Personal life, net worth
Patrick married for the first time in 1965, to his long-term girlfriend, Peggy Hunt. They had three children together, before separating in 1978. More than two decades later, in 1999, Patrick found love again and married Misha Anderson, almost 30 years his junior. They are still married and reside in Patrick's luxurious property in Arizona.
After putting an end to his acting career, Patrick became involved in charity and non-profit organizations. Most notably, since 2003, he's been the chairman of the John Wayne Cancer Institute – an organization devoted to funding cancer research.  In 2021, he helped open the John Wayne Museum in Fort Worth, Texas.
As of late 2022, the 83 years old former actor is worth more than $12 million.
Seeing Patrick Wayne at yesterday's John Wayne Cancer Institute benefit was such a special moment for me. 😊 We worked together many years ago when we filmed 'Sinbad and the Eye of the Tiger' in 1977!

Posted by Jane Seymour on Friday, October 19, 2018
Who was Patrick's father, John Wayne?
Marion Michael Morrison, known worldwide as John Wayne, was born on 26 May 1907 in Winterset, Iowa, USA. He became one of the most famous actors of his era, recognized for playing strong and masculine cowboy characters in movies such as "Rio Bravo" (1959) and "The Man Who Shot Liberty Valance" (1962).
During his youth, John acquired the nickname 'Duke', which he used in combination with his last name as an alias in his first movies. In 1925, he enrolled at the University of Southern California, Los Angeles, where he majored in Law, and played football. During the summers, he worked at the Fox Film Corporation as a propman, which is how he got into contact with the movie director John Ford, and starting in 1928, Ford cast John in many of his movies.
John's big break came in 1930, when he landed his first leading role in Raoul Walsh's "The Big Trail". In the following eight years, he appeared in more than 60 low-budget films, mainly portraying cowboys, soldiers, and men of adventure. In 1939, he worked with John Ford again, this time playing the leading role in his western "Stagecoach". Many consider this role to be crucial for John Wayne's career, as it established him as one of the most promising western movie stars at the time.
In the next few years, the movie industry in America had to slow down due to WWII. There is a lot of speculation regarding John Wayne's supposed avoidance of mandatory military service during the war, however, available records suggest that he was actually rejected due to his age, and an old injury he endured while he was still playing football. Instead of fighting, Wayne spent the war years entertaining the troops overseas, and starring in movies made to boost their morale, such as "Flying Tigers" (1942), "The Fighting Seabees" (1944), and "They Were Expendable" (1945).
The post-war years for Wayne were defined by his collaboration with directors John Ford and Howard Hawks. Perhaps the most notable film from this era, and arguably one of the best western movies ever made was "The Searchers" (1956), directed by Ford. While John's character in the film is pursuing the noble goal of rescuing his kidnapped niece, his obsessive behavior and open bigotry reveal him to be a morally gray person, who is as much of a villain as he is a hero.
John Wayne, Donna Reed. They Were Expendable 1945.#JohnWayne #DonnaReed pic.twitter.com/efbIwRpxnV

— John Wayne Fans (@TheDukeFans) July 26, 2021
Somewhat less popular today, Hawks' collaborations with Wayne were no less revered. One of their greatest achievements was the 1959 movie "Rio Bravo", which came out of their mutual dissatisfaction with the popularity of "High Noon" (1952), which portrayed the members of an old west community as cowardly and dependent on their sheriff.
One of John's standout movies with other directors was "Sands of Iwo Jima" (1948), which earned him an Oscar nomination for his portrayal of a Marine sergeant. In 1963, he starred in one of the only semi-comedies of his career, "McLintock!". Six years later, after more than 40 years in the industry, John was awarded his first Oscar for his performance in "True Grit", directed by Henry Hathaway, based on a novel by Charles Portis.
John Wayne's last role was in the 1976 film "The Shootist", in which he played an aging gunfighter dying from cancer. Three years later, Wayne himself succumbed to cancer at the age of 72. In 1980, President Jimmy Carter posthumously awarded him the Presidential Medal of Freedom.
Throughout his long career, John endured a lot of criticism for a perceived lack of versatility in his roles, although his ability to convey complex emotions on screen was often overlooked. Today, John Wayne is considered to be one of the biggest Hollywood stars of all time.