• Born in Portland, Oregon USA in 1929
• Actress, dancer and singer credited with appearing in 16 TV series and 30 movies
• Known best for playing the title role in the 1948 romantic musical comedy movie "A Date with Judy"
• Gained recognition for her roles in "Royal Wedding", "Seven Brides for Seven Brothers", and "Meet Me in St. Louis"
• Has been married 5 times, has 3 children, and is currently single
• Professional career included singing, acting, documentary films, and talk shows
• Received her own star on the Hollywood Walk of Fame in 1960
• Net worth estimated at over $10 million
Who is Jane Powell?
Jane Powell was born Suzanne Lorraine Burce in Portland, Oregon USA, on 1 April 1929 – her zodiac sign is Aries, and she holds American nationality. She's an actress, dancer and singer, who's been credited with appearing in 16 TV series and 30 movies, while she's perhaps still known best for her portrayal of the title role in the 1948 romantic musical comedy movie "A Date with Judy". It was directed by Richard Thorpe, also starred Wallace Beery and Elizabeth Taylor, and follows the life of the teenager Judy Foster.
Early life and education
Jane was raised in Portland as an only child, by her mother Eileen Baker Burce who was a housewife, and her father Paul E. Burce, who worked at Wonder Bread.
Jane was only two years old when she began taking dancing lessons, and was five when she was featured in the radio show "Stars of Tomorrow".
She was soon noticed by the talent scout Scotty Weston, who invited her family to move to Oakland, California, as Jane would have more opportunities there, howver, after three months in Oakland, the family moved back to Portland.
She started singing aged nine, and was noticed by a local promoter three years later. Jane could then have been heard singing in various radio shows, and she also had an opportunity to meet Lana Turner, the late American star actress.
She made her debut film appearance aged 15, in the musical comedy film "Song of the Open Road" – her subsequent stage name is that of the character she played – and continued acting during her remaining three years of high school. Upon matriculating in 1947, Jane didn't attend college, but focused on acting.
Roles in movies
Following her debut appearance, Jane was invited to play supporting characters in a couple of movies, including the 1945 romantic musical "Delightfully Dangerous", the 1946 musical comedy "Holiday in Mexico", and the 1948 romantic musical "Three Daring Daughters".
In 1951, she was cast to star as Ellen Bowen in the romantic musical comedy "Royal Wedding", directed by Stanley Donen, and which also starred Fred Astaire and Peter Lawford. It follows a brother and sister who have been hired to dance in London at the Royal Wedding – the movie won one of the three awards for which it was nominated, including an Oscar nomination. A couple of Jane's following roles were in the 1951 romantic musical comedy "Rich, Young and Pretty", the 1953 romantic musical "Small Town Girl", and the 1953 musical comedy "Three Sailors and a Girl".
Jane was praised for her portrayal of the main character, Milly Pontipee, in the successful musical comedy "Seven Brides for Seven Brothers", directed by Stanley Donen, and which also starred Howard Keel and Jeff Richards. It follows a backwoodsman who has brought a wife home, while his six brothers now want to marry as well; the movie won eight awards, including an Oscar, while it was nominated for seven other awards.
In 1957, Jane starred as Dodie in the musical comedy "The Girl Most Likely", and in the following year layed Penny Windsor, in the romantic drama "The Female Animal". Her following notable performance was in the 1959 musical comedy "Meet Me in St. Louis", which follows the Smith family, who are preparing to move to New York City. After this role, Jane's career declined somewhat, and she appeared in only three movies in the '60s, and in four movies in the '70s.
The '80s saw her appear in only the biographical drama "Marie", and since then, Jane has appeared in only two films: the 1999 drama "Picture This", and the 2000 musical drama "The Sandy Bottom Orchestra".
Roles in TV series
Jane made her debut TV series appearance in 1957, with her portrayal of Clementine in the episode "Ruggles of Red Gap" of the musical comedy "Producers' Showcase", and she gained recognition in the following year, with her portrayal of four characters in four episodes of the drama "Goodyear Theatre". Later that year Jane appeared in three episodes of the drama "Alcoa Theatre", while the following years saw her make a guest appearance in an episode or two of various series, including the drama "The DuPont Show with June Allyson", the comedy drama "The Dick Powell Theatre", and the musical comedy "The Ed Sullivan Show".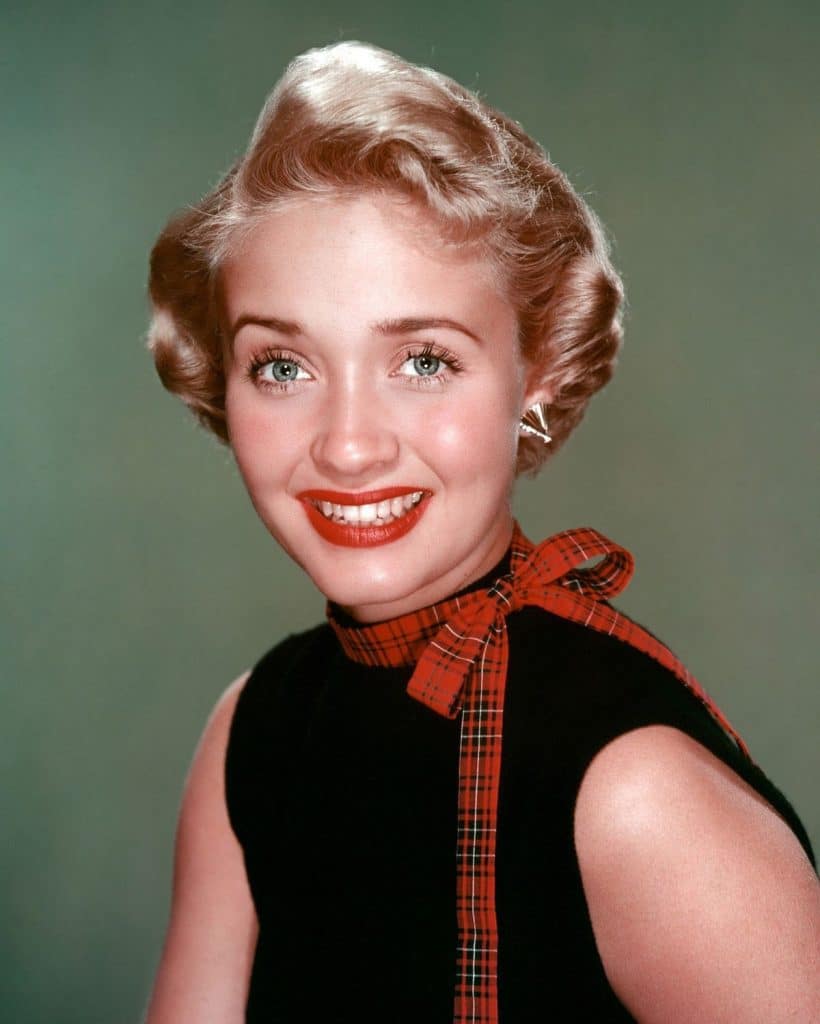 Between 1962 and 1970, she portrayed various characters in the comedy "The Red Skelton Hour", created by Marcel Marceau, and which starred Red Skelton, Art Gilmore and David Rose and His Orchestra. The series was very popular, winning six awards including two Primetime Emmys, while it was nominated for 16 other awards.
The following three decades saw Jane appear in only a couple of TV series, while three of her final roles were in eight episodes of the family comedy "Growing Pains" between 1988 and 1990, an episode of the crime mini-series "Perfect Murder, Perfect Town: JonBenét and the City of Boulder" in 2000, and the 2002 episode "Vulnerable" of the mystery crime drama "Law & Order: Special Victims Unit".
Other credits
Jane has sung songs in over 30 movies and TV series.
She received special thanks for the 2014 episode "Robert Osbourne" of the talk-show "Private Screenings".
Jane has featured in more than 40 documentaries, with three of the most recent having been the 2003 film "Broadway: The Golden Age, by the Legends Who Were There", the 2004 short video "That's Entertainment: The Masters Behind the Musicals", and the 2007 short video "Royal Wedding: June, Judy and Jane". She's currently shooting for the upcoming documentary movie "Broadway: Beyond the Golden Age".
Jane has also made a guest appearance in numerous talk-shows, including "The Eddie Fisher Show", "The Juke Box Jury", and "The Dinah Shore Chevy Show".
Awards and accolades
In 1960, Jane received her own star on the Hollywood Walk of Fame.
Love life and spouse
Jane has been married five times. She exchanged vows with her first husband, Geary Steffin, on 5 November 1949. Geary was an American actor, who died in 2004 aged 80. On 21 July 1951, Jane gave birth to their son Geary Anthony Steffen III, and on 21 November 1952 to their daughter Suzanne Ilene Steffen. Jane and Geary divorced on 7 August 1954 for unknown reasons.
She married her second husband, the American non-celebrity Patrick Nerney, on 8 November 1954. She gave birth to their daughter Lindsay Averille Nerney on 1 February 1956, but on 9 May 1964, Jane and Patrick divorced, again specific reason unknown.
Her third husband was James D. Fitzgerald, an American businessman. The two married on 27 June 1965, and divorced in August 1976.
On 21 October 1978, Jane married her fourth husband, David Stellar Parlour, and they divorced in 1981.
Her fifth husband was Dickie Moore, the late American actor, film director and producer, who appeared in over 100 movies and TV series. The two married on 21 May 1988, and the marriage ended with Dickie's death on 7 September 2015.
As of August 2021, Jane appears to be single, was married five times, and has three children.
Hobbies and interesting facts
Jane's favorite actress is Jeannette MacDonald, who lived from 1903 to 1965. She was also a singer, and appeared in 31 movies and TV series, winning two awards.
The late American actress and musician Elizabeth Taylor was Jane's best friend; she was her bridesmaid for her first marriage, and vice versa. Elizabeth appeared in close to 80 movies and TV series, and won 40 awards, including two Oscars.
Jane's a philanthropist, and has worked with various charity organizations, mostly focused on donating money to those which work with underprivileged children.
Jane has travelled to various US states to shoot for her movies and TV series, and has also been to a couple of European and Asian countries. Her dream travel destination is Venice in Italy.
Age, height and net worth
Jane's age is 92. She has short brown hair and light blue eyes, her height is 5ft 1in (1.55m) and she weighs around 105lbs (48kgs).
As of August 2021, her net worth has been estimated at over $10 million.