• Joshua Weissman is a YouTuber, food blogger, vlogger, author, and chef
• He was born in Los Angeles, California and lost 100lbs when he was 16
• He created his own food blog, "The Slim Palate Paleo Cookbook", and has been featured on various other food blogs
• His most popular video series is "But Better" and he is also active on TikTok, Facebook, Instagram, and Twitter
• He is currently 25 years old and has an estimated net worth of over $800,000
Who is Joshua Weissman?
Joshua Weissman was born in Los Angeles, California USA, on 9 January 1996 – his zodiac sign is Capricorn and he holds American nationality. He's a YouTuber, food blogger and vlogger, author of cookbooks, and a chef, who's probably known best for his eponymous YouTube channel which he launched on 28 February 2014, and which today numbers close to four million subscribers and more than 360 million views of all his videos combined. Joshua's focused on uploading videos related to food and cooking – his most popular video "Making The Popeyes Chicken Sandwich At Home, But Better" has been watched over nine million times since 7 November 2019.
Early life and education
Joshua was raised in Los Angeles, but hasn't spoken about his father nor the siblings he perhaps has, which is why many people believe him to be an only child, and that his father abandoned the family when Joshua was still a baby.
When he was three years old Joshua became interested in cooking, and his mother started to teach him. As he was growing older, he often cooked for himself and ate a lot of food, and because he became overweight, Joshua was bullied at both his elementary and high schools. Aged 16 in 2012, he decided he would turn his life around, and managed to lose around 100lbs (45kgs).
This was also when he began running his own food blog Slim Palate, onto which he wrote about healthy foods and cooking in general.
Joshua matriculated in 2014, and then chose not to pursue a college degree, but to focus on his career as a chef and a social media star.
Not long after he matriculated from a local high school, Joshua moved to Austin in Texas, and from there released "The Slim Palate Paleo Cookbook", which offered recipes for all the foods he ate while trying to lose weight. He was hired at the restaurant Uchiko as their lead chef, and after around three years there, in 2019 Joshua decided to focus solely on being a social media star, and quit the job.
His recipes can be found featured on food blogs of other popular chefs and social media stars, such as Bakers Royale, My New Roots and Not Without Salt.
Joshua has created many video series, which can be found uploaded onto his YouTube channel. One of the most popular amongst these is "But Better", which follows him as he's improving the quality of junk and fast food with various ingredients. Joshua has also created the video series "But Cheaper", which features him making a whole meal with a small amount of money. One of Joshua's popular video series but which he no longer makes, is "Fermentation Friday" which featured him preparing fermented recipes.
Joshua's highly active on various social media network,s while he's probably known best for his TikTok channel, which is followed by close to five million people and numbers around 108 million likes of all his videos combined. These videos most often feature him preparing, eating and reviewing food, while he also occasionally pulls pranks and tells jokes.
Joshua's second most popular account on the internet is his Facebook page, onto which he's gathered around 1.3 million followers. He seems to have a habit of uploading one video per day, which features him reviewing, preparing and/or eating food.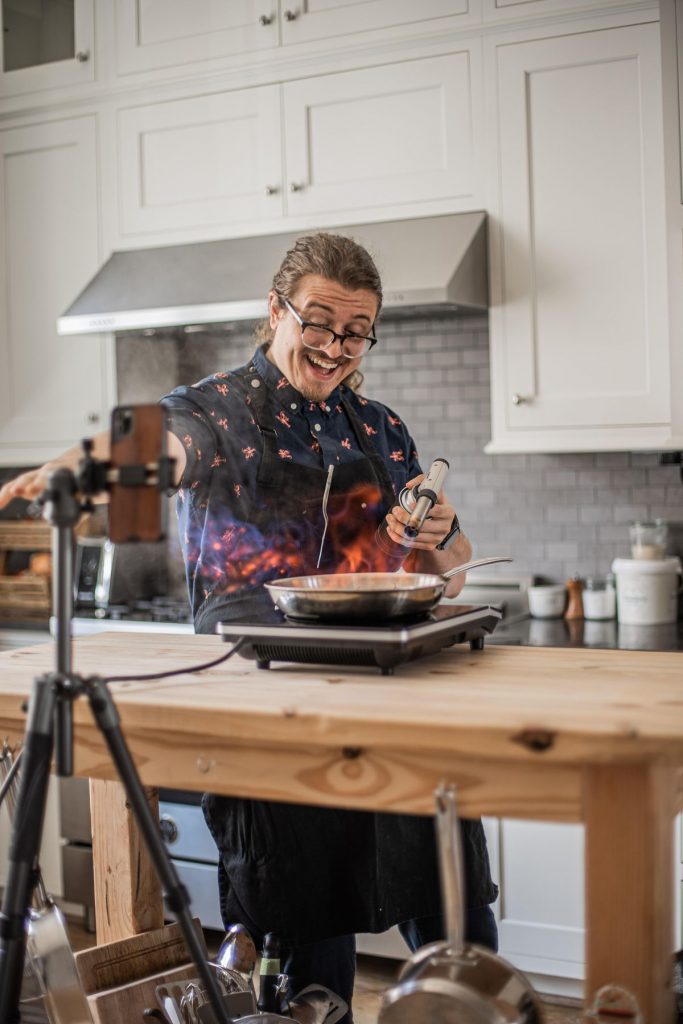 He's third most popular social media account is on Instagram, as Joshua's followed by around 730,000 people, while he's uploaded close to 3,000 pictures, the vast majority of which feature food. In his bio section, Joshua has shared his 'phone number in case his fans have a question or a suggestion to make.
Joshua can also be found on Twitter, and since he launched his account in November 2012, he has gathered around 60,000 followers. He's not as active on Twitter as on his other social media accounts, as he usually tweets just a couple of times each week.
Love life and girlfriend
Joshua's quite secretive when it comes to his love life, but has still on a couple of occasions featured his girlfriend in the pictures and videos he has uploaded onto his social media accounts.
He's today in a relationship with Kate Rosendahl, who prefers to be left out of media thus not a lot about her is known; judging by her Instagram account, Kate's keen on doing cosplay, but can't cook. The two haven't spoken about when and how they met, but it's believed that it was on the internet sometime in the mid-2010s.  Kate and Joshua have apparently been together for around five years now, but it doesn't appear that the two are planning to exchange vows anytime soon.
Even though Joshua's in a relationship with a woman, there's still a small percentage of his fans who believe him to be gay.
As of April 2021, he's dating Kate Rosendahl, hasn't married and doesn't have children.
Hobbies and other interests
Joshua loves to try various cuisines, and this works perfectly with his passion for travelling. He has been all around the US, visiting over 20 states, while the popular chef and social media star has also been to various European countries, and has tasted spicy Hungarian food, Italian pizza and pasta, and French croissants.
He's a dog-lover, but doesn't have any pets as he knows he'd lack time to take proper care of them. Joshua's a supporter of the organization People for the Ethical Treatment of Animals (PETA).
He likes to read books in his spare time, and his favorite genre is history, while his favorite book is the 1962 "The Guns of August" by Barbara W. Tuchman.
In his spare time, Joshua enjoys watching movies starring his favorite actresses Angelina Jolie, Julia Roberts and Scarlett Johansson, such as "Mr. and Mrs Smith", "Pretty Woman" and "Lost in Translation".
Age, height and net worth
Joshua's age is 25. He has long brown hair and brown eyes, his height is 6ft 1ins (1.85m) and he weighs around 170lbs (78kgs).
As of April 2021, his net worth has been estimated at over $800,000.