• Kathryn Erbe is an American actress best known for her role as Detective Alexandra Eames in "Law and Order: Criminal Intent"
• She was married to fellow actor Terry Kinney and they have two children together
• She has been nominated for a Tony Award and Satellite Award for her acting roles
• She has appeared in over 25 movies, and is a member of the Steppenwolf Theatre Company and Atlantic Theater Company
• Her net worth is estimated to be around $8 million
Kathryn Erbe is an American actress probably best known for her role as Detective Alexandra Eames in a popular drama TV series "Law and Order: Criminal Intent" for 10 seasons. The movie "What About Bob" is one of her memorable films. Kathryn has been nominated for a Tony Award for her role as Mary in "Speed of Darkness". She is also a member of two ensembles – the Steppenwolf Theatre Company based in Chicago, and the Atlantic Theater Company based in New York City.
Early life, family, educational background
Kathryn Elsbeth Erbe was born under the zodiac sign of Cancer on 5 July 1965, in Newton, Massachusetts. She's the eldest child of Dr. Richard Erbe, a medical geneticist, and Elisabeth Magnarelli, who used to be the vice president of a Boston management firm. Kathryn has two siblings, Jonathan and Jennifer.
In 1989, she graduated from New York University's Tisch School of the Arts, and like many other future Hollywood celebrities, she also joined the acting program to hone her craft.
Career
As a Theater and Stage Actress
Erbe first appeared in the play "The Grapes of Wrath" in 1988, adapted by Frank Galati from John Steinbeck's 1939 classic novel of the same name. The said play debuted at the Steppenwolf Theatre in Chicago, followed by the production at  La Jolla Playhouse in San Diego in May 1989, then in June 1989 at Royal National Theatre in London, and the Broadway production followed in March 1990, at the Cort Theater. Aside from Kathryn, other cast included Terry Kinney, Gary Sinise, Lois Smith, Francis Guinan, Stephen Bogardus, and Jeff Perry; this production won the Best Tony Award in 1990.
Kathryn also appeared in the play entitled "The Speed of Darkness", written by Steve Tesich, which premiered in April 1989 at the Goodman Theater, Chicago. On 28 February 1991, the play made its Broadway debut at the Belasco Theater – Erbe received a Tony Award nomination for Best Featured Actress in a Play.
Another Broadway production was "The Father", in which she played the role of Anne, daughter of retired dancer Andre who suffers from Alzheimer's disease. The leading role was played by Frank Langella, who won the 2016 Tony Award for Best Actor in this play.
Aside from these productions, she also has off-Broadway credits which include "Yosemite, Ode to Joy, AZAK", "Curse of the Starving Class", "My House Play", "Checkers (The Vineyard)", "Nikolai and the Others (Mitzi Newhouse LTC)", "Down the Shore", "My Thing of Love", "A Streetcar named Desire", and "Something Clean".
Television Actress
Kathryn appeared in 1989's "Chicken Soup", in which she played Patricia Reece, and she also played Shirley Bellinger in "Oz", aired from 1998 to 2003 among many others, but her role as Detective Alexandra Eames in over 140 episodes of the TV series "Law and Order: Criminal Intent" between 2001 and 2011 made her famous, being nominated for the Satellite Award for Best Actress (Television Series Drama).
Movie Actress
Erbe has appeared in over 25 movies since 1989, including "D2: The Mighty Ducks" (1994), "Speaking of Sex" (2001), "Mistress America" (2015), and most recently in "Assassination Nation" in 2018 and "The Good House" now in post-production fro release late in 2021.
Awards and Nominations
In 1991, Kathryn Erbe's role as Mary in "Speed of Darkness" brought her a Tony Award nomination. She was also a nominee in the 2008 Satellite Awards for a Best Actress in a Series drama "Law and Order: Criminal Intent". In 2021, she was nominated in Five Continents International Film Festival for Best Lead Actress in the film "Red Pill", and also received the Best Actress award at the Barcelona Planet Film Festival for the same film.
Personal life, husband actor Terry Kinney
Kathyrn Erbe was married to fellow actor who also starred in "Oz", Terry Kinney; they tied the knot in 1993 after a year of dating. The couple met while performing together in the American TV drama series "Oz", which premiered on HBO in July 1997, and the final season ended in February 2003.
After 13 years of marriage, they divorced in 2006, but neither released any statements or details about the reason for the divorce.
Kathryn and Terry have two children – the elder is Maeve Elsbeth Erbe Kinney born on 26 October 1995, and the younger Carson Lincoln Kinney born on 15 October 2003. When Kathryn was doing "Law and Order: Criminal Intent", she was pregnant in real life, so the TV series turned her pregnancy into a story.
Interesting facts
Her nickname is Katie. She lives in a penthouse, a 3,000-square-foot triplex in Cobble Hill, New York City, which has a panoramic view of Brooklyn Bridge, Staten Island, Governors Island, and Lower Manhattan.
Katie has served as a spokesperson for Disabled American Veterans.
She was stalked by Charles Nagel, and in 2010 she filed a lawsuit against him. The harassment began in 2008, when he took picture of Maeve who was only 14 years old then, and posted it on the internet. In November 2011, he was sentenced by the New York City judge to five years' probation.
Appearance, clothing style
Kathyrn has a slim figure, heart-shaped face, is 5ft 2ins (157cm) tall, weighs around 120lbs (55kgs), light brown colored hair, with hazel eyes. Her shoe size is 7 or 37.5 (EU), with a dress size of 6 or 38 (EU). She has a tattoo on her back a little below her shoulder, a heart with the letters "M" and "T".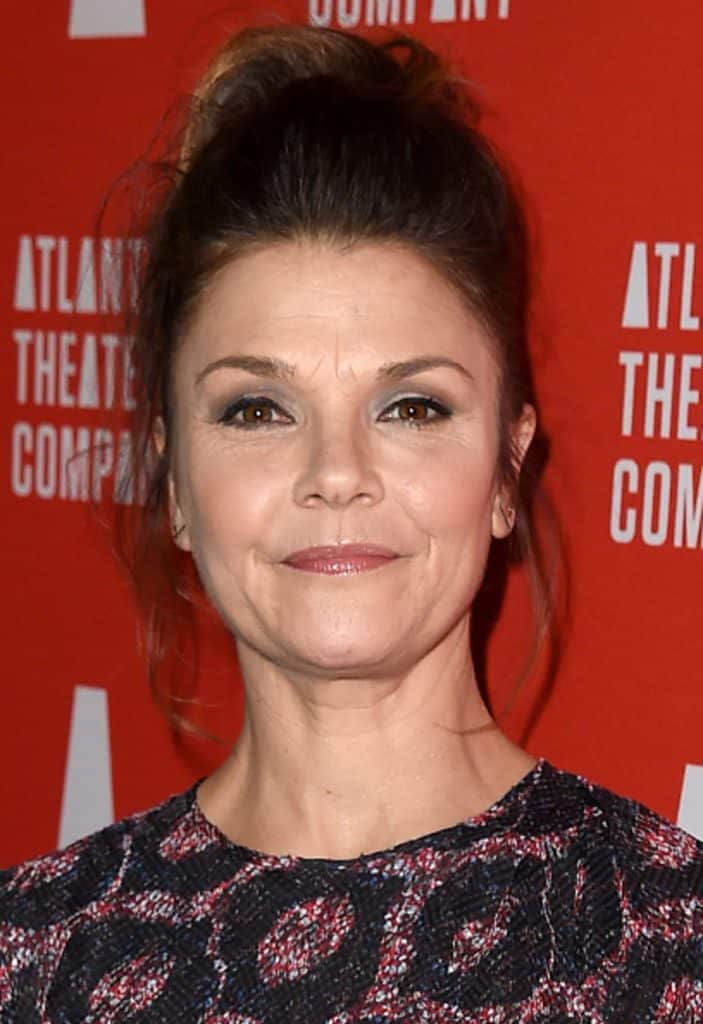 According to one of the articles in "The New York Times", Erbe is so un-Hollywood. In an interview, she said, "I won't spend lavishly on a trend, because I know I'll only wear it for about a minute". She prefers casual clothes, and likes the Banana Republic and Urban outfitters. However, most of her television wardrobe consists of tailored pantsuits by Ann Taylor and Armani.
Net worth and salary
Erbe has a net worth of close to $8 million, earned from her professional acting career.
Who is Terry Kinney?
Terry Kinney is an American actor and theater director, born on 29 January 1954, in Lincoln, Illinois.
He graduated from Illinois State University. His friend Jeff Perry took him to Chicago to see a production of "Grease", in which his close friend Gary Sinise appeared. The passion of Kinney, Perry, and Sinise brought them to the Chicago theatrical troupe. So, in 1973, they founded the Steppenwolf Theater, located in the basement of a church in Highland Park. Since 1976, the theater has been successful in putting on full seasons of ensemble works.
At the height of Steppenwolf's fame, both Sinise and Kinney were the company's artistic co-directors, winning several awards, and transferring some productions to Broadway, such as "The Grapes of Wrath". Moreover, the company also included top-quality actors such as John Malkovich, John Mahoney, and Joan Allen.
Kinney was nominated in the Drama Desk Award for Outstanding Director of a Play for "And a Nightingale Sang" in 1984.  Another nomination was for a Tony Award for Best Featured Actor in a Play for "The Grapes of Wrath" in 1990, and he was also nominated in 2003 for Satellite Award for Best Supporting Actor – Series, Miniseries, or Television Film for "The Laramie Project". In 2009, he was a nominee in Drama Desk Award for Outstanding Director of a Play for "Reasons to be Pretty".
Before Terry's marriage to Kathryn, he was married to American actress Elizabeth Perkins from 1984 to 1988.
Kinney's quite active on Twitter with the name @RealTerryKinney, on which he has more than 3,000 followers.