• American actor, writer, producer and director best known for roles in "Donnie Brasco", "NYPD Blue", and "The King of Queens"
• Achieved Screen Actors Guild card for role in "Black Rain"
• Founded Deficit Records to produce music for TV, films and theatre
• Diagnosed with Stage 3 throat cancer in 2016
• Estimated net worth of $1.5 million
Who is Larry Romano?
Larry Romano is an American actor, writer, producer and director who is best known for his roles in "Donnie Brasco", "NYPD Blue", and as Richie in the sitcom "The King of Queens".
Born Lawrence John Romano on 31st July 1963, in Mount Vernon, New York State. Larry attended Tappan Zee High School in Orangeburg, New York and Westchester Community College in Valhalla, New York. He worked at his dad's clothing factory, thereafter as a pizza delivery guy and as a cab driver. He also had jobs as a telephonic salesman for a photocopy machine company, a bicycle messenger, house builder and painter, and bartender, all of which he says has given him a broad understanding of people and compassion for their life struggles, which helps him 'keep it real'.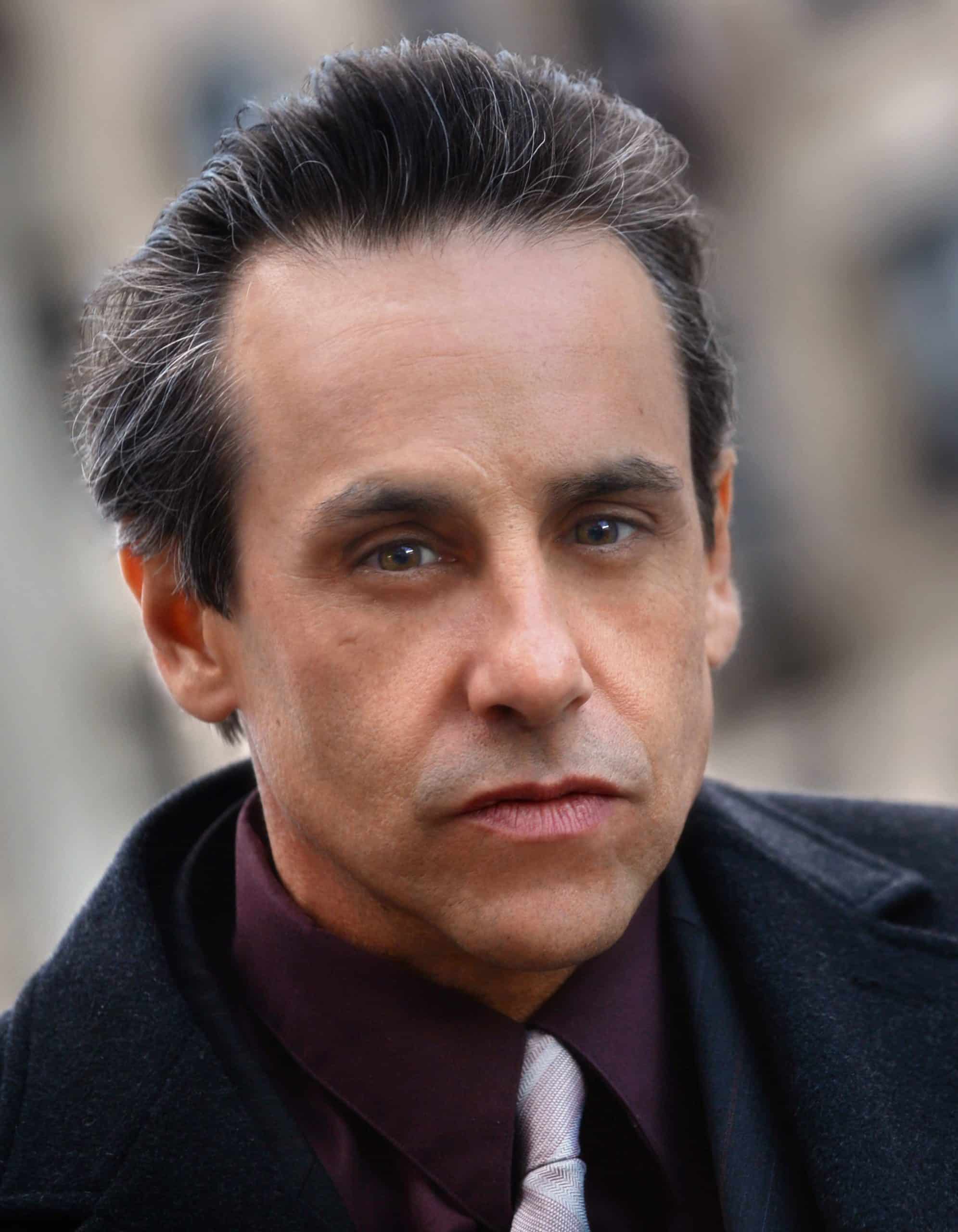 Larry's passion for acting led him to continue his studies to become an actor, playwright and screenwriter in New York City at Weist-Barron Studios – where he got a taste for acting in his first commercial – Herbert Berghof Studios and the Lee Strasberg Theatre Institute, simply because his hero, Al Pacino, went there. Larry wrote his first play while at Lee Strasberg entitled "We Ain't Kids No more", which was later produced at the William Redfield Theatre in New York City, and the Burbage Theatre in Los Angeles. Larry achieved his Screen Actors Guild card for his role in "Black Rain", in which he played a minor role as Joe Zeppi and which starred Michael Douglas and Andy Garcia as two New York City policemen. Larry also played the part of Madonna's boyfriend in "Oh Father", the popular music video which has achieved close to 50,000 views on YouTube.
In 1989, Larry got a break when he performed the character of First Base in "Lock Up" with Sylvester Stallone. In an interview on "Late Night with Johnny P" in 2014, Larry expressed how he felt that, out of all the famous stars he's worked with, he was treated best by Sylvester Stallone. Larry has nothing but praise about him and calls Sylvester (Sly) 'a nice guy' who taught him a lot about the industry. He said Sylvester is hardworking and always found the time to give Larry the opportunity to discuss the character and the scenes he was to do. Sylvester even took him to his first hockey game – LA Kings vs Calvary Flames.
Larry Romano and music
While featuring in several minor roles from 1987 to 1993, including "LA Law", Larry's love of music led him to put together a funk rock band with his pals from The Bronx. He was the lead vocalist in the band called "Deficit", and was instrumental in recording "Rock in The Bronx", which in 1993 became the top requested song on NYC Radio Station Z100.  Another popular song with their fans was the track,"King of Queens", which he wrote as a memento of his days in the popular series; however, it was never featured in the series. At the same time, Larry founded Deficit Records to produce music for TV, films and theatre.
Larry has a great passion for music, having played drums since he was very young, and later performing with many musicians. He is quoted as saying 'I like to write lyrics and melodies. I write about what I feel at the moment I feel it. I've had music in my head ever since I was a little kid. And I like all kinds of music.'
Larry Romano's inroads into his movie career
In 1993, Larry joined the cast of the popular series "NYPD Blue" as Richie Catena for five episodes. He featured in an episode of the series "Mad About You", and acted in 13 episodes of "Public Morals". Larry took on several roles in 1996, such as in the film "City Hall", and a small part in the movie "Sleepers", until he landed a part in the box office hit movie "Donnie Brasco" in 1997, in which he acted alongside Al Pacino, Johnny Depp and Anne Heche – Larry and Al Pacino shared stories about the time they were at Lee Strassbergs. He found Johnny Depp to be down to earth, and considered him a great actor. "Donnie Brasco" opened doors for Larry, and he went on to the role of  Private Mazzi in the award-winning film "The Thin Red Line" starring Sean Penn, George Clooney, Woody Harrelson, Nick Nolte and John Travolta amongst other big names.
In 1998 Larry got to portray Richie Iannucci, the fireman, in the popular TV comedy series "King of Queens", acting in 43 episodes until 2001, and then abruptly left – when questioned, he refrains from commenting on the reasons why. However, he still posts memories of his time on the show and on Instagram stated "that show is still one of the best experiences I have ever been a part of!"
Larry then had a lead role in the sitcom "Kristin" in 2001, which only aired six episodes and was canceled after receiving negative reviews, even though 13 episodes had been produced.  From 2002 onwards, Larry acted in various movies such as "Spanish Fly" and "The Ascent", and TV episodes e.g. "CSI: NY" and "The War at Home"; the most recent movies he took part in have been "Laugh Killer Laugh" in 2015, and "Bad Education" in 2019.
More about Larry Romano and his additional projects
Larry is not very tall at 5ft 9in (1.75 m) and is now 58 years old. One of his distinguishing features is his Bronx New York accent. In the early days he was well-built and considered quite a looker, but he lost a lot of weight when undergoing an ordeal with cancer – in 2016 Larry was diagnosed with Stage 3 throat cancer, for which he underwent a series of treatments and has luckily pulled through. He still works with the organisation Gateway to Hope, that assists cancer sufferers. He advocates that one needs to be 'mind-strong' to live with and/or survive this dreaded disease.
— larry romano (@vintageljr) February 20, 2018
Larry currently lives in Los Angeles although he has said he would like to move back to New York. He is known to loudly voice his strong political views.
In 2014, Larry and Larry Weiss formed Bronx Farm Films with the intention of featuring movies set in The Bronx in New York City. Saving Cinema is another project that Larry has founded with the aim of exposing students to the movie making industry, and encouraging careers and movie watching on the big screen. His advice for anyone interested in joining the movie business is to get into theatre, and do a lot of reading!
In 2016 Larry directed his first movie, "Saturday in the Park", which he wrote while at the Strassberg Theatre in 1997. It was produced under Bronx Farm Films, and features two musicians from The Bronx discussing their future in their local park.
Creative documentary photo/videographer Andrea Pritchard, posted on Instagram in 2019 saying that it was her absolute pleasure to photograph and film Larry for a documentary about his life and upcoming projects. In her words, 'Larry is an incredibly gifted and passionate artist… he's an actor, filmmaker, director, writer, musician and so much more.'
The loves of Larry Romano's life
When it comes to romance and love affairs, Larry has been uber secretive, and has been successful in keeping any relationships he's had well out of the tabloids.
Apart from his love of music, Larry loves animals and hates animal abusers. He works with animal shelters, and is active in animal rescue events, particularly for dogs, such as "Adopt a Rescue".
Larry is not very active on social media, but does post occasionally on Instagram on which, amongst others, you can mostly find photos of his dog and himself, and about dog rescue.
What is Larry Romano's net worth?
With all the experience gained over some 35 years in the world of theatre, TV and movies, from writing to cting to producing and directing, it's estimated that Larry's net worth is close to $1.5 million. He's very lucky to have got a second chance in life and we may well be hearing more about him in the future. Just continue to keep it real, Larry!