• Elle Duncan is an American anchor, host, reporter, actress and TV personality
• She was born in Atlanta, Georgia USA and began her career as an intern with 2 live Stews
• The couple welcomed their first daughter, Eva Rose in 2018, and their second Xander in 2020
• Elle has been working at ESPN since 2016, and has also hosted the American talk show "Fish Center Live"
• Elle stands at 5ft 2ins (1.58m) and has a net worth of over $1 million
Elle Duncan is an American anchor, host, reporter, actress and TV personality. Despite having a long varied and successful career, Elle is most famous for being a sports anchor at ESPN where she has worked for the past five years.
Early Life
Elle was born to parents Clark and Toni Duncan on 12 April 1983, in Atlanta, Georgia USA, where she was raised alongside her elder sister Kelli Duncan. In a recent interview, Elle has opened up about earliest memories, including her parents grilling her and her sister for breaking their record player, and Sundays spent yelling at the TV. From a young age, Elle and Kelli played softball, and that fuelled her interest in sports and eventually shaped her career.
Education
Much about Elle's early life remains left to speculation as she hasn't opened up about it much. She attended McEachern High School, and on matriculating, Elle joined the State University of West Georgia to pursue a degree in journalism.
Elle's Race and Thoughts on Inclusivity
In an interview with Essence, Elle said that she has numerous viewers who believe she is Hispanic when she really is a Black woman. She opened up on her cause to champion for inclusivity of dark- skinned Black women in the sports industry, and not just racially ambiguous women like herself.
Elle's race has often been misidentified, and her mother, Toni recently took the time to correct an entertainment publication that had ignorantly classified Elle's race as white. Elle is born to African- American parents and is a proud Black woman.
Family
Besides killing it at work, Elle's home life seems to be pretty amazing too. Elle is married to Omar Abdul Ali, but despite his marriage to the famous anchor, details into Omar's life remain a mystery to most fans and they are left relying on the crumbs of clues left by Elle. The social media train seems to have sped right past Omar as he currently has no presence on any platform.
Although the development may have come as a bummer to fans trying to keep up with the couple, Elle has admitted she likes being able to be late on a birthday or appreciation post without feeling the pressure. Nonetheless, Elle's timeline is filled with memorable moments with her family.
Elle and Omar married on 4th May 2016 at the Dekalb Co. Courthouse, Georgia.
In an anniversary post on Instagram, Elle recollects how a security guard at the courthouse had been surprised to see the famous anchor wed at the courthouse, and had even gone ahead to voice his shock. As if that wasn't a rough beginning to what was supposed to be a memorable day, they encountered a man who admitted that he was filing for divorce from his wife whom he had married at the same courthouse. Needless to say, Elle and Omar didn't let the energy around them dim the light in their hearts and proceeded to have a brief ceremony with loved ones and friends
The couple later had a dream destination wedding overlooking the cliff at Hotel Villa Caleta in Costa Rica on 9th July 2016. On why they chose the date 4th May, it simply came down to the play on "May the 4th be with you" – that's a way to ensure that you remember your anniversary, because if you don't then "May the Force be with you."
The couple welcomed their daughter on 25th July 2018, named Eva Rose after Elle's late grandmother. In December 2020, the couple welcomed their second child, Xander born with a rare birth defect that required attention shortly after his birth, and how anxious the situation made them all. Thankfully, he was able to receive the necessary medical care and is doing well at seven months.
When asked how she manages two toddlers and stay at the top of her career, Elle gives credit to the people around her who have made motherhood a lot easier for her. Her parents, who live 15 minutes away also play a large role in her children's lives, and Elle loves having them around her kids.
Career
After her graduation from university, Elle jump-started her career as an intern with 2 live Stews.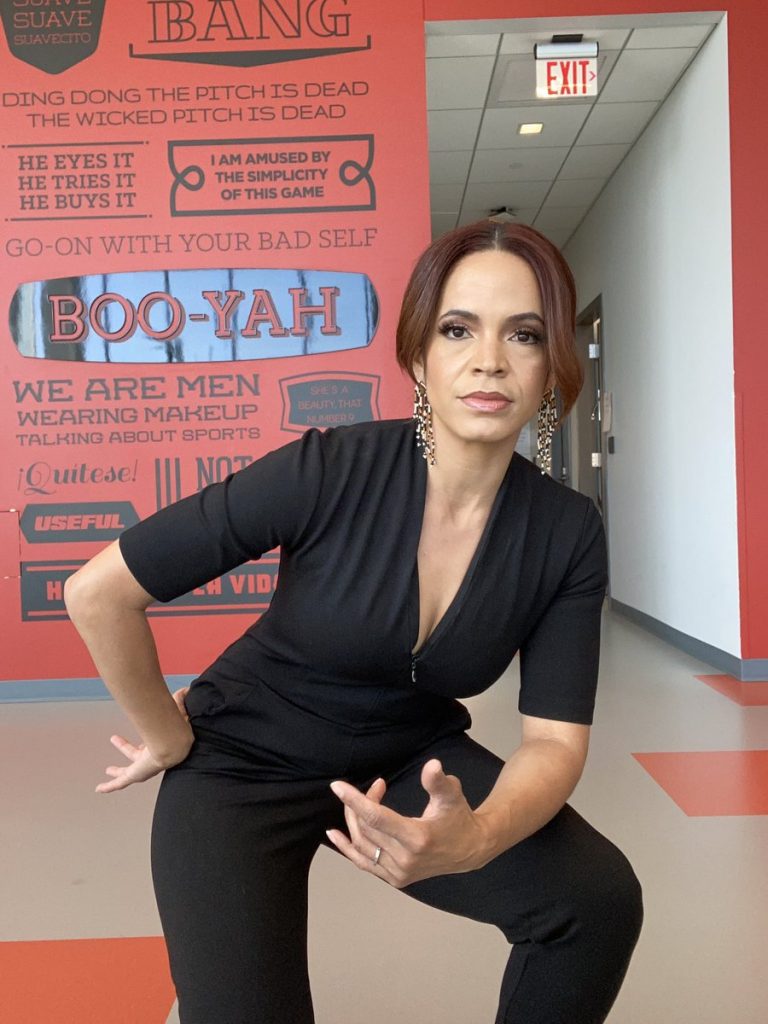 While working on the syndicated sports talk radio show, she caught the eye of Atlanta host Ryan Cameron, and was instantly hired to join the Ryan Cameron Show on V-103, doubling down as both a traffic reporter and on-air personality.
Elle's love for music shone through and she even got a chance to work as a DJ. While she was at the station, Elle took the opportunity to expand her portfolio, serving as a contributor for the Atlanta Falcons American Football team's radio network pre- and post- game shows, an Atlanta Hawks basketball sideline reporter, and even did some freelancing as a sideline reporter for SEC and ACC football games on Comcast Sports South.
Elle's move to widen her reach seemed to have paid off, as by 2009 she was hosting an afternoon show at the station,ing before moving on and joining the Frank and Wanda Show as a sports reporter.
Elle admits in an interview that she loved music but she felt sports calling her back, and couldn't help but heed the call. In 2012, Elle landed another career boosting opportunity when she was hired as a traffic reporter at NBC affiliate WXIA-TV.
By 2014, Duncan was ready to expand her reach beyond just her backyard, and NESN in Boston, Massachusetts provided the perfect opportunity, hiring her as an anchor, reporter and host. In an interview with Essence, Elle said that she was excited about the opportunity, as she was one of the few Black women to be hired at the station. She believed it was a step forward towards opening doors for representation of Black women in Boston sports.
Elle co-hosted NESN Live with Sarah Davis, and also got a chance to work on NESN Sports Today, reaching a new audience as a sideline reporter for the Red Sox baseball team, and hosting the coverage of Super Bowl XVLIX between the New England Patriots and Seattle Seahawks.
All of Elle's hard work and ambition eventually paid off, as on 27th April 2016 she appeared as an anchor on ESPN, fulfilling her dream of working for the network – Elle is often still in awe of the fact that she's able to be sitting at the same desk as people she looked up to.
Elle has been working at ESPN since then, but that hasn't hindered her from working on other projects. She's hosted the American talk show "Fish Center Live" and recently began working on the podast "First Take, Her Take" alongside Charly Arnolt and Kimberly Martin, joining as a replacement for Chiney Ogwumike whose schedule rendered her unable to be part of the production. The ladies cover everything from life, sports to whatever's on at the time.
"This was an unnecessary, authoritarian flex for absolutely no reason."@elleduncanESPN says there's no need for a taunting crackdown in today's NFL pic.twitter.com/vxkfcjqpI7

— Around The Horn (@AroundtheHorn) August 11, 2021
Although working on different projects, Elle didn't go under the radar at ESPN, and was promoted to host of "SportsCenter at 6", elated at the opportunity and appreciates being able to work with great minds like Kevin Negandhi.
Besides working on radio and TV, for a moment Elle dipped her foot into acting, and appeared as a reporter in "Ride Along" (2014), but quickly shelved the venture and returned to her passion. According to Elle, her time in radio and music has shaped her ability to be an entertainer, even when discussing sports.
With success comes great recognition, and Elle has received her fair share within the industry. She has been ranked in The Steed Society's Top 25 Women in Atlanta, Johnson Media's Power 40 under 40 It List, and AUC Magazine's Atlanta's Top 30 under 30. Elle also received Atlanta Dream's Inspiring Women Award in 2011.
Girl Dad Campaign
After the fatal helicopter crash that took the lives of basketball legend Kobe Bryant, his daughter and six other passengers, Elle hosted a segment in honour of Kobe, recollecting a conversation she had with him during their meeting two years earlier in New York. The late Kobe had beamed with pride at his daughter's achievements, and mentioned to Elle that his wife, Vanessa, wanted to try for a boy, but had a feeling it would be another girl. Naturally, Elle wanted to know what Kobe thought of having another girl, and he was surprisingly willing to have five more girls. "I'm a girl dad" Kobe had proudly said to Elle and the world took the moment to launch the #Girl Dad where people shared pictures with their daughters. Elle was able to take a moment of grief, and bring some light back.
Philanthropic and Activist Efforts
Elle has been directly involved with Walker's Change Shoes, Change Lives Run and Walk. Walker is a non-profit focused on behavioural health, special education and residential treatment for children and youth. She has also been actively involved with youth within the Walker program through NESN's employee on-campus volunteering program NESN Connect.
While working at V-103, Elle began hosting the series Cause and Effect, quarterly highlight,ting local non-profits that were under exposed. The series facilitated events throughout Atlanta that raised funds for these organizations. She also partnered with Enchanted Closet and became a spokeswoman for the organization, which aims to provide prom dresses, accessories and shoes for underprivileged girls to make their prom memorable for them.
Elle is also a vocal champion of the Black Lives Matter movement. She is strongly opinionated on the need for change within the system.
DUI Arrest
Unlike most ordinary folk, Elle's life is always under scrutiny, and it's not surprising that it didn't go under the radar when she was arrested for Driving under the Influence. According to a report obtained, the arresting officer cited Elle's reckless driving and high speed as the reason for her arrest. A breathalyser test showed a blood alcohol content of 0.099, a little above the legal limit, Thankfully, Elle has had no further run-ins with the law.
Net worth
Elle has been active in the entertainment industry for close to 18 years and she has a lot to show for her time in the industry. Elle's net worth is estimated at over $1 million, as of mid-2020.
Physical Characteristics
Elle stands at 5ft 2ins (1.58m) and weighs about 110lbs (50kgs). Elle has brown eyes and naturally black hair, but that hasn't stopped her from playing around with colours over the years.