• Cayetana Elizabeth 'Tana' Ramsay is a TV broadcaster, cookery book author and wife of Gordon Ramsay
• She holds a Bachelor of Arts degree in education and has published five cookbooks
• She and Gordon have been married since 1996 and have five children together
• Tana enjoys travelling, reading, meditating and yoga
• Gordon is an OBE, philanthropist and sports enthusiast who owns 35 restaurants
Who is Tana Ramsay?
Cayetana Elizabeth 'Tana' Ramsay (nee Hutchenson) was born in Croydon, England on 23 August 1974 – her zodiac sign is Virgo and she holds British nationality. She's a TV broadcaster and a cookery book author, while she's probably known best for being the wife of Gordon Ramsay, a famous British celebrity chef and a TV personality.
Early life and education
Tana was raised on a farm in Kent, England alongside her brothers Adam and Chris, and sisters Victoria and Orlanda by their father Chris Hutcheson who was a businessman, and their mother who's a housewife.
She grew up being urged by her parents to focus on her education. Tana was interested in various activities while attending a local high school, as she played soccer, practiced acting. and creative writing.
She matriculated in 1992, and then enrolled at college from which she obtained her Bachelor of Arts degree in education, becoming a Montessori teacher.
Career as a TV personality
In 2000, Tana was featured in six episodes of her husband's reality show "Gordon Ramsay: Beyond Boiling Point", and in 2001 she appeared in the musical comedy TV special "An Audience with Des O'Connor".
The following years saw her appear in the documentary series "The F Word", an episode of the family news talk-show "Breakfast", and the game-show "Cooking the Books". In 2008, she made a guest appearance in the reality show "Gordon Ramsay: Cookalong Live", another reality show "Saturday Kitchen", and the musical news talk-show "Xpose". In 2010, Tana appeared in five episodes of the reality talk-show "Dancing on Ice Friday", as well as in 10 episodes of the family reality series "Dancing on Ice".
She was then invited to appear in an episode or two of several talk-shows, including "This Morning" and "Ant & Dec's Saturday Night Takeaway". Between 2009 and 2015, Tana could've been seen appearing in six episodes of the critically acclaimed reality game-show "Hell's Kitchen", hosted by Gordon Ramsay who comes up with various challenges for aspiring young chefs. The game-show has been running since 2015, and has won six of the 21 awards for which it has been nominated, including five Primetime Emmy nominations.
Some of Tana's other appearances have been in the reality show "Matilda and the Ramsay Bunch", the news series "Entertainment Tonight", and the talk-show "Loose Women".
Tana has published five cookbooks, in 2006 "Family Kitchen: Simple and Delicious Recipes for Every Family", and in 2007, "Customers who viewed Tana Ramsay's Real Family Food: Delicious Recipes for Everyday Occasions". In 2008, Tana's third book "Home Made: Good, Honest Food Made Easy" came out, and in 2010, she published "Tana's Kitchen Secrets". Her most recent book – "I Love to Bake" – was published on 1 July 2011.
Love life and marriage with Gordon Ramsay
Sometime in the mid-1990s, Tana met Gordon Ramsay, and although they haven't spoken of how and when they met, it's widely believed that it was on a blind date set up by a mutual friend.
On 21 December 1996, the two exchanged vows in front of their wide circle of friends and family members, while it was then revealed that Tana's suffering from polycystic ovary syndrome, which made it hard for her to become pregnant.
However, in 1998 she gave birth to their daughter Megan, and in 1999 to their daughter Holly ,as well as to their son Jack. In 2001, they welcomed their third daughter Matilda, while in 2016 Tana suffered a miscarriage, but two years later she still gave birth to their second son Oscar.
The family of seven seems to be leading a happy life together as of May 2021, and there haven't been any rumors nor controversies surrounding Tana's marriage with Gordon.
Hobbies and other interests
Tana spends most of her spare time with her children, but still manages to find some time to herself.
She likes to read books, and has read numerous since she started reading in her early teen years. Her favorite genre is history and her favorite book is "The Diary of a Young Girl" by Anne Frank.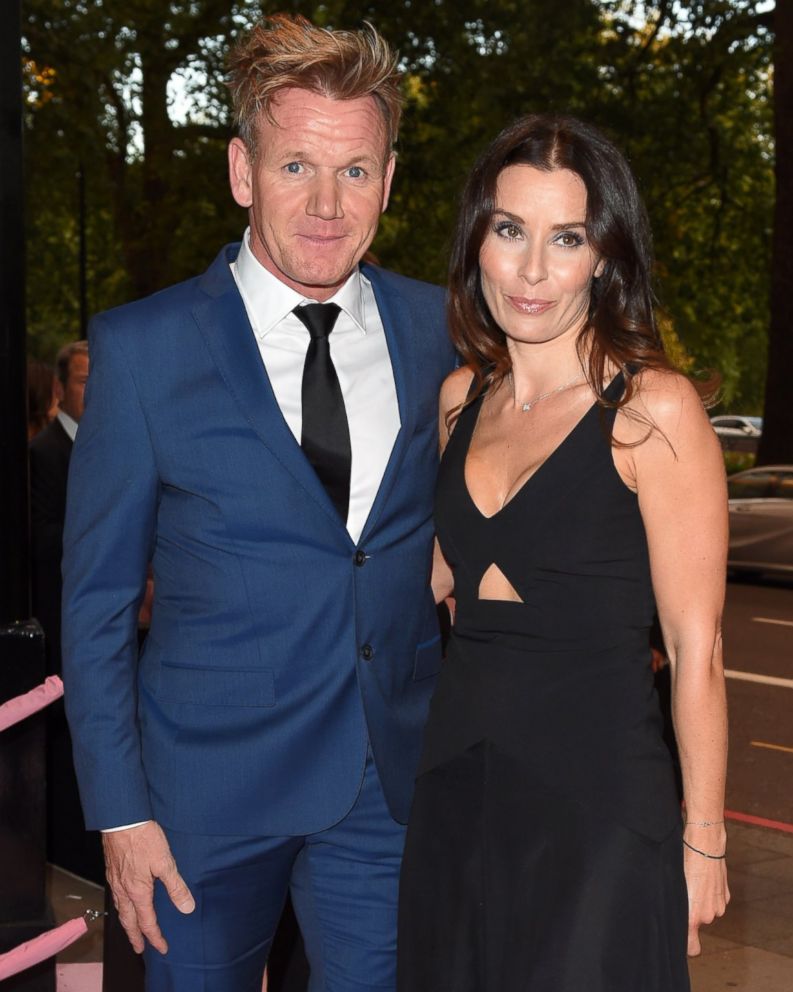 Tana's passionate about travelling, and has been to various European countries with her husband, as well as to many US states such as Florida, Arizona and Texas.
She's a lover of animals but doesn't have pets, as she's already very busy raising her children.
Tana occasionally works out at the gym, while she also meditates and does yoga on a daily basis.
Late at night, she likes to watch movies starring Amanda Seyfried such as "Les Miserables", "Letters to Juliette" and "Dear John".
Age, height and net worth
Tana's age is 46. She has long brown hair and brown eyes, her height is 5ft 6ins (1.68m) and she weighs around 126lbs (57kgs). As of May 2021, her and Gordon's shared net worth has been estimated at over $220 million.
Who is Gordon Ramsay?
Gordon James Ramsay was born in Johnstone, Renfrewshire, Scotland, on 8 November 1966 – his zodiac sign is Scorpio and he holds British nationality. He's probably known best for his global restaurant group Gordon Ramsay Restaurants, which today holds seven Michelin stars, and  also for his mini-series "Boiling Point".
Gordon was raised in Johnstone alongside his three siblings, by their mother Helen who was a nurse and their father Gordon James Sr. who was a shopkeeper, welder and a swimming pool manager. When Gordon was nine, the family moved to Stratford-upon-Avon in England, and he eventually became interested in cooking thanks to his mother who let him help her in the kitchen. Upon matriculating in 1984, Gordon attended North Oxfordshire Technical College at which he studied hotel management.
He soon found himself working at the Wroxton House Hotel as a commis chef, but was fired after it was revealed that he'd been sleeping with the owner's wife. He then spent close to three years working at the restaurant Harveys, and then a year at Le Gavroche before moving to France, and working at Hotel Diva in the French Alps.
In 1993, Gordon moved to London to be the head chef at Aubergine, which became one of the most successful restaurants in England, however, he still chose to quit in 1997 because he wasn't getting along with the owners. The following year saw him open his own restaurant, and in 2001 it recieved its third Michelin star. Gordon then quickly expanded, and today owns 35 restaurants, although he once owned 57.
In 2006, Queen Elizabeth II appointed Gordon an Officer of the Order of the British Empire (OBE).
After seeing chefs become obese and unable to work, he decided he would become sporting. Gordon has completed several ironman events, triathlons and marathons, He has been taking karate lessons for decades and holds a black belt. He eats several small meals a day.
He's a philanthropist who has worked with various charity organizations, such as Voluntary Service Overseas (VSO), Women's Aid and UNICEF.
Gordon's a huge fan of soccer, and cheers for the Rangers and Chelsea. He's also a fan of baseball and cheers for the Los Angeles Angels and the Los Angeles Dodgers.