• Andrew East is a professional American Football player who has played in the NFL for various teams, most recently the Washington Football Team.
• He is married to former artistic gymnast Shawn Johnson and they have one daughter together, expecting their second child in 202•
• Andrew is an active YouTuber with a channel called "The East Family" and his most popular video has been watched close to four million times.
• Andrew's hobbies include working out, playing beach volleyball, skiing, watching movies, and spending time with his pet dog.
• He has an estimated net worth of over $3 million while his wife's is reputedly over $10 million.
Who is Andrew East?
Andrew Dean East was born in Indianapolis, Indiana USA, on 17 September 1991 – his zodiac sign is Virgo and he holds American nationality. He's a professional American Football player who has played for various teams competing in the National Football League (NFL), most recently for the Washington Redskins, now The Washington Football Team.
Early life and education
Andrew was raised in Indianapolis alongside his brothers Guy Jr., James and Grant, and their sister Christine, by their father Guy and mother Marsha East, however, nothing is known about their parents, as they prefer to avoid the media.
Andrew became interested in playing football while attending North Central High School, and became Captain of his team while attending his sophomore year.
For three years, Andrew was a starter on defense, and was named an All-Around-Area Linebacker. Upon matriculating in 2010, he was awarded Academic All-State Honors, enrolled at Vanderbilt University's School of Engineering on a football scholarship, and played for their team the Commodores. Andrew graduated with a Bachelor's degree in 2014, and continued his education at Owen's Graduate School of Management.
Career as a Football Player
Andrew wasn't drafted by any NFL team in 2015, but on 11 May that year, he signed a contract as an undrafted free agent with the Kansas City Chiefs, however, he played for them for only four months as they let him go on 30 August.
On 4 January 2016, Andrew signed with the Seattle Seahawks, but was fired on 24 March. On 5 April, Andrew was signed to the Oakland Riders, but was let go on 29 August. On 13 March 2017, he began playing for the Los Angeles Rams but was fired around two months later on 3 May. He was invited to play for the Oakland Riders once again, and signed a contract on 28 July 2017, however, he was let go on 2 September. On 19 January 2018, he signed yet another contract with the Oakland Raiders, but was released on 9 April.
Andrew signed with the Jacksonville Jaguars on 14 June 2018, then released from the team on 31 July, then signing with the Memphis Express on 9 November 2018, but the stint lasted for less than a month.
He signed with the Washington Redskins on 15 December 2018, but was fired on 2 August 2019. Andrew hasn't played for any teams since then, and it isn't known if he has perhaps retired from football, or is simply taking a break.
Career as a YouTuber
Andrew's a YouTuber too, who launched his channel "The East Family" on 15 November 2015, and which today numbers close to 1.2 million subscribers, and over 140 million views of all his videos combined. The videos he uploads most often feature his wife and their child, while his most popular video – "pregnancy + heartbreak | Shawn Johnson + Andrew East" – has been watched close to four million times since 21 October 2017. It features Shawn and Andrew as they're talking about Shawn's pregnancy, and the miscarriage she suffered in 2017.
Love life and relationships
Andrew began dating Shawn Johnson, an American former artistic gymnast, sometime in the early 2010s, and on 24 July 2015, he proposed during a baseball game of the Chicago Cubs. The two exchanged vows in front of their wide circle of friends and family members on 16 April 2016, and they then moved together to Nashville in Tennessee where the family's residing today. On 29 October 2019, Shawn gave birth to their daughter Drew Hazel East, whose godmother is Anastasia Valeryevna 'Nastia' Liukina, a former artistic gymnast who was born in Russia, but raised in the US thus her American nationality. In January 2021, Andrew and Shawn announced they would become parents for the second time.
Neither of the two have spoken about any other people they had perhaps dated before meeting one another, so as of March 2021, Andrew is married to Shawn Johnson and they have one daughter, while their second kid should be born in the late 2021.
Hobbies and other interests
Both Andrew and Shawn enjoy summer, and it's their favorite season as they're keen on sun tanning at the beach, swimming in the ocean and playing beach volleyball. Their favorite place to spend their summer is Miami in Florida. The two also like winter, as they both ski.
Andrew's physically very active, and usually has five to six training sessions at the gym each week, however, now that the gyms are closed because of the coronavirus pandemic, he has to work out at home.
He's a big dog-lover, and his pet dog Nash can be seen featured in many of his Instagram pictures.
Andrew enjoys watching movies late at night – his favorite actor and actress are Tom Hanks and Emma Watson, and some of his favorite movies are "Cast Away", "The Terminal" and the franchise "Harry Potter".
Age, height and net worth
Andrew's age is 29. He has short brown hair and brown eyes, his height is 6ft 2ins (1.88m) and he weighs around 220lbs (100kgs). As of March 2021, his net worth has been estimated at over $3 million, while his wife's net worth is reputedly over $10 million.
Who is Shawn Johnson?
Shawn Johnson East was born in Des Moines, Iowa USA, on 19 January 1992 – her zodiac sign's Capricorn and she holds American nationality.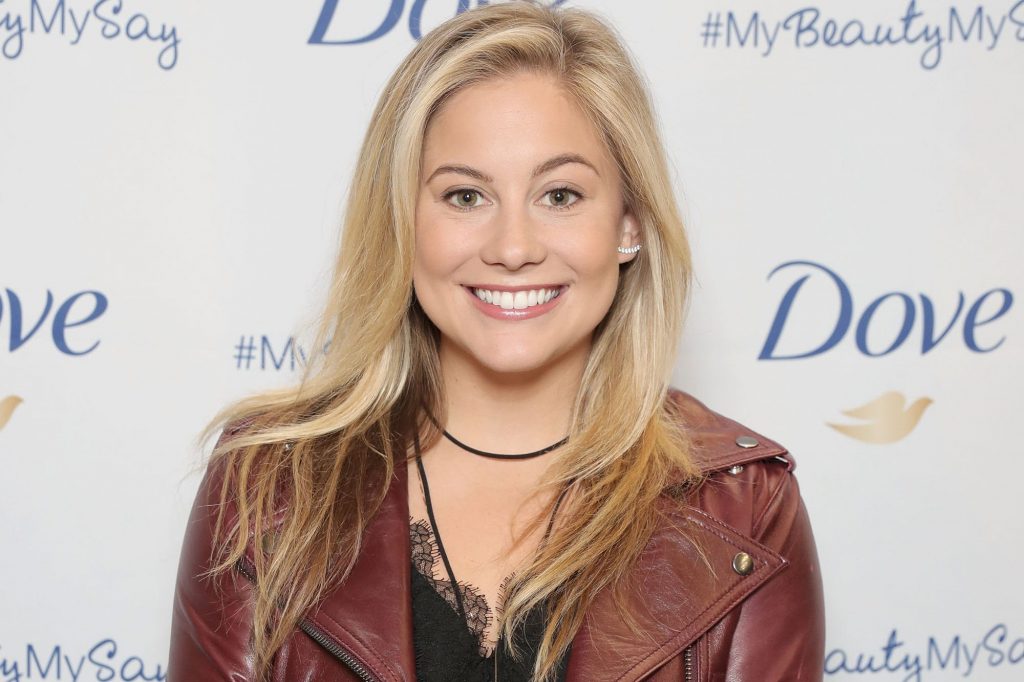 She's perhaps still known best for having won a gold medal at the 2008 Olympic Games in the women's balance beam competition.
Shawn was raised an only child in Des Moines by her parents Teri and Doug Johnson, who after seeing her jump off their table and climb their cabinets, enrolled her into a gymnastics school when she was three. In 1998, the Chinese former artistic gymnast Liang Chow opened his new gymnastics school, and Shawn was one of his first students, and he served as her coach for the following two decades. Shawn studied at Valley High School, and enjoyed dancing and watching football games, however, she dropped out in 2009 and moved to Los Angeles in California followed by her appearance in the dancing competition show "Dancing with the Stars".
She eventually matriculated, and in 2013 began studying at Vanderbilt University, however, she quit before having attended a single class.
Shawn entered her first serious competition aged 12 when she entered the Junior Olympics National Championships ranking fourth, finishing second on floor and winning the beam. In her first try, she qualified for the Junior International Elite, and placed third in the 2005 US Classic, however, the same year saw her compete in the US National Championships and she finished 10th after falling off the beam. In 2006, Shawn won the US Junior National All-Round Championship, scoring better than even the senior elite competitors.
In 2007 Shawn began competing as a senior, and won the American Cup, and four gold medals at the Pan American Games. The same year saw her win the Visa US National Championships, and Shawn went on to represent the US in the World Artistic Gymnastics Championships, the only US athlete to play all four events for the team: floor, beam, vault and bars. The American team won gold, for the second time in the country's history.
On 1 March 2008, Shawn competed in the American Cup finishing second, and a week later helped the US team win a championship in Jesolo, Venice, Italy. On 7 June, Shawn won the US Visa Championship and on 21 June the Olympic Trials organized in Philadelphia, Pennsylvania. She went on to compete with the US team in the 2008 Summer Olympics, winning silver.
Taking some time today to appreciate all of those who have served and are currently serving. Both of @andrewdeast's and I's grandpa's served, so today is extra special for us. Join us and @usaa today in the #HonorThroughAction V challenge! #USAAPartner pic.twitter.com/YDYBYtshBk

— Shawn Johnson East (@ShawnJohnson) November 11, 2020
In January 2010, Shawn was injured while skiing, and had to undergo knee surgery, which took her around five months to recover, however, she kept having problems with the knee, and thus retired on 3 June 2012, aged 20.
She has been invited to make a guest appearance in numerous talk-shows such as "The Tonight Show with Jay Leno", "The Ellen DeGeneres Show" and "Jimmy Kimmel Live!"
Shawn's also an author, having published her book "Shawn Johnson – Olympic Champion: Stories Behind the Smile" in December 2008, and in June 2012 her second book "Winning Balance: What I've Learned So Far about Love, Faith, and Living Your Dreams". Her third book, the adult novel "The Flip Side", was published in June 2016.